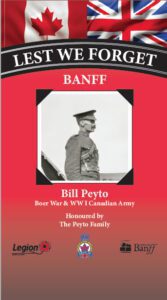 Thank you to the Banff Royal Canadian Legion, Colonel Moore Branch #26 in granting the Park Warden Service Alumni permission to use the banner photos to post on our website.
The Legion Banner Program was developed to honour Veterans across Canada and to pay tribute to both veterans and active service members. The Banff Legion took part in this tribute in 2021. By displaying the banners along Banff Avenue the Legion was able to engage the community in honouring and remembering Banff veterans through an initiative that will ensure continued recognition and respect of future generations. Banners were displayed in 2021 from the beginning of October to just after Remembrance Day. Some of these veterans went on to become National Park wardens and we are privileged to share their military history and photo of the banner. Bill Peyto was one of these veterans.
Ebenezer William (Bill) Peyto was born in Welling, Kent, England in 1869. He came to Canada in 1887 and headed west to the mountains. He eventually made his home in Banff and did some prospecting. He worked for Tom Wilson as a packer before establishing himself as a competent guide and outfitter.
Bill enlisted with the Lord Strathcona's Horse, Royal Canadians on the 5th of February 1900 for service in the Boer War in South Africa. His Regimental Number was 487. On March 17th, 1900 he boarded the S.S. Monterey along with 28 officers, 511 men and 599 horses bound for Cape Town South Africa arriving on April 10th. Bill was saddened by the loss of so many of the horses that had contracted pneumonia on the voyage from Canada to South Africa.
Bill's commanding officer was Col. Sam Steele. One of Bill's duties as a mounted scout in advance of the larger forces of the British infantry proved to be extremely dangerous due to the hilly terrain and the deadly accuracy of the Boer snipers.   Bill's resourcefulness proved itself when he found an old 'brolly' and used it to draw fire from the snipers by riding his horse below the brow of the hills with the umbrella fully extended and visible to the snipers. This would draw enemy fire and thus pinpoint their location. Bill fulfilled his one-year commitment to the South African War and was discharged from service on March 16th, 1901.
Bill joined the Warden Service on May 15th, 1911 and served for four years. On April 22nd 1915 Bill enlisted for service in World War 1. He had claimed he was 8 years younger than he actually was (Bill's words: He managed to convince a Recruiting Officer in Calgary that he was younger than his actual age and was accepted for service with Unit 12 Canadian Mounted Rifles, 3rd Canadian Division 7th Co. – a machine gun brigade. His Regimental Number was 117477. He served in Belgium and France. Early in the afternoon of June 2nd, 1916, while engaged in battle near Hooge, defending Ypes, Lance Corporal Peyto rose up to clean the breach of the machine gun and sustained a serious shrapnel wound to his right thigh. This rendered him hospital bound for many months. Due to on-going problems with the leg, Bill was invalided home arriving back in Banff on November 5th. Bill was discharged on March 18th, 1917. He was re-attested on April 8th, 1918 and was put back on the payroll until his official discharge on September 27th, 1918.
Bill once again resumed duties as a Park Warden in May of 1920. Bill retired from the Warden Service on February 14th, 1936 at age 67.
LEST WE FORGET
Sources:
Personnel Records of the First World War.
https://www.bac-lac.gc.ca/eng/discover/military-heritage/first-world-war/personnel-records/Pages/personnel-records.aspx
Soldiers of the South African War Service
https://www.bac-lac.gc.ca/eng/discover/military-heritage/south-african-war-1899-1902/Pages/service-files-south-african-war.aspx#c
Ain't it Hell: Bill Peyto's Mountain Journal by E.J. Hart 1995.
EJH Literary Enterprises.