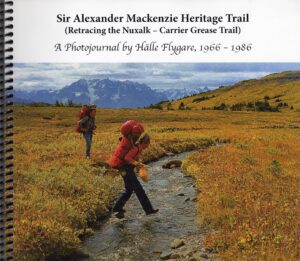 SINCE THERE ARE ONLY 4 BOOKS LEFT AS AT 12:45 PM, FEB 18TH, PLEASE EMAIL US TO CHECK ON AVAILABILITY PRIOR TO SENDING AN E-TRANSFER.
Halle Flygare has recently donated 10 copies of his photo-journal to the Park Warden Service Alumni Society as a fund raising endeavor.
Over a period of 15 years Halle retraced and photographed the Nuxalk-Carrier Grease Trail from the Fraser River to the Bella Coola Highway 20. The First Nations used these trails for thousands of years. This 98-page book contains spectacular photographs of this historic journey accompanied by descriptive journal entries.
This photo-journal sells in retail stores for $29.95. The Park Warden Service Alumni Society is asking $25 for a book. The price includes the $5.34 cost of shipping by Canada Post.
Anyone wishing to purchase a book can contact the Park Warden Service Alumni Society by e-mail at
parkwarden2008alumni@hotmail.com
Payment can be made:
By e-transfer to parkwarden2008alumni@hotmail.com
By cheque (Payable to Park Warden Service Alumni).
Cheques can be mailed to
Park Warden Service Alumni Society
PO Box 1611
Diamond Valley, Alberta,
T0L 2A0.
THANK YOU TO HALLE FLYGARE FOR HIS GENEROSITY AND SUPPORT OF THE PARK WARDEN SERVICE ALUMNI SOCIETY.