Thank you to Rod Wallace for the donation of this collectors item belt buckle.
Trail Riders of the Canadian Rockies (1923 –2013)  90th Anniversary belt buckle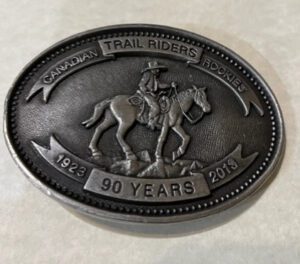 The Trail Riders of the Canadian Rockies is a not profit society whose  objectives are to"encourage travel on horseback through the Canadian Rockies, to foster the maintenance and improvement of old trails and the building of new ones;
to encourage the love of outdoor life, to study and engage in the conservation of birds, wildlife and alpine growth, to assist in every possible way to ensure the complete preservation of the National Parks of Canada for the use and enjoyment of the public." The TRCR website can be found at:
http://trailridevacations.com/
How to bid:
Silent auction bids can be submitted by email to parkwarden2008alumni@hotmail.com
Closing date for bids – Midnight MDT June 10th, 2023.
Successful bidder will pay for the amount of his/her bid and for the shipping costs of the buckle.
Payment can be made by e-transfer to parkwarden2008alumni@hotmail.com or by cheque (Payable to Park Warden Service alumni) or by money order.
The buckle will be shipped once full payment has been received.