Park Warden Alumni Society of Alberta Thank you to the Whyte Museum of the Canadian Rockies for granting permission to the Park Warden Service Alumni to post this interview on our website
Park Warden Alumni Society of Alberta
Oral History Project – Spring 2014
Telephone Interview with Dale Loewen
Interview conducted by Christine Crilley-Everts
June 10, 2014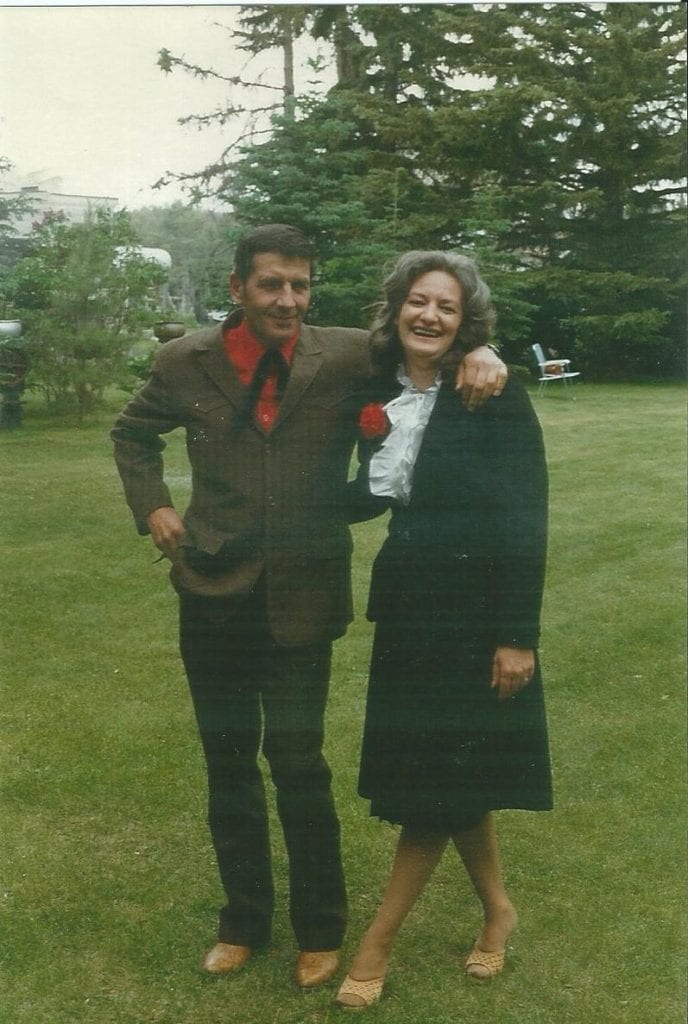 Dale and Pat Loewen 1980s
Place and Date of Birth: Acme, Alberta. July 2, 1939.
Occupations: After trucking endless loads of hay from Cochrane into Banff, and spending time on oil rigs and rodeoing, Dale left the Alberta Forestry Service in 1967 to become a park warden. He started in Lake Louise where he remained for 28 of his 30 years with the service. He spent his last two years in Banff and worked as a backcountry supervisor for the majority of his career. His time in the backcountry was a highlight, as was the time he spent teaching horse schools and working with wildlife. He also remembers fondly some of the older wardens he worked with who were true characters.
Additional Information: Dale and his wife and lifelong partner Patty loved horses and their time in the backcountry and bush.
"What is your place and date of birth?"
(1:08) I was born in Acme, Alberta. July 2, 1939.) The town is a little north east of Calgary about 50/60 miles…No, I grew up closer to Calgary. It is in Calgary now, but it was just outside of the old airport in Calgary, near Chestermere Lake there.
Did you grow up on a farm or a ranch?"
No, we had a little acreage and my dad worked in the city. It was outside of town though.
"How did you get involved in the warden service?"
(2:06) That is kind of a long story. I left home when I was about 16…I went to work for some people in Cochrane…they had a ranch and a trucking business. I trucked endless loads of hay and straw into Banff Park, not realizing that someday I would be a warden there. After I worked there a few years, I worked on oil rigs and I rodeoed a bit and then I finally ended up working for Alberta Forestry. I worked for them for a couple of years, south of Edson in Robb, Alberta. I wasn't real happy with the forestry, so I applied and got on with the Parks in 1967 I guess.
"And was that in Lake Louise you started?"
Yeah, I started in Lake Louise and I stayed there for 28 years. I worked the last two years in Banff… Are you Keith's daughter? I worked the last two years with Keith in Banff there. Him and I were both a little apprehensive (about working together) because we both had reputations, but we got along just fine! (Keith Everts was a warden in Banff National Park for 25 years.) I realized when I got there, that if you did your job and got on with it, Keith was easy to work for, no problem!
"When you were at Lake Louise, what were some of your responsibilities?"
(4:10) Well, in the first few years I was there I worked as a warden in town and then in the backcountry. One summer, I alternated with somebody at Saskatchewan River Crossing. But backcountry was my strong suit…I was the Backcountry Supervisor for quite a long time for the north half of the park and for the last couple of years I was Backcountry Supervisor for the entire park when they started changing things around. It was pretty busy at times.
"I was talking to Bill Browne about a month ago and he told me that it was you who taught him how to pack. Where did you get your horse skills?
"Do you remember who taught you the packing?'
(5:33) I acquired quite a bunch of horse skills long before I ever got to the park in that Cochrane country on different ranches, a couple of different ranches there." But the packing I picked up in the park rather quickly, it was no problem. It was the Mickle family. Then Wally McPhee was the senior warden at Lake Louise when we got there and he showed me quite a bit.
"I googled you this morning to get some background information and there was this article about a rescue/recovery that you and Wally McPhee did in 1969 in Paradise Vallley". (http://publications.americanalpineclub.org/articles/13196900303/Banff-National-Park-Lake-Louise-Area)
(6:31) Yeah, that was the very first one that I was ever on, I think. I thought it was earlier than 1969, I thought it was 1967 or something. It would have been the very first rescue I ever was on. Some young fellow fell off a little cliff there, he was epileptic apparently. We used a device that was like a stretcher with a wheel under it and they called it a deer-toter. It was originally designed for hunters. It was like a single stretcher, two people could run it with a wheel underneath it.
"Do you remember the year that you retired?"
(7:42) 1997, in September. (I was with the service for 30 years.

Dale, Patty, June and Bert Mickle, Halloween Party at the Post Hotel. Don Mickle photo collection.
"Did you ever want to try different parks or were you happy to be in Banff?"
(7:58) I was happy to be in Lake Louise and Banff. My wife Patty, had some other stuff going on there. She had a little riding stable at Emerald Lake for about 10 years or so. Then she had a gift shop in the new mall there in Lake Louise. I met my wife at Mountainaire Lodge which is near the Ya Ha Tinda Ranch on the Red Deer River…that was about 1965 I think, yeah 1965.
"Where was Patty from?"
Black Diamond, Alberta. She came with the Mickle family. (In 1962 the Mickle family came from the Millarville area to Lake Louise to take over Ray Legace's outfitting business. They also ran Skoki and Temple Lodges and for a few years an outfitting business at Emerald Lake. Don Mickle worked as a warden in Yoho, Lake Louise and Banff for 35 years.) She was only 14 or 15 when she came to the mountains. She lost her dad when she was really young eh. Things were not good at home so she kind of moved in with the Mickle family…
"I worked for Don for a few summers after university, they are a great family."
Yeah, they are good people that is for sure.
"What did you like best about being a warden?"
(9:50) Oh, being able to just escape to the backcountry was a big thing for me, whether it was winter or summer, I just loved it in the bush I would travel alone, anytime, anywhere! I preferred to be alone lots of times. I did just fine travelling alone in the bush. I really liked that part of it.