Thank you to the Whyte Museum of the Canadian Rockies for granting permission to the Park Warden Service Alumni to post this interview on our website.
This Oral History interview was funded in part by a research grant received in 2019 from the Government of Alberta through the Alberta Historical Resources Foundation.
Park Warden Alumni Society of Alberta
Oral History Project Summer 2019
In Person Interview with John Niddrie
September 13, 2019 – 2:00 pm, Invermere, BC
Interviewed by Susan Hairsine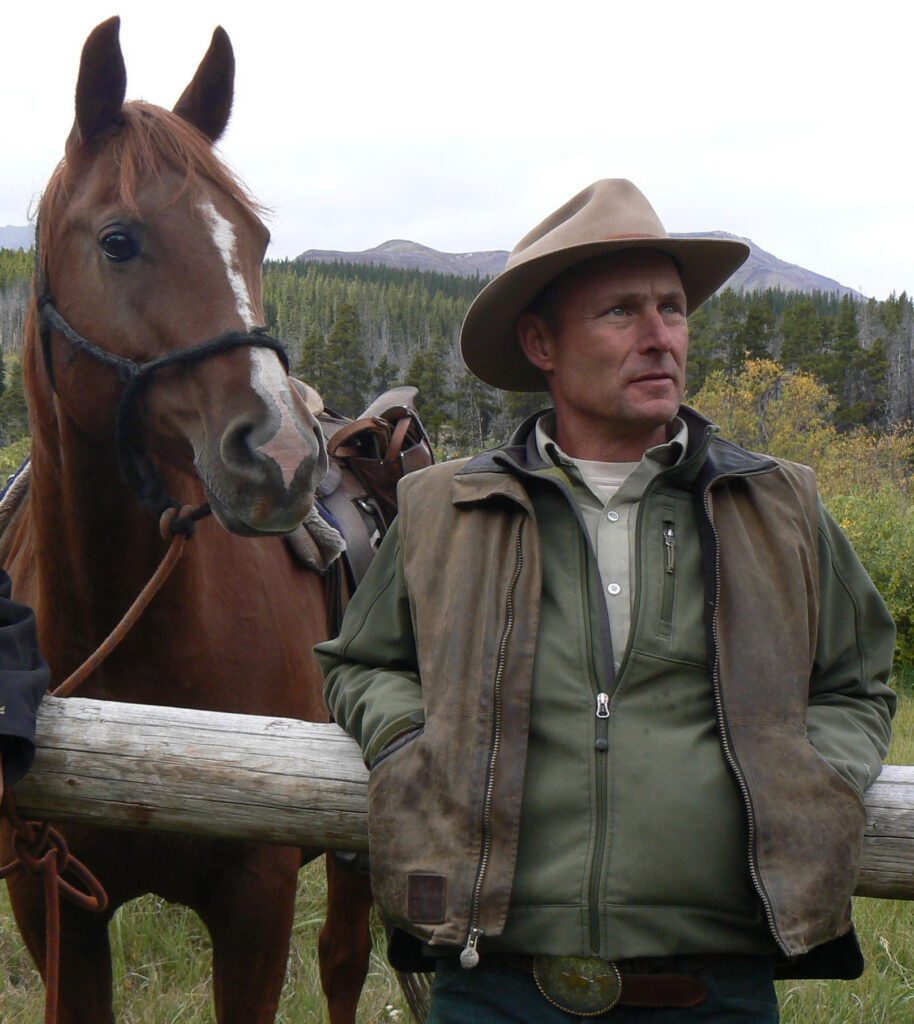 John Niddrie – Centennial Ride from Ya Ha Tinda to Banff, September 2009.
Place and date of birth? John Niddrie was born in 1956 in Edmonton, Alberta
SH: Where did you grow up?
John: Edmonton and Grouard, near Slave Lake, Alberta.
SH: How did you become involved in the Warden Service? Which national park did you start working in?
John: I took a course through NAIT; Wildlife Forestry Technology and second year was in Hinton. I remember one day hanging out in the park (Jasper) and I ran into a Park Warden called John Strachan. And I said, "This guy is kind of cool," and I had a nice conversation with him, and then always kept it in the back of my mind. I'd always go and recreate in Jasper Park, hiking and then I got into climbing a little bit in 1978. So as soon as I graduated that spring I applied on a couple of jobs; one was a trail crew position, supervising a native trail crew in Jasper. I was interviewed by Abe Loewen, and somebody else and lo and behold, I got the job. So, the rest is history.
SH: Wow, I remember John Strachan. He was such a good cartoonist.
John: He was amazing.
SH: So back to what made you want to join the Warden Service?
John: I enjoyed the great outdoors like most everybody else that ends up taking that job.
SH: What different parks did you work in? How did they compare? Do you have a favorite?
John: I started in Jasper in 1978 and moved to Kootenay in 1989. Once Parks amalgamated Kootenay, Lake Louse, and Yoho, I worked in those regions as well. I never did work anywhere else. I was a mountain warden my whole career.
SH: What were some of your main responsibilities over the years?
John: It varied significantly and that was so great about the job. My first two years I supervised a native trail crew, a 10-man crew from Saddle Lake. That was a really, really good program they had set up. There were two crews; Frank Burstrom ran one and I ran the other. We did twenty-day shifts and put the whole camp together and then did some big trail project work. I really enjoyed it, but I had an idea that I wanted to get on as a backcountry warden. In my third year I actually got on as the Tonquin patrolman. So that was 1980, I believe, I became the Tonquin patrolman, and the rest is pretty much history after that. I spent a significant amount of time in the backcountry and had a number of different districts including in Banff, and that was a big part of my career; the backcountry for sure.
SH: Where in Banff?
John: Cyclone.
SH: You also lived at Decoigne and not a lot of people lived at stations so do you want to talk about that.
John: I lived at Decoigne, Cavell and Sunwapta. Most of my 12 or 13 years at Jasper I lived at warden stations.
SH: Yes, that is unique to Jasper so glad we captured that. So, you were pretty much a backcountry warden but when you came to Kootenay you were still backcountry?
John: No, no. The job varied a fair bit. I was a townsite warden for a couple of summers and I was down at Sunwapta for three years; visitor safety, and bears, and law enforcement. We were our own entity down at Sunwapta. There were four or five of us working out of there, so we got involved with everything. If there was a rescue going on and you were working that day, you were involved with that. If there's bears to be dealt with you're doing that.
SH: So, a true generalist.
John: For sure.
SH: What did you like about being a warden? What didn't you like about being a Warden?
Every day was different, or could be different, and the opportunity to work in that incredible landscape. The opportunity to work with some really good people and deal with the public. There's a million things that I really enjoyed about the job. I guess the only downside sometimes, is the bureaucracy but you just dealt with it. No one likes to deal with campground patrols and whatnot, but like everybody else you do them.
SH: What are some of the more memorable events of your Warden Service career?
John: I should have thought about this a little bit more. I've been on some really awesome rescues, but if you ask me which stand out, none come to me right now. Some of my enforcement stuff that I did, I was pretty proud of and frustrated too. I worked on a number of big poaching cases. One of the big poaching cases when I first moved to Kootenay that year, two guys shot two bighorn sheep in Red Streak Campground. That's when the National Park changed, there was a new Act. So, it was the first time, the first charge that went indictable under the Act. Both resulted in lengthy trails. One guy was convicted and the other guy got off. That was huge, and it went on for months. It took over my first year working in Kootenay.
As a warden there too, it was important to get involved with the community and get to know who's who, especially if you're doing operations and enforcement. Because face it, no one ever sees a crime out in the wilderness usually, so it was important to develop some good relationships with people. So, it wasn't long after that I learned about someone that was operating on our park boundary, an outfitter, and we had reason to believe that he was poaching inside the park. So, I kept collecting information on this fellow and a couple of the guides that were working for him, and I got enough information to take it to the law enforcement in the field unit. They felt it was justifiable enough to do an undercover operation. So, it was a joint operation with BC CO (British Columbia Conservation Officer) Service. It went on for two years. We had an undercover agent who worked in the camp and it resulted in well over one hundred charges under the BC Wildlife Act. It was a tough one because I probably still had a bit of presence on the boundary which hadn't been done in a while in Kootenay Park. We never caught him or had enough evidence to nail him in the park. There was a couple of minor offences. But he was charged criminally for firearms, for drugs and under the Wildlife Act. So, I felt pretty good about that.
SH: Wow, that's awesome.
John: I was involved and successfully took a number of people to court for poaching in Kootenay Park when I was there. Elk and Whitetail (deer) primarily, and I talked to you a little bit about the Bighorn Sheep that I dealt with when I moved there. When we amalgamated I became Law Enforcement Specialist for the field unit, so that included Lake Louise and Yoho, and it wasn't long before Burgess Shale became a common name with me. (Wikipedia: The Burgess Shale is a fossil-bearing deposit exposed in the Canadian Rockies of British Columbia, Canada.[2] It is famous for the exceptional preservation of the soft parts of its fossils. At 508 million years (middle Cambrian) old,[3] it is one of the earliest fossil beds containing soft-part imprints.) I again, through a bunch of different contacts and information, learned that there was a significant trafficking issue going on with Burgess Shale (fossils) and I followed up on it for a number of years. Unfortunately, I never got the support from Parks Canada for a number of years to pursue this. And we're talking millions of dollars of theft of natural objects. And it's a little different than fur and feather. But one thing you've got to remember, these natural objects, they don't grow again. Not like wildlife and whatnot and it was very frustrating.
SH: Were they being sold on Kijiji?
John: They were being sold all over the world through different means. So, it wasn't until near the end of my career, with pressure from myself and others, that they decided to do further investigation. There weren't a lot of charges and the charges that came about were pretty minimal compared to what went on over the years when all these thefts were taking place. It's really unfortunate, because Parks could have got some really good exposure too and used it to their advantage. But they looked at it as a story they didn't want anyone to know about it, that there was a problem. So, it was one of those things. That was probably the biggest frustration of my whole career. But I did end up traveling internationally to follow up on some of the information, and I worked with different agencies down in the (United) States including the FBI, on a number of people, so we did expose the issue. That was really good and made management more aware of what was going on and ultimately better protection of resources such as fossils. So that was a big thing in my career for sure.
SH: So, when they started putting cameras on the fossil beds, was that your initiative?
John: No. Hal Morrison managed it before we amalgamated so I basically took over what he started. He was the first to set up camera surveillance and whatnot. And it was pretty good, it was way back when they didn't have the technology that they do now, that's for sure.
SH: Wow, I didn't know any of that. That's awesome. Can you give me a backcountry horse story, because you're such a horse guy?
John: Nothing really jumps out. When I had the Smokey District I did 24-day shifts, and the summer goes fast. Back then you're dealing with the odd outfitter that's traveling through and the odd hiker that's coming through and during the hunting season you're punted over to Willow Creek area. There's a lot more boundary area to deal with over in that area and whatnot. I just felt at home out there and connected with that kind of work and with horses. I'm lucky that I didn't have any big wrecks or big issues or horses running off. Sure, I had the odd day where it took all day to find the horses and your day was pretty much shot. When you go out for a jingle and you don't have breakfast until 4 o'clock in the afternoon. I had a couple of days like that for sure, everybody does. I'm sure I've had a couple of epic hard trips but nothing that really stands out. (End tape 16:27)
Section 2 – 2:35 pm
John: I was in the Brazeau District as a district warden in 1981 I believe, and there was a fair bit of use there, after being in Smokey the previous year. We had Trapper Bill on the border, and Nayda Hallett down in Southesk and then there was the Smallboy's Camp.
Notes:
(Nayda Hallett (1933-2012) A colourful and popular, outfitter, guide, trapper and outfitter. Nayda was from Rocky Mountain House.)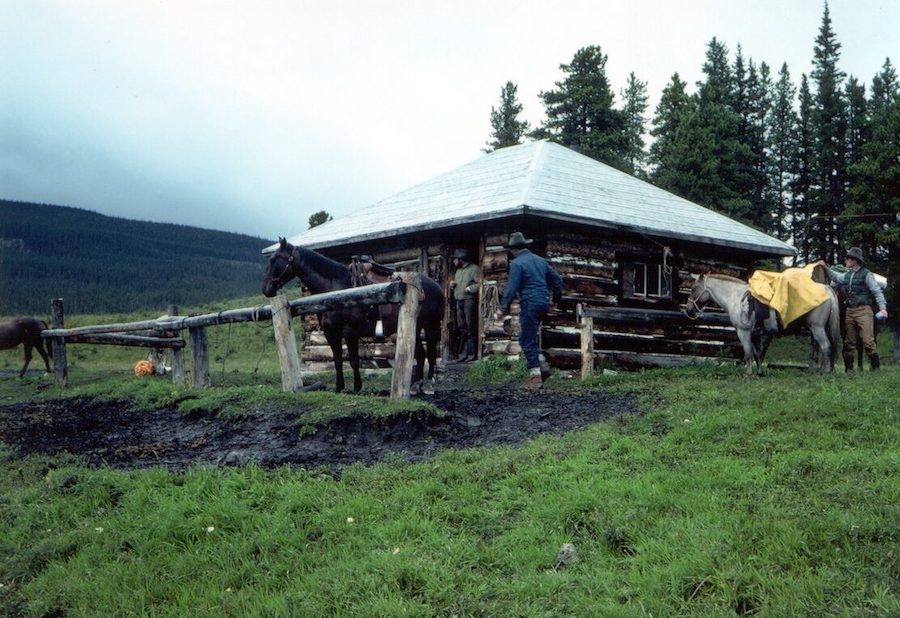 Nayda Hallett's cabin, Southestk. Photo by Gord Antoniuk
(Chief Johnny Bob Smallboy (7 November 1898 – 8 July 1984), also Robert or Apitchitchiw, was a community leader who brought national attention to problems faced by urban and reserve Indians of when he "returned to the land" with followers from troubled Canadian Indian reservations. He was born on the Peigan Nation, SW of Fort Macleod, Alta on 7 November 1898, of a traditional Cree family who were among the last to settle on their allotted reserve at Hobbema in central Alberta. A Treaty 6 nation location between Calgary and Edmonton and located on oil and gas reserves.[1] Smallboy became a hunter, trapper, farmer, and eventually chief of the Ermineskin Band from 1959 to 1969. In 1968, to escape deteriorating social and political conditions on the reserve, he moved to a bush camp on the Kootenay Plains. He attributed the alcoholism, drug abuse and suicide that he saw in his community to living modern lives on the reserve. Accompanied by approximately 125 people and with help from other elders he moved his community. Despite factional splits, the return of many residents to Hobbema, and the group's failure to obtain permanent land tenure, Smallboy Camp persisted into the 1980s as a working community used as a retreat by Plains and Woodlands Indians from western Canada and the US.[2] Smallboy received the Order of Canada in 1979.).
So this is halfway through the summer, and I remember it being a wet cold day, and I'd just ridden from Isaac Creek to Brazeau, and it's a good 20 mile ride I believe, it's an all-day ride. So, I just got into Brazeau and was getting ready for days off and whatnot. BJ (Al Bjorn) he, was at Rocky and heading to Cairn Pass. We kind of shared Cairn Pass together.
I'm on the radio that evening and Marv Millar gets on the radio and says, "We just had a report of a fellow with a few people going through the Southesk area, and the report is he was carrying a handgun." I want you guys to get back up to Isaac Creek and see if you can find his tracks." So here we are, two seasonal wardens, and sure we're packing our long arms, but you get this report of some guy packing a hand gun on his hip. So, on the long ride back to Isaac Creek, I'm wondering how we're going to deal with this guy if we run into him. So, I hook up with BJ at Isaac Creek and we start checking some of the provincial areas. He never saw anything on the trail to Isaac and vice versa. So, we headed over to the closest neighbor, which is Trapper Bill. As it turned out, we finally put it together, it was this French professor, another Frenchman, with a bunch of kids in tow and what he was actually packing was a pistol, but it was a flare gun basically for safety. So here we go. We didn't know what to expect. Some bandit like Dave Carnell ran into, or something else. That was a nice ending to that story. I did run into those guys. One day I was staying at Southesk Cabin and we used to kick the horses out on the province because there were all those big beautiful meadows out there. One morning I went out there to pick up the horses and there was a bunch of smoke in the trees. So, I went over to investigate and here's this French professor that used to come over every year and stay at the Smallboy's Camp. And he was hanging out with a bunch of kids. They were French students and a couple of native kids. They were all sleeping underneath this piece of plastic, hard to believe. Plastic for a tarp, or kind of a tarp plastic thing. So, we had a little chat and off I went. He was a real character.