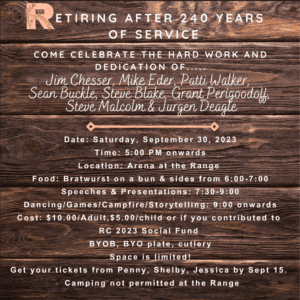 Help us celebrate the incredible Parks Canada careers of eight dedicated staff, with over 240 years of combined experience. Details are on the poster below/attached.
Space is limited. Please RSVP with payment by Sept 15.
Get your tickets from Penny Bayfield, Jessica Theoret or Shelby Bordeleau or send e-transfer to ResConSocial@gmail.com and let us know and we will email you a ticket.
Gift Contribution: ResConSocial@gmail.com
Questions: Jnprescon@pc.gc.ca