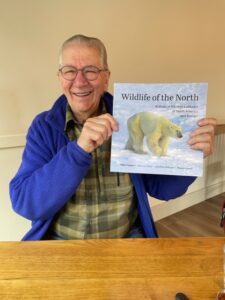 Halle Flygare proudly displays his recently released book,
Wildlife of the North, Animals of the High Latitudes of North America and Europe co-authored by Valerius Geist, Geoffrey Holroyd, and Wayne Lynch.  Retail value $29.95.
Photo by Gord Antoniuk.
Halle has kindly donated 4 copies of this book to the Park Warden Service Alumni Society as a fund raiser.
It will be offered for sale at our Annual General Meeting on October 25th, 2023.