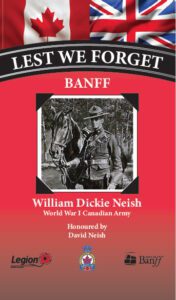 Thank you to the Banff Royal Canadian Legion, Colonel Moore Branch #26 in granting the Park Warden Service Alumni permission to use the banner photos to post on our website.
The Legion Banner Program was developed to honour Veterans across Canada and to pay tribute to both veterans and active service members. The Banff Legion took part in this tribute in 2021. By displaying the banners along Banff Avenue the Legion was able to engage the community in honouring and remembering Banff veterans through an initiative that will ensure continued recognition and respect of future generations. Banners were displayed in 2021 from the beginning of October to just after Remembrance Day. Some of these veterans went on to become National Park Wardens and we are privileged to share their military history and photoof the banner. Bill Neish was one of these veterans.
William Dickie Neish (Bill) was born October 24th, 1893. He arrived in Canada from Glasgow, Scotland in 1908. He became a range rider in southern Saskatchewan until the fall of 1914 when he joined the Canadian Army. Bill signed his Attestation Paper on November 11th, 1914 and was assigned Regimental No. 161. His position was that of "Sapper" (a combat engineer) performing a variety of military duties with the Canadian Engineers. Some of his duties included handling and breaking horses, and transporting munitions. He served with the 4th Field Company, Canadian Expeditionary Force. Bill attained the rank of Cpl.   During his enlistment Bill spent 15 months in France and was discharged on the 30th of April 1919, returning to Canada on the RMS Baltic. At the time of his discharge he was diagnosed as totally deaf in his left ear, a condition that resulted from a childhood measles infection.
In 1919 Cpl. Bill Neish was discharged from the Canadian Army and soon joined the Royal North West Mounted Police. His first posting was in Banff in 1920. Bill was discharged from the RNWMP in 1922. By 1935 he was working for Banff National Park as a Park Warden. Bill was involved in the October 1935 manhunt that had started in Manitoba when three Doukhobor men killed Benito Constable William Wainwright, and RCMP Constable John Shaw. The three fugitives fled west and ended up at the Banff National Park gates where a shoot-out took place resulting in the death of Sgt. T.S. Wallace and Cst. G. Harrison, both of Banff. One fugitive was shot and killed but the other two took to the bush. While assisting with the search for the two fugitives, Bill's keen eye spotted them. The fugitives opened fire leaving Bill no recourse but to shoot both bandits thus ending the worst manhunt in Canadian history at that time.
During World War 2 (1939-1945) Bill once again enlisted and was posted to the Prisoner of War Camp at Lethbridge. By 1946 the prisoners were repatriated back to Germany and bill received his discharge.
Bill died in Vancouver on December 9th, 1961.
LEST WE FORGET
Sources:
David Neish – Banff Legion Banner Program
Personnel Records of the First World War.