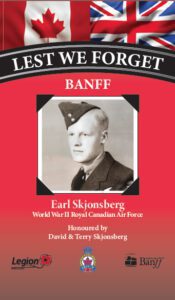 Thank you to the Banff Royal Canadian Legion, Colonel Moore Branch #26 in granting the Park Warden Service Alumni permission to use the banner photos to post on our website.
The Legion Banner Program was developed to honour Veterans across Canada and to pay tribute to both veterans and active service members. The Banff Legion took part in this tribute in 2021. By displaying the banners along Banff Avenue the Legion was able to engage the community in honouring and remembering Banff veterans through an initiative that will ensure continued recognition and respect of future generations. Banners were displayed in 2021 from the beginning of October to just after Remembrance Day. Some of these veterans went on to become National Park Wardens and we are privileged to share their military history and photo of the banner. Earl Skjonsberg was one of these veterans.
Earl Skjonsberg was born in Red Deer on October 25th, 1922. He grew up in Red Deer.
Earl joined the Royal Canadian Air Force at age 20 in 1942. He served as a Mid-Upper Gunner on Halifax bombers in the 192nd Royal Air Force Squadron flying from England to mainland Europe where he participated in 31 missions. The 192nd Squadron was operational during the First World War as a night training squadron. During the Second World War the 192nd squadron operated as a radar countermeasure unit. After the war the squadron served again in the Electronic Intelligence role, until disbanded in 1958. The squadron was re-formed on 4 January 1943 when No. 1474 Flight at RAF Gransden Lodge was re-numbered 192 (Special) Squadron. The squadron disbanded at the end of the Second World War to form the bases of the Central Signals Establishment and the Radio Warfare Establishment. On 15 July 1951, the squadron was reformed as part of that same Central Signals Establishment for Operational Signals Research. Despite the name Research in the role, the squadron continued with its traditional Electronic Signals Intelligence role. The squadron disbanded on 21 August 1958 at Watton when it was renumbered to 51 Squadron.
Following the war he returned to Canada where he worked in the oil fields of Alberta for 12 years. Ready for a change, Earl then joined the Warden Service in Banff National Park in 1961, where coincidently he was given Warden badge #192, the same number as his R.C.A.F. Squadron. He started as an Assistant Warden to Ole Hermanrude in the Healy Creek District. Earl accepted a promotion to a fulltime Warden in Riding Mountain National Park and spent two years there. He then returned to Banff where he became a Dog Master for the park. He retired in 1980, after 19 years of service.  Earl and his wife Betty had two sons David and Terry who both followed in Earl's footsteps and had long careers with Parks Canada.
Earl Skjonsberg passed away in 2014.
LEST WE FORGET
Sources:
David and Terry Skjonsberg – Legion Banner Project.
2011 Park Warden Service Alumni Oral History interview with Earl Skjonsberg by Christine Crilley-Everts.