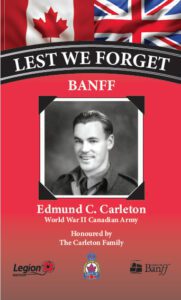 Thank you to the Banff Royal Canadian Legion, Colonel Moore Branch #26 in granting the Park Warden Service Alumni permission to use the banner photos to post on our website.
The Legion Banner Program was developed to honour Veterans across Canada and to pay tribute to both veterans and active service members. The Banff Legion took part in this tribute in 2021. By displaying the banners along Banff Avenue the Legion was able to engage the community in honouring and remembering Banff veterans through an initiative that will ensure continued recognition and respect of future generations. Banners were displayed in 2021 from the beginning of October to just after Remembrance Day. Some of these veterans went on to become National Park Wardens and we are privileged to share their military history and photo of the banner. Ed Carleton was one of these veterans.
Edmond Clarence Carleton (Ed) was born in Timmins, Ontario on December 6th, 1917. His family moved to Didsbury, Alberta in 1920. Ed grew up enjoying the life of a country boy.
On September 23rd, 1939 he enlisted with the Calgary Highlanders at Mewata Armouries.   The Regiment trained at Sarcee Camp near Calgary, and late at Shilo, Manitoba. He and the other Highlanders boarded the Pasteur, a repurposed steamship that became part of a convoy bound for Scotland escorted by two destroyers. They arrived on September 4th, 1940 and boarded a train that took them from Scotland to England for further training.
Ed was a well-liked and well-respected Highlander. He and his comrades were members of a "crack" Mortar Platoon that was part of the ill-fated Dieppe Raid that occurred on August 19th, 1942. On July 21, 1944, during the Normandy invasion, Ed was wounded at Hill 67 southwest of Caen. He was transported to a military hospital at Bayeux and later flown to England to recuperate. Prior to being wounded in action Ed had met and married an English girl, Dorothy Fowler, who was at that time serving as a Voluntary Air Raid Warden.
Ed received his discharge from the army in October of 1945 and returned to Canada to await the arrival of his wife and young son Michael who joined him in April 1946. Ed, Dorothy and Michael made their home in Didsbury for over a year.   One day in 1948 Ed spotted a poster in the local Post Office recruiting men for the National Park Wardens Service. He thought this was a perfect life style for him so he applied and was accepted.   Ed's first posting as a Park Warden was to Bow Summit. Two more sons joined the family Terry and Brian. The Carleton family lived at the Stoney Creek district, followed by a move to the Banff Buffalo Paddock for one year, and then Castle Mountain (Eisenhower district) where they stayed until 1962. After 31 years of service in Banff National Park, retired in 1979.
Ed passed away in Banff on August 8th, 1994.
Sources:
Park Warden Service Alumni Oral History Project – Dorothy Carleton
Ed and Dorothy, Rocky Mountain Romance, Family Lines Publishing, Lea Storry