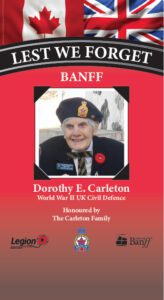 Thank you to the Banff Royal Canadian Legion, Colonel Moore Branch #26 in granting the Park Warden Service Alumni permission to use the banner photos to post on our website.
The Legion Banner Program was developed to honour Veterans across Canada and to pay tribute to both veterans and active service members. The Banff Legion took part in this tribute in 2021. By displaying the banners along Banff Avenue the Legion was able to engage the community in honouring and remembering Banff veterans through an initiative that will ensure continued recognition and respect of future generations. Banners were displayed in 2021 from the beginning of October to just after Remembrance Day. Some of these veterans went on to become National Park Wardens and we are privileged to share their military history and photo of the banner. Dorothy Carleton was one of these veterans.
Dorothy E. Carleton was born in London, England on September 5th, 1919 and grew up in Reading, west of London.   From 1940 to 1945 she volunteers for England's Civil Defence Service as an Air Raid Patrol Warden.
The Air Raid Precautions (ARP), formed in 1937, was a United Kingdom organization that was dedicated to the protection of citizens from the dangers of air raids. Dorothy's father, a veteran of World War 1, was a member of ARP. In 1941 ARP was renamed the Civil Defence Service and its role was expanded. In 1940 Dorothy followed in her father's footsteps and volunteered for England's Civil Defence Service as an Air Raid Patrol Warden. Vigorous training was necessary to become an Air Raid Warden – one in every 6 Air Raid Wardens was a woman. During the London Blitz, when the Air Raid Sirens sounded, Dorothy sprang into action patrolling the streets alerting citizens of approaching attacks by German bombers directing people to air raid shelters while ensuring that the streets were dark, heavy blackout curtains were drawn on windows and shutters were closed to prevent any light to escape.
Dorothy became a war bride when she married Canadian Soldier Ed Carleton. After the war Dorothy joined Ed in Canada.   Ed became a National Park Warden, and they lived in the Banff National Park backcountry for many years. Dorothy and Ed had three sons, Michael, Terry and Brian. As part of the Warden Service family, the Carletons lived at Bow Summit, followed by a move to the Stoney Creek district, and then a move to the Banff Buffalo Paddock. This was followed by a posting to Castle Mountain (Eisenhower district) where they stayed until 1962 when they moved into the town of Banff.
Dorothy became a much-loved "living legend" in the community with her lively and friendly spirit and her music.
Dorothy passed away on June 30th, 2018.
LEST WE FORGET
Sources:
Park Warden Service Alumni Oral History Project – Dorothy Carleton