Thank you to the Whyte Museum of the Canadian Rockies for granting permission to the Park Warden Service Alumni to post this interview on our website
Park Warden Alumni Society of Alberta 
Oral History Project Phase 7.
Interview with the Friends of the Eastern Slopes Association
Monday, August 1st, 2016
at the home of John and Marie Nylund, Sundre, Alberta.
Interview conducted by Rod Wallace with Marie Nylund in attendance.
Representing the Friends of the Eastern Slopes Association (FOESA) – Larry Frischke, President, Dale Marshall, Past President and Clarence Stewart who has served as President for many years and was a key member of FOESA in negotiating a Memorandum of Understanding with Parks Canada pertaining to the Bighorn Campground on the Ya Ha Tinda Ranch.
Introduction:
Rod: Thank you for taking the time to attend this interview. The Park Warden Service Alumni is in the process of publishing a book on the history of the Ya Ha Tinda Ranch. The draft version of The Ya Ha Tinda: A Home Place is almost complete and we want to include the Friends of the Eastern Slopes Association as part of the history. We have enough information to produce the book and we are hopeful in getting a provincial grant to help pay for the publishing. The Province has all sorts of requirements on the grant application that need to be met including submission of a draft copy of the book including an index and photos. The deadline for applications is September 1st, 2016.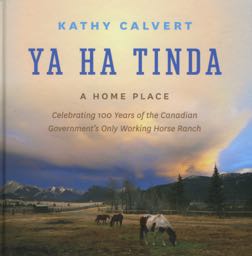 Ya Ha Tinda A Home Place by Kathy Calvert. (www.rmbooks.com).
Canada's 150th birthday is 2017. It is also the 100 year anniversary of the ownership of the Ya Ha Tinda ranch by the Federal Government.  The Warden Service of Banff National Park managed the ranch since for most of that period of time.  (Parks Canada's Regional Office managed it for a period of time as well) The Park Warden Service Alumni Society and Parks Canada plan to celebrate the significant history of the ranch, the people and families associated with it, and its importance at present, and its public equestrian use in the future.  Two public events at the ranch next summer will celebrate the people, horse operations, and the story of the ranch. As it stands now, there will be two events. Parks Canada is hosting an afternoon public event in the summer of 2017 at the ranch. PWSAS is in the process of developing and funding a bi-lingual bronze plaque to commemorate the Ya Ha Tinda centennial. The plaque will be unveiled and presented to Parks Canada at their celebration at the ranch. Parks Canada will eventually mount the plaque on a large rock on display in the ranch yard. PWSAS is hoping to obtain grants to pay for the plaque as well as the book. The Park Warden Service Alumni Society intends to have a less formal celebration in the fall of 2017 which would be a camp-out at Eagle Creek and the Bighorn campgrounds for PWSAS members and invited guests such as the Friends of the Eastern Slopes, Parks Canada staff and other interested people.
Rod: We are here today to document the efforts of the Friends of the Eastern Slopes Association in the relationship with Parks Canada and the Ya Ha Tinda Ranch. We want to recognize FOESA's efforts and have them documented as part of the history of the ranch. We are hopeful that Parks Canada will have an interest the documentation of this history as well.
Clarence: It is my understanding that you wanted the history on how the Friends of the Eastern Slopes became involved with Parks Canada.
Rod: Yes. I ask each of you to introduce yourself and give a background on yourself and your use of the Red Deer River Valley and the area around the Ya Ha Tinda Ranch.
My name is Clarence Stewart. I was born in Andrew, Alberta. Horses were all we had in those days. We did everything with horses; we farmed with horses – hauled hay, straw and manure. As time went on I started working in the Alberta Treasury Branches. I bought a horse and have had a horse ever since about 1963. When I moved to Three Hills in 1975 I met some people and we started riding the west country. I loved it. I still do that today.
My name is Dale Marshall. I was born in Alberta and lived on a farm near Innisfail and now live in Red Deer. I have had a horse all my life. I started out in the early 1960s in the west country. I went out there with some friends of mine – the Thompsons – and just loved it and as the years went on I had more chances to go out there and I got involved with the things that went on out there. We had horses on the farm and used horses but I am not as old as Clarence so we didn't use them as much as he did. (everyone laughs)
Rod: Did you travel up into the (Banff National) Park in those days?
Dale: No, not into the Park, but we rode to the Park boundary gate and in that general area.
Clarence: As time went on we did go into the Park.
My name is Larry Frischke. I can't claim that I was born in Alberta, I am a stubble jumper – I was born in Saskatchewan. When I came out of Veterinary school it was mid 1970s. Livestock was leaving Saskatchewan in droves because the glory days of grain farming were in. So I came to Alberta right after I graduated in 1975 and have been here since. I am a first generation Canadian so father did things pretty much the old fashioned way although we didn't do everything with horses then. We did use tractors and equipment. We still had the old team that we did all the winter work with and still had the old buggy horse. Old Bill took us to school when Dad was busy in the fields. He (Bill) was the only one broke to ride and he was a big old bony Clydesdale and when he stopped and you ran yourself up onto those bony withers, it wasn't much pleasure. (everyone laughs). I was not a horseback rider per se until I came out to Alberta and I was introduced to it. I have got to give Clarence a lot of credit for getting me riding in the west country because when I started my own practice Clarence became my banker. We got to know each other and I started to ride the west country in the early 1980s with Clarence and the group and we did mostly hunting in the fall. My time was a little limited so I usually only came out in the fall. One time with Clarence we did a beautiful 9-day pack trip through the Park. There were nine of us that did that in 1999 and it was quite a memorable trip.
Dale (tongue in cheek): You didn't poach any sheep did you?
Larry: No, but if I recall we didn't bring any liquor back out with us either! The last night at Scotch Camp was a little rough but we got it disposed of. (everyone laughs)
Larry: The Ya Ha Tinda is unbelievable country and when anyone comes to visit (our family) that is one of the places we make sure to take them. On two occasions, my daughter has had pairs of Australians come; and our family has had other European guests come. With each group we took them out there and walked them up to the falls and showed them around. We'd go sit on the deck with Rick & Jean, have a tour. With each of these three groups, the highlight of their trip to Canada was their trip to the ranch. That tells you what the appeal that little part of the world has.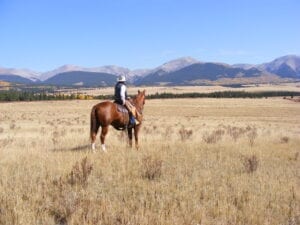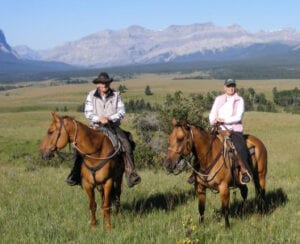 Riders at the Ya Ha Tinda Ranch. Photo courtesy of Marie Nylund.
Rod: Yes, it is a special place. And there are no fees associated with the use of it. And it is great especially for people who are horse oriented. I think it is a real treasure in that sense.
Clarence: When you talk about no fees, we (FOESA) need to go back to 1993. It was obvious from some of the correspondence at that time that there would be a commercial operator at Eagle Creek and that is where our group (FOESA) would have to be based out of and we would have to pay fees. That was one of the main reasons why the Friends of the Eastern Slopes had put the push on to try to keep the Bighorn Campground open.
Rod: Was that the Provincial government that you were dealing with at the time?
Clarence: Yeah. They were going to build a facility at Eagle Creek. I have got a copy of the Upper Red Deer River Corridor Plan from 1994. It states in that plan what was going to be done.
Marie: Was the Bighorn Campground going to be closed then?
Clarence: Yes. I did receive letters from (the Department of) Canadian Heritage, Parks Canada at that time stating that they were going to close the Bighorn Campground.
Marie: Why was that?
Clarence: Well, the campground location was on the ranch which was a working horse ranch. There wasn't any proper facilities at the campground, and there were problems there. They (Parks Canada) did not have time to deal with the problems.
Rod: Was the Friends of the Eastern Slopes formed that particular year?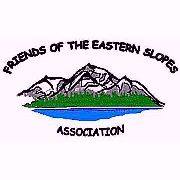 Friends of the Eastern Slopes Association logo
Clarence: We had our first meeting in 1993. The reason it (the association) started was (due to an incident) in 1993 when (provincial) Wildlife officers, under the Wildlife Act, closed the (Bighorn) campground because there was a bear problem. So we were kind of upset about that because we knew that by 1995 they (Parks Canada) wanted to close the campground. So, to us this seemed like kind of the start to the closure. So in November of 1993 a total of 37 people – hunters, campers and backcountry users – met at the Mountainaire Lodge to discuss the closure of the Bighorn Campground by wildlife officers. It was also noted at that meeting that Parks Canada had planned to close the Bighorn Campground in 1995.
Rod: Did you have direct written communication with Parks Canada that they were going to close the campground in 1995?
Clarence: Yes. I have copies of that.
Rod: So this was a period when the ranch was managed out of Regional Office? You mentioned Percy Weibe and Doug Stewart.
Clarence: Doug Stewart was the guy who came from Calgary. I don't know why he came out of Calgary but he made a big decision that day when we presented him with our petition.
Rod: There was a period of time when Regional Office managed and financed the ranch. Banff was not involved. Later (management/financing) went back to the Warden Service with Banff managing it. I know Doug Stewart was a senior manager with Parks on a number of different efforts. He was a Superintendent of Jasper for a while.
Clarence: I can give you a copy of this letter of May 1994 from Canadian Heritage.
Clarence read portions of the letter as follows: "In recent years the area has gained considerable popularity and the number of recreational horse users has increased dramatically. As a result there is considerable environmental damage at this facility. What is needed is outhouses, bear-proof garbage containers, feed-proof storage facilities, water wells, hitching rails, firewood supplies". Also mentioned in the letter is the issue of the creek freezing to the bottom every winter forcing water and ice into the campground area. The letter goes on to state: "To meet the needs of recreational horse users Parks Canada has begun negotiations with provincial authorities to develop a more suitable facility just east of the Ya Ha Tinda Ranch. The Eagle Creek facility is scheduled to be available for public use in the fall of 1995 at which time camping on the Ya Ha Tinda Ranch will be discontinued".
Rod: So, did the Friends of the Eastern Slopes form at this time?
Clarence: No, once we learned from Fish & Wildlife that you could not hunt from there (the Bighorn Campground) any more, we then got organized in the fall of 1993. On November 27, 1993 we met at the Mountainaire Lodge and at that meeting all 37 people undertook to send letters to Parks Canada and Alberta Environment. I was (delegated) to make up petitions for all the 37 people. We put petitions wherever we could and then we held a meeting on February 5th, 1994. We had 150 people at that meeting and over 3300 people had signed the petitions. I will give you a copy of this.