Thank you to the Whyte Museum of the Canadian Rockies for granting permission to the Park Warden Service Alumni to post this interview on our website
Park Warden Alumni Society of Alberta 
Oral History Project Phase 7.
Interview with Robert and Susan Jennings and their daughters Shelby and Jordan
At their home in Bergen, Alberta
Friday, April 15, 2016
Interview conducted by Rod Wallace and Marie Nylund
Introduction:
Rob's father Hugh Jennings was a park warden in Banff for many years before transferring to Riding Mountain National Park. Hugh's wife Meta and sons Robert and Randal enjoyed the warden service life and thrived in the remoteness of living in isolated places. Meta said (in her story in Silent Partners, by Ann Dixon) that even though the boys missed out on things like competitive sports they both learned so much about riding, skiing, fishing, and gained an appreciation of nature and wildlife. Rob's brother Randal works (Foreman of Trail Crew) for Parks Canada in Riding Mountain National Park.
Since Rob has had an extensive background of working and living in the backcountry or isolated places the change of lifestyle from the town of Banff to living and working at the Ya Ha Tinda Ranch was seamless and a natural transition for him. Rob has been at the ranch continuously since January 7th, 1999 – the longest employee to have worked at the Ya Ha Tinda Ranch. In 2006 Rob and Sue purchased their own place near Bergen. Sue also co-owned and operated a unique Candy Store in Sundre for several years. Both Shelby and Jordan have became heavily involved in various disciplines of 4-H and take part in local horse shows and the Sundre Rodeo precision riding drill team. Jordan takes part in equestrian vaulting. With the girls being involved in many equestrian activities both Rob and Sue are very much involved along with them. They have been Bergen 4H Horse Project Leaders for the past 3 years. Rob is the instructor for Levels 2 and up and Sue takes care of all of the organizational requirements for the Horse Project. They both also help with all other activities the girls are involved in from helping with horses at Drill Team practices to warm up coaching at vaulting.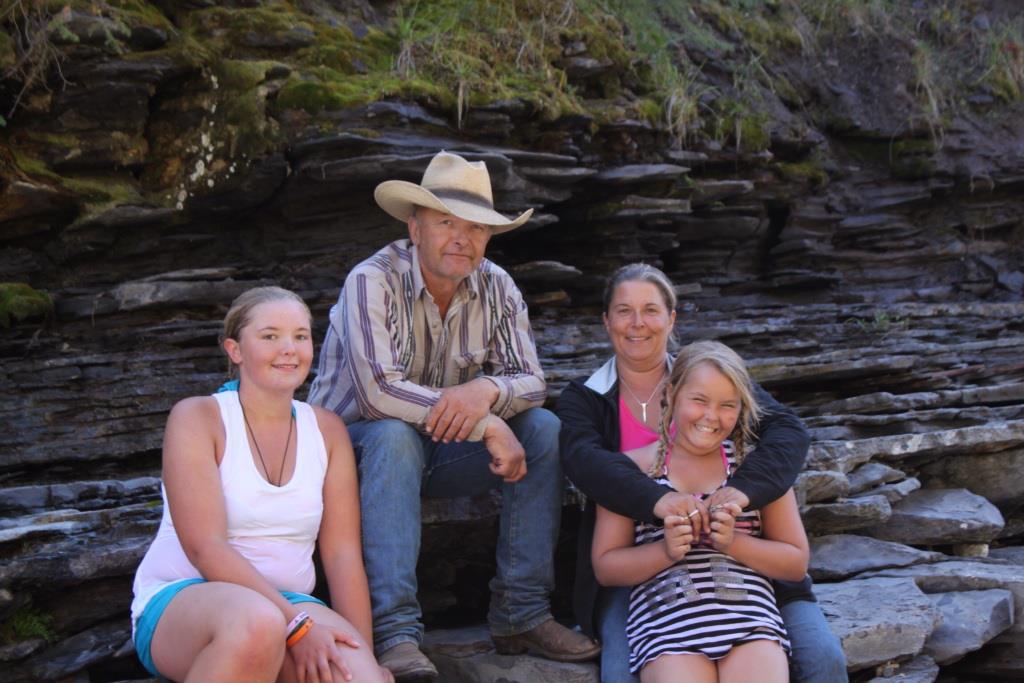 Shelby, Rob, Sus and Jordan Jenniings, Ya Ha Tinda Ranch
Rod Wallace: Can you tell us a bit about your background?
Rob: When I was a kid my heros in the Warden Service were always the cowboys and I was lucky enough to be around quite a few of them. I was hooked on horses and I was lucky that Riding Mountain National Park provided lots of chances to do that kind of stuff. The park allowed their employees to keep the horses year round, not like Banff Park. The park made allowances for families so that they could have horses around all the time. I moved into the horse show circuit a little bit and then on to rodeos. Later, I got involved working on the Community Pastures for the P.R.F.A.** and I rode for them for a lot of years chasing cows and looking after cows. My first job out of High School was working for Parks Canada on trail crew for a season and then the cowboy thing came along which was a lot more interesting to me. We lived in Riding Mountain Park – my dad was a district warden at that time so when I started with Parks Canada he was still working for Parks at that time so I worked right from the station and I drove to work every day. Later on after he retired we moved to a little town called Onanole just on the outside of the park and I lived there periodically and I worked for local people doing different jobs like construction, but I was always trying to find something to do that involved horses and cattle at that time.
**The Prairie Farm Rehabilitation Administration (PFRA), a branch of Agriculture and Agri-Food Canada (AAFC), was established by the federal government in 1935 to help mitigate the impacts of a prolonged and disastrous drought which forced thousands of people to leave the prairies between 1931 and 1941. PFRA's original mandate was to deal with the problems of soil erosion and lack of water resources required for agricultural development in the drought-affected areas of Manitoba, Saskatchewan and Alberta. Emergency programs included on-farm dugouts for the conservation of water, strip farming to prevent extensive soil drifting, seeding of abandoned land to curb erosion and create Community Pastures, and extensive tree-planting projects to protect the soil from wind erosion. As a result of another drought in 1961, the federal government expanded PFRA's work area to include all agricultural areas of the prairie provinces—more than 80% of Canada's agricultural land base.
Always in the back of my mind was the Ya Ha Tinda. I had been there a few times as a kid. I always thought it was the perfect place. The ranch was always in the back of my mind as were the mountains. When I was 30 years old I came back to Banff for a vacation. Retired park warden, Ed Stewart, organized a pack trip. He rented horses and gear from Johnny Boychuk in Canmore. (Johnny Boychuk was the owner of Johnny's Riding Stables in Canmore for many years. The stable is now called "The Cross Zee".) The equipment was all falling apart and the horses weren't broke and it was quite an interesting deal. However, on this trip I fell in love with the mountains once again. So the following spring I went to work for Ron Warner (Holiday On Horseback) in Banff. I spent eight years working for Ron. I was getting a little bit tired of the tourist end of things and I was not happy living in the town of Banff so I was looking for something else when the ranch hand position came open on the Ya Ha Tinda Ranch and I applied and ended up getting the job. That was January 7th, 1999 (that I started) and I have been there ever since.
Rod Wallace: Can you tell us more about your dad and your upbringing?
My dad, Hugh Jennings, started off his career as a Warden in Banff. He was there in 1955 and was first posted to Saskatchewan River Crossing Warden Station as an assistant warden in 1955. He was then posted to Banff where he eventually got his Warden One classification. Our family lived at the Buffalo Paddock house. Following that we moved to Eisenhower Warden station to assist Ed Carleton. We lived at Eisenhower Junction warden station for 3 years when we were quite young. There was an incident there where my brother Randal fell in the fishpond and Dorothy Carleton saved him. Our family moved to the Fairholme Ranch Warden Station. Steve Kun and his family lived there at this time as well. Later, Dad was posted to Windy. At the time, my brother Randal and I were in school and so Mom would drive us in to Banff each day when the roads were good in spring, summer and fall. During the winter months we lived in Banff with our mother so we could attend school. Dad would come in to Banff on his days off.
Early one June, Mom had arrived home to Windy with us and about a half an hour later Frank Coggins phoned to say the bridge on Stoney Creek had washed out. This resulted in us having to ride with Dad on horses to meet Art Cartlidge who drove us to Banff. Then we lived with the Carleton's so we could complete the school year. When Dad was posted to Bow Summit we boarded with the Carleton's again so we could attend school. Dad was posted back to Saskatchewan Crossing for a period of three years and then my parents made the decision to transfer to Riding Mountain. This was in 1969. This transfer came about because the process in Banff was changing. Banff Park was modernizing the system by dissolving the district system and developing an area manager system in order to centralize things. Dad did not quite fit with that and Riding Mountain at the time was still operating on the old district system. The other deciding factor was that schooling for my brother and I in Banff was getting to be quite a problem as we were living at Saskatchewan Crossing. It was 86 miles to Banff. Also in the early years the rent and cost of living in Banff was cheap but that was all changing too, so it was getting a little bit hard for my parents to make ends meet so they decided that we'd be better off in Riding Mountain. In Riding Mountain we lived at Baldy Lake for five years and then Heron Creek.
Rod Wallace: Did you get your education through correspondence?
Rob: No, the only correspondence I did was to complete my Grade 12 in order to attend college, so I finished my high school by correspondence. We always did our schooling in town when Dad worked for Banff National Park.
Rod Wallace: When you worked for Holiday On Horseback, did you get lots of trips in and dealing with the public?
Rob: Yes, it gave me a lot more background in packing. When I was a kid I was a bit of a pain in the butt to the wardens that were in our area because I would follow them around every place they went with their horses. I was fortunate enough to be around Ted Anderson when we lived at Saskatchewan Crossing and he was pretty open to having a kid follow him around so I went on a couple of trips with him and also with my Dad. The following year, after Ted had left, Paul Peyto was there and he was pretty open to me following him around. I followed those guys around like a lost calf and I probably got in their way more than I helped them out. (laughs) I was involved with them a little bit and I was always fascinated by the packing part of it. I had done a little bit of packing in Riding Mountain but it was pretty minimal compared to the packing in the mountains. When I came out to Banff I worked for Ron (Warner) as a packer for 6 years or so before I got into the guiding end of it. I might still be there but when I started looking after dudes I was becoming less satisfied.
Rod Wallace: Did you guide any hunters?
Rob: Ron did not guide or outfit hunters. I was never involved in any hunting trips. I am not a hunter.
Rod Wallace: So you learned to deal with the government at an early age; working for an outfitter who was dealing with the parks. So, there was an opening at the ranch and you got a chance to apply on it and went there and you've been there for how long now?
Rob: It will be 18 years in January 7th, 2017.
Rod Wallace: So you must have seen a few changes.
Rob: There have been a lot of changes; some positive; some negative I guess. The horse program is run a lot different than when I first started at the ranch. Mostly out of necessity. The parks staff as a general rule have changed a lot; there are a lot more seasonal staff and a lot less people with horse backgrounds so this means that the horses have to be even quieter than they were before. And the people need instruction so we do a lot of horse schools to teach new people.
When Ya Ha Tinda Ranch Manager John Nylund retired, they shut down the breeding program much to everyone's chagrin. They (Parks Canada) thought they could buy horses cheaper than raising them. But the turnover (of horses that did not work out) has been too high. We have gone to buying weanling colts. The older horses that we were purchasing at the price that we had to pay did not work out as it seemed we were buying a lot of other people's problems. The success rate was not nearly as great as when we were raising them ourselves. So that is changing now. This next couple of years will tell the tale on (the success of) that but already in dealing with these younger horses they are better than what we had bought previously.