Thank you to the Whyte Museum of the Canadian Rockies for granting permission to the Park Warden Service Alumni to post this interview on our website.
Park Warden Alumni Society of Alberta Oral History Project Phase 8 Fall 2018
In person Interview with Diane Volkers
January 17th, 2019 @ 1130, Banff
Interviewed by Monique Hunkeler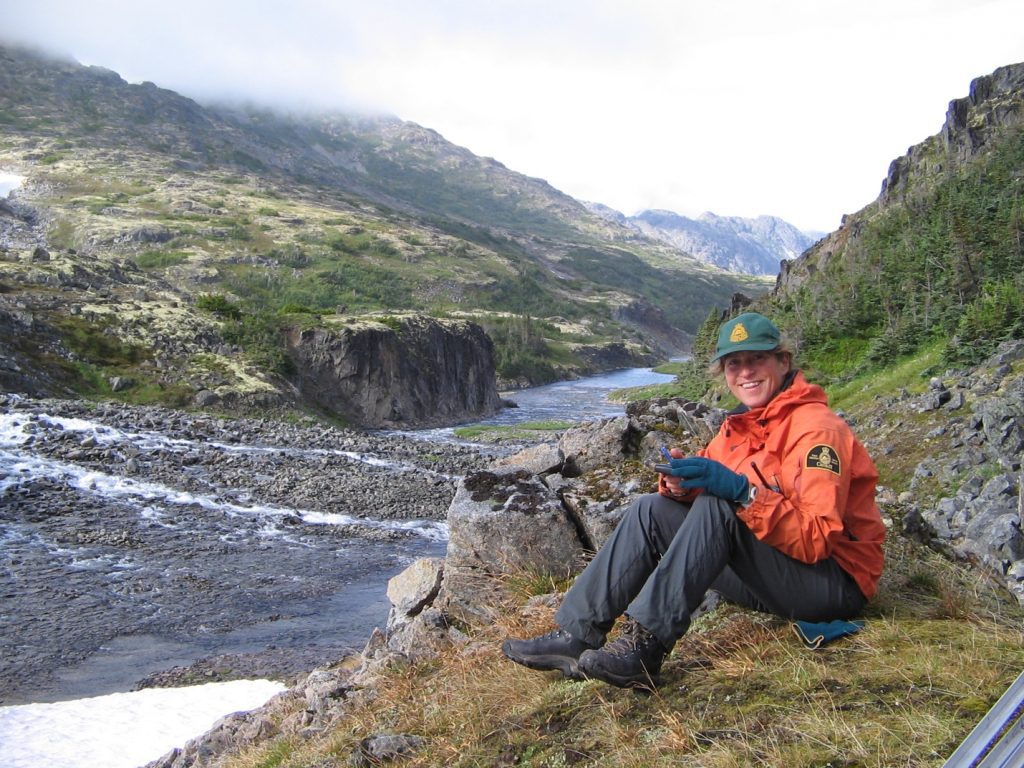 CHILKOOT TRAIL
Place and date of birth? Diane was born on April 11th, 1956 in Vancouver, BC
MH: Where did you grow up?
Diane: I grew up in Vancouver, in the Kitsilano Kerrisdale area of the city.
MH: How did you become involved in the Warden Service? Which national park did you start working in?
Diane: I had an interest in parks and wildlife work, having studied forestry at UBC. My husband, at the time, ended up with a job as a term park warden in Kootenay National Park, Marble Canyon, just after we graduated from forestry. I followed him to Kootenay Park and that June, there was a late season job offering and I was able to get a position at Saskatchewan Crossing as a patrol person for that summer. Started in Banff National Park at Saskatchewan crossing in 1978.
MH: What made you want to join the Warden Service? 0115
Diane: I was always interested in the mountains and parks. We had a friend in forestry, Brian, who worked as a seasonal Park Warden in Jasper. When I was still in forestry school we went to visit him when he was working as a backcountry warden in the Tonquin Valley. Already I was a mountaineer and loved the mountains. We were in that area to climb Mount Edith Cavell. We got to his backcountry warden cabin and I thought 'Wow, this could be somebody's work!" Look at this cabin in this location and look at the cupboards full of food that he didn't have to carry in on his back. Since I was a backpacker, I realized that being a park warden could be a wonderful job!
MH: What different parks did you work in? How did they compare? Do you have a favourite? 0210
Diane: I started off in the Saskatchewan Crossing part of Banff National Park and then was in Lake Louise for 6 years as a seasonal warden. My first full time position was Kootenay National Park in 1985-87. I really enjoyed working in a smaller park. In 1987 I was able to transfer over to Banff and live in a less isolated place than Marble Canyon. My job was in Banff from that time, 1987 through to when I retired in 2011. Over the last 10 years of my working time I was able to do a number of assignments. I ended up in Gwaii Haanas for the summer of 2001 and then on the Chilkoot Trail for two years, 2005/2006. I worked out of Inuvik for the Western Arctic Field Unit for a summer in 2008. My last summer was working out of Pond Inlet and Sirmilik National Park. Carey (Elverum) was away for most of the summer but he is a big part of Sirmilik, having been the Chief Park Warden since It started.
0335: I loved the area I started in and still think of that as being my favourite, the Lake Louise part of Banff National Park. I really enjoyed working in the smaller parks like Kootenay and the Chilkoot where I had far more responsibility. With smaller staff size, the responsibilities get spread further.The geographical variation went right from the west coast in Haida Gwai, to the Arctic and then based out of Whitehorse. It was a wonderful variety of assignments. When I first started with parks I thought I'd go far and wide initially in terms of assignments to different places. I thought, wow, you'd be able to do all these different things. Then when I landed in Lake Louise and Banff and loved the mountains and loved climbing and skiing, it was like, well this is pretty fine. So I ended up staying here for the first 20 years before I started to take forays out to other locations. My favourite is still the Lake Louise area, part of Banff National Park.
MH: What were some of your main responsibilities over the years? 0500
Diane: Resource Management, Public Safety and Law Enforcement were the key duties but my favourite ones were backcountry, Public Safety (which I was able to do a few years of) and wildlife. Those were the ones I strove to spend more time doing if I could. When I did my assignments away, quite a bit of that time was in a supervisory role. I really enjoyed that as well, just mentoring people and helping run programs in smaller parks.
MH: What did you like / Dislike about being a warden? 0552
Diane: It was a pretty primo job and I can't believe I fell into it being 22 years old, and was able to have a full career of an amazing job. But the huge part of it being wonderful was the variety that we were able to do. Everything from rescue to fighting fires to public speaking to avalanche control to working with visitors, the variety made it a really special job. When I left university, I always felt that I would only do a job for five years, because I would need to change and do something else. I honestly felt that that was how it was going to go. But within the Warden Service, it was Environmental Assessment, it was Backcountry, it was Prescribed Burn Planning, there was so much variety that it turned out to be a wonderful profession. There was very little I did not like, but one thing that was truly unpleasant was attending car accidents as first responders. You never really knew what was around the corner. A tough job for anyone. Another thing that comes to mind is communication. That can be a problem in just about any job. Clear communication between different levels of an organization is always a challenge. But I have few complaints.
MH: I always admired you because you just had a great attitude. When there was lots of diversity that came and went over the warden service and there was Diane she was always smiling and you just always had a great attitude when things were tough.
MH: What were some of your more memorable events as a Warden? Can you tell me about any rescue/wildlife stories that stick out in your memory? 0815
Diane: A couple of things came to mind and one of them was very early in my career, was when I was 24. For my first summer in the backcountry, I was based in the Cyclone district which had at the time a total of 9 cabins. It was Indianhead through to Isabella to Cyclone, and Skoki Lodge. I worked with Randy Chisholm that year and we did a trip together for the first 10 day shift, and then off I went on my own with a couple of pleasant horses, Leah and Cactus and Dale Loewen as the backup on the radio. He would talk to me every morning before regular dispatch call and say, "How's it going? Anything you need?" And just be totally supportive from a distance. But there I was having this beautiful part of Banff National Park as my responsibility as a 24-year-old so that was pretty amazing as a start to a career. I wasn't experienced with horses and that was one thing I was quite concerned about before I came to the Warden Service. I'm a climber and a skier and I've got lots of skills in some areas, but horses, not so much. And I did a little bit of volunteering when my husband was down in Waterton, before I had a chance to use the horses too much here. I volunteered at a barn down there to do some basic grooming and taking care of the horses so I could ride a little bit, just so I could feel like I wasn't a total rank greenhorn. Well I was still a greenhorn, but off I went and had a lovely summer.
1000: A couple things were to do with the Public Safety end of things. I was able to do a Warden Service climb on Mt. Robson with Willi Pfisterer and that was in 1984. It was the first time the wardens had actually climbed Robson so Willi was very pleased to get a team to the summit. It was a large team, there were 9 of us that climbed Robson and successfully did it within a day in not ideal conditions because it was a little too warm that day. But it takes a while to get 9 people over a summit. One memorable thing about that day was when we were on our way down, you have to rappel off the end of a glacier. It's a very long rappel, like a full rope length. Willi and Gerry Israelson set up the rappel on the edge of the glacier and the rest of us were a little apprehensive because we couldn't see where this rappel was actually going. So there's the other 7 of us standing back a little bit, just waiting for our turn to rappel. I still remember the first of the others to go to the edge and look over was Brian Wallace. He kinda looks over and hesitates and it's getting to be a long day and we need to carry on to get off before it gets dark. Willi says, "Just go…" in his Austrian accent and it's like "oh, okay", and off we went. We carried on but that was just the line that came out of the trip was "Just go…". (we talked about Willi's book and Diane had just received it for Xmas. She's mentioned in it). I always got along really well with Willi. He was a lovely man.
1149: Another interesting event was a law enforcement event. I must admit, law enforcement was not my forte. Of course much of our frontcountry work was patrolling and you're coming across this and that. One day, one of the highways supervisors was out west near Redearth (Creek) and said there's somebody with a fire off the road. And I thought, "Okay, that's my job." So off I go to deal with this illegal fire. So I find the spot and it turns out somebody has driven into an old gravel pit where it wasn't super obvious that a person shouldn't go in there. Those were our rules, you don't go off roading in the park and here they are. I walk in to find them. There are three young people with a car, a dog off leash, and a fire and it's like, "Okay guys, there's a few things I need to talk to you about here." I didn't drive in because I wanted to show by example that this is not where we normally drive. So I walked in and talked to them and they go, "Okay we understand we shouldn't be here." But I say, "I'm going to have to give you a few tickets here, I'll give you an Appearance Notice for driving off road". So they say, "Okay." I get their ID from them and run their license plate. Well it turns out to be a stolen car. So dispatch comes back and says, "Stay where you are, the RCMP are responding." I talk to the people like nothing has happened and I carry on writing up this notice and say could you just stay where you are and everything is sort of peaceful. Then the RCMP officer arrives, ripping in driving right beside the fire. He says,"You're all under arrest." There are two fellows about 19 and a young woman who's about 16. The RCMP officer asks them to put the dog, which was a Boxer, into the vehicle. A good idea. Our law enforcement skills are there but the RCMP are better at it. One suspect goes towards the car as if to put the dog inside, but bolts into the forest with the dog. The other two are just sitting placidly, and then the RCMP goes running after the guy into the forest. So I'm saying, "Okay we are just going to wait here, and stay calm." There was only one officer but he'd sent for another car to transfer the girl separately. And the RCMP Officer comes back after a bit and he says, "I lost him." The second vehicle arrives and they arrange to transport the other two prisoners. Meanwhile the dog's in the car, the escapee is off in the woods and they are going to arrange to tow the car. Everything is taken care of for the moment and I take off down the road. Then I see the guy; he actually had the dog with him, running across the Trans Canada Highway, a couple kilometers back towards Banff. So (I call the RCMP) "Hello, I think your suspect is over here." and I marked the spot where he had gone into the woods, and eventually they got a search dog and apprehended him. But it was just the whole series of events was like oh wow…and then I get back to the Warden office and a self defense course is happening but I'm not involved because I'm Duty Warden, and here I am exposing myself to a somewhat risky situation and meanwhile the other staff are practicing what we call whack and squirt on the lawn of the warden office. It all worked out. Turned out the fellow that was apprehended was known as "the Flamingo Killer" because he had killed a flamingo in Stanley Park. He had escaped from detention, stolen a car, taken a friend and somehow found a girl along the way who wanted to go with them and gone for a road trip. Yeah, that was quite the event. The Flamingo Killer ends up in Banff National Park.
1638: For Wildlife, you've probably heard the story of the cougar attacks before. This was back in January 2001, just after Christmas. And there were a couple of things happening. I was the Duty Warden and at about 0300 in the morning, I got a call saying there's been a dog attacked by a cougar on Buffalo Street. The dog has run away. The people in the house saw the cougar but now it's gone and the dog is gone. So I go over to Buffalo Street and I drive around in the dark trying to look for a cougar, and for the dog that has gone who knows where. After looking around for some time, there's nothing further I can do tonight but this cougar is on the edge of town. I go home, get to bed, jump in the shower in the morning and while I'm in the shower, a call comes to my cell phone, but I didn't catch it cause I was in the shower. I drove away to start work, then was told that there was an incident with a cougar in Middle Springs literally across from where you live. So I go back to Middle Springs, and it turns out to be an incident involving a woman and a dog. The woman's name was Cheryl Hyde. She was walking her dog between two sections of Middle Springs in the dark and was followed very closely by a cougar. She grabbed the dog into her arms and was screaming out the back of Gary Doyle's house, across the street from me. He heard her screaming, ran to his back gate, opened the gate and she tumbled into his yard with the dog in her arms and the cougar is standing 3 meters away outside the gate.
And so she is okay, the dog is okay, but this is all happening on the same day. So it's probably the cougar that injured the dog over on Buffalo Street. So we're trying to decide what to do, because we found a dead elk carcass in the middle of the trail between the two sections of Middle Springs. It seemed that one of the cougars was protecting its prey. This is a pretty natural thing and we're supportive of cougars. We should probably just move this prey up into Middle Springs corridor where it's closed and where people are not allowed and a reasonable distance away, then leave it for the cougar to finish consuming so he's not after another piece of meat! So there's Tom Davidson and I trying to figure out how we are going to deal with this carcass and then, we hear that on Minnewanka Road, a woman has been killed by a cougar while cross country skiing. And we're like, "Are you serious?" This is 13 km away and this is all within 6-8 hours. So a couple of wardens are dispatched to destroy the cougar and the woman is dead and had been dead for a little while and yes, unfortunately it was a crazy event. All this cougar activity happened over the same short time and it seemed to be that over my career that's happened a few times where cougar activity just totally ramps up and two totally separate cougars were involved in human interactions at the same time. These were two different cougars. The one that was in town here ended up being treed and captured in behind the park administration building. I ended up being part of that part of the event too because the following evening, two of us were assigned to basically drive around at night and watch for this cougar. So we had three separate things happen. I was with Kelly Johnston and we were just driving around when we got a report from the Banff Centre that there was a cougar near the Max Bell building. So we rip up to the Banff centre and there's a fellow doing janitor work at about 3 in the morning and he's looked out the window of the Max Bell theatre and there's a cougar on the lawn. And his response was to put his arms up in the air, because he'd already heard about the cougar in town. Word had gotten out and he was inside the building but still putting up his arms so the cougar went away. That was all good but by the time we got there, the cougar was gone. We were driving around the Glen Crescent area and we spotted a cougar sitting under a street light, likely the one being not so far from the Banff Centre, but across the river. The cougar heads off into the bush and is gone again. Then we got a call from RCMP (Harold) who had also been watching for the cougar. He spotted it just in the forest off Park Avenue behind the Admin Building. When we arrived and watched, we realized it was feeding on something. At first we thought…oh no! Perhaps it's a person since the spot was near a trail. Our bleary minds were worried but fortunately it turned out to be an elk carcass. So the following day, they brought in a cougar hound fellow from Canmore with his dogs and they managed to tree the cougar between Cave Avenue and Middle Springs. So that one was dealt with and eventually translocated to the Clearwater. The cougar that killed Francis Fox was destroyed at the attack location. At first they felt it may have been starving. But from the cougar experts, they just say that's common, that's how cougars go. They don't eat for a long time and then they are hungry and they kill something. It's not like that cougar was particularly malnourished or that anything unusual had triggered the event, but just a sad occurrence. Yep, it was sitting under the tree beside the Minnewanka trail and just bolted and grabbed her. Cougars had not killed a person in Alberta. Part of my role was to do research into the history of cougar incidents and I ended up being in touch with an expert in the states who had studied cougar incidents over the past hundred years. In BC, there had been injuries, usually small children under 10, small prey, and I guess Francis was a smaller person which was possibly why she was taken out. Margaret Gmoser found her, she was skiing and at that time, there were no cell phones so she had to rip to the Warden Office to report it. It was crazy. That was a huge event.
2437: There were a couple of famous long rescue events that happened. The guy that fell in a crevasse on Crowfoot Mountain. His name was Ferris, and he was hiking by himself in the summer and he fell into a crevasse. He was reported missing by his wife. He had left a map with a UTM coordinate of where he was going hiking so we thought we knew where he was but it turned into a big search. The weather wasn't so good on the first part of the search. We'd missed him, since he was in a crevasse on the glacier. We decided we should also search other mountains like Jimmy Simpson and Cirque since maybe he went somewhere else. It ended up being at least 1.5-2 days later when during a break in the weather, Tim (Auger) was able to spot him from the helicopter in the crevasse, having spent pretty much 2 days there. Ferris was fine, standing and waving from a ledge. He had just fallen in a few metres but he just couldn't get out. Fortunately, he was spotted before he was there for longer. He was totally fine, not injured at all. Nice to have the good rescue stories because many of them aren't so good. We have called that glacier since then, the Ferris Glacier. Most people don't travel there in summer. It's treated as a glacier in the winter and gets way more use then.
MH: How did the Warden Service change over the years? 2629
Diane: I guess one of them that was obviously noticeable to me was because I was one of very few females around. So when I started in 1979 as a seasonal warden, I was one of about six women in the whole organization. In 1984, I was the second woman in Canada to become a full time warden. I always felt that I had a high level of respect from men. I didn't feel any prejudice, it was like if you're able to do the job, we respect you. I felt like I had enough skills and confidence that that was fine and it worked out really well for me. So in time, there got to be more women. Even still, there's not that many in management, in the Resource Conservation function. There are women in key roles like Lisa Paulson in Visitor Safety and in many aspects of the job but it is still male dominated to a certain degree. So the presence of woman in the Warden Service changed. Another way it changed I thought was the approach to science. In the 1990s, we started to have biologist positions and became much more professional on the scientific side of things. Before that, we called it "Warden Science" and we'd do resource conservation projects but not necessarily in the most professional or scientific manner. We did our best but after we started having more qualified and educated people in the biology roles, the Warden Service made huge leaps forward in resource conservation.
2818: The joy of being a warden for so long was the diversification. We had training in so many different aspects of the work. As things progressed, the warden service changed because of the sidearms issue, then most of us were no longer Park Wardens. Everything became more specialized. Certainly in some roles people became better at their work because they were able to specialize but we lost that opportunity of doing so many different things. In some ways it was good for the organization but individually it was more restricted in what roles you could play.
MH: What about the Warden Service was important to you? 2910
Diane: Having the responsibility of taking care of a national park as in it's protection, in helping visitors that you dealt with appreciate and also protect the park, and being part of preserving it for the future was very important to me.
MH: Are there any legends or stories associated with the Warden Service that you can share? Is there anyone from the Service that stands out in your mind? 2950