Thank you to the Whyte Museum of the Canadian Rockies for granting permission to the Park Warden Service Alumni to post this interview on our website
Park Warden Alumni Society of Alberta
Oral History Project – Winter 2012
Interview with Abe Loewen
May 24, 2012. Penticton, British Columbia
Interview conducted by Christine Crilley-Everts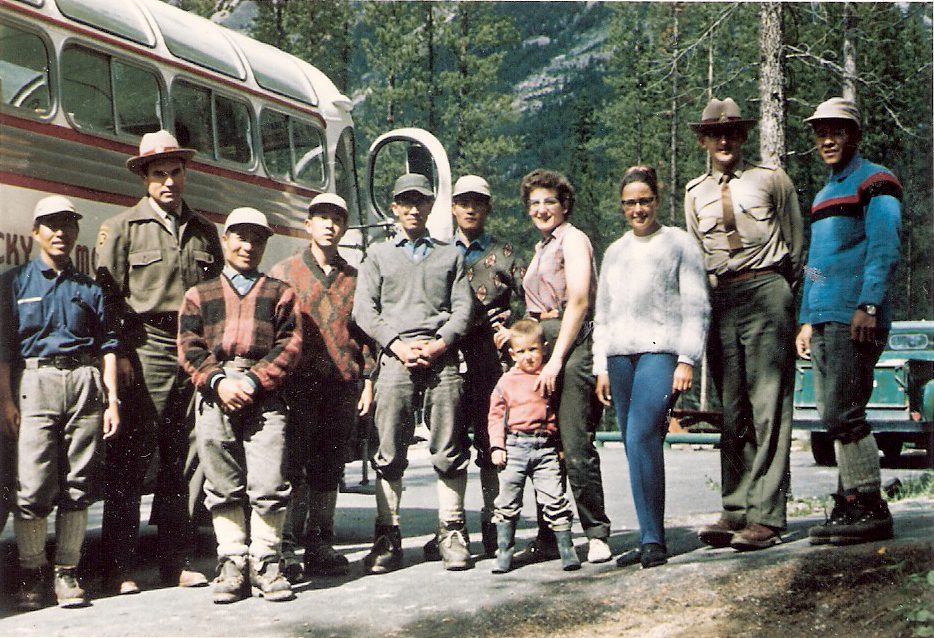 Japanese Climbing Party with wardens Max Winkler and Abe Loewen 1964 Jasper National Park
Place and Date of Birth: Coaldale, Alberta. September 30, 1939.
Occupations: After working on a ranch in the southern interior of British Columbia and graduating from a bible college in Edmonton, Abe joined the Warden Service in Jasper National Park in 1962. He started working seasonally in Maligne Lake and was then given a permanent position in the Brazeau district. During his 20 years with the Jasper Warden Service, he also worked a Function and Area Manager which included public safety and avalanche control work. He left the service in 1982 to work on a large grain farm in southern Alberta. He then moved to Grasmere, British Columbia where he started a small ranch that he continues to operate today.
Additional Information: The Brazeau district of Jasper remains a special place for Abe Loewen, one he has returned to on different occasions with his family.
(0:37) – This is a picture of a Japanese climbing party that came to make a re-ascent on Mount Alberta. They had made the first ascent 25 years earlier. Max (Winkler) and I helped them cross the Sunwapta River, so they could get access to Mount Alberta. They didn't make the summit, but these are some of the Japanese climbers…
(1:28)"Did you do a lot of the public safety work in Jasper with Willi Pfisterer?"
Yes, I made quite a few climbs with Willi actually, on Mount Colin, Mount Cavell…
(1:59) "Do you have this picture?"
This is one of our first warden schools at the Palisades. I think it was in 1968, but I am not sure exactly. You can see Gerry Campbell is there and Mickey McGuire, Joe Holroyd and there are a lot of people that I didn't know…
"Would they have come from all the mountain parks?"
From the prairie parks as well.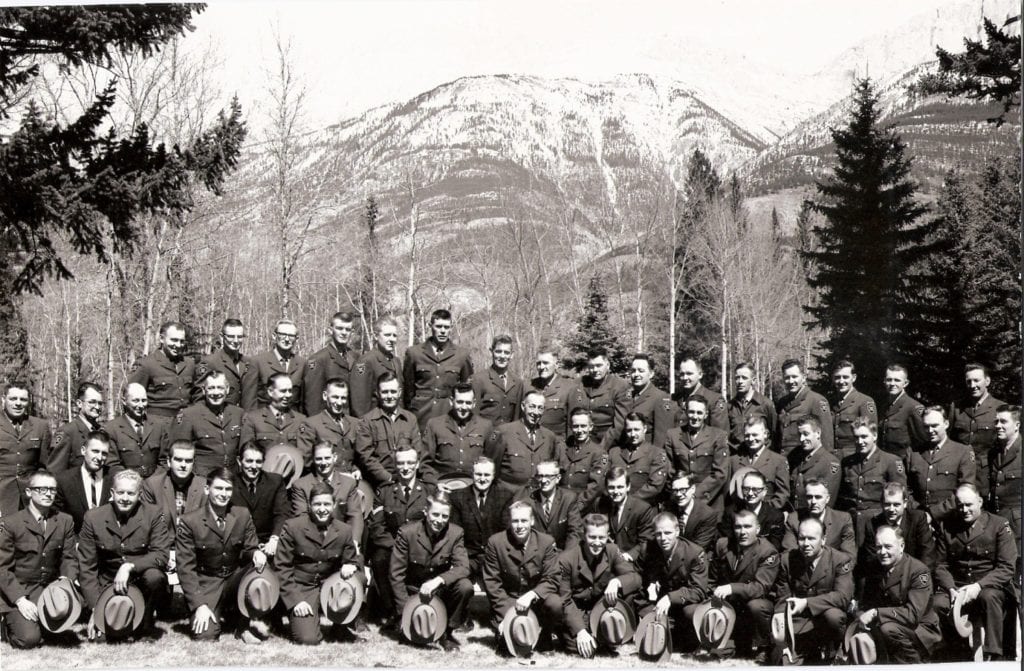 Warden school at the Palisades, Jasper National Park, 1967
(3:12) – Do you have this picture? This is Pierre Trudeau on the summit of Edith Cavell.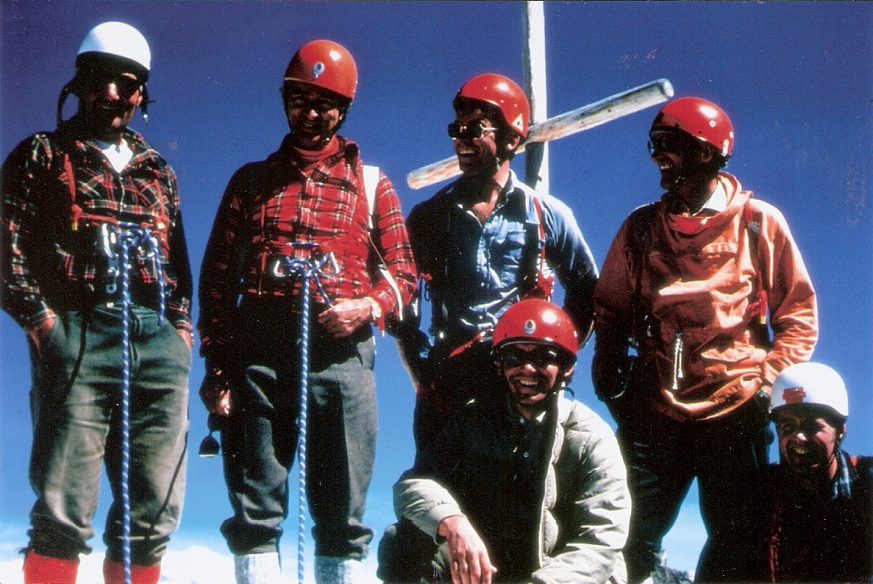 Willi Pfisterer, Pierre Trudeau, Don Migison, Abe Loewen, Dwayne Martin and Bob Haney
Summit Mt, Edith Cavell Jasper National Park
(4:05) This is a small picture of Bert Rowe, have you ever heard of Bert Rowe? He was a warden in Jasper. Bert and I were packed up to go up to the Moose Horn. I spent several months in the fall on boundary patrol.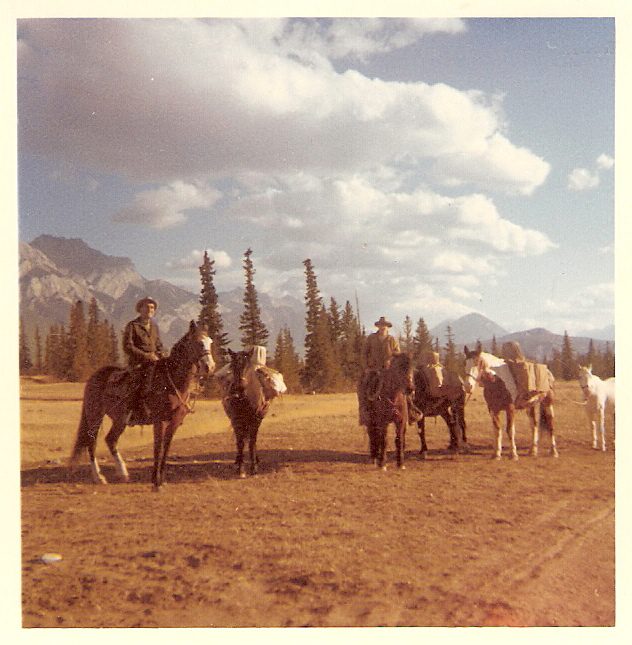 Bert Rowe and Abe Loewen heading to the Moose Horn on boundary patrol, 1964.
(4:28) "Were you an assistant warden then?"
I didn't do a whole career. I started in 1962 and then I signed off in 1982.
"Were you always in Jasper?"
Yes. Well, I did spend one winter in Rogers Pass on traffic control the first year the Pass was open…Noel Gardner was in charge of the avalanche control at that time. We had no training at all! When I think back of how things were done…That was in 1962 I think.
(5:47) In my later years as a Function Manager, there were four of us. I was in charge of different trail crews and cabin crews and also a Native trail crew. Frank Burstrom was (the foreman) in charge of the crew. This photo is of part of the crew using an Alaskan sawmill to make bridge decking.