Thank you to the Whyte Museum of the Canadian Rockies for granting permission to the Park Warden Service Alumni to post this interview on our website
Park Warden Alumni Society of Alberta
Phase 8 Oral History Project Fall 2018
Phone Interview with Tom Elliot
January 8th, 2019@1400
Interviewed by Monique Hunkeler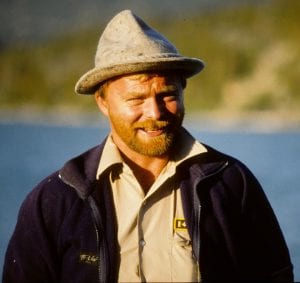 Chilkoot Trail Summer 1993
Place and date of birth? Tom was born January 6th, 1955 on the Manitoulin Island, Ontario at the Mindemoya Red Cross Hospital. I'm much known as a haw eater (someone who is born on the Manitoulin). I was born January 1955.
MH: Where did you grow up?
Tom: I grew up in a small town called Milton, Ontario. It had a population probably around 6000 people when I grew up. And I was just reading not that long ago that it is the fastest growing municipality in Canada; between 2001-2011 and the population hit over 100,000. It used to be green between Milton and Toronto and now when I pass through it's all developed, highways and whatever.
MH: How did you become involved in the Warden Service? Which national park did you start working in? 0127
Tom: I got exposed to the Warden Service through the Kluane Youth Conservation Corp (KYCC). When I finished high School in January 1974, I came out to Banff (I worked the midnight shift at Norquay Esso) and met up with a friend of mine whose dad worked for the military in a high altitude study in the icefields of Kluane. After the ski season we went up to the Yukon figuring we'd find a high paying mining job or something like that, whatever the case, I got offered a job working for some friends of Kim's (Frank and Josie Sias) who had the contract to manage and run the KYCC. I was a supervisor in that program during my university years from 1974-1977. When I graduated from University I started as a term warden in May of 1978 in Kluane. I started university at Lakehead (I'm kind of jumping into the next question a bit), but growing up I'd always wanted to work outdoors and out of high school I decided to get a degree in Forestry. Before my first year at University, I had the job with the KYCC and I knew through that, that I wanted to become a Park Warden. After 2 years at Lakehead I transferred to U of A in Edmonton. The University of Alberta had a little broader course load, it had recreation courses, Park Management courses, a little more to offer than the straight forestry program at Lakehead.
MH: What made you want to join the Warden Service?
I started in May 1978 as a term GT-1 park warden in Kluane National Park. Add another note to that: during the very first orientation of the KYCC, we had a presentation by Larry Tremblay, Chief Park Warden at Kluane at that time, and he told us there were two types of jobs at Parks Canada, Park Wardens and everybody else. The places I got to visit and things I saw the wardens doing during my summers in the KYCC, like the backcountry travel, climbing, hiking Goat Herd Mountain, Lowell Glacier and things like that, led me to want to pursue a Park Warden position.
MH: What different parks did you work in? How did they compare? Do you have a favourite? 0438
Tom: I started in Kluane in 1978 as a term Warden. Worked there that winter into spring of 1979 when the position dried up and I was offered a seasonal position in Nahanni where I worked the summers 1979-1980 and the winter of 1981. During the early spring of 1981, I competed on an eligibility list and was offered a full-time position in Wood Buffalo and I worked there until January 1984 when I transferred to Yoho National Park. I remained in Yoho National Park from then until January 1987 when I'd competed on a national Omnibus Chief Warden competition and was offered Auyuittuq National Park out of Pangnirtung on Baffin Island, so I became a Chief Park Warden up there. Then in the fall of 1988 I had an opportunity to come back to the Yukon, which I'd always wanted to do. I always figured I'd end up back in Kluane. And there generally wasn't any openings in Kluane, as it was one of the "K"parks (ie. Kootnenay, Kluane, Kejimkujik etc) where people went and stayed forever, but a position in Whitehorse opened as the Operations Manager of the Chilkoot Trail, so I started as an Operations Manager.
During one of the frequent re-organizations, they changed the position title to Chief Park Warden. I was Chief Park Warden of Chilkoot Trail until the fall of 1992 when I got an education leave to go to University of Montana, Missoula to pursue a Master's Science degree which I got in 1994. After that I returned to the Yukon, again during which time there was another reorganization where they got rid of all the Chief Wardens and replaced them with functional supervisor positions in charge of Public Safety/Law Enforcement, Resource Management etc. The position offered to me was Wilderness Research Studies Coordinator for the Yukon Field Unit and that included the Chilkoot Trail, Kluane and Vuntut National Parks, SS Klondike and Drudge National Historic sites. I remained in that position for most of the rest of my career, but about 3 years prior to my retirement in 2012, I was offered an Acting Resource Conservation Manager position which I was in during the stages of the last reorganization of the Warden Service that actually dismantled it.
Each of the parks I worked in had its own unique beauty and attributes and all were special. Yoho was the busiest and had it all with climbing, horses, backcountry lodges and travel and its busy highway corridor. Nahanni was Canada's grand canyon with whitewater canoeing and rafting, Wood Buffalo was the biggest park with the Buffalo and the things I remember were the slithering garter snake hibernaculum and its major fire control program. Auyuittuq had the Pangnirtung Pass hiking corridor, polar bears, and although I didn't see too much of them, I was involved in a denning survey study of them. Major big wall climbing there and I always wondered what I'd do if there was a wreck on one of those walls. We did have arrangements set up with the guys from Banff or Jasper to come up and help out if something ever happened. The Chilkoot Trail was an international 33-mile outdoor gold rush museum through 3 distinct forest zones and then Kluane again had its high altitude mountaineering. Kluane was an international world heritage site and had its interagency rafting management on the Tatshenshini-Alsek rivers. And since retirement, when asked the question, "Which was my favourite?" Well, I don't think I had a favourite, but I always wanted to go back and raft the Nahanni River and the Tatshenshini-Alsek Rivers one more time. But again, they are all different and special. I was planning to do a rafting trip this past summer on the Tat-Alsek but it fell through when the guy running the permit system out of Glacier Bay didn't get back to us until too late and other people had already booked other holidays. Right now, we are looking at a trip with some high school buddies, and a couple of old warden friends on the Nahanni in 2020 when a bunch of us turn 65. Hopefully that will work out.
MH: What were some of your main responsibilities over the years? 1103
Tom: Over the years I was pretty much a generalist until I became a Chief Park Warden at Auyuittuq National Park. My responsibilities varied from bear and fire management, environmental assessment and development of Aboriginal training programs. And in the later years it was coordinating research ranging from campground monitoring, grizzly bear risk assessment, to some Social Science research of wilderness perceptions and management preferences. My Master of Science program had me doing background research for the development of a Use Limit Program for Chilkoot Trail that is currently in use today. Finding that magic hiking limit number when really there is no magic number, and you make it whatever you want; ie, not high enough – build more campsites. We arrived at a number after talking with on the ground Chilkoot Trail managers and our US park managers, and essentially looking at our campground and toilet capacities (where you fly the poop out on the Chilkoot) and the most common hiker trip itineraries. It's a beautiful trail.
MH: What did you like / Dislike about being a warden? 1240
Tom: I think basic things, not only me, but what most of us, enjoyed doing was being paid to travel through some of Canada's most beautiful backcountry with our like-minded peers who really care about the protection of park resources. In later years I enjoyed working with young, keen graduate students and people who did research in Kluane on the Chilkoot. I got a lot of satisfaction implementing some of their research recommendations and putting them into practical use whether it be visitor use programs on the Chilkoot Trail or the Alsek River Visitor Use Management Program, things like that. What I didn't like: no surprise, I didn't like the dismantling of the Warden Service in the end. I guess our predecessors had to deal with centralization, and folks like me, had to deal with the dismantling of the Warden Service which was a terrible, terrible thing that wasn't necessary. It all started with the arming issue (and these are some of my personal thoughts). I think there was a bit of a vendetta against the Warden Service that was demonstrated in the last reorganization. When they investigated the Grundie Labour Board decision after the whole safety issue and they found that there was a vendetta against Grundie and the Park Warden Service by Senior Park Management in headquarters, and I've heard stories from coast to coast which also demonstrated this vendetta, and people saying that "the wardens got what they deserved". Sad, Sad situation.
MH: What were some of your more memorable events as a Warden? 1500
Tom: When I read this question, the first thing that came to mind was the 100th Anniversary of the Warden Service and the reunion the guys down in Banff organized. It was so fun getting together with colleagues from coast to coast, "swapping lies", reminiscing. There were other things; I was fortunate to be on the Park Warden Centennial Climb in Banff in 1985 and then I think it was the same year plus or minus, Kevin Mclaughlin and I organized the first lobster boil in Yoho and it was a social gathering of Warden Service family and friends and some of our interagency counter parts. That kind of lasted 2-3 years while I was there and people like Hal Morrison picked it up after our departure and I think it went on for some 25 years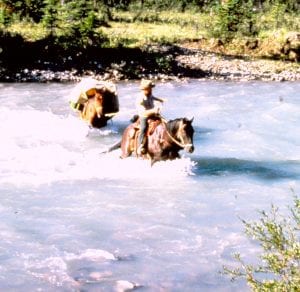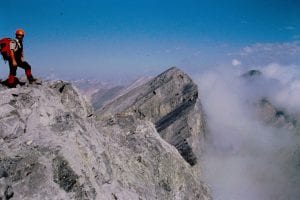 Tom Elliot – 1985 Centennial Climb
March 2009, I was on a year off work but several current and former Kluane Park Wardens, and some of our interagency Park Rangers from Glacier Bay or Yukon/BC parks, a Kluane bear researcher, some of our family and friends, (This is work, kind of park related but the fun, social part) we did a 21 day trip down the Colorado River, Grand Canyon. We used the skills we gained on the job, rafting the Tat and Alsek rivers, to safely/successfully navigate the Colorado, keeping our dry side up. Looking back on it, I might be one of the few people who can say they safely did both, the fairly big name rapids "Lava South" and "Lava North" (on the Alsek in Kluane) safely during the same year. I've been very, very lucky in my career to experience some of these things.
MH: Can you tell me about any rescue/wildlife stories that stick out in your memory? 1747
Tom: I jotted a couple down; there are so many. But there is one rescue in Yoho I was indirectly involved in; it was maybe typical I don't know. We had just finished a rescue practice and we had gathered at The Post Hotel for an after school wobbly pop, when a call came into the Duty Warden; I think it was Cal Sime at the time. He and I were called out and put the sling rescue gear together and Cal slung into cliff band just opposite Wapta Lodge and pulled off a guy who got stuck there. Everything turned out okay, got him safely back down to the ground, put the gear away and got back to The Post in time to join the rest of the crew before they left. It just went bang bang bang really quickly and was evidence of how organized things were or could be with the Warden Service.
A wildlife story that was kind of interesting that came to mind, that crosses several years from Nahanni to Kluane is as follows. During my early years in Nahanni, one of my jobs there was to work on finding a trail from Rabbitkettle warden cabin to Rabbitkettle Hot Springs and during my route finding I was forever running into bears, mostly black bears. A route there took me through an old fire burn with lots of dense willow and sheperdia regen. During one exploration I found myself climbing a tree when I could hear but not see the sound of huffing and puffing and jaw snapping, branches breaking and stuff like that. I figured the safest thing was to climb a tree and wait things out. Once I got up there, the tree was kind of swinging back and forth' and I looked across the way to see two little black bear cubs up a similar tree, swaying in the wind looking back at me. Down below on the ground was this angry mother making all the noise. But after some time, I decided it was safe to climb down and get out of there, retrace my steps. But in any case, we selected a route that was used, as I understand it, for some years by bears. I think it was 17 years later when I was working in the Yukon Field Unit, I was looking for a researcher to do a bear/human interaction study on the Slims River, and I came across a former student of Steven Herrero's by the name of Sandra MacDougall. Sandra just happened to do her masters research under Steve, conducting a similar study on the trail I had found at Rabbitkettle over to the hotsprings. Not surprisingly her research work relocated the trail to a much safer route than I'd found. Sandra subsequently did work for us in Kluane for a few years. We used a lot of the information collected during her research (she was an instructor at Red Deer College) for her labs with her students. One time we had a video conference with her students, Kevin Mclaughlin and I. They were young, keen people. Kevin did a presentation and then they asked us questions. It was just a really good exchange of ideas between these young, keen students, Sandra and us. Sandra's work led to some closures of the Slims, there's one backcountry campground where there was higher than normal interaction between hikers (and bears) that was subsequently closed to overnight camping. This collective research was kind of interesting how Sandra ended up working for us and how she'd previously worked on the trail I found way back in Nahanni in the late 70s.