Thank you to the Whyte Museum of the Canadian Rockies for granting permission to the Park Warden Service Alumni to post this interview on our website.
This Oral History interview was funded in part by a research grant received in 2019 from the Government of Alberta through the Alberta Historical Resources Foundation.
Park Warden Alumni Society of Albert Oral History Phase 9, 2019
Phone Interview with Halle Flygare
Date/time: November 21st 2019@1300 Canmore
Interviewed by Monique Hunkeler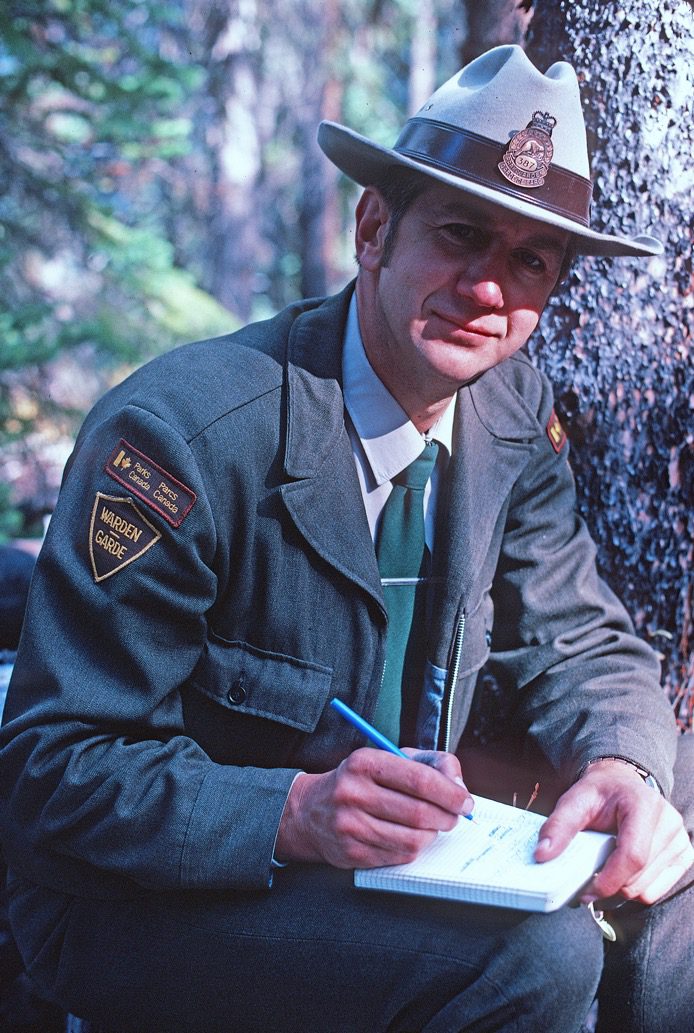 Place and date of birth? Lunt, Southern Sweden on December 11th 1936
MH: Where did you grow up?
HF: Grew up in Sweden. I was into Forestry and I got an exchange student job through an outfit in Stockholm with a student in Canada, British Columbia in 1959 to 1960 with the British Columbia Forest Service. And after that I came back to Sweden and finished two more years of Forestry School and after that I figured on moving to Canada. It was my life to live in the wilderness and I was reading a lot of trapper books about trapping in Canada. So I went back to Canada and started working for BC Forest Service in 1962. In 1965, there was another guy working for the forest service and he got a job in Lesser Slave Lake in Alberta. The interesting part of this was we were working together in a fly in camp, cruising timber and taking inventory in the forest around Prince George. We were supposed to be in the camp for 10 days and this guy realized he needed to call the Alberta Forest Service about the job in Slave Lake. He said he had to hike out and phone about the job. He wanted to hike out to make the call and we were 30 miles in so I went with him. We took a compass bearing and started hiking out. After 3-4 hours, we heard a power saw and here's a guy cutting wood. So there was a road in there. The guy took them to Fraser Lake for $20 and Mike called Alberta Forest Service and got the job. By the time we got back into camp (it was 0200 AM) on a compass bearing but anyway, he got the job and he hired me later in charge of the timber cruising, and I ended up working for the Alberta Forest Service.
MH: How did you become involved in the Warden Service? Which national park did you start working in?
HF: After that I got really tired of being in the bush, mosquitos and everything, so I drove through Banff one time and was there for a few days and I ended up talking to a Warden and he told me they lived in the bush, had a district and horses, and I thought, "Instead of hiking, I could sit on a horse". (The seed was planted.)
After Alberta Forest Service, I worked for a consulting forestry firm (working for BC Hydro flagging right of ways and cruising timber for the power line coming from Peace River to Vancouver) in Vancouver 1966-1971 and after that I met my wife at Whistler and after we got married, the consulting job kind of finished. Linda said, "I've been in Banff so let's go to Banff." We hiked and I talked to more wardens and thought I should apply for a warden job. We moved to Banff in 1972 so I applied and got in with the Wardens in 1973. I only worked in Banff National Park.
0641: In the meantime, I had published a book in Sweden on Big Game Hunting in Canada and after that I met Bob Stewart, an outfitter in Tweedsmuir Provincial Park who had a fishing lodge in Nimpo Lake. He guided hunters up there so I got a lot of requests from Sweden and Bob said, "I can book them all" so I ended up getting a dozen Swedish moose hunters. Bob Stewart told me about Alexander MacKenzie who completed the first recorded crossing of the American continent from Atlantic to Pacific when he came here in 1793 looking for the Northwest Passage to the Pacific Ocean. During the time (I was there), I came upon this old trail. It was a historic trail. I found several old Indian trails that had fallen apart which hadn't been in use for the last century. Archaeologists have found artefacts dating back to 4000 years.
After that, I came back to Banff and started working with Parks and I sent out letters to Parks Canada, BC Parks and the Nature Conservancy of Canada (NCC). As it happened, the NCC had organized a meeting at the Banff Centre in 1975 and I was invited by John Woodworth to talk about the Mackenzie Trail. Luckily I had taken pictures so I could show bits and pieces of the trail and after the meeting, it was decided that they would protect the Alexander Mackenzie Trail (AMT). In June, I was seconded by Parks Canada to work on the AMT. I said to the Superintendent who Linda (my wife) worked for at the time, that I would go if I could bring Linda along as well so he said that wouldn't be a problem. She was hired on as a cook and BC Parks paid for two Nazko natives to be our guides. We spent the whole summer there, documenting what we could find, and we found most of the trail. It was the Grease Trail MacKenzie used from the Frazer River to Bella Coola. After that it was an ongoing thing and I worked on this trail for Parks until 1986. In 1986 we hiked and measured up the trail with a bicycle wheel from Fraser River to Bella Coola. It turned out to be 347 kilometers long. Later on me and John Woodworth published a hiking book, In the Steps of Alexander Mackenzie, covering the trail from the Fraser River to Bella Coola. I did something good with this trail. The trail is now protected as Sir Alexander MacKenzie Heritage Trail.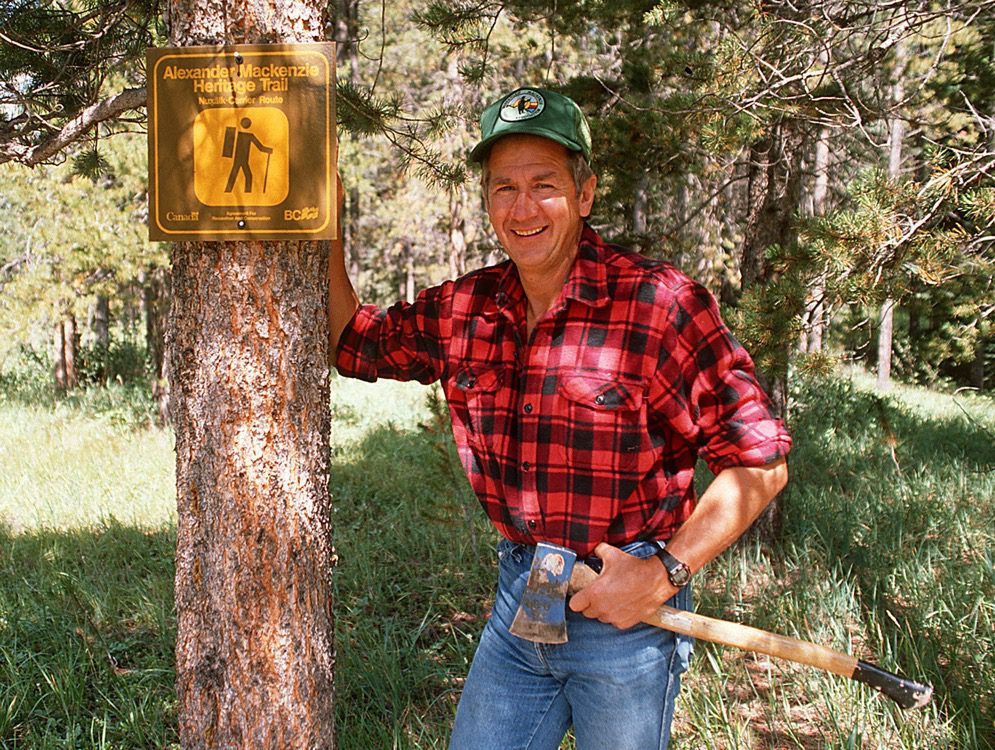 Halle nailing up trail sign, Alexander MacKenzie trail
MH: What made you want to join the Warden Service?
HF: Working for Alberta and British Columbia Forest Service for 12 years and spending most of my time in the outdoors and having 3 years of military training in the Swedish Air force, the Park Warden job was the right thing for me.
MH: What different parks did you work in? How did they compare? Do you have a favourite? 1135:
HF: Only Banff
MH: What were some of your main responsibilities over the years? 1220:
HF: When I started for Parks, there did not seem to be much direction from management and people kind of did what they wanted. I ended up picking up all kinds of animal road kills on the TransCanada Highway (TCH) and I went into see the Area Manager, Peter Whyte at the time, and said we should do something about these wildlife deaths. I had just come back from Sweden so I talked to him about the underpasses and wildlife fences that they had over there. Peter said, "We have more important things to do". So the following week, a whole herd, 6-7 elk, were killed by a semi so I went back again to Peter and said, "We should really do something about this problem." So he suggested we start collecting statistics on these highway kills. When we had a highway kill, we filled in a card with exact location and mileage. After that, they were twinning the highway in the early 1980s and Bruce Leeson from the Parks Canada office in Calgary, who was involved in that project, came to me and said he could hire me to study fencing and under/over passes. The superintendent at the time didn't want any fencing. However, fencing and underpasses were constructed from the East Gate to Sunshine turn-off and lots of people/animals were saved. Yes, it was me who came up with the idea and I never got much credit for it. I'd gone to the RCMP and gotten all the reports of accidents with animals in the Park and the financial ramifications were in the millions of dollars.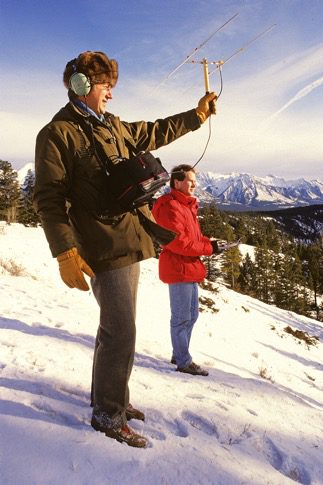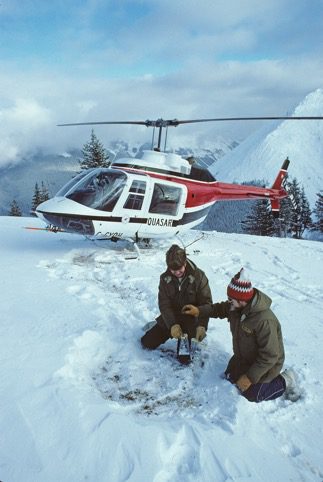 Halle Tracking radio collared elk Halle sampling elk Pellets
MH: What did you like / Dislike about being a warden? 1700:
HF: To be out in the backcountry – 10 days in backcountry and 10 days in high visitor use area and that was one of the drawing cards. You patrolled for 10 days and you didn't see many people, there were hardly any hikers in those days, especially up at Indianhead. It was great being in the backcountry. We did wildlife counts. I got bucked off the horse one time – a branch came in between my leg and the horse Flip, he spooked and flipped me off but luckily I hit nice moss. We'd go up these big hills and he'd stop and look at me. I was nice and got off of the horse. I think I was too big for him.
1840: With high visitor use / front country patrols, I would charge or warn people for National Park Offences, meanwhile, a lot of wardens would just ignore them. One time there was a big campfire beside the road and I stopped and said to the guy, "You can't have a campfire." And he said, "Another guy dressed just like you came by and said it was okay". I think the warden from Lake Louise told him it was okay. I spent time at Egypt Lake with Ed Carleton, and we hiked on our patrols and did not use horses. We spent a lot of time in there. Ed was a guy who liked to write stuff down nicely and accurately in the logbook, about flowers, wildlife and other sightings. One time he was madder than hell because someone had written in the logbook about seeing an Ivory-billed Woodpecker, an extinct bird, which was actually a Pileated Woodpecker.
2040: I liked to deal with people, talking to them nicely, not being a bully. One time I was at the campground and one guy (From Switzerland) came with a big bouquet of (wild) flowers. So I gave him a warning after chatting about National Parks regulations.
Not Like: I liked it all really. Nothing bad about it. In those days, the Canadian Wildlife Services (CWS) looked after all the studies in the Parks and later on, when Trudeau cut back and took CWS out of the Parks…so then Park Wardens had to look after it and they were not trained biologists. Now they hire biologists so it's much better when it comes to different studies. Geoff Holroyd worked for CWS and we did a biophysical inventory and I went with him a couple of times to help him. In the winter, we did tracks surveys and one time I saw white feathers sitting up in the tree so I climbed up and got a feather and it turned out to be a snowy owl feather.
MH: What were some of your more memorable events as a Warden? 2315:
HF: There was one guy who went missing in Whiskey Creek area and he got attacked by a grizzly and had his entire face bitten off. There was a big effort to trap the bear, a big black bear was killed and the Area Manager Peter Whyte thought we had the bear. Perry Jacobson and I were not sure that we had the right bear but management decided to take down the sign. So that was a mistake because we didn't have the right bear in the end. The bear was attracted to the garbage bins by the Caboose Restaurant. They were fenced in but never locked the gate and the bear had gotten in there, so that was the attraction. I was sitting in the Warden Office and got a call that there had been another bear attack so I went down to the Caboose and the RCMP were there already, then I ran up and saw a guy with blood on his shoulder and I said to him, "Did you get attacked by the bear?" He said, "Yes but my friend is in there." I had my 7-millimeter magnum rifle and I'd shot grizzlies before so I went in there and hollered in case the grizzly was feeding on this guy. I heard a moaning and I found the guy lying there, the bear had bitten into his head and his one eye was hanging out. Shortly after I could hear people coming so I requested a helicopter and Rick Kunelius came in the helicopter and stretcher and flew the guy out. After that everything was closed off and nobody was allowed in. Since the bear was attracted to the garbage bins, I tied an elk leg to the fence and Perry and I stood guard waiting for the bear. We were well organized, rifles outside the truck so we didn't make any noise when the bear showed up. But, by 0100 nothing had happened so we had some other Wardens come to relieve us so we could go eat pizza and as soon as we left, the bear walked in. The bear came in and grabbed the whole leg, ripped it off the fence and went back into the bush. He was the black grizzly. After that we had a guy put snares and a few days later the bear was caught and we went in and shot him. I ended up skinning the bear and we sent it for tanning. It must be around somewhere. (The hide of this grizzly bear is displayed on the wall of the Banff Park Museum). It could have been handled better but that was the way it went. The Black Grizzly of Whiskey Creek. Halle pulled out Sid Marty's book). That was a big event, Mackenzie Trail, the bear.
MH. Can you tell me about any rescue/wildlife stories that stick out in your memory?
2045: There was one (incident with) a cougar. There was report of some blood up at Douglas Fir Chalet and I went up to look, and saw the blood on the road and it looked like something had dragged an animal across into the bush. I thought, "Poachers" but when I followed the drag mark it was a cougar dragging a big mule deer, 30-50 feet into the bush. When I got there, he was sitting by the kill but then he took off. Next day Ed Carlton and I went up to look at the cougar again and we saw him again, watching us a bit; we walked closer and he walked away. Then a magpie landed on the kill and he cougar shooed him away and then stayed. The next day I took my wife up to look at the cougar and he just looked at us. He hadn't started feeding on the deer yet, instead, he had covered it over with branches and snow. After about a week, Ed and I went up, we'd kept it a secret, we never wanted to tell anybody. We weren't afraid of the cougar, we never took a rifle with us. The day we came up, the deer was mostly consumed. The next day when we went back, I followed the cougars tracks near the kill and got a few pics of the cougar. Ed said, "You spooked the cougar." And I would sit down and he would just look at me and then I got some good pics.
3230: There was another cougar that had killed a dog in that area. The first cougar was a male and this one was a female. We got a cougar hunter from Caroline (who had dogs) came down and it didn't take long and the dogs had the cougar up in the tree so we tranquilized the cougar and flew him to Scotch Camp. Jim Davies was the pilot at the time, and had his own ideas about stuff, so with the big trap hanging, suddenly he got to White Rabbit Pass and set down the trap and said "This is good enough here". We let the cougar out and 3 weeks later he was back in Banff. There were some campers in the area and they could see the tracks of the cougar walking around the tent. Anyway he made his way back to Banff…we should have taken him to Scotch Camp.