Thank you to the Whyte Museum of the Canadian Rockies for granting permission to the Park Warden Service Alumni to post this interview on our website
Park Warden Alumni Society of Alberta 
Oral History Project – Fall 2011
Interview with Perry Jacobson
Conducted by Christine Crilley-Everts
 November 20, 2011. Canmore Alberta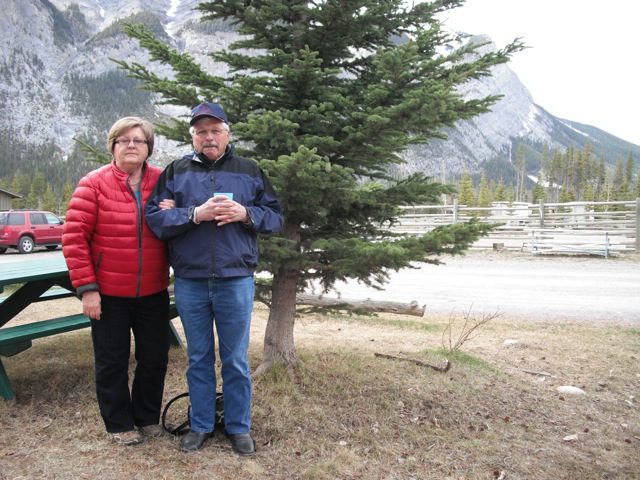 Elaine and Perry Jacobson Banff Alberta 2012
Place and Date of Birth: Redcliff Alberta. 1939.
Occupations: After studying Biological Sciences at NAIT, Perry started with the warden service in Lake 
Louise in 1972. After four years, a number of which were spent at Saskatchewan River Crossing, he moved 
to Banff to work as a wildlife warden. In 1980 he became the frontcountry manager for Banff 
National Park. Taking the opportunity to work in another mountain park, Perry became the chief warden in Kootenay National Park in 1990. After acting as Superintendent of the park for a year and a half, Perry closed the circle of his career and returned to Banff to be Chief Warden where he worked until his retirement in 2000. Reflecting on his successful career, he gives great credit to his wife Elaine. In his words, warden's wives were a "special breed and Elaine always lived up to that reputation" due to her sacrifices, support, and ability to make a home wherever they were.
Additional Information: Perry grew up ranching with his family in southern Alberta. He was both a 
working and a rodeo cowboy. In retirement he returned to his cowboy roots as a cowboy poet and singer. 
Perry is the past president of the Alberta Cowboy Poetry Association and former lead singer of the western 
band Latigo. He continues to be involved with the "cowboy way" and is an active member of the Park 
Warden Alumni Society of Alberta.
(0:00: 17) I was born in Redcliff Alberta in 1939. Redcliff is just on the outskirts of Medicine Hat.
Then we ranched. We had a big ranch not far from Empress Alberta and we ranched there for 
many years. We came to the Millarville area in 1954.
(0:00:37) We were married in Millarville. Elaine is from around Yorkton, Saskatchewan. Elaine was teaching at Calgary at that time … and we met at Square Butte … Yes, warden's wives were (a special breed), no doubt about it! You couldn't be successful without having a supportive wife. There was nothing regular about it (the warden job) … We were married in 1966. Then in 1969 I studied biological sciences in Edmonton at NAIT.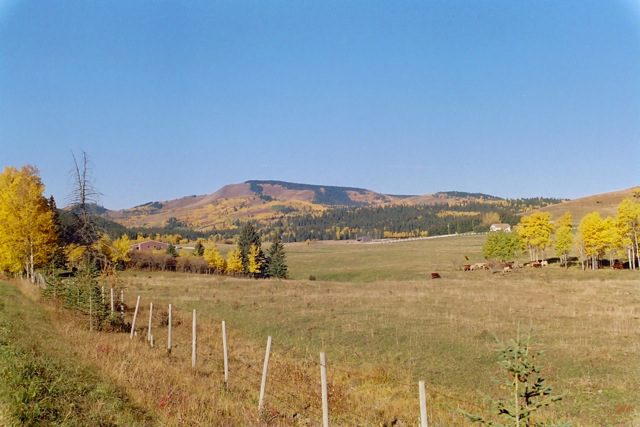 Square Butte Alberta
(0:01 :52) As luck would have it at that time, a friend Bob Wood was the acting chief park warden in Banff. He phoned me in Millarville and said, "How come you haven't taken the job?" What 
happened was they had lost my address. So Bob phoned me and said, "Okay, well, I will tell them 
where you are." Then they got in touch with me. I was to go to Riding Mountain. Then they called 
me back and said, "No you are going to Lake Louise." By then Travis was three and Kim was
five…I had a little 17 foot trailer that I brought up and we stayed in it that summer. That was in 1972.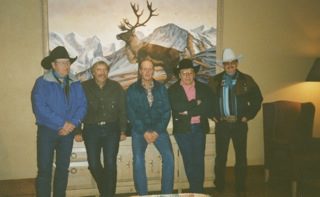 Millarville Mafia – John Nylund, Don Mickle, Bob Haney, Perry Jacobson, Keith Foster
(0:02:38) One thing that would be good to mention was that I knew a bit about the warden service because of Bob Haney and Keith Foster eh (wardens from the Millarville area). Then I went to NAIT with Ray Frey and Bob Wood.. So, I had a pretty good idea what the warden service was all about. But I recall when I joined in 1972 right off the bat I thought that this is an extraordinary bunch of people! This isn't just your run of the mill government workers. That was the first thing that caught my attention right away. I couldn't get over the versatility of the job! Public safety was just coming on big then… and a lot the things were changing. The district system had folded in 1968. A lot of the older wardens were having difficulty with the change, I can understand that now.' I didn't then of course, but I sure can now! They were just starting to get organized into the centralization system…The only one left at that time with what they called the district system was Jim Rimmer at Saskatchewan Crossing …
(0:03:58) I have to say I was accepted pretty well with the guys because I had a cowboy life. I was pretty good with horses and packing and all that, so I fit in there pretty quickly. I was what they used to refer to as the first of the educated wardens. Well if you looked at it today, I probably wouldn't even qualify for the warden service with what we see now in terms of education. But that was kind of the start of it, when Parks Canada began to look more at resource management. So they were hiring people with resource management training. I was extremely lucky because I never did get laid off. I came on as a seasonal and that spring they went to the GT classification. I became a GT2 and I was really pleased to have the job.
(0:05:02) One thing that sticks out in my memory so well is what it means to wear a uniform. I was headed to Banff to get my first warden uniform. They didn't have much there. I had a jacket that was about two sizes too big for me and Bob Wood had given me a Stetson. But the thing that I was proudest of, of course was the badge eh, #173. I remember I slapped it on and started back to Lake Louise. I had a patrol truck that had lights on it and just about at Taylor Creek; I came across a huge accident, a car accident. When I pulled up this woman ran up to me very frantically and said, "Thank god officer, you're here!" And I thought, "This officer would like to be anywhere else in the world but here today!" But I learned very quickly when you wear the uniform you better be prepared to take charge of what was happening. So I knew enough to turn the lights on and get things slowed down and call the RCMP and the ambulance …
(0:06:03) Working at Lake Louise in those days was crazy! Just about everything happened there, car accidents, drowning etc … I remember turning to Jay (warden, Jay Morton) and I said, "Is this normal?" He said, "Yeah, pretty much!"
(0:06:21) At that time too, a lot of the public safety stuff was going on. I think when you look back you realize that we didn't understand demographics very much in those days. But what we were looking at when you look back over time now was these younger people, the baby boomers…they were 22/23 and they were experiencing the outdoors…Cross country skiing was just coming in and we had some horrendous accidents. Mountain climbing was really taking off too, especially right around Lake Louise and Moraine Lake. I hadn't seen too many dead people, other than at funerals but that was soon to change. I think all wardens carry a bit of ghosts.