Thank you to the Whyte Museum of the Canadian Rockies for granting permission to the Park Warden Service Alumni to post this interview on our website
Park Warden Alumni Society of Alberta
Oral History Project – Winter 2012
Interview with Kathy Calvert and Dale Portman
Interview conducted by Christine Crilley-Everts
June 11, 2012


Place and Date of Birth: Dale was born, July 15, 1946 in Kamloops, British Columbia. Kathy was born the following year, 1947 in Edmonton, Alberta.
Occupations:
The lure of the mountains brought Dale to Lake Louise in the early 1960s. After spending a few seasons in the area, he was hired as a patrol man in 1969. During his warden career he worked in many of the mountain parks, including Banff, Jasper, Glacier and Yoho. He did all aspects of the warden job from maintaining a district, to public safety and avalanche control, and from wildlife management to law enforcement. He returned to Lake Louise in 1980 to be one of the two dog handlers in Banff National Park. He then became actively involved in the development of the Canadian Avalanche Rescue Dog Association. In 1986, he took over the dog handling position in Jasper, which he continued with until 1992. He then served as a technical advisor and liaison with a production company filming a television series based on warden life in Jasper. After disagreeing with the changes taking place in the 1990s and direction Parks Canada and the warden service were headed, Dale took early retirement in 1998, after almost 30 years of service. A highlight of his career was the time he spent in the backcountry and the camaraderie he developed with other wardens through the mountain rescue program. He feels the 1970s and 1980s were a golden period for the warden service. For Dale, working as a warden then wasn't a job, but instead a way of life.
Kathy was hired in 1974 as one of the first female wardens in Canada. She spent that summer in Waterton as the foreman of the Women's Conservation Corp, a job she describes as one of the most rewarding that she's ever had. The following year she started in Yoho as a seasonal warden. Along with a degree in biology, Kathy had exceptional climbing, skiing, and horse skills. She grew up around her grandparent's farm in Saskatchewan and was a member of the Alpine Club of Canada's youth division and later on the Calgary Mountain Club. Kathy was also raised the same way as her twin brother, by their very progressive father, Don Forest an avid outdoorsman, adventurist and mountaineer. With a strong foundation, she served as a female pioneer for the warden service, as well as for the mountaineering community. She was part of the first all women's expedition to Mount Logan and the original all women's ski traverse from the Bugaboos to Rogers Pass. Like Dale, she was involved in all aspects of the warden job, and especially in the public safety program. When they moved from Yoho to Jasper, Kathy spent three years in the Willow Creek district, which was another highlight of her career. She retired from the service in 1999. She too shares Dale's love of the backcountry and concern about its total lack of protection now in the mountain parks.
Additional Information: Dale and Kathy met in Yoho and were married in 1983 at Num-Ti-Jah Lodge. They are both accomplished authors of numerous books, including their joint work Guardians of the Peaks – Mountain Rescue in the Canadian Rockies and Columbia Mountains. Traveling the backcountry continues to be a major part of their lives and they are each founding and active members of Park Warden Service Alumni Society of Alberta.
(0:21) I was born July 15, 1946 in Kamloops BC. I didn't live there very long, my dad was in the Air Force and we moved around the country quite a bit. He was overseas in the 1950s in Germany. My mom decided to stay in Canada, so we were in North Bay, Ontario, and then we were in Downsview, Toronto. But we finally got back to Calgary in 1959. It was like coming home really because the kids were so much different in the west than they were in the east. The kids in Toronto were talking about how to shop lift this or that, and the kids in Calgary were talking about going fishing and hunting ducks with their dad, that sort of thing. One was very close to outdoor recreation in the mountains and the other was very urban. So that really caught my attention. I went to high school at Viscount Bennett which is in the south west. I walked to school every day on Richmond Road and in those days Richmond Road kind of ran at an angle. I always remember looking down at the mountains from the top of a slight rise and seeing Banded Peak west of Bragg Creek. I really, really had this draw to the mountains when I was in high school.
(2:12) I remember one Christmas break I ended up being up at the Norquay ski hill parking lot and seeing an old warden in a green power wagon you know with his fur hat and his big white mukluks and his big jacket. I thought, "Man that is what I want to do someday." He just kind of fit into the landscape like a bighorn sheep or an elk would. That really impressed me.
(2:48) – Finally when I graduated from high school I just took off, I had to go to the mountains. One of my chums in Calgary whose dad was in the Air Force, his parents owned Deer Lodge in Lake Louise, the Crosby's. I showed up there one evening looking for a job and then next day I got a job working in the laundry. This is 1964. That got me into the mountains. While I was working in Deer Lodge, I became familiar with what wardens did. I saw Wally McPhee who was the senior warden in Lake Louise. In a uniform, he looked really handsome, officious and capable.
(3:42) The next summer I came back and got a job working for Bud Brewster and Brett Mitzel's in Lake Louise at the pony stand there doing hour rides. Then that fall, I got a job with Bert Mickle. It was only for a couple of months. He needed some horses taken up to Temple Lodge behind the ski hill in Lake Louise. That was when I first realized you could get out in the backcountry and do all these things on horseback as opposed to just doing the day rides and that really caught my interest. I got the job, I worked that fall…
(4:54) The winter before I went to work at Sunshine ski area and lived right up there. I was a lift operator. I had this vague idea that maybe I wanted to be a park warden, but I definitely wanted to spend my life working in the mountains. So learning how to ski would be important, learning how to ride would be important and climbing. I started pursuing all three.
(5:29) That first summer that I was working in Deer Lodge…I was climbing with Rick Crosby and I had a climbing accident. Walter Perren had to come up and rescue me and Rick. (Walter Perren the "father of mountain rescue in Canada" was hired to develop the public safety programs in the mountain parks. In 1955, Parks Canada "agreed to support the establishment of a mountain climbing and rescue specialty" within the warden service under Perren's tutelage." Calvert, Kathy and Portman Dale. Guardians of the Peaks (Surrey: Rocky Mountain Books, 2006), 34.)
What had happened was I was doing a traverse. I peeled off and did a big pendulum swing down and cracked my hip. I ripped it open a bit. I came to rest and was hanging from the rope that was securing me. I managed to work my way up to a little edge and get myself comfortable in that position and I just waited. It was about 8:00 at night. We got word out to the Chateau that we needed a rescue. Walter came in with Ole Hermanrude. They climbed up to me. I think it was about 11:00 at night that they got me off. The next morning they got Rick Crosby off. He had melted his hands trying to hold the fall. Anyways my climbing came to a bit of an end there for a while. I had realized that my mortality was fragile, if I didn't pay attention to things!
(6:56) Like I say I went to work for the Mitzels and then I went to work for Bert and June (Mickle). That winter I went to work at Lake Louise at the ski hill again learning how to ski, increasing my skill level from that standpoint. Then I went to work for Bert that summer, I was working at Skoki. That would be the summer of 1967, and the summer of 1968, I worked for them, packing in and out of Skoki. I did hunting trips with them. Then I would help out with the coffee shops and the things that they were running at Temple in the wintertime, as well as doing my lift op.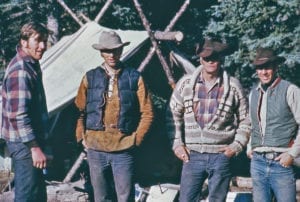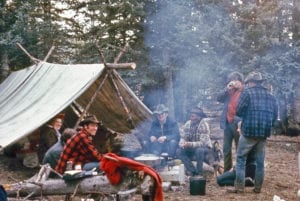 Laurie McConachy, Don Mickle, Bert Mickle and Dale Portman 1972 Horse Round-up the Ya Ha Tinda.
June Mickle, Dale Portman, Bert Mickle, Ron Hall and round-up crew.
Photos courtesy of Don Miickle.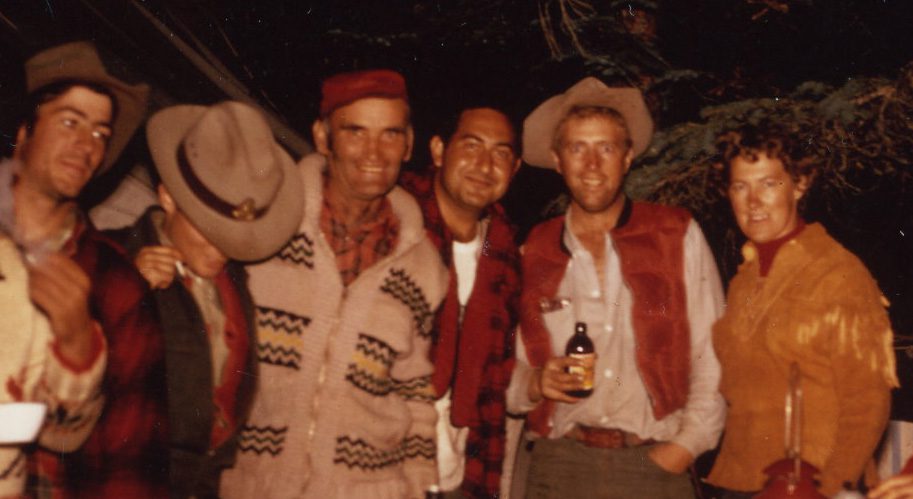 Dale Portman, Jay Morton, Bert Mickle, Hank (hunter), Don Mickle, June Mickle
1967 Siffleur trip.
(7:49) Then in 1969, I went to Banff and I saw Ed Carleton who was the town warden then. I said, "I am really interested in getting a job as a park warden." He said, "Well, you know all the positions are filled this summer, but if you are interested you could start as a fire lookout (man)." I said, "Well, I got to start somewhere. Being a fire lookout (man) is fine." I was just in the process of marrying my first wife, so I needed some job security, I couldn't be running around just picking up jobs here and there as a packer or a guide. Ed was really good, he told me about the job. He was quite informative. I filled out an application form and I was scheduled to go and work at the fire lookouts. I wasn't even sure which one it would have been…Protection Mountain, there was a fire lookout up there. Len Stringer, he was an older guy, he was up at Lake Louise at the Beehive. Anyways I showed up for the day to start work and get an introduction and they told me that the guy who was supposed to show up as a patrolman had declined the job so there was an opportunity for me. So I jumped at it! "Sure, I would rather do that than be sitting up there in a fire lookout reading books." I went to work in Lake Louise in the summer of 1969. I guess Dale Loewen would have been my boss then. That got me going.
(9:39) Then that winter I had an opportunity to either go and work at the Ya Ha Tinda breaking horses, or I could go Rogers Pass and work in avalanche control for SRAWS (Snow Research and Avalanche Warning Section) which your dad did. (Keith Everts, Banff National Park Warden). Oh no, he worked for the NRC (National Research Council of Canada). I would have worked for Willi and Freddy Schleiss. I decided that I had enough horse experience and where I was weak was obviously the ski mountaineering stuff. So I decided to go to Rogers Pass. That fall I went to Rogers Pass and worked there all winter. Then I came back to Lake Louise to work in 1970 in the summer. They had a competition, I did well on it and I got a promotion to a seasonal park warden. But the position was in Jasper. We were living in a trailer in Lake Louise at the time that we had bought. So we stayed there and I just commuted back and forth. I got a job working for Toni Klettl in the Tonquin. I was a summer warden in the Tonquin and that fall I went on boundary patrol on the south boundary in the Brazeau. I went back to Rogers Pass that winter, my second winter which would have been the winter of 1971. Again I did avalanche control work as an assistant observer. Then in the spring I went back to Jasper. My wife moved up to Jasper that summer and I worked at Athabasca Falls for an old warden there by the name of Bert Rowe. Bert was an old trapper from Manitoba, he knew the woods pretty good and he had some great stories. That was really a lot of fun working for him! But then he retired and moved so I ended up looking after the station because he was gone. Bob Haney was supposed to take over Athabasca Falls. I was kind of caretaking the district and we were living in really poor accommodation at the back of this shed you know. It was pretty minimal. Then I went to work the next summer doing stuff around the south highway. Then I got a move to the Cavell warden station and I worked for Toni Klettl. I worked there both summer and winter. I started working that winter, I think it was the winter of 1972, up at Marmot Basin doing avalanche control work up there.
(12:44) Then in 1973, I got offered a fulltime job so that was a big moment, to finally get a position because I had been working since 1969 as a seasonal, progressing along little step by little step. But now a fulltime job was there and that was great. They decided that I would go to Blue Creek and be the district warden. I went in towards the latter part of August into Blue Creek and spent all fall there on boundary patrol. Then I spent the winter off and on in there as a backcountry warden. The next summer which was the summer of 1974, they decided they wanted me to work with Mac Elder on the Great Divide trail which was just coming out. A fellow by the name of Jim Thorsell was spearheading that, he had been working for Parks Canada. So I worked with Mac on that for a month or so and then they gave me a job of also looking after the trail crew, the native trail crew at Portal Creek. I would supervise their work, pack up food, stuff like that. My first wife and I had split up. We were going through a divorce and I thought it would probably be a good thing if I just had a change of scenery.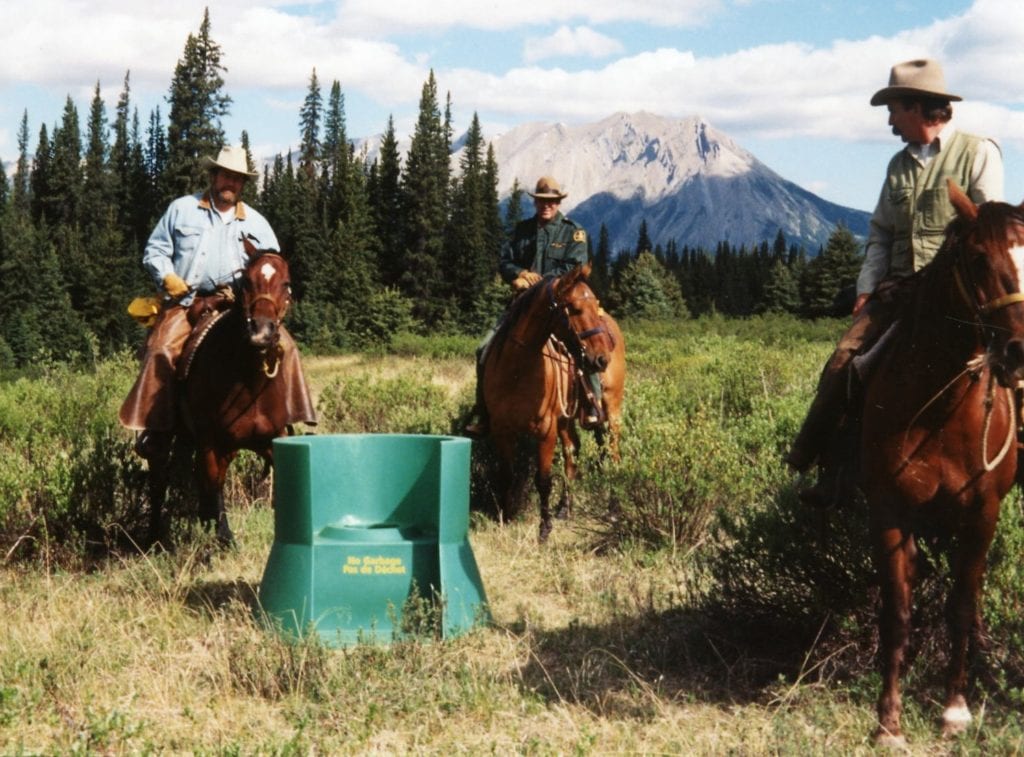 Sid Marty, Dale Portman, Rick Kunelius. "Throne contemplation"
Photo courtesy of Don Mickle.
(14:26) So I moved to Yoho in 1974, the summer of 1974. Hal Shepherd was my Chief Warden then. I went to look at the job first and Hal Shepherd was a pretty wild looking man…Just looking at him you were intimidated you know because he had such a fierce look about him! He only had one eye and he had a big hook nose…He was an alcoholic and I knew a little bit about him. He was a binge alcoholic, he would stay sober for months and then all of a sudden he would fall off the wagon and he would be drunk for a week. But that was how life was around Yoho! You kind of worked around all of that. When I got there in 1974 and he was going to show me the park, he said, "Come on up for coffee to my place." So I went up there and he called Bill Walburger on the radio and said, "Come on up and have a coffee with the new guy we got here." Bill came up and he poured us all a coffee and then he brought out this bottle of Napoleon brandy. He says, "Here have a shot of this!" And he brought out a couple of shot glasses. Bill knocked his back real quick and fortunately I kind of sipped mine a bit and he was pleased about that. He scolded Bill because you are not supposed to bolt back $65 brandy! He said that he would have a drink too, but he had these implants in his stomach and if he had a drink he would get violently sick…I thought "Holy cow!" What kind of a character am I getting involved with here…But taking Hal Shepherd in from everything that he had done, he was bigger than life itself and he was extremely intelligent. I knew that he was a Hong Kong war vet and he had gotten a big military medal for looking after his men in the Japanese prisoner of war camp. He had all these connections, you could write a book about Hal, he was a pretty impressive guy. He knew six languages and he looked after his men really well. Most of the time he was a really good guy to work for. But then like I say there were times when he went on his binge drinking and it tested us, to cover for him and look after him and helping out his wife Norma who was just one of the greatest woman that you could ever meet. She put up with so much and all of Hal's kids are super kids eh? They really did well; you know doctors and lawyers. Keith Shepherd he was accountant and he was on the national ski team with the Henderson brothers and Nancy Greene and that bunch… Hal used to wear a peaked cap…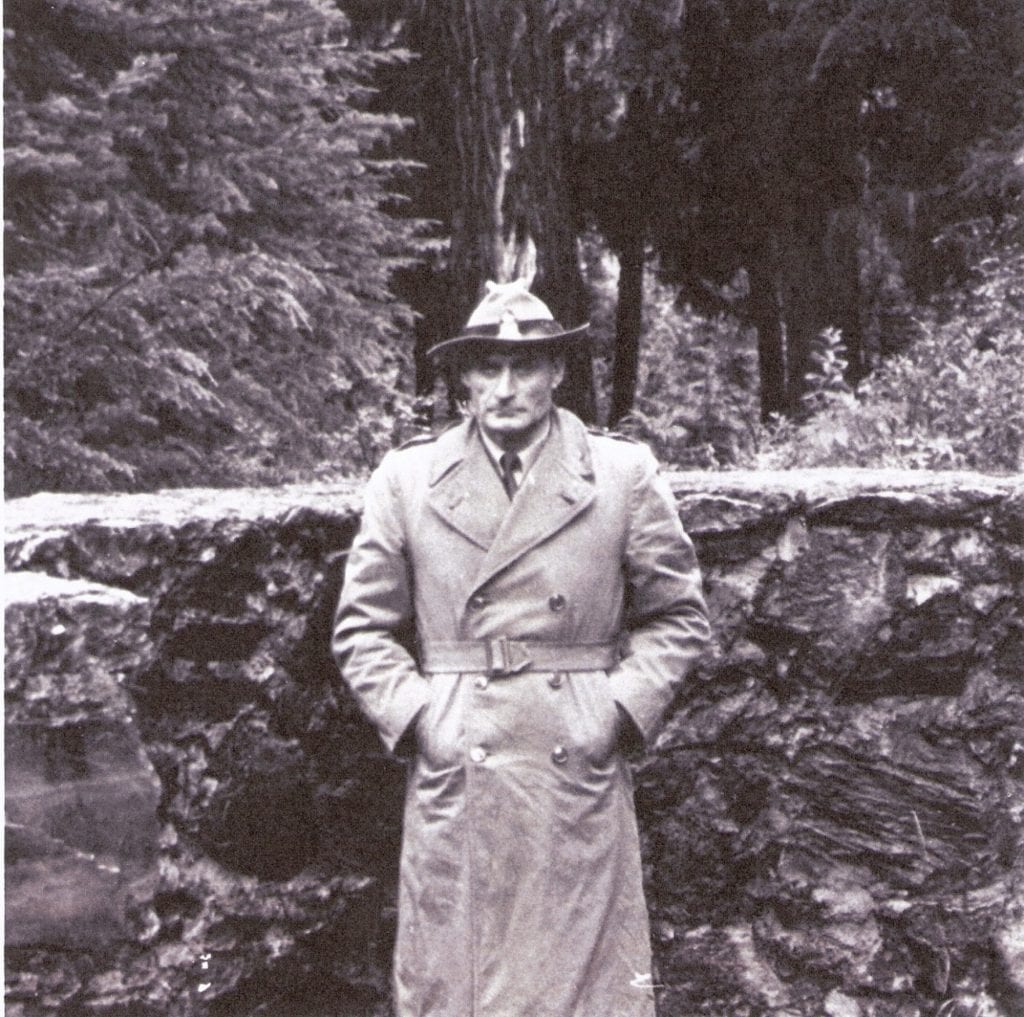 Chief Warden Hal Shepherd Kathy Calvert photo collection.