Thank you to the Whyte Museum of the Canadian Rockies for granting permission to the Park Warden Service Alumni to post this interview on our website
Park Warden Alumni Society of Alberta
Oral History Project – Winter 2011
Interview with Earl Skjonsberg
Earl's son Terry was present for the interview
Conducted by Christine Crilley-Everts
February 23, 2011 – Red Deer, Alberta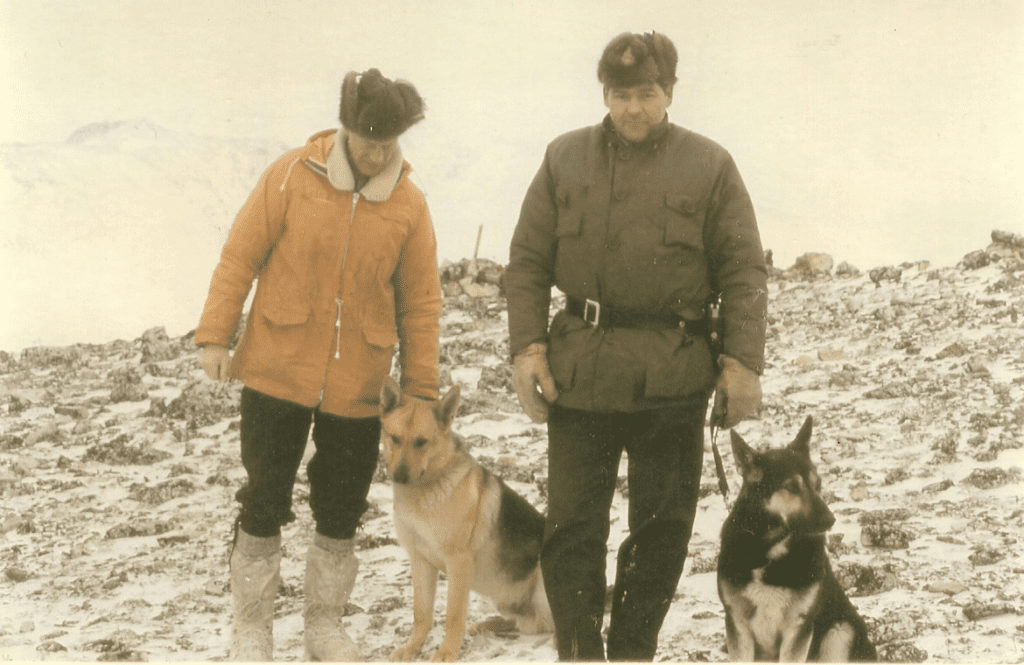 Banff National Park Dog Master Earl Skjonsberg and Jasper National Park Dog Master Alfie Burstrom
Place and Date of Birth: Red Deer Alberta, 1922.
Occupations: During the Second World War, Earl served with the 192 Royal Air Force Squadron where he made 31 missions over Europe in a Halifax Bomber. Following the war he returned to Canada where he worked in the oil fields of Alberta. Ready for a change, Earl then joined the warden service in Banff National Park in 1961, where coincidently he was given warden badge 192. He started as an assistant warden in the Healy Creek district with warden Ole Hermanrude. After taking a promotion to a fulltime warden in Riding Mountain National Park, Earl returned to Banff where he became a dog master for the park. He retired in 1980, after 19 years of service.
Additional Information: Once Earl retired from the warden service, he spent twenty years farming in Alberta. He has two sons, David and Terry. His son Terry also became a warden starting in Banff and retiring in 2010 from Kluane National Park in the Yukon.
Earl – (0:00:23) I was born in 1922, in Red Deer.
Earl – (0:00:42) I worked in the oil fields for 12 years…I made enough money that I could kind of sit back and look at things. So I was looking for something different to do. I thought this (the warden service) sounded really good. That's why I applied for the warden service. My wife wasn't too happy!
Earl – (0:01:25) Yes, (Earl started working for the warden service in Banff), in the 1960s. 1961? In 1980 I had 19 years in. It must have been 1961…
Earl – (0:01:58) I started as an assistant warden with Ole Hermanrude (in the Healy Creek district)…in the old house there.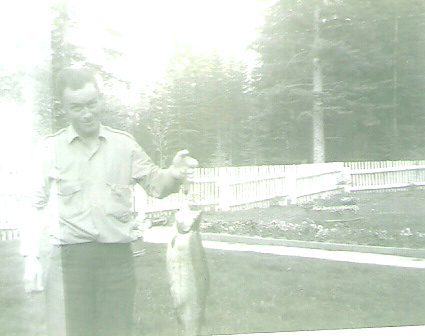 Warden Ole Hermanrude
Terry – (0:02:22) 1963 through 1966 (the Skjonsberg family was at Healy Creek.) Then we moved to Manitoba in 1967 (to Riding Mountain National Park).
Earl – (0:02:37) I was only there a year wasn't I?
Terry – (0:02:28) Two years…He went there as a fulltime warden because (in Banff) he was only an assistant. That is why he took the promotion.
Earl – (0:03:04) I had a chance to come back to Banff.
Terry – (0:03:10) In 1969, because in 1967/68 you were in Riding Mountain.
Terry – (0:03:29) We were out at the Buffalo Paddock (when the family came back to Banff).
Earl – (0:03:33) I was in town more or less, but I was at the Buffalo Paddock.
Terry – (0:03:40) But there were still some guys out in the districts…Were there guys in the remote districts? Or were they all highway related then?
Earl – (0:03:57) I think they were just bringing them in.
Terry – (0:04:02) I was thinking Sid Marty lived down at Minnewanka, but there was a road there, right at the edge of the Cascade Fire Road.
Earl – (0:04:09) There was a (fire road to) Stoney Creek and then the other way (south) up to the Spray…
Terry – (0:04:17) There was nobody living on the fire roads was there?
Earl – (0:04:20) You know Terry, I can't remember…There probably wasn't…but we weren't all in town that time when I first went there.
Terry – (0:04:31) No they still had Healy Creek.
Earl – (0:04:33) But I didn't go back to Healy Creek.
Terry – (0:04:35) I know you didn't, but they had all the stations where there was a paved road to.
Earl – (0:04:47) Was there two wardens at Healy Creek? Yes, I think there was.
Terry – (0:04:50) Yes because those two wardens died in that traffic accident…in 1971 I think two wardens died on the Trans Canada Highway, didn't they? They were stationed there. They were driving into town… (Terry left to get more information on the two wardens killed in the traffic accident).
Earl – (0:07:02) Jack Woledge…and I went to the course (dog training course at the Innisfail RCMP Dog Training Kennels) together and he went to Lake Louise and I stayed in Banff (In response to the question, "Then when you came back to Banff did you become the dog master?)…Yes…(as the dog master for Banff National Park, Earl was involved with search and rescue). Well, it kind of gave me a new lease on life that dog, you know. At that stage of the game, everyone was in town. I'll admit, I didn't like it (being in town)…I have a picture here of us graduating from the dog school at Innisfail.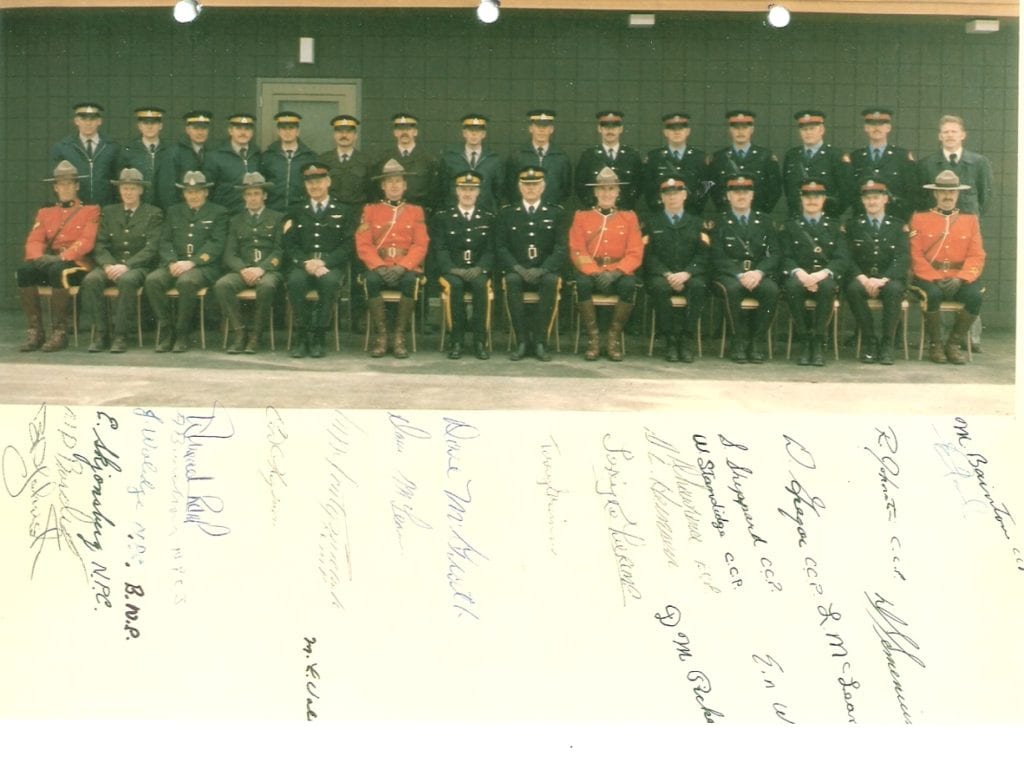 Graduation Class at the Innisfail Dog Training Kennels – Innisfail Alberta – 1973
Second from left – Earl Skjonsberg, Frank Burstrom Sr. and Jack Woledge
Earl – (0:09:12) I had three different dogs. At first, Jack and I, they let us go out and look for pups. So we each picked up a pup, but my pup had hip dysplasia. So they wouldn't train him. Then the RCMP got me a dog from Vancouver.
Earl – (0:10:24) It was really a hit and miss thing, that dog…I always found it hard to keep your dog up you know. Like you had to spend a lot of time working on your dog to keep him up to what you wanted…That's what I found. But it changed my life completely, the dog. Well one thing about it, you didn't get out in the back woods like you used to. You had to hang around town and I didn't care for that too much. But all in all, like I said, it was a lot better than being the town warden. It really was…Nobody seemed to bother you. You know for all these petty little things!