This Oral History interview was funded in part by a research grant received in 2022 from the Government of Alberta.
Park Warden Alumni Society of Alberta
Oral History Phase 12 Fall 2022
Phone Interview with Terry Skjonsberg
Date/time: November 28th, 2022
Interviewed by Monique Hunkeler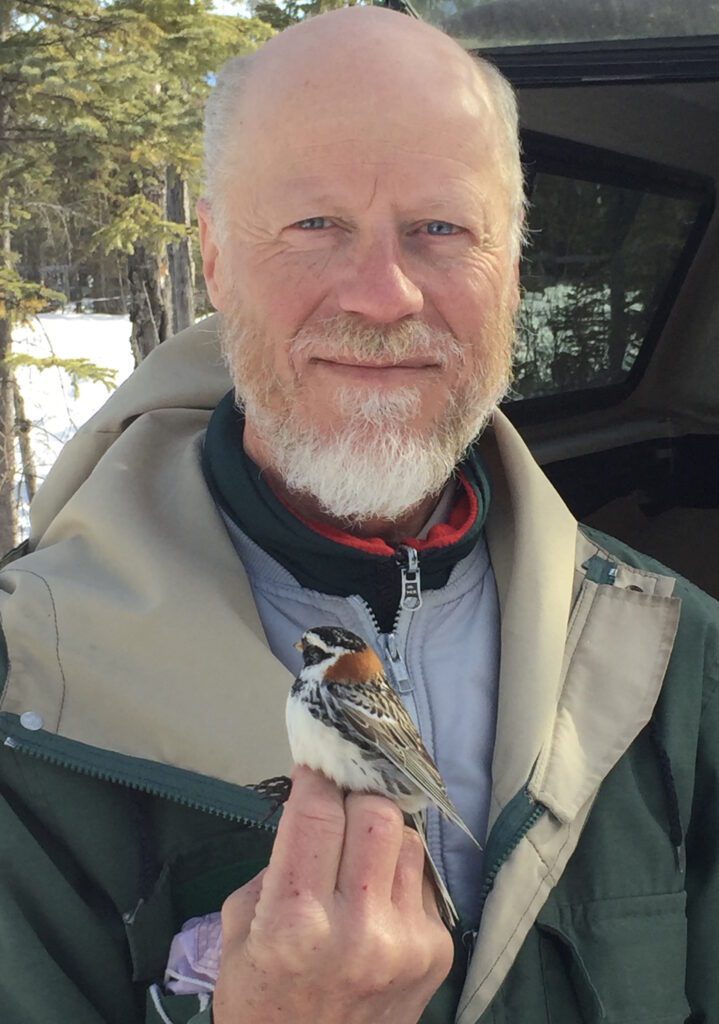 Bird banding Yukon 2017
Place and date of birth? October, 1954, in Red Deer, Alberta.
MH: Where did you grow up?
TS: I grew up in a variety of towns in Alberta for my first nine years. In 1963, my dad got on as an Assistant Park Warden in Banff National Park. So, I grew up primarily in Banff with two years out in Manitoba at Riding Mountain National Park.
MH: How did you become involved in the Warden Service? Which national park did you start working in?
TS: I grew up with my dad being in the Park Warden Service. Then I went to University of Montana in Wildlife Biology. I was always interested in wildlife. My first summer park job was in Revelstoke Glacier because my brother David was working for SRAWS (snow research avalanche warning systems). From there I then went to university. Summer jobs in Banff included: two man horse trail crew for the Warden Service in 1975 and 1976; one summer as Term Park Warden in Lake Louise in 77.
MH: What made you want to join the Warden Service?
TS: I was looking to work with wildlife and also doing lots of field work. There were also backcountry districts that catered to horse skills and I had grown up with horses.
MH: What different parks did you work in? How did they compare? Do you have a favourite?
TS: I worked in Banff National Park 1978-93. I started as a Seasonal Park Warden to became full time in 1980. In 1993 I transferred up to Kluane National Park and finished 2010 with a two-year assignment in Aulavik National Park in 2001 and 2002.
How do they compare? Well I liked the mountains – I grew up in the mountains, so it was an easy transfer from Banff up to Kluane. I always wanted to go north, that was one of my childhood dreams. A bonus was getting an assignment to Aulavik which had the Arctic tundra. Banff had advantages of money, resources and a variety of experiences and a chance to specialize. Kluane offered a smaller operation with less political, regional and national influences. The park was easier to manage and get the job done. Banff was a high profile park with a high visitation. Kluane had a small team of wardens that worked well together. Aulavik was a very remote wilderness park with no trees.
Favourite Park: Not really. I guess obviously, I liked a longer term employment. Banff and Kluane have their advantages and disadvantages. Both have lots of wildlife, mountains and alpine scenery, remote areas, skiing, hiking, backcountry cabins and so they were both great parks to work in.
MH: What were some of your main responsibilities over the years?
TS: Primarily it was wildlife work as my Wildlife Biology degree was looked upon favorably. I started out in Banff doing human bear conflicts, working in the townsites. I got involved in tranquilizing bears, elk and sheep in Banff. I also did five winters of avalanche safety work at the Lake Louise ski area through the Warden Service when they were in charge of it. When I moved up to Kluane National Park in 1993 I was the coordinator for ungulate population monitoring work and used the helicopter for census work. I assisted with tranquilizing and radio collaring bears and wolves as there were research projects ongoing. Darting animals from a helicopter is unique work.
When I started in Banff, you were exposed to all the warden duties. There were a summer seasons where I was a back country warden in more remote districts, where you were using saddle and pack horses, patrolling the backcountry, staying at the cabins. Then I also had a three-year assignment as the eastern slopes wildlife Project Coordinator where we were collecting data on ungulates of the eastern slopes of Banff National Park. There was a number of wardens that collected data and I brought it all together and wrote the report on that.
MH: What did you like / Dislike about being a warden?
TS: I liked the teamwork where everyone contributes. I wasn't necessarily a leader, but I had enough skills that I felt like I could contribute to the job and be an important component of it. I could act short term as the manager but never wanted a desk job. I liked the field work, whether it was rescue work, collecting mammal and bird data, or environmental assessment paperwork. So there was a good variety of projects or subjects that you were handed and you needed to manage for the short term, and then you might pass them on in a two to three years, etc.
Disliked: I wasn't great at working with the computers, so that wasn't a skill that I really developed that well. I didn't hate the office but it wasn't something that I wanted to spend the whole day in.
MH: What were some of your more memorable events as a Warden?
TS: I had a number of them. When I started out as a Park Warden, my dad was still one as well. At the time, I didn't think of it as being a big deal but as you grow older, you look upon it more fondly. It's special that you've chosen a field that your father has worked in and you can follow in his footsteps and hopefully do a good job.
Another was the Eastern Slopes Wildlife Study. There was a reasonable size budget involved with it and I was the coordinator. I was putting my university degree to use.
Standing on top of Mount Logan with the Warden team in 2000 was special. It was a training/acclimatization climb so that if we were needed to do a rescue in the Kluane Icefields, we'd be acclimatized to the altitude and be able to assist. We also climbed the mountain and checked on other parties, how they were doing on the route and whether there was any environmental issues or safety issues that we might want to follow up on. Kluane didn't have enough manpower that we could send a complete team up the mountain. Gordon Irwin from Banff, Eric Dafoe from Rev Glacier and Garth Lemke from Jasper came up from down south. There was going to be myself, Tom Buzzle and my spouse Julie Bauer, signed on as a volunteer. But Tom had to cancel at the last minute due to a family issue. Julie prepared all the freeze dried food and developed the medical kit as she was a nurse.
One other event was the grizzly bear mauling when I was on the two-man horse trail crew in 76. It was not a serious mauling so I have good memories about that and it spurred my long term interest in bears.
1902: I could go into more details about the bear mauling if you want?
We were a two man crew and we were working at Trail Center Cabin at the end of Spray Lakes building some corrals for the Warden Service. At the end of the one of the days, I went for a walk up the main trail that goes to Bryant Creek and I had an encounter with a female grizzly and two cubs. Just walking along the trail, surprise encounter, saw the female coming towards me, saw the cubs run off and I knew that it was a bad situation. I climbed a little spruce tree and thought I was safe up there, but basically the grizzly climbed up the tree as well. She reached up with one or two claws, hooked into the bottom of my Vibram soles on one of my hiking boots and pulled me out of the tree and we both fell to the ground. We separated as we hit the ground, rolled and got up. I started backing away from her and yelling as she came towards me. I was actually lifting up my arm in front of my face to kind of ward her off as everything's instinctive at that time when you're engaged with a bear. When I was working with my dad one of the techniques was to use padding around your arm, hold it out so that the dog bites that rather than anywhere else. My dad had the rescue/law enforcement dog for the Warden Service. I'm backing up at the time and away from her cubs who had run off into the woods and she made a couple of lunges at me and knocked me backwards. Then I believe she grabbed my wrist with her jaw once and dropped me to the ground. She released me and she ran away to check on her cubs. I stood up and thought it was all over and then she came back for round two. She came running out of the woods on to the trail and I picked up a couple of rocks and was yelling at her and throwing these rocks at her as she ran towards me. She hesitated, but then she came on and we went through the same scenario where I got my arm out in front and I'm backing up and she contacts it as a glancing blow. I threw a punch at her face but it had no effect. Then she dragged me to the ground again by grabbing onto my arm and then she went to check on her cubs again. I don't know how far away they were but they were off in the woods at least 50 yards or more. When I got up this time, I didn't stand around. I just ran up the trail wildly, as fast as I could towards Bryant Creek. I knew it wasn't that far away and it took me about 20 minutes or so to get there. Rick Kunelius and Lance Cooper were at the cabin. I walked up and I had a bit of blood on my arms and I was okay then but then sort of the shock hit me and I started babbling while saying "I got attacked by a bear." They lied me down on a bed and used the SSB radio and called into Banff dispatch and the helicopter was able to come in there just before dark and pick me up and flew me out to the Banff hospital. I spent the night there. I only had approximately 30 stitches on my left arm and hip. I think she grazed me there with her claws. Billy Vroom came and interviewed me about the bear attack and I told him what had happened and that I didn't think the bear was that aggressive and that it was just defending its cubs so and I don't think it needed to be shot. They actually went into the site the next day with a big crew of armed wardens and searched the area. They found a dead moose calf nearby. So, she was defending her cubs as well as her food cache. But she pulled out of the country because they had no interaction with her. The incident had been traumatic for her also. I guess if you're gonna have a good interaction of bear with physical contact, that's about as good as it can happen. (We had a sidebar conversation about our hike up to Castleguard Meadows in about 1990 and Terry wasn't making any noise as we were walking up the Alexandria fire road with no other people around and frequent piles of bear scat. Having known he'd had a bear incident, I turned to Terry and said, "you don't make any noise when you hike", and he said, "you don't see any wildlife if you make noise". I thought he was pretty brave (or crazy) after what he'd been through, however, he sure was right about the noise! We did carry bear spray though.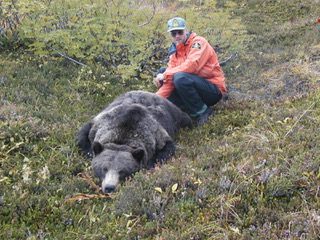 Tranquilized adult female grizzly for radio-collaring purposes.
MH: Can you tell me about any rescue/wildlife stories that stick out in your memory? (3338)
TS: One time in Lake Louise, on the Pipestone cross country ski loop, we got a report of a missing cross country skier at the end of the day. One team did a helicopter reconnaissance. I was on the ground team team with Dave Norcross. The skier was okay but had a sprained knee and he couldn't ski out and there was too much forest around to heli-sling him out of there at night. So, we set up a tent and had a sleeping bag for him. We put him inside the tent, warmed him up and gave him some food and hot fluids. Dave and I spent the night outside. We built a giant wood fire and warmed our backsides and our front sides. It wasn't bitterly cold, about -20 Celsius and we had radio communication. Daylight brought the helicopter in to extradite the skier. We skidooed out with the gear and got back to the office at eight o'clock and we reeked of wood smoke. Everybody else was coming in to work and the boss just looked at us and said, "You guys better go home, sleep and call it a day."
MH: How did the Warden Service change over the years?
TS: I grew up as a kid on a Warden Station in the 60s, so I saw a lot of changes. Started out as a kid at the Healy Creek Warden Station which was at the base of the Sunshine Village access road. We had the old forestry telephone and were on a party line. Growing up in a district, there was horses in the summer, backcountry cabins and the whole family was involved supporting my dad and the park. The Warden Service ran the ski patrol and avalanche control operations at the downhill ski areas. I believe they just control avalanches on the access roads now.
Moving to Riding Mountain, it was districts with wardens stationed at the park boundary. Private farm land butted up against the park. Where we lived, the farmers were our only neighbors and everyone had to help each other.
My dad got transferred back to Banff in the 1970s and that was when they were starting to abolish the districts and move wardens and their family into town. It was a difficult transition period. Wardens would spend two weeks in the backcountry and then two weeks in the front-country. Problems got pushed down the line to the next guy on the next shift. Eventually, specialization occurred and smaller teams were formed.
When I transferred to Kluane in the 1990s, there was only six or seven full-time wardens here and everyone was assigned a lead responsibility. However, we could still cover the work if someone was not available. We were more of a generalist. Everyone would be needed for a rescue, park bear closure, etc. There was a closer working relationship with the rest of the park staff. That continued even into the 2000s.
As you got older, you spent more time in the office and doing computer work. You probably didn't patrol as much because you'd explored the whole park and you knew the lay of the land. So it wasn't like you had to go out there and familiarize yourself with what was there in case somebody asked a question about a part of the Park, you already had the knowledge to give them.