Park Warden Alumni Society of Alberta Thank you to the Whyte Museum of the Canadian Rockies for granting permission to the Park Warden Service Alumni to post this interview on our website
Park Warden Alumni Society of Alberta
Oral History Project – Winter 2013
Interview with Larry Harbidge – Cochrane Alberta
Conducted by Christine Crilley-Everts
December 29, 2012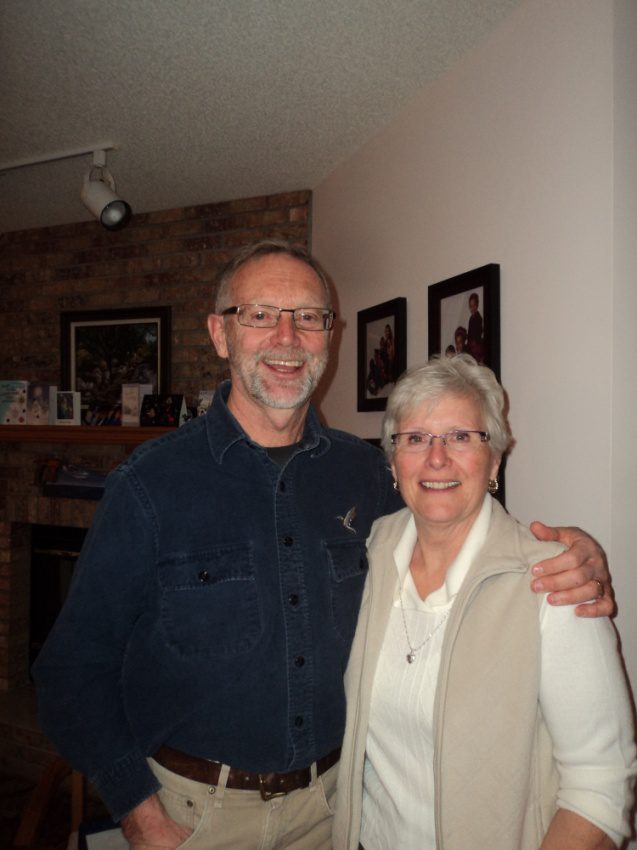 Larry and Sharon Harbidge – Cochrane Alberta
Place and Date of Birth: Victoria, British Columbia. September 27, 1948.
Occupations: At the age of eight years old, Larry decided he wanted to become a national park warden. After driving through Yoho National Park with his family and being so impressed with the wardens he saw and the beauty of the area, he set his sights on a career with service that would eventually to take him to ten national parks from coast to coast. In 1968, after completing the first year of the forestry program at NAIT (Northern Alberta Institute of Technology), Larry joined the service in Yoho. Following the completion of his second year, he worked in Jasper as a park patrolman. In 1972, he moved to Banff where he worked for two years before heading north to Kluane National Park to work as an Area Manager. After four years in Kluane, a park that would become one of his favorites, he moved south to work at Pukaskwa as the Chief Warden. He then went to Waterton in 1980 following a ten month sabbatical. Three years later he transferred to Georgian Bay Islands National Park. In 1987, after successfully bidding on a Chief Warden competition, he was offered a position at Fundy National Park where he stayed for four years. He then moved to St. Lawrence Islands National Park before heading west one last time to work as the Chief of Resource Conservation at Pacific Rim where he remained until his retirement in January of 2004. For Larry working for national park warden service was a way of life. He remembers fondly living the warden life, especially the time he spent in backcountry districts, as well as, the service's great camaraderie and the many friends he made during his 35 year career.
Additional Information: Larry and his wife Sharon, who like many other warden's wives worked with him, as a "Silent Partner" now spend their time travelling and visiting family and warden friends. ("Silent Partners" is a term coined by Ann Dixon to describe the significant role warden's wives played in the success of Canada's national parks. Dixon, Ann. Silent Partners: Wives of National Park Wardens (Pincher Creek, Dixon and Dixon Publishing, 1985), 3.
"What is your place and date of birth?"
(0:30) Victoria, B.C, September 27, 1948) No, my dad was in the Navy, so I flopped from coast to coast.
"Did you grow up on the west coast?"
Well, that was part of my dad being in the Navy, transferring from one coast to the other.
'What made you want to join the warden service?"
I was eight years old when we drove through Yoho National Park. At the Field warden station which no longer exists there were two fellows, park wardens out in the yard. They had a truck with fire equipment and with the scenery, the day, the atmosphere, it was pretty impressive! It became a dream of mine at eight years old and I was able to live my dream.
"Had you heard of wardens before?"
No, I didn't even know who they were or what they were doing. It just impressed me and as years went by I found out more about what they were and I decided that that is what I had to do!
"It must have made quite an impression."
Yeah, not too many people decide what they are going to do in grade three.
"Then how did you get involved in the warden service?")
(2:20) Well, of course I had to have the education. When I joined in 1968 (secondary) education was just becoming a new thing. Before that it wasn't just education, it was primarily experience. The switch was coming towards an education based individual with some experience. I guess because of my dream and knowing what I had to do, I began to acquire the skills, some of the skills and the education. I was fortunate enough because I took forestry at Northern Institute of Technology, the second year they had a rangers program which a number of wardens participated in and I was able to meet a few of them.
"Do you remember the names of any of those wardens?"
Ron Langevin was there. I think that after he left he became the head of Visitors Services in Banff and Gerry Campbell was there.) Anyways I think it was Gerry when I was seeking a job or being interviewed, employers at that time came to us, came to the school to interview us and Gerry was one of the interviewers. He knew me enough that I was able to get a summer position in Yoho.
"So that is where you started
Yep, Yoho National Park at Lake O'Hara. Yeah, I was hoping to end my career there, but I wasn't able to do that.
"That is kind of neat to start your career where you fell in love with the service."
"But I understand you worked in a number of different parks?"
Yes, I guess my story in history is a little bit unusual compared to others.
Where did you get the practical skills to become a warden?"
(4:45) I guess I would call it basic knowledge of horses prior to becoming a park warden. The same with mountain climbing, the skills were basic, going out with friends and people I knew who were into climbing. It wasn't the same back then as it is now, the types of technical work that people do now.
'Where you at Yoho for a few years?"
(5:24) No, just one year. I went back and finished my second year of forestry and then the following year I went to Jasper and that is when I met Mac. (The interview took place at retired warden Mac Elder's house in Cochrane. Mac worked in Jasper National Park for 28 years. First as a guide and then as a park warden.) It is funny, I worked with Gord Rutherford in Yoho. He was a district warden out of Hector and there was another fellow you may know too, Sid Marty? He worked at Takakkaw Falls. Sid was at Lake O'Hara the year before I arrived, but then he went to Takakkaw Falls. Then I went to Lake O'Hara and as chance would have it we both showed up at Maligne Lake in 1970 to work with Mac.
"At Maligne Lake you were a seasonal?"
Yes. In those days we didn't call ourselves park wardens, we were park patrolmen, PRC8's. I think we often called ourselves park wardens, but the true terminology was park patrolmen.
"I've heard different terminology, retired warden Gerry Campbell spoke of being a grade one warden."
Yeah, there were grade one's. In Yoho when I started there were four grade two wardens and one grade one warden, Bernie Henkstrum. He worked out of Field at the time with a fellow by the name of MacDonald, he was the grade two warden.
"As a seasonal warden at Maligne what were some of your responsibilities?"
(7:32) Of course I patrolled the lake. Checking fishing permits primarily when you were out on a lake, patrolling trails and although there had been bear incidents in the past, and there were still some bear issues, mainly it was just to go in and observe what had occurred. They (the bear incidents) weren't of any consequence. The road was to Maligne Lake was built too.
(8:21) There is a funny story there…When I arrived Mac Elder who was the district warden filled us full about stories of bear incidents involving a fellow by the name of Fred Sturdy who had been mauled.
"Was he mauled very seriously?"
Yes. Anyways with these thoughts in my mind, I remember I got called out on a fire that was on the lake shore. One that we couldn't get to with a boat, it was on a loop trail. So I carried a shovel, an old radio called a PT300. It was a big heavy radio that was strapped over your shoulder and I had a geeky can on my back and a canvas pail. You can imagine me rushing off down the trail with all this gear on. I was getting close to where this fire might have been and I peer through the lodge pole pine forest and I see this brown animal. Because of these stories, I thought it might have been a bear. I shinnied my way up a lodge pole pine tree and got up maybe 20 feet and along came this cow moose! And she looked up at me and she had a smile on her face because in my hand was a shovel, a canvas pail, a geeky can and a PT300. I still had them on me and I was 20 feet in the air! I don't know how I got up there with all that equipment. I got down with a fair bit of difficulty that's for sure!
"After Maligne, where did you go?'
(10:41) I worked at Cavell with Tony Klettl, during the winter. My primary responsibility was to maintain the trail between Cavell and the Tonquin to get wood into the cabin there for the following season. Like I said, just primarily maintained the trail and talked to cross country skiers. At that time the trail was open to snowmobiling, so I also conversed with snowmobilers and anyone else. My winter was spent doing that. The following summer I went down to Mile 45 and worked with a warden by the name of Jim White and Bob Barker in the Brazeau. We had gone from districts to area systems at that time and the Brazeau and Poboktan Creek were in the one area. Hans Fuhrer was working out of the Icefields at that time. A lot of the time I would spend working on the highway, I had a lot of bear management there, active bear management, tranquilizing bears and relocating bears. Foot patrols, horse patrols, and fire management. There were several fires, a couple of big fires. There was one at Long Lake, on the way into Fortress Lake. I didn't participate in any fire control efforts there, but the Chaba fire, I was more involved in that one. It was a very dry year, a very hot and dry year 1971.
"Was that also the year of the Kootenay fires?"
No, Kootenay had those fires in 1968. The reason I know that is because I was at Lake O'Hara and they closed down the main highway and everybody had to go on the old 1A highway. And the year I retired, 2003, Kootenay had the other fires again, just by coincidence at the beginning and end of my career. I didn't actually retire until January 2004…
(13:25) Of course I spent a lot of time at the Brazeau when I was down at Mile 45, doing boundary patrols working with Bob. My wife and I would be up Isaac Creek and Bob would be over at the Brazeau in the main cabin…So I would have my first wife and Christine, that's my daughter's name as well, we would be up Isaac Creek. Anyways from there I went back to Maligne. They moved us around. I went back to Maligne, Mac had moved into town and a fellow by the name of Ray Frey was now (the district warden). Ray and Kay were there, however Ray was living in town and I was out at Maligne. Then Ray went on to Nahanni and I more or less looked after Maligne until I left there and got my permanent position in Banff in September or November of 1972, I can't remember now.
"Did you enjoy that backcountry life?"
(15:15) Yeah, I loved it. That was everything that I wanted and expected of a career with the warden service. Unfortunately, at that time we went from the district system to the area system. Well, I shouldn't say unfortunately there were a lot of good reasons for doing that, but for me I would have much rather have stayed with the old original system.
"A lot of the older generation of wardens I've talked to felt that way."
Yeah, I didn't really experience it that long compared to the others.
"It was nice to have a taste of it though?")
Yeah, it was. When I went to Banff in 1972 they had functionalized in Banff, they had gone to an area system. They had Lake Louise and Banff as two separate areas, but the wardens in those areas had functionalized. We worked two weeks in high visitor use and two weeks in backcountry. When I was in high visitor use my first year, my responsibilities were bear management and law enforcement. I hated law enforcement, the type of law enforcement that was being done in those days. We had to work a little bit of campgrounds, moving people from day use areas in the campgrounds. It was something that I never dreamt that I would ever be involved with. But that was early in my career, I did a lot more of it!