Thank you to the Whyte Museum of the Canadian Rockies for granting permission to the Park Warden Service Alumni to post this interview on our website
Park Warden Alumni Society of Alberta
Oral History Project – Winter 2012
Interview with John and Marie Nylund – Exshaw Alberta
March 12, 2012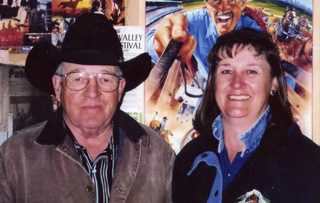 Photo by Jane MacAulay
Place and Date of Birth: John was born March 6, 1938 in Calgary Alberta. Marie was also born in Calgary on February 4, 1949;
Occupations: John attended Square Butte School, which was a small, one-room school made of logs. He and his three siblings rode their horses to school every day; a distance of two miles each way. Marie attended Bragg Creek School for grades 1-8. This was also a one-room schoolhouse. She was always the only student in her grade. She then completed High School at Springbank. Following her graduation Marie attended Henderson's Business College in Calgary. 
 After working on a ranch in Square Butte, John and Marie moved to Lake Louise in the early 1970s, where John worked for the trail crew in the summer and for the ski hill in the winter. Marie worked seasonally for the RCMP detachment in the village. In 1977, John became the barn boss for Banff National Park. Marie worked for the local school board and when the Town of Banff became incorporated she moved to the municipal department. Following their time in Banff, they moved to the Ya Ha Tinda in 1996. John was the foreman of the ranch and Marie worked as a record keeper, where she brought to life the rich history of the area by establishing permanent historic displays. John and Marie retired from the ranch in 2003. They are well known for their incredible commitment and love of the Ya Ha Tinda and for the warm welcome they gave every visitor to the ranch.
Additional Information: In retirement, John and Marie continue to keep very busy with family and volunteer commitments. They are active members of the Park Warden Alumni Society of Alberta and the Friends of the Eastern Slopes. Marie has a passion for history and she writes, as well as edits. They still ride and John plans to start a couple of colts this year.
(0:00:19) John – I was born in Calgary on March 6, 1938.
(0:00:29) Marie – I was born February 4, 1949 in Calgary.
Where did you grow up?
(0:00:47) John – In the community of Square Butte, west of Millarville.
(0:00:59) Marie – I grew up in Bragg Creek, which is only 14 miles north of where you (John) grew up.
Where you mom and dad ranchers?
(0:01:16) John – Yes we lived out on a ranch. My dad worked on the oil tank farms to support the ranch.
Marie, did you also grow up on a ranch?
(0:01:34) Marie – Not on a ranch, but in ranching country. My grandparents were ranchers, but my parents did general contracting in the Bragg Creek area. And for a time they ran a little motel with cabins called the Yo Ho Tinda. So I lived there for seven years. The reason it was called the Yo Ho Tinda was because the man who owned it, his name was Bert Sahlene, he ran a little taxi company in Calgary and he bought the property which had these seven little log cabins on it. He was a great friend of Art Alison, who was a warden at the Ya Ha Tinda back in probably the 1940s. So he would go up there fishing and staying with Art and he loved the Ya Ha Tinda. He bought the property in Bragg Creek and sort of named it after the ranch. I didn't find that out until I moved to the Ya Ha Tinda and wondered why there were these two similar names. Then mom said, "Oh, Bert would go up and fish with Art." Little did I know that I would live equal amount of time at Yo Ho Tinda, six and a half years and the same amount of time at the Ya Ha Tinda! Later on, among other things like trucking and building cabins, dad owned and operated school buses and transported students from Bragg Creek to Springbank School after the one room school at Bragg Creek burnt down. 

(0:02:24) John – There is also a place at Red Deer Lake called the Ba Ha Tinda. He (one of the owners) was another guy who had a connection with the Ya Ha Tinda..
(0:02:48) Marie – Yeah, Colonel Scott. He had a connection with the Ya Ha Tinda. He helped with the Brewster Horse round up in 1917. He was the photographer on the roundup as he had been injured and was on leave during World War One. He was invited to go along with Jack Fuller and a bunch of them that were rounding up the Brewster horses. He took pictures and 50 years later he wrote about it for a centennial project. In 1967, he wrote his memoirs. He wrote about the round up. At one time, in the 1960s, Perry Jacobson (retired chief warden of Banff National Park) worked for Fred Scott when he was a part owner in this Ba Ha Tinda. It is an interesting connection.
NOTE: WILD HORSE ROUNDUP AT YA HA TINDA by J. Fred Scott
James Frederick Scott (1892-1982) was born in Meaford, Ontario and came to Alberta in 1911. He served overseas in both world wars and was commanding officer of the Calgary Highlanders. He practiced law in Calgary where he was active in military and business circles. Col. Scott prepared this article in 1967 as his own Centennial Project and placed it in the Glenbow Archives.
How did you two meet?
(0:04:07) John – I worked at the Elkana Ranch (Elkana Ranch was a privately owned guest ranch and kids horse camp established by Bob Echlin in the early 1960s.) It is in the community of Bragg Creek.
(0:04:18) Marie – We grew up with horses. My sister and I were always on horses. So the Elkana Ranch was a big part of our life. The fellow, Bob Echlin, who managed Elkana Ranch, and who John worked for, helped to start our gymkhana club – the Bragg Creek Light Horses Association. He was really promoting young people riding. So that is how our paths crossed.
(0:04:38) John –I knew her mother's side of the family all my life…I didn't know her mother, but I knew the family.
(0:04:58) Marie – Then my mom, knew your mom, from years ago she said. Different generations… well my great grandfather was a minister. When they emigrated from England he took up ranching with his sons, but he also was a Presbyterian minister. (He held church services in his home on the ranch), and in later years he rode through the foothills holding church services in rancher's homes. Then, after retiring from ranch life and moving to Calgary, he continued in the ministry in the city but would also drive out in his car to Square Butte and held church services at John's Grandmother's house. Reverend Captain W.H. Muncaster was his name. He had been the Military Chaplain of the 89th Battalion during WW1.

Then, did you come up to the mountains together?
(0:05:50) Marie – Yes, we were married in 1969. We worked at the Chinook Ranch where Johnny had worked for many years, down in Square Butte for John Ballachey. We lived there for four years, I guess. We had Leo there. Leo was born when we were living there. Then this trail crew position came up. Perry (Jacobson) had already gone to Lake Louise as a seasonal warden and then John got this position with Parks. Well, we thought it was something new.
(0:06:33) John – That was for a summer position and I ended up staying 30 years!
(0:06:42) Marie – It was the best thing that ever happened because it was a whole different world for us. All the different people that you met over the years and the experiences. It was pretty good!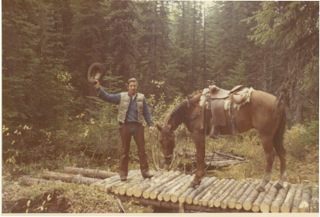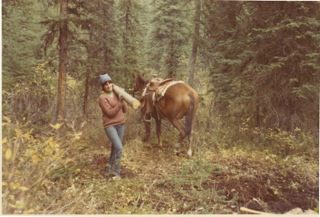 John and Marie building corduroy bridges on Howse Pass 1973.
Photo courtesy of Nylund collection.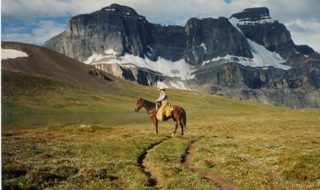 John and Marie working on the trails, Howse Pass, 1974.
Photo by John Nylund
(0:07:07) So, you worked on the trail crew in Lake Louise?
John – Yes. Then I worked on the ski hill in the winter time, at the Lake Louise ski hill. For four years I guess, four winters.
So were you skiers too?
(0:07:22) Marie – We became skiers.
(0:07:22) John – I learned how to ski just good enough to get down the hill!
Did you do ski patrol up there?
(0:07:35) John – Just grooming the slopes. At night, when there were no skiers on the hill, we'd would run those cats and pack and groom the ski slopes.
(0:07:45) John – It was very exciting. Skidding off the mountain! Sometimes they (the snowcats) would take right off on you.
From Lake Louise, you moved to Banff?
(0:08:04) John – Yeah, to the Barn Boss job.
(0:08:06) Marie – In 1978 we moved. He started in 1977 and commuted for a year.
(0:08:15) John – June of 1977, I think.
(0:08:16) Marie – Then we moved in 1978, moved the family and by that time we had Nancy.
Then you were Barn Boss up until you went to the Ya Ha Tinda?
(0:08:38) John – Yes, until we went to the ranch. In 1996 I went to the ranch. I went out there in July. The tenth of July I think.
How long were you at the ranch?
(0:08:56) Marie – We were there seven years. Until March of 2003.
(0:09:01) John – That was the nicest part of all the jobs I had. They were all good jobs, every one of them. I had the best jobs in the park, as far as I am concerned. I liked to build with logs, things like corrals, gates and learning to build cabins and log furniture.