Thank you to the Whyte Museum of the Canadian Rockies for granting permission to the Park Warden Service Alumni to post this interview on our website
Park Warden Alumni Society of Alberta
Oral History Project – Winter 2012
Interview with Bob and Pat Haney
Interview conducted b y Christine Crilley-Everts
March 14, 2012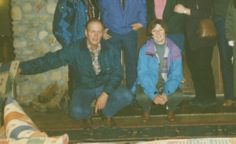 Bob and Pat Haney – Marie Nylund Collection
Place and Date of Birth: Bob was born in Seaforth, Ontario, April 11, 1943. Pat was born four years later, December 17, 1947 in Calgary Alberta.
Occupations: After moving to Millarville as a young boy, Bob met the Mickle family. (In 1961, the Mickle family (Bert, June, Don and Faye) moved from the Millarville area to Lake Louise to take over Ray Legace's outfitting business which included running Skoki and Temple Lodge. Don Mickle also worked as a warden in Yoho and Banff. He retired in 2005 after almost 35 years of service.) While working for them in the early 1960s at Skoki Lodge, Bob was introduced to the Rockies, as well as, to the national park warden service. In 1967, he was hired as a seasonal assistant in the Eisenhower district of Banff National Park. Shortly after that he moved to Waterton to work as a seasonal warden where he remained for three summers. During the winter he worked as an avalanche observer in Rogers Pass. In 1969, he began his 16 year tour in Jasper National Park when he became the Rocky River district warden. After two years on the district, Bob and Pat moved to the Athabasca Falls area where he worked on the avalanche control program at Marmot Basin. He then became an Area Manager for Poboktan Creek. He ended his time in Jasper working as a Resource Management Manager and then the law enforcement manager. In 1985, the Haney family moved across Canada to Gros Morne National Park, when Bob was hired as the new Chief Warden. A year later he was asked to come to the Yukon to work as the Chief Warden of Kluane National Park. In 1988, the Haney family returned to the Rockies when Bob became the Chief Warden of Banff National Park where he remained until he retired in 1998, finishing his 31 year park career.
As well as being introduced to the mountains and the warden service in Lake Louise, Bob was also introduced to Pat. She was working at the Post Hotel during the summers as she completed her teaching degree at the University of Calgary. Pat began her teaching career in Field, B.C. where her and Bob's paths continued to cross. After she and Bob were married in 1970, Pat worked as a substitute teacher in Jasper and then in Gros Morne. While in Newfoundland she studied French. Pat worked as a French teacher in Haines Junction and then in Canmore when the family came back to the Rockies.
Additional Information: Bob and Pat continue to get out into the mountains which they love, a legacy that they have passed on to their daughters Tara and Colleen. They enjoy backcountry touring, as well as downhill and cross-country skiing, in addition to hiking and riding. As a family they have been on almost every trail in the park. Along with their outdoor pursuits they are very involved in the local community. Bob served on the Banff town council, as well as, on various committees and he is an active member of the Park Warden Alumni Society of Alberta. Bob and Pat remain strongly committed to national park concepts and values.
(0:56) Bob – I was born in Seaforth Ontario, April 11, 1943.
(1:09) Pat – I was born December 17, 1947 in Calgary.
(1:22) Bob – That's right (In response to the questions, "Bob, did you grow up in Millarville? Did your family move out west?") When I was six, coming on seven years old we moved from Ontario to Millarville. My father suffered from asthma in the climate, especially in the high humidity of Ontario and his sister had moved out to the Millarville area and married an old time rancher, Billy Jackson. So we moved there and I keep on thanking him for doing that! It was a wonderful experience.
(2:13) Bob – No, dad was always a carpenter. (In response to the questions, "What did your family do out in Millarville? Did your dad ranch as well once he was there?") He was brought up on a farm in Ontario and he started a construction business. He built many of the houses, barns and buildings in the Millarville area. My mother was the janitor for the school. We lived right across from the school in Millarville and I remember Mrs. Johnson his (Don Mickle's) grandmother saying that Bert and June and family were moving to the area and Donny and Faye were coming to school. Donny and I hit it off right away. We were school mates through to high school.
(3:15) Bob – Yeah, pretty well. (In response to the questions, "Was it through Donny that you came up to the mountains? Did you come to work for the family?")( Retired warden Don Mickle's family ran Skoki Lodge and Temple Lodge.) In Millarville country there were many relatives of Lizzie Rummel (Fisher and Rogers families)…Because of Lizzie with her Skoki connection there was a lot of young folks that worked in the Lake Louise area in the horse industry. Like Keith Foster, another friend of Donny and mine, and of course a park warden. All three of us were friends and in 1963 I came up to Banff and Keith was already working at Lake Louise for Ray Legace. I think that was the second year he was there and then Donny and Donny's family, Bert and June bought Ray Legace's outfit…Anyway in 1963, I arrived and started working with the Mickle family and I gained experience in the horse industry and the tourism industry. And I worked for Mike Boyle for a month at the Lake Louise Esso station before they had a position for me to help out.
(5:01) Pat – No, I grew up in a town called Gleichen, east of Calgary. (In response to the question, "Pat, did you grow up in Calgary?") I don't have much (mountain experience) previously to Lake Louise as far as in relation to Bob because I came to Lake Louise in 1966 as a university student looking for a job. I worked for Alfa Legace and Ray Legace was somewhat of a mentor to me. Because my friend and I got into hiking, he used to sit and tell us stories by the hour. He seemed to have a lot of time! Mrs. Legace was working hard. Ray did a lot of the talking! I actually have a pair of Ray Legace's seal skin climbing ski skins. He gave them to me when I got into skiing. He said, I would have better use for them then he did now! We still have them.
(6:05) Pat – We (Bob and Pat) met at Lake Louise, although we didn't really connect then. I was raised by a very strict father and all of those guys seemed, I'm sure they weren't, but they seemed a tad wild to me! And apparently to them, I seemed a tad prissy! So it took a few years for us to both move to the center I guess. In fact, I got interested in Bob when he invited a friend and I to Waterton to hike. So I saw him in uniform. Uniforms don't do it for me, but he was so different from the perception I had had before. He was so efficient and knowledgeable. He loved Parks so much that it really impressed me. The other thing that impressed me was I was antismoking almost from birth because my parents both smoked and he smoked. But in spite of that he beat us to the top of all these darn passes. You know how steep the trails in Waterton are? And he rolled his own. So he would be up there already smoking a cigarette. I think it was his way of showing that not only did I beat you, but I have been here long enough to roll a cigarette!
David Wildman, Don Mickle, Bob Haney and Keith Foster, 1963 at Millarville.
Photo by Don Mickle
(7:36) Bob – In 1963 like I say that was my first experience in the Rockies. (In response to the question, "How did you get into Parks?") I was always intrigued, even sitting in the foothills, east of the Rockies, wanting to visit and spend time in the mountains. Not knowing too, too much about the geology. But after I came out in 1963 and worked for that summer season, obviously we all kind of spread off. Keith and I did a few things in the oil industry and I worked for the Alberta Forest Service. But I would always come back and visit Donny and some of our other Millarville mates in the next couple of summers. I worked for a road construction outfit for the Municipal District of the Foothills. In 1965, in the fall, I went way up north working as a cat skinner. That was when I decided I needed to spend more time in the Rockies. Donny and his family agreed that I should work for them in the summer of 1966. So there were a couple of years in between. I arrived in Lake Louise in the spring on horses and one of the local wardens up there, Pat always remembers him coming into the Post Hotel saying "The cowboys are coming! The cowboys are coming!" Of course that was Donny Mickle and I and a few other friends.
(9:28) Pat – Warden Jay Morton was the one who was dancing around. "The cowboys are coming! The cowboys are coming!" He was so excited.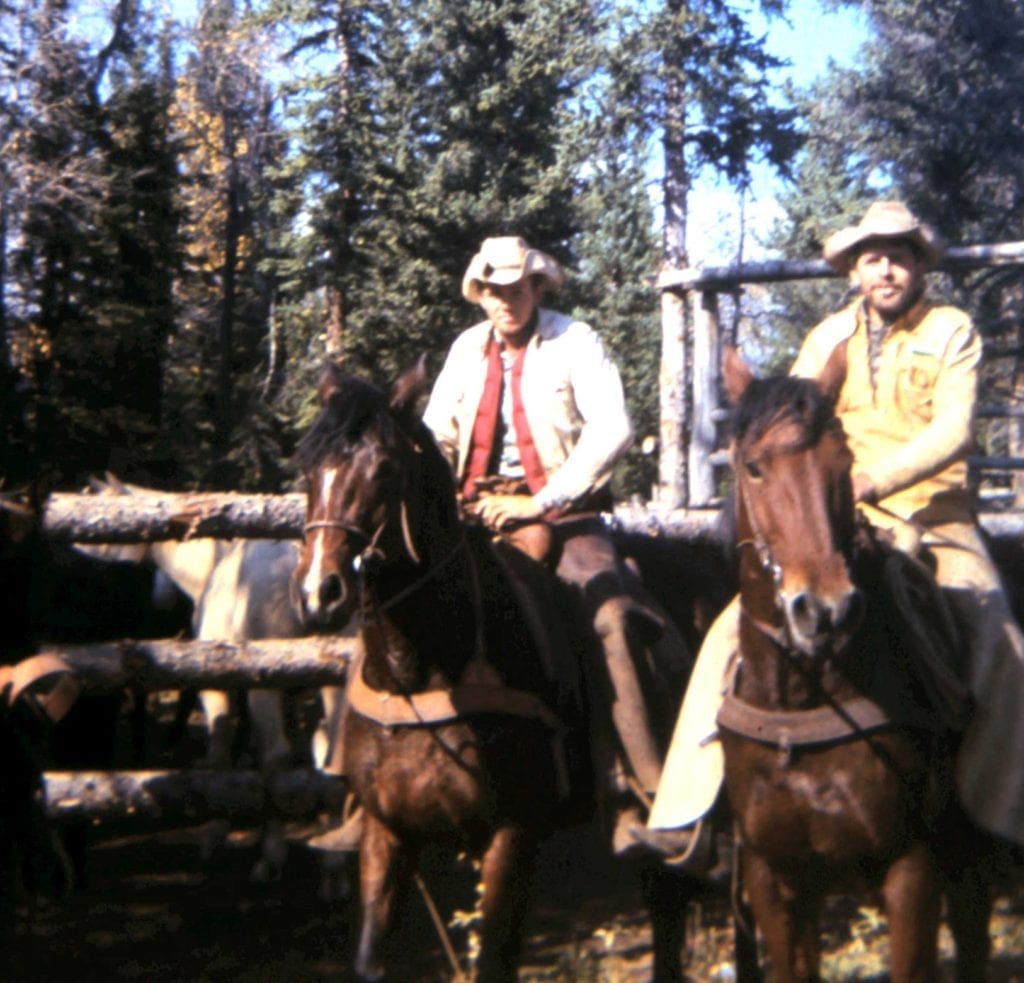 Bob Haney and David Wildman "the cowboys". Don Mickle photo.
(9:35) Bob – And that was the night that I met Pat. And yes I did think that she was a little prissy!
(9:42) Pat – That night, they did kind of prove that they may have been a tad wild!
(9:49) Bob – So for that summer I worked for Bert and June and Donny. Faye was there and Keith Foster had moved off to the Alberta Forest Service. He was working for them in the Fort McMurray area as a tower man.
(10:08) Bob – Through that summer I got to know some of the old time wardens like Gerry Lyster who was in Cyclone and Wally McPhee and Joe Halstenson. I realized that that was a job that I would really quite like. I didn't know whether I had the skills or not, but obviously I had some of the travel skills with horses. And these folks were telling me what I had to do to become a warden. There were active competitions each spring. One of the things was I should learn how to ski. So that fall I got a job with the Lake Louise ski area. I drove their first snow cat because I had an equipment operating background, as well as a farm background. Then I learned how to ski, such as it was. I wasn't too, too proud of it! That next spring I entered into a competition with the warden service. I was interviewed by Bob Hand here in Banff and Frank Camp and some of the old timers. And I got on a list for jobs. The ski area shut down the end of April and I headed out to the Rafter Six Guest Ranch, not knowing what I was going to do. I guess that summer I was going to go back and work for Bert and June and Donny. Through connections to Wally McPhee and Jay Morton, I managed to pick up a seasonal assistant job with Jim Robertston at what was called in those days Eisenhower Junction, it is now Castle Junction. So that was my start in about late May. I started working for Parks and I think they were paying me as a power saw operator or something like that. It was a little creative how they hired people in those days. It was just great! I thought I had died and gone to heaven! I was on this other list and within a month's time I got an offer to go to Waterton Lakes in a seasonal position, which you got called back for seven months of the year. So after great debate with people like Wally McPhee who told me that I should not go to Waterton because my upwind leg would beat the hell out of my downwind leg, because all it does is blow down there, but Jim Robertson who was from the Pincher Creek area convinced me that I should go. So I went and it was a great experience. That was the spring of 1967. I started in Banff, but I was only here about five weeks and then I went on to Waterton.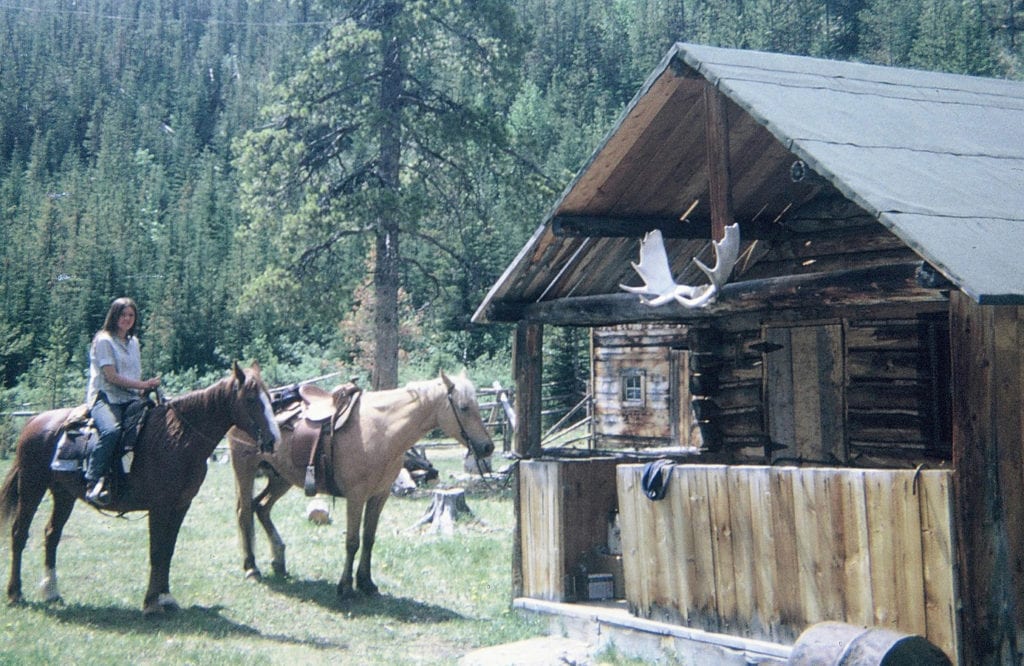 Pat Haney at the Corners Cabin on the 1966 horse round-up at the Ya Ha Tinda. Don Mickle photo.
(13:37) Pat – I was finishing off my degree and I absolutely fell in love with the mountains. (In response to the question, "At that time were you finishing your degree?") I got into hiking and at that time I wasn't a skier either, but we just hiked everywhere. Ray and Alfa Legace were people that I really liked and admired. And also I fell in love with Bert and June Mickle, they were such characters! Somehow with all those wild cowboys, Donny sort of flew above that. I thought he was such a sensible nice young man. We were always just friends, I never went with him. It turns out that he was just as wild as the rest of them! I remember he encouraged Ellen and I to try Pulsatilla Pass, which is a fairly major hike and we only had a day off a week. He had what we called the Yellow Submarine then, a yellow van and he parked it down near Johnston Canyon so that we could get a ride back that night. We got lost the first time. We ended up hiking down Baker Creek, quite literally in the creek. We ended up out there. So the next week we did the same thing. Bert and June let us stay up at Temple the night before and then we took off and we did all of Pulsatilla Pass, which I don't know, from Temple to Johnston Canyon it has got to be 32 or 33 miles. It was a long way! We got in and we hadn't even connected with Donny so there was no vehicle there. We had to get back from Johnston Canyon to Lake Louise and be at work at 6:30 the next morning! So this is where Bob and I were sort of crossing paths. I think it was your second year in Waterton that you invited us down to hike. So in 1967, he invited us down to hike or 1968. Then the engagement happened, to another woman, not me. He was engaged to somebody else.
(15:34) Bob – Oh, I forgot about that.
(15:36) Pat – Oh, yeah! Anyhow, I wasn't really crushed because we still weren't going together. But then at Christmas time for some reason, he decided that she wasn't quite right for him. And he sold the engagement ring before he gave it to her at Christmas and bought a camera and some lens. So from there on we started to get more serious! At the Post, yes. (In response to the question, "And you were working at the Post Hotel in Lake Louise?")
(16:07) Bob – You changed from waitressing though to the front desk.
(16:08) Pat – Well, every second week I got two days off. So I earned a lot less money, but it gave me two days of hiking instead of one. Then if we did any ridiculously long hikes, I could maybe have a day to rest before I had to be back at 6:30 in the morning.
(16:29) Bob – So I arrived the July long weekend in Waterton in 1967. (In response to the question, "How long were you in Waterton?") The Chief Park Warden was Gerry Campbell. Of course he was very interested in horses and I had some horse skills, so we got along famously. I was in Waterton and I worked in different places throughout the park for different wardens, mostly with Larry Tremblay. All three summers that I was in Waterton, I lived at Cameron Lakes. So that was kind of my base. Then in the fall of the first year, I worked at different outlying posts, Oil Basin and Snowshoe cabin up the Blakiston Brook Drainage. I worked there basically for about a year and a half. They kept me on through the winter and the next summer. That fall I ended up applying for an avalanche research position, an Avalanche Observer One they called it. Low and behold, who applied for the same job? Donny Mickle! Of course Donny already had experience because he was connected with an old family friend, Noel Gardner. He worked with Noel in Rogers Pass in the years previous. Randy Chisholm was another young fellow from Banff here, and the three of us went to Rogers Pass and worked that one winter. Of course, that is where I met your dad (warden Keith Everts). Keith was working for Peter Schaerer. (Keith Everts worked for Peter Shaerer and the National Research Council of Canada on the avalanche control program.) The next spring I went back to Waterton for the summer. I left there in September of 1969 and got a fulltime job as a district warden for the Rocky River district in Jasper. 1969 was the summer that Pat had finished school. She and her friend Ellen Armstrong came down in the summer of 1969 and hiked.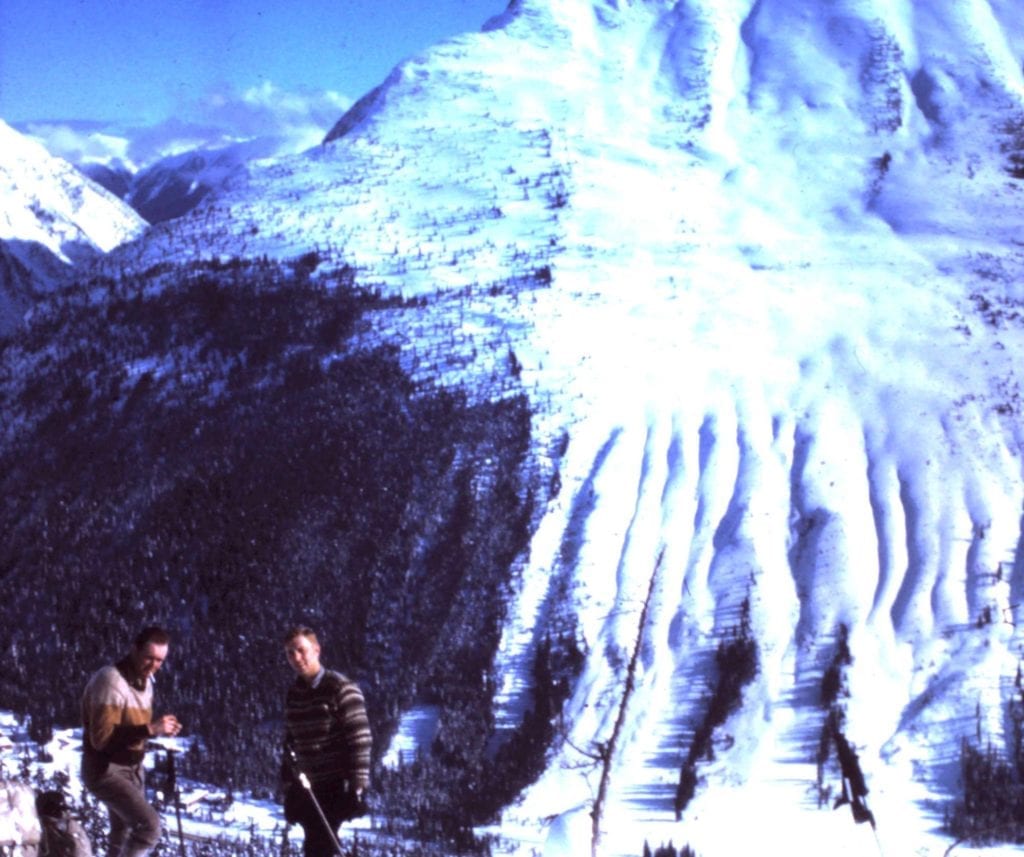 Bob Haney and Don Mickle at Mount Cheops, Rogers Pass 1969. Don Mickle photo.
(19:16) Pat – Then you got engaged and disengaged.
(19:18) Bob – That's right. I was somewhat confused!
(19:28) Pat – It is funny how the paths kept crossing. I was offered a job in Calgary and I just didn't want to be in the city as a teacher. Then my mom and dad were starting to get a little worried because I still didn't have a job at the beginning of July. I called Golden and I was offered a job in Field. So when Bob was heading towards Rogers Pass, I was now a teacher in Field. He and Gordie Peyto would stop in at my place for tea and continue west on the Sunday night…That was the year that Bob and I started going together. After he broke up his engagement! Field was an interesting position, but my friends were leaving and it was such a small place that they recommended that I get some experience in the city. So I did go to the city and I got a job in Calgary. That fall when Bob wasn't in the bush, he would come to Calgary. I guess we decided to get married. I went into the Rocky River district for the summer and we had decided that we were going to get married, but we hadn't set a date. Then in September we decided that we should go skiing at Christmas time. My dad was still rather strict, so we decided that we would elope. We eloped November 28th, 1970, Grey Cup day for the Calgary Stampeders. It was the first time that they had been in (the finals) since 1947. So my parents were actually as excited about that as they were when we arrived to say, "Oh, here's your new son in law." Actually we got married at 9:00 in the morning because the Justice of the Peace wanted to see the parade and then the game. So he squeezed us in between! We were married in Calgary at the John J. Bowlen building. Then we went to mom and dad's place and watched the Grey Cup. It was all very romantic! Then I went back to school on Monday and Bob had a week's honeymoon alone. So that was how that worked!
(21:50) Bob – While I was in Waterton, Paul Kutzer and I were the seasonals. They only had two seasonal in those days. Interestingly enough, most of the other people on the list all wanted permanent jobs. Nowadays seasonal positions are kind of the norm, but back then it wasn't the norm. So that is why they went down the list quite a ways to pick myself up and Paul. As it turned out, Paul moved out the first year and came to Banff and Gordie Peyto came down. I knew of Gordie before, but that is where Gordie and I struck up a great friendship for two years. Albeit, we were likely pushing the envelope a little bit, with recreation! So when I left Waterton, Gordie picked up the position that I vacated in Rogers Pass. When Gordie started working in Rogers Pass in the winter, he had his seasonal job in Waterton. We kind of had the same type of path there. Mind you, I was always really interested in different parks and of course always waiting for what we used to call "the brown envelope to show up." Whether someone was going to hire you or not. You didn't know which park it was going to be.
(23:30) Bob – In the meantime Keith Foster had left Alberta Forestry and got a job in Jasper as a seasonal warden. He and I met up. I guess it was the spring of 1969 at a seasonal warden school in Jasper at the Palisades. Some of the first training schools they had for warden ones were there. He took me over and introduced me to the chief park warden, Mickey McGuire. I got to know Mickey a little bit. I knew that he was kind of a hard core old guy, but that he was very fair and he was looking for people with travel skills. That fall I got an offer in Jasper, which I really appreciated. It was a 16 year tour in Jasper, starting in the Rocky…late fall, one year later, near Christmas time, Pat and I got married and Pat finished her teaching tenure in Calgary and she came in the next spring, in 1971.
(24:47) Pat – And you were still in the Rocky River.