PARK WARDEN SERVICE ALUMNI SOCIETY
ORAL HISTORY PROJECT – SELF-GENERATED INTERVIEW MARCH 2022.
Questionnaire for Retired Park Wardens, Resource Conservation Specialists, Associates & Spouses
Park Warden Service Oral History Project – March 2022
Name: Allan F. Gibbs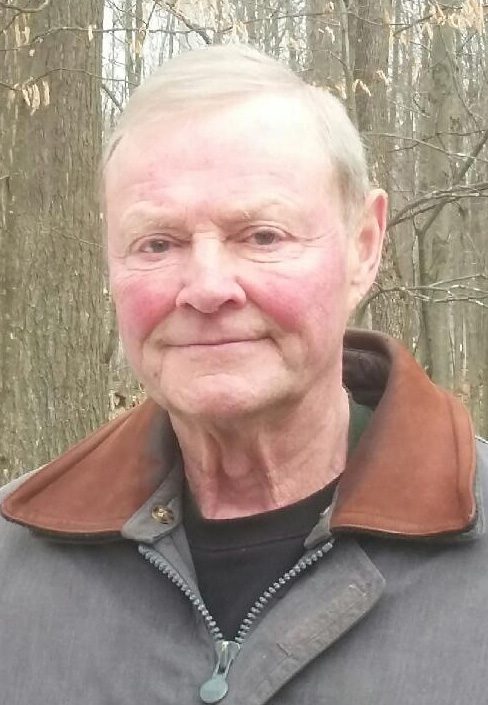 Where and what year were you born (optional if you wish to keep it private).
Toronto, Ontario. 1946
2. Where and how did you spend your "growing up" years?
We lived in Toronto until I was in grade one. My Dad, a war veteran, had always wanted to live in the country and found and bought a farm property in Sullivan Township, south of Owen Sound, in the early 1950's. I spent a lot of time reading, during that era and some quality outdoor time fishing and hunting, camping, and exploring the area, as well as helping with farm chores. I did participate in the Ontario Junior Forest Ranger Program, at Espanola, when I was 17.
A couple of my favorite readings were King of the Royal Mounted and Sgt. Preston comics and I had decided that my career was going to be as a Mountie, with my second choice a forest ranger. When I graduated from high school (Chesley Dist. H.S.), I was still too young to apply to the RCMP, so I took a job as a clerk in a bank. When the chance to apply for the RCMP came along, I passed all the entrance exams and went for my physical. In those days applicants had to be at least 160 pounds, five feet 10 inches and have sound teeth, etc. I was close to the minimum weight and height, my teeth were okay, but I failed the colour vision exam. Very disappointed, I decided to pursue my second choice.
Work ethic was considerably different then, so I did turn down the chance to go to the Ontario Forest Ranger School, in Dorset, as I wanted to get some money in the bank before committing to a year or two with no income. I worked on log towing boats on the B.C. coast for three years and saved enough money to go back to school. My school of choice was Sir Sandford Fleming College (SFFC), in Lindsay, Ontario. That school had replaced the former Ontario Forest Ranger School and was offering a two-year forest tech course. I started there in 1969 and graduated in 1971. In those days every graduate had a firm job offer, and I had accepted a game warden job with the then Dept. of Lands and Forests. (the pay was $2.67 an hour, as a RT-2).
A few days before graduation, Bruce Wilson, who was the Superintendent of Georgian Bay Islands N.P., came to Lindsay to interview graduates for a Park Warden position. The position was only a term job, to fill in for the only full time Warden, who was off on sick leave due to a heart attack. I applied and came first on the list and had a decision to make – turn down a full-time job offer or accept the term Warden position. The Warden salary was a dollar an hour more than the Provincial Game Warden job, so I decided to accept the National Park posting.
3. Why did you want to join the Warden Service?
See my comments above. I did not really know much about the Warden Service, at that point, but the course curriculum at SSFC was almost identical to the "Park Resource Officer" job description that resulted from the Sime and Shuler Report, prepared for National Parks in the late 1960's.
4. Which national park did you start working in?
Georgian Bay Islands.
5. What different parks did you work in? How did they compare? Do you have a favorite?
Georgian Bay Islands, Saint Lawrence Islands (now Thousand Islands). Auyuittuq., Wood Buffalo, Cape Breton Highlands, and Gros Morne. Georgian Bay Islands and Saint Lawrence Islands were boat access parks, with much of the Warden duties involving dealing with campground issues in the summer, snowmobilers in the winter, poachers in the fall and resource inventory work when time allowed.
I was in Auyuittuq for a fairly short time and did enjoy the isolation and the challenges. My job as Chief Park Warden in Wood Buffalo was during two major fire years and fire and financial decisions during the fire season and native hunting and trapping issues in the winter were both full time roles. Cape Breton Highlands and Gros Morne were great places to work and explore. I spent 15 years in Cape Breton and still maintain some excellent contacts there. The main challenges in the early years were getting the Wardens to evolve toward the variety of tasks related to ecological integrity. We have many fond memories of Cape Breton and would likely consider that to be the favourite.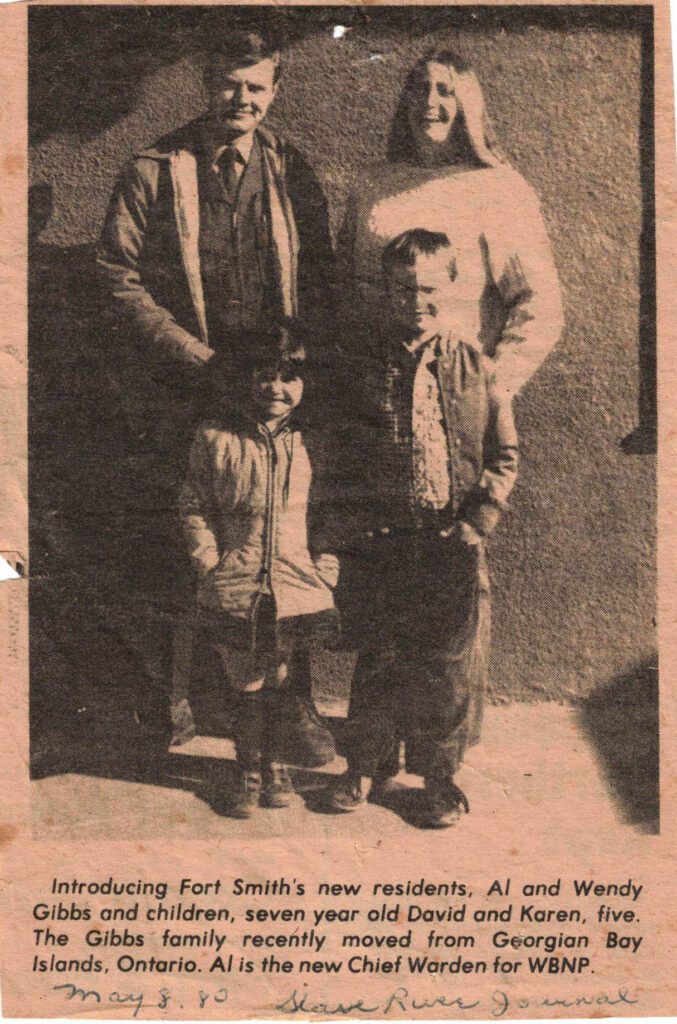 6. What were your main responsibilities as a Warden over the years?
My initial responsibilities were "the entire job description". When I arrived in Georgian Bay Islands in May of 1971, Bruce Wilson, the Supt., handed me my job description, a copy of the RCMP Constable's Manual, a copy of the Sime and Shuler Report, a key to the bunkhouse and the keys to a boat and said "all yours, go to work". I had a lot to learn and managed to survive the summer. I did initiate and complete a forest resource inventory of the park islands, using, now very old fashioned, air photo interpretation and on-site sample plots.
The Chief Warden position had been vacant there for several years and the only full time Warden was off on sick leave. Don Dumpleton arrived to fill the Chief Warden position later that fall and I did learn a lot from Don.
We moved to Saint Lawrence Islands, the following spring, to get a full-time position and the "generalist role" continued, with most of the winter doing vegetation and wildlife studies. I lateralled back to Georgian Bay Islands, in 1974. Mike McKnight arrived as Chief Park Warden and was an excellent team leader. Mike moved to Banff a couple of years later, and I ended up with the Chief Park Warden job. (1975). We went to Auyuittuq for part of 1977, back to GBI and then to Wood Buffalo, in 1980. Bernie Lieff, the WBNP Supt., transferred to Waterton in the fall of 1981 and I ended up acting Supt. Shortly after that, a competition poster came out for CPW at Cape Breton. I was not ready to leave Wood Buffalo but decided to apply for CBH and got the job and the pressure was on from Dick Kendall, the Supt. there, to "get your ass east as fast as you can". We moved in the spring of 1982.
7. What did you like most about being a warden? What did you least like?
The variety and the chance to spend quality time outdoors, in a healthy natural environment were the highlights. Being a Warden during the era when I was with Parks was very much a way of life rather than a job. Participating in National training in Jasper, attending the Point Pelee smelt run and working with and socializing with Wardens from across the country was a highlight. The Warden Service was a "family". The self-serving bureaucracy running the show and its determination to eliminate this "family connection" was a very negative factor later in my career and certainly contributed to my decision to take early retirement.
8. What are some of the more memorable events of your Warden Service career?
Day one of my first posting at Georgian Bay Islands and the meeting with Bruce Wilson, as noted above, I met my future wife, and life partner, who was working in the Park Visitor Centre, there. We celebrated our 50th anniversary this winter. Our move to St. Lawrence Islands was to a small Warden Station on an island, formerly a lighthouse keeper's residence. Wendy was perfectly happy there, as she had grown up at a fishing lodge in Honey Harbour, accessible only by boat during the open water season or over the ice, in winter. Most of the Wardens in Wood Buffalo, Cape Breton and Gros Morne were young people who were eager to learn and a delight to supervise. Working with these eager and dedicated Wardens was a definite highlight.
9. Can you tell me about any rescue/wildlife/fire/enforcement/other stories that stick out in your memory?
In Georgian Bay Islands, rescuing snowmobilers who had gone into open water or through the ice, recovering bodies, searching for missing boaters, etc. was fairly routine. Wardens were usually first responders, even to areas outside the Park, as the Provincial Police usually contacted us, prior to their arrival, as we could respond quicker. I also have clear memories of an incident involving an organized crime "hitman" who was reported to be in a boat in the GBI area. The Provincial Police had called me for assistance and two Warden boats, each with a Warden and a police constable patrolled the area and found the suspect. Using a loudspeaker, they ordered him to take his boat to shore, where multiple police officers arrived to make the arrest. In Cape Breton Highlands and Gros Morne, poaching of deer, moose and Atlantic Salmon was rampant, both inside and outside the Parks. In Nova Scotia, all National Park Wardens were also appointed as Provincial Game Officers, Federal Fisheries Officers, Migratory Bird Officers and Provincial Special Constables, so were able to enforce legislation anywhere in the Province, which simplified some of our cases, especially when evidence was found, but could not be proven to have come from within the Park. We worked very closely with Provincial Officers and conducted several "joint forces operations", involving teams of Park Wardens and Provincial Officers, posing as hunters, on cover teams and overhead. John Steele and Paul Kutzer were both influential in getting this teamwork off the ground and were always a pleasure to work with.
National Park Wardens in Nova Scotia were also very involved as members of the Conservation Enforcement Officers Association of Nova Scotia, which had members from the Provincial Natural Resources Dept., Fisheries and Oceans, Parks, Canadian Wildlife Service and the RCM Police. During my entire 26 years with the Warden Service, having a park radio turned on in my vehicle, in the office and at home, 24 hours a day, was normal and routine. I have multiple recollections of waking in the middle of the night to Warden radio conversations dealing with poacher investigations/pursuits and being too far away from the scene to attend and be of assistance. Some of these incidents are detailed in one of George Mercer's books, with names changed to ensure appropriate privacy concerns.
10. How did the Warden Service change over the years? – centralization, affirmative action, focus on public safety, changes in 1990s & 2000's
Fortunately, the Warden Service did not change much during my career. Most of the people we recruited during that period were fully capable of performing the generalist role, in a professional manner. The changes which did take place, starting in the late 1990's, were largely a result of changing recruitment practices, a changing work ethic and an obvious resentment of the "Warden family" and it's dedication to the Parks mandate, by some senior managers. This was also a period when these same senior people and some "senior management hopefuls" wanted to make inappropriate changes to maximize revenues and compete with the private sector for revenue, completely contrary to existing policies. Wardens were asking the wrong questions of these individuals and that was not considered acceptable.
11. What aspects of the warden's job were most important to you?
I think that "minimizing human impacts", via resource management, enforcement and information sharing was very important.
12. Are there any legends or stories associated with the Warden Service that you can share or stands out in your mind?
I have lots, but some require the use of language and stories/comments which might offend some readers. One interesting memory involved a two-week course at the National Training Centre, in Jasper, with most of the Chief Wardens from across Canada in attendance. This attendance was planned, as a retirement party for Jimmy Sime and was scheduled for the weekend. We all drove down to Banff on Friday night, some of us staying in motels and most staying at Andy Anderson's house. The party was great – a happy family gathering! On Sunday we started back up the Icefields Parkway – several vehicles – icy roads and no one could make it up the hill, as all the vehicles were two-wheel drive. Mike McKnight came to the rescue from Lake Louise and towed each vehicle to the top and we made it back to Jasper without further incident.
13. What do you want future generations to know about the Warden Service as you knew it?
I think the above noted comments say it all.
14. What made the past and current Warden Service such a unique organization?
The dedication to the mandate, the way of life and the family feeling made the Warden Service an outstanding organization.
15. Do you have any lasting memories as a Warden? Favorite Park, cabin, horse, trail, humorous stories, etc.
Our favorite cabin has to be Tipover Cabin, in CBH. It was in the middle of the park and took most of a day to hike in. We hiked in there and stayed with our kids and with other staff on a regular basis. One of my annual getaways was during the winter, when each year I took the local RCM Police detachment commander, one of the constables and one of the Wardens to the cabin, either on skis or by snowmobile, for a relaxing day or two, enjoying some liquid refreshment and good food.
This cabin had a wood stove and the stove and pipes needed to be repaired, or replaced regularly. Hal Morrison "volunteered" to take in a new stove and new pipes/chimney fittings and install them. He went to the cabin alone, towing the stove and equipment behind a snowmobile. We had a diary in each of the patrol cabins and each cabin user left some notes in the book – weather, wildlife, etc. Hal installed the stove and new pipes and got everything working. His comments in the diary: "Got the new stove installed and working. She was a virgin! Lots of smoke from the coating burning off it and the pipes. Time to twist the lids off a couple of cool ones!"