Park Warden Alumni Society of Alberta
Oral History Phase 11 Fall 2021
This Oral History interview was funded in part by a research grant received in 2021 from the Government of Alberta.
Phone Interview with Judy Teskey (Nee Reich)
Date/time: November 19, 2021 @1400
Interviewed by Monique Hunkeler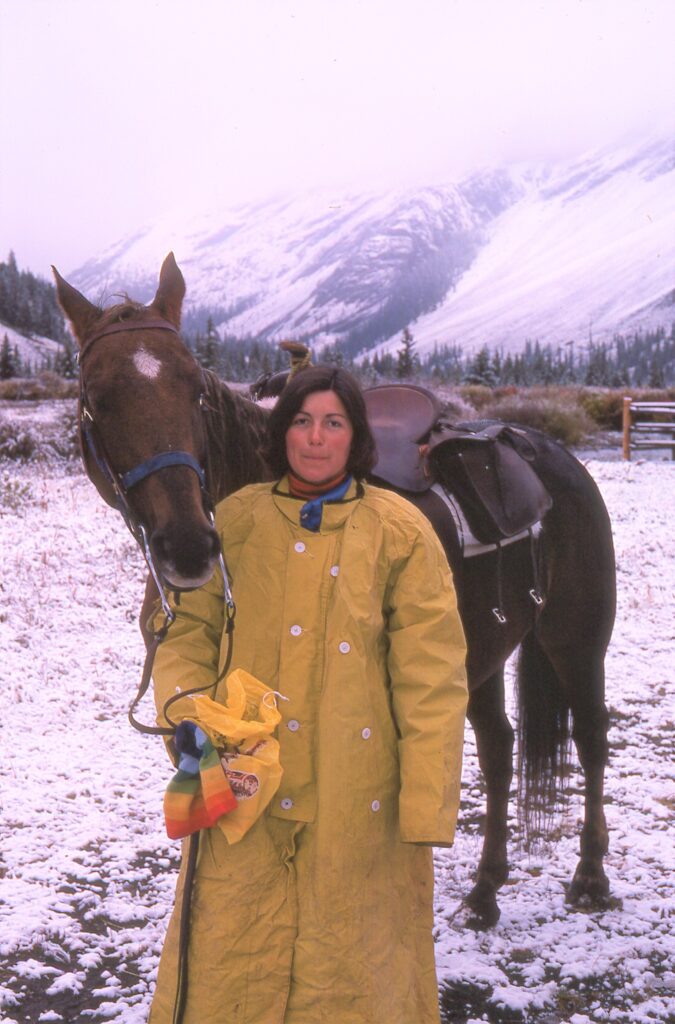 1977 Boundary Patrol – Windy, Banff National Park.  Horse, Wack
Place and date of birth?
JT: April 2, 1949, Vancouver, BC. My parents lived in Port Edward at the time; problems were expected with my birth, so my Mom went to Vancouver a couple of months before my due date and stayed with friends until I was born. After I was born, we returned to Prince Rupert on the coastal steamship.
MH: Where did you grow up?
JT: When I was a toddler we lived in Port Edward, at the mouth of the Skeena River, then we moved to Prince Rupert, also on the Skeena. When I was 7 we moved to Richmond (south of Vancouver) at the mouth of the Fraser River. My parents were both raised on the Coast, as was I. They met in Butedale, a small salmon cannery on Princess Royal Island, along the Inside Passage. It is now a ghost town and in the now famous Great Bear Rainforest. (Where the spirit/White bears live and my parents were familiar with them). When I was a teenager in the mid-1960s, girls were expected to either get married and have children, be a teacher or a nurse. The RCMP at the time didn't hire women and although the Vancouver City Police hired a few women, they worked with juvenile delinquents or as decoys on the prostitute beats. None of those choices appealed to me. By the end of high school, I wanted to get as far away from school as possible and dreamed about travelling and exploring Europe.
MH: How did you become involved in the Warden Service? Which National Park did you start working in? 0215
JT: My parents were friends of Alpha and Ray Legace's daughter, Yvonne. At the time, Alpha managed the Post Hotel in Lake Louise and Ray was a well-known character and retired guide/outfitter in the Rockies. In 1964, the summer between grade 10 and 11, Alpha hired me to work at the Post as a chambermaid. The following summer I worked at the Post as a coffee shop waitress, and the next summer as a dining room waitress. I quickly became enchanted by the mountains; on days off my friends from the Post and I hiked and explored trails in the area. Pat Haney (nee Fiddes) was one of my hiking buddies. Some days we'd pack our skis, boots, bikinis and a bottle of wine and hike up past the Plain of Six Glaciers and ski on the Victoria Glacier. Other times we'd hike into Skoki or take the bus to Lake O'Hara and explore.
The Post in those days was an important meeting place for locals and visitors alike. All of the area's Park Wardens would drop in for coffee and meals. Wally McPhee was the Lake Louise District Warden, along with Jack Woledge, Dale Loewen, Jim Rimmer, Bob Haney, Joe Halstenson, Larry Gilmar and Seasonal Wardens Jay Morton, Dale Portman and Paul Peyto. Monte Rose lived at Bow Summit.
Local guide outfitters were Bert & June Mickle, son Donnie and daughter Faye. Occasionally on days off I worked for the Mickles at the Lake Louise pony stand leading trail rides along the lake, to the Plain of Six Glaciers and to Lake Agnes. For a few summers glacier research was conducted on the Wapta Icefields, both Bow and Petyo Glaciers; I spent numerous days off up on the glaciers and learned lots. My first helicopter ride was from Num-Ti-Jah Lodge to Bow Glacier.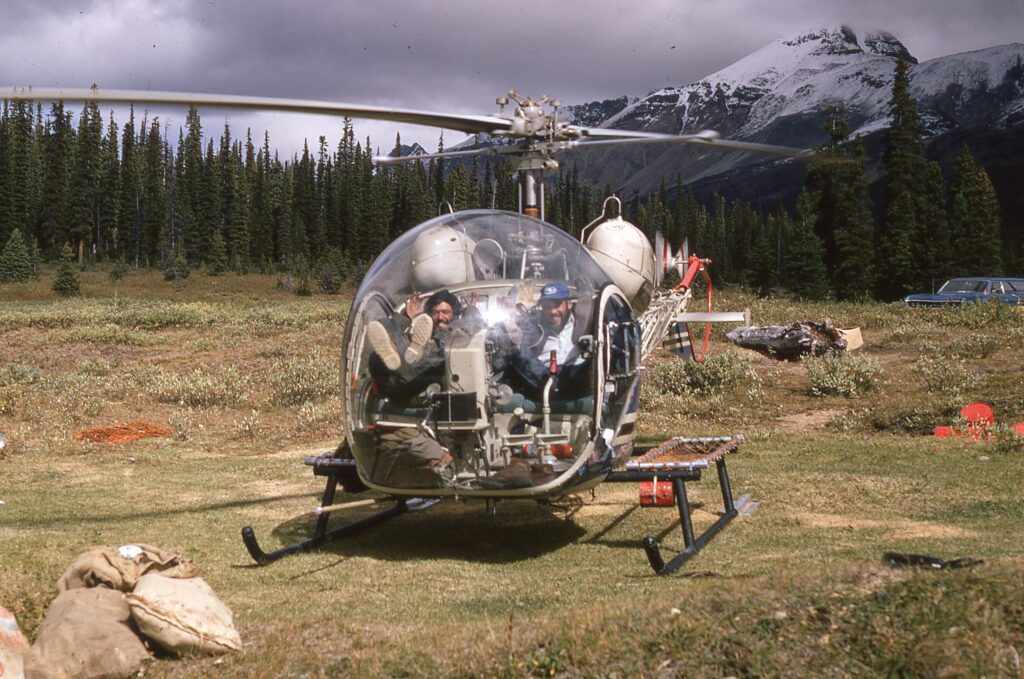 1966 Helicopter Ride Num-Ti-Ja Lodge, Banff National Park
After I graduated from high school my plan was to work until the following spring, then head to Europe with a school friend. I worked at the Post Hotel for the summer and fall, then was hired by the Lake Louise Ski Area as a ski patroller. The head of the ski patrol was from California and he felt it was important to have a female ski patroller on staff. At that point I wasn't much of a skier, but did have industrial first aid. Over the winter I became a much better skier and learned gondola and chair lift evacuation techniques, avalanche rescue and got lots and lots of practice and experience splinting broken bones and transporting folks off the slopes in toboggans.
I went to Europe for a year hitchhiking all over the place; worked in a zoo and on a Mediterranean cruise ship and even skied for a month at Cortina d'Ampezzo.
After my year away, I came home and worked for Brewster Transport as a ticket agent in Lake Louise, then went to UBC for a while. Midway through my second year at UBC I quit and went back to Europe, travelling to France, Spain, and Morocco with friends from Lake Louise. That was kind of my pattern for a few years – work in Banff or Lake Louise, save money, then head to Europe. One winter I took the ski instructor course at Sunshine and became a ski instructor on weekends at Mt Norquay ski area. At one point I decided to improve my French, so went to the University of Grenoble for a year – needless to say I chose Grenoble because of its proximity to numerous great ski areas! Over the winter the university ski club chartered busses and we skied throughout the Alps. Have to say my favourite was Val d'Isre! Over the Christmas holiday I taught skiing at La Plagne Ski Area – in French!
MH: What made you want to join the Warden Service?
JT: When I was working as a dispatcher in the Lake Louise Warden Office in 1975 I really hated having to stay and work in the office while the Wardens got to do interesting things like riding, hiking, climbing, etc. One day a wild and audacious thought hit me "Those guys aren't any smarter than me…I could be a Park Warden and do fun things!" I learned from Clair Israelson that the 2-year British Columbia Institute of Technology (BCIT) Resource Management Course met the Warden Service educational requirements. By then I was in my mid 20s so didn't really want to commit myself to a 4-year BSc degree. I had already spent a couple of years at university and wanted to get school over with and work as a Park Warden. I did well at BCIT and worked as a patrolman in Lake Louise between my first and second years there.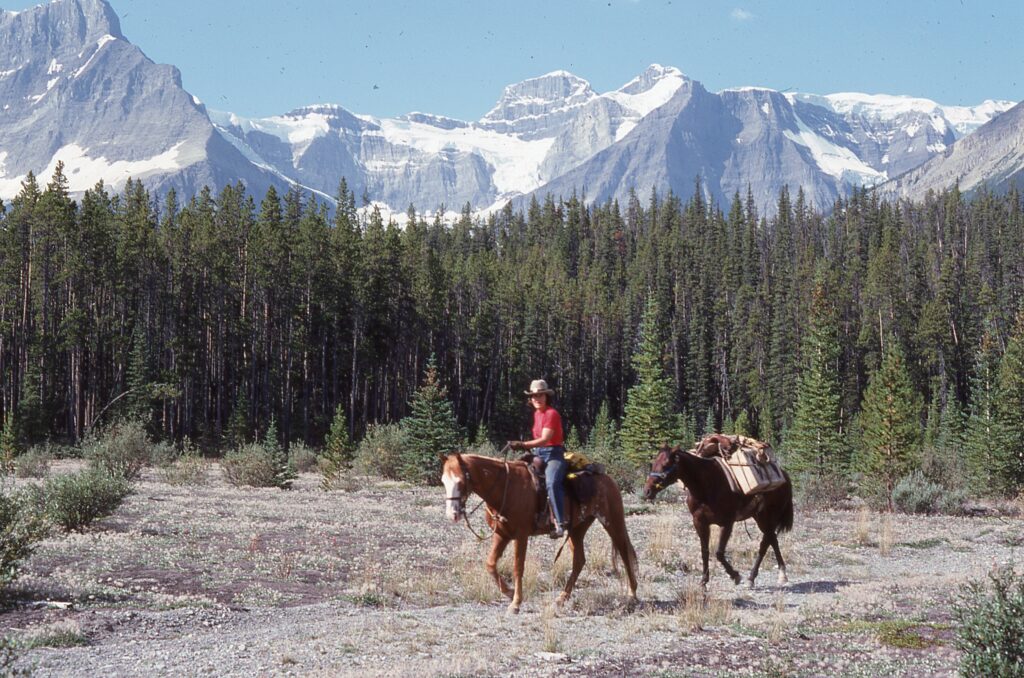 1978 Days off trip to Castleguard Meadows, Banff National Park.  Saddle horse Snap, pack horse Belinda
MH: What different parks did you work in? How did they compare? Do you have a favourite? 0645
1973, May – September I worked in Banff at the Visitor Service information bureau
1975, April – September I worked at the Lake Louise Warden Office as a dispatcher. Supervisor was Paul Kutzer.
1976, May – July I worked in Yoho National Park as a Bilingual Park Naturalist
1976, July – September I worked in Lake Louise as a Patrolman PRC 4. Mike McKnight was my supervisor. At some point I worked at Saskatchewan River Crossing. Rick Langshaw was Senior Warden and I worked with Cliff White.
1977, July – October I worked in Banff as a Term Park Warden PRC 8. Peter Whyte was my supervisor and Sid Marty was my Senior Warden. We worked in the Bryant Creek area and on fall boundary patrol.
1978, June – 1979, April I worked in Lake Louise, Cyclone backcountry and I did Resource analysis maps of Lake Louise study area. I was a term Park Warden PRC 8. Mike McKnight was the District Warden and Gord Antoniak was the Senior Park Warden.
1979, May – November -I worked in Waterton as a Seasonal Park Warden GT 1. Max Winkler was Chief Park Warden there.
Basically I worked: Banff National Park- Lake Louise, Saskatchewan River Crossing district, Cyclone district; Banff, Bryant Creek district, Northeast boundary patrol including Scotch Camp, Panther River, Tyrell Creek, Indianhead, Yoho National Park and Waterton Lakes National Park…I worked all over.
I don't think comparisons are relevant at all. Each is unique and spectacular. In terms of a favourite park, I'm most familiar with the Lake Louise area – it will always have a very special place in my heart. By the time I finished working in Banff, I had either hiked or ridden every trail in the Park.