Thank you to the Whyte Museum of the Canadian Rockies for granting permission to the Park Warden Service Alumni to post this interview on our website.
Park Warden Service Alumni Society of Alberta
Oral History Project Phase 10 – Autumn 2020
In Person Interview with Darro Stinson
October 16, 2020 – 10:00 am – Peachland, BC
Interviewed by Susan Hairsine 
Place and date of birth?
Darro was born on July 4, 1952, in Regina Saskatchewan
SH: Where did you grow up?
Darro: I grew up between my grandparents' farm and Esquimalt on Vancouver Island.
SH: How did you get from Saskatchewan to Esquimalt?
Darro: My dad joined the Navy during the Korean War and went to sea right away. Shortly after I was born, my mom and I moved to Victoria and first of all we lived in Oak Bay, in a small apartment above the bakery and then we moved to Esquimalt. Then my dad came back from the Korean War when I was about two years old. My dad stayed in the Navy for the rest of his career, so I lived on Vancouver Island and in Nova Scotia at two different times as he was transferred back and forth between the Atlantic and Pacific Fleets.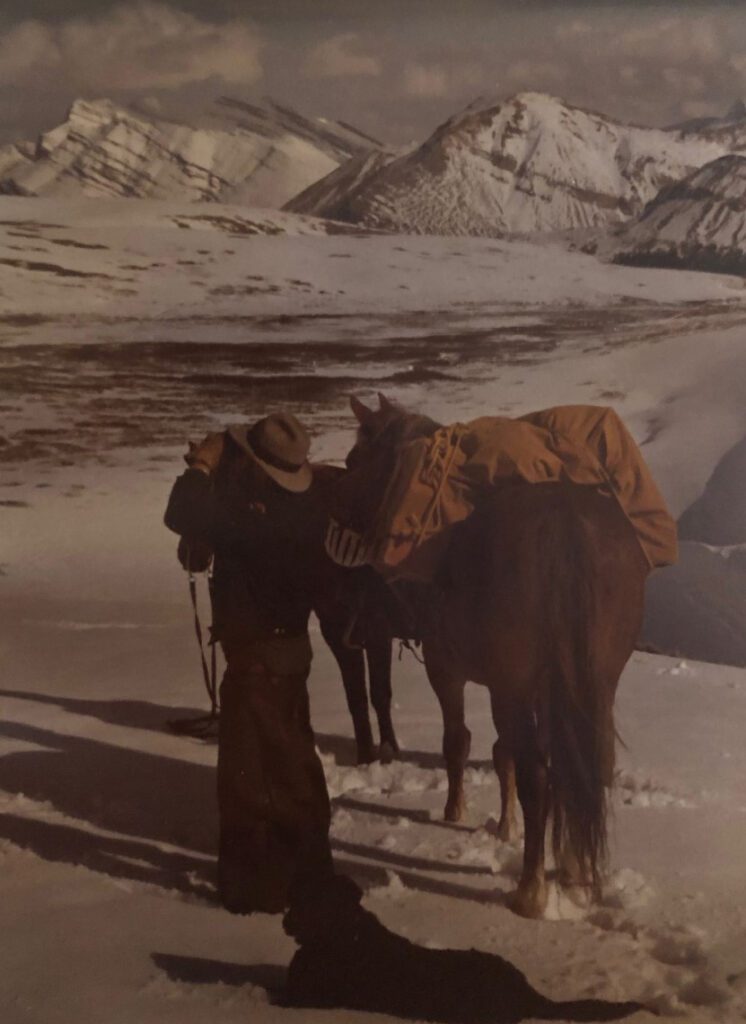 Darro glassing the slopes for game.
SH: How did you become involved in the Warden Service? Which National Park did you start working in?
Darro: Interesting. My dad was transferred back and forth to Nova Scotia and of course in those days you drove, all seven of us in a 1951 Ford coupe, pulling a tent trailer. We would drive through the mountains and camp along the way. Numerous times we camped on the Big Bend before Rogers Pass opened, it was one of my dad's favorite spots. I was ten years old and my siblings were all younger. I can remember being in awe of the mountains at that time. So, I sort of had this affiliation with the mountains early on in my life. Later on I took a sabbatical from high school, actually, they may have encouraged it. I was on my way to my mother's family farm, just outside of Regina, I was going back to help with the harvest as I couldn't get a job in Victoria. In Victoria you just couldn't get a job, when one of the first McDonalds opened there was a lineup of about 300 people just to flip burgers. So, I was off to help with the harvest, hitchhiking and I got as far as Banff.
For those people who happened to be around then, there was a free camp. So the first night I spent in the free camp in Banff, but one night was enough of that. While I was there I just poked around and within about 48 hours I had three jobs; one which provided me with accommodation at the Banff Springs Hotel. I worked night watering on the golf course which provided me with accommodation. I was driving taxi for Vito (Giannandrea) , a long time owner of the local taxi company. I was also able to help out at a local Italian Restaurant two days a week, I washed dishes and made pizza. Suddenly I went from not having a job to having three jobs and of course in those days I had to fit in some partying in Banff so I don't know how or when I slept.
So, I ended up in Banff and I remember seeing these guys in green uniforms loading up horses and driving off, and I thought that was pretty cool. I had a little bit of a horse background from the farm. When I was growing up I spent most of my summers at the farm, working with teams of horses. We were still cutting hay and hauling hay with horses when I was young. So that was the first attraction to it. I started looking into that and I let my mother know that I needed to go back to school because I wanted to be a park warden. She was very excited by this and was immediately looking into options.
My parents had been transferred to Ottawa at that time and I must have just said something on the phone, because my mother was on the phone right away and got me enrolled at a Forestry College. The college wouldn't take me until I finished my Grade 12, so I had about 3 months to get my Grade 12. So I did my Grade 12 at night school and got enrolled and then I got hired in Banff working for Jack Chisholm on the landscaping crew and then a position came up on the two-man trail crew for the Warden Service. So I spent the summer on a two man trail crew, which was a horse based crew with a fellow named Charlie Weatherly. He was an old cowboy from Canmore and he taught me a lot that summer.
SH: Do you have any idea what year that was?
Darro: That would have been 1969 or 70, probably 70. Yes, it was 1970. So the guys I can remember meeting because they were seasonal park wardens at the time, were Keith Everts, Larry Gilmar, Bruce MacKinnon, Scotty Ward, Randy Chisholm. They were all seasonal wardens at that time. Of course there were the old timers like Vroom, Kutzer, Wackerle, Anderson, many others I just can't recall their names at this time.
I ended up working for Paul Kutzer. Sorry, I'm going to back up there a little bit. I came back to go to work on the trail crew, I didn't know if I had the job or not, but I was coming back to Banff, and they had what was called a Student Warden Program. You had to be enrolled in school, at that time it was a PRC 4. Paul Kutzer was my supervisor in Banff. So I came back to Banff and that summer I spent time in Bryant Creek and up and down the Banff Jasper Highway, and up the Cascade, into Scotch Camp. So I got quite a bit of horse experience that year. Myself and another guy named Neil, I think, was on the same program. We were sent to tear down some of the tack sheds and some of the old cabins that were up the Spray River. I remember pulling one down and when we pulled it apart inside one of the walls I found a pair of old ski poles that had moose hide straps on them which I still have. After that I was always really careful when we tore the rest of that facility down, I thought there might be some artifacts that shouldn't be lost. We did another one up the Cascade somewhere. They now hang in my cabin north of Kamloops but that was my introduction to the Warden Service. So I came back the next year, which would have been 1972, and I applied to be a seasonal park warden.
SH: So you had finished school by then?
Darro: No, I was still going to school. So in '72 I got an offer to go work in Yoho. So I got a call from a fellow named Hal Shepherd. A little research and I learned of his military background and since I was a 'military brat', I better get a haircut because my hair was a little bit long in those days. So, I got a haircut and went to meet Hal Shepherd. Of course I waited outside, and I walked into his office when he was ready to see me. He had his classic shades on and he is sitting behind his desk. And he looked up at me and said, "Come back tomorrow when you have a haircut." And I just stood there and he didn't say another word, so I left. So I went back to Banff where I was living at the time, and got another haircut and came back the next day. I walked into his office and he took his glasses off and looked at me and said, "Didn't I tell you to get a haircut?" I didn't say anything, and he put his shades back on and he grabbed his peaked hat that he used to wear in those days. He didn't wear a Stetson, he wore the hat that he had in Prince Albert. He said, "Come with me". And off we went to Cheryl Wallburger's. Bill Wallburger lived on the Ottertail which is just west of Field, and Cheryl cut hair. So I had my third haircut in three days under his supervision. So I didn't have much hair left.
He didn't say a word to me on the way out to the Ottertail. I was asking questions but he wasn't saying much. And I was thinking "Boy this isn't going to work well". Anyhow, after we got finished getting my haircut we had coffee and talked to Bill and Cheryl Wallburger. We headed back to Field, and he was quizzing me about my horse experience and mountain experience and whatnot. I didn't have a lot of mountain experience, but I did have a little bit of horse experience. He asked if I had ever handled a rifle, I had been in the naval reserves for a while so I had some training in firearms and on the farm. So I said I felt pretty comfortable with long rifles. He said "Okay, that's good. Gordy Rutherford is going to get you hooked up and tomorrow you're going to Lake O'hara". So anyhow that was my introduction to the Warden Service. (End Section 1: Tape 14:03)
Part 2 – Tape 10:33
Darro: Gord Rutherford and I met him that day and the next. He had found me some used uniform, as I did not have anything as yet. I'm not sure where it came from, it, it wasn't new and I was told I was going to Lake O'hara. I had no idea where Lake O'hara was or why I was going there and so I started asking Hal a few questions. He kind of pulled his glasses down and said, "Do you have a problem with being by yourself?" I don't know if it was some of the questions I was asking, but I said "No, I just want to know what's expected of me when I'm up there." He said "Well, there's a grizzly bear that has broken into the lodge up there, and I want you to go up to Lake O'hara, and when the grizzly bear shows up I want you to shoot him." I really thought he was kidding me. This is in the spring and the road has just been opened into Lake O'hara but there's still four feet of snow around the cabin and around the lodge. Nobody is up there yet. So Gord Rutherford takes me up and kind of gives me the lay of the land. He's got a box of groceries for me and we get into the Lake O'hara cabin and get a fire going, and we sit down and there's a radio and he says, "Sometimes it works and sometimes it doesn't. I'll check on you in four days and if the bear does show up and you're able to shoot him, then just call us". So, I thought, "Oh they're serious about this." He said, "Go over and check out the lodge". So it was still midafternoon, but it was early spring, so it got dark early, so off I went, and I could still walk on top of the snow. I remember walking over there and seeing grizzly bear tracks everywhere. I get to the lodge and I could see that the lodge has been broken into and smashed and there's bear shit around and I went "Holy Shit". I'd been given a .308 rifle which I'd left in the cabin, so I scurried back to the cabin and it was dark by then so the first thing I did was made sure the rifle worked and it shot straight.
I sat up there for four days, every day out poking around. I couldn't go very far because of the deep snow and I didn't have skis. There was an old set of snowshoes that I was able to fix and actually use. But I never did see the bear, thank God, and after four days Gord Rutherford came and picked me up. I was convinced that my time up there was a test to see whether I was going to cut it or not or if I got on the radio and said come and get me. I do not know what it was all about, but I thought about it many times over my life and I thought no way in hell would that ever have gotten by anybody in today's world. But anyhow, that was my introduction to the Warden Service and Hal Shepherd. I have nothing but good to say about Hal. I mean we all got our faults but over the years I seem to have forgotten the bad things and only remember the good things. Hal Shepherd was, in my opinion, a consummate leader. He knew how to engender loyalty and instill leadership in the people that worked for him. That was always in my opinion the true sign of a leader. He could lead but could also instill leadership in individuals. He was good at it, and there's a whole raft of people who went through the Hal Shepherd era.
SH: What different parks did you work in? How did they compare? Do you have a favorite?
Darro: I started in Banff as a student warden. I was never a park warden in Banff and then I went to Yoho and I was there until the fall of 1975. I had graduated in 1974 and I lived at Takakkaw Falls for all the previous 3 summers and one winter I lived in Field. That was a great experience that has stayed with me to this day.
SH: Where was the house there?
Darro: Right below the waterfall, across the river and the road just down from the parking lot. It was later moved just down the road towards the campground in a small meadow, but it used to be further back towards the parking lot.
SH: Boy that would be a lonely experience.
Darro: I just loved it. Takakkaw Falls was a pretty special spot for me in those days. I felt pretty fortunate. So, I was in Yoho until 1975. Fall of 1975 I went to Jasper. I spent the rest of my Warden Service career in Jasper. I certainly had the opportunity once I got into the public safety field to work in many other parks. I went to many other parks over the years to help with the training programs, like Gros Morne, Nahanni, Kluane, and you know with mountaineering schools in Glacier and Waterton, so most of the places in the west.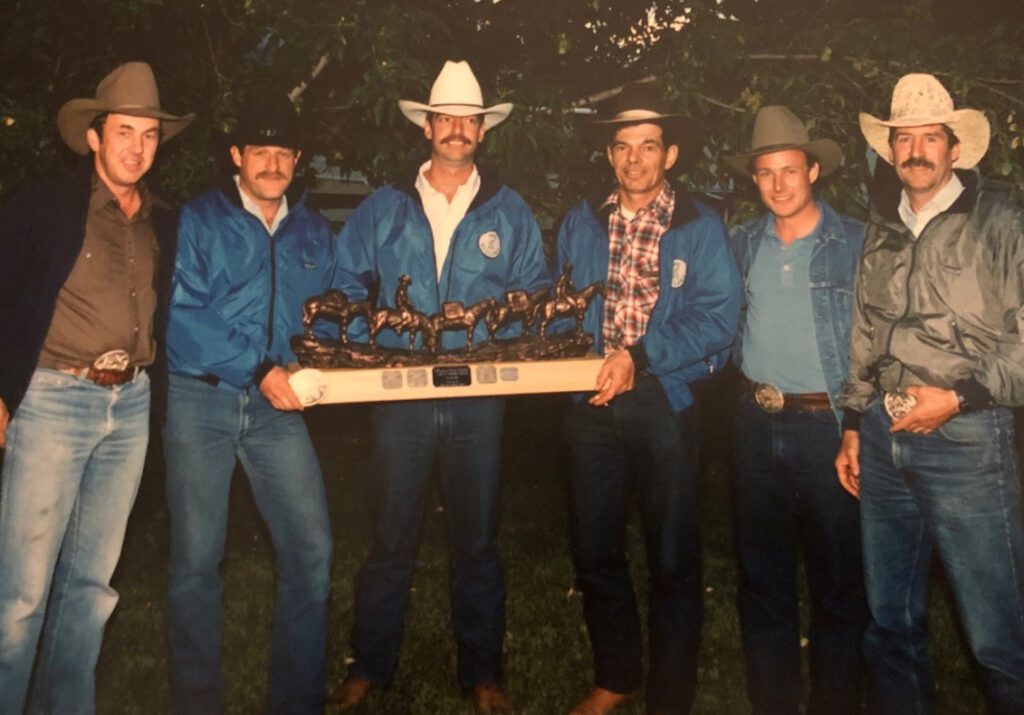 Proud winners – Brian Wallace, Darro Stinson, Alfie Creighton, Dennis Welch, John Niddrie, Dale Portman.
SH: In Jasper I remember that you were at Athabasca Falls when I was there. Did you live at other stations there?
Darro: When I first moved to Jasper I went to Sunwapta Warden Station at Mile 45 on the Banff/Jasper highway. At the time Bruce MacKinnon was the senior warden. And there was Lawrence Baraniuk, Tom Davidson and myself at the station there. I didn't move to Athabasca Falls until 1981.
SH: Do you have a Bruce MacKinnon story? I worked with him in Rogers Pass and he's passed away now. In Rogers Pass cafeteria he would sit in the same chair at the same table every single day and he would wipe it down. He was a total germaphobe.
Darro: Oh ya. Bruce and I didn't start off really good, but very quickly we seemed to find the right space that we were able to work together and carry on. In all my years I lived at Mile 45 with him, the closest I ever got to the inside of his house was when he asked me to help him carry a new dishwasher into the house. And I thought, I'm going to go inside Bruce MacKinnon's house! How is he going to not have me come inside the house and of course the only people that I knew that had ever been in Bruce MacKinnon's house was John Steele and Sue Wolfe. For fun we had kind of speculated on what the inside of the house looked like. But we knew for sure it was clean because every morning he was usually first in the office and when we'd come in and have coffee and figure out what we were doing for the day, he'd be busy cleaning. So the office was pretty clean but anyhow, I helped him carry it up and we got it up on the back porch which entered into the kitchen and he said, "Okay that's good, I'll be able to get it from here". So I never was in Bruce MacKinnon's house, never even stood inside the doorway.
SH: Well in 5 years in Rogers Pass I never was either and I don't know anyone who was, except for Sue Wolfe.
Darro: Those were the only people that I know who were ever inside his house.