The Woledge family.
By Marie Nylund
For the Park Warden Service Alumni Society
Sources: Recollections of Homestead Lands 1900-1978. Page 349-352.
(Bearberry history book).
Oral History interview October 4th, 2012 with Christine Crilley-Everts, for the Park Warden Service Alumni Society.
Two brothers from Bearberry, Alberta – Jack and Neil Woledge- became national park wardens. These fellows were the sons of Albert Henry Woledge and Marjorie Joan Monk who were born in England. Albert Henry had immigrated to Canada in 1911 to Crossfield, Alberta. Albert Henry Woledge enlisted for service in WW1 serving with the Seaforth Highlanders in France. His regimental number was 160459. He was discharged on November 3rd, 1917. While in England he met Joan and they were married on the 14th of November 1917. After the war Albert Henry returned to Canada and brought Joan to North Battleford, Saskatchewan where they lived for a short time with Joan's sister and family on their farm. A few months later they moved to Calgary where Albert Henry worked for the Calgary Transit System. In 1936 both he and his son Neil filed on homesteads in the Bearberry valley west of Sundre, Alberta. Neil filed on SW ¼-31-33-7-W5 and Albert Henry filed on NW ¼-31-33-7=W5.
In 1940, the older Woledege son, Neil was called up to serve in WWII. He travelled to Red Deer for one month of military training and then went overseas serving with the 5th Medium Artillery Regiment. Neil married Joan Rogers from Guildford, England. Neil served 4 years in Italy, returning to Bearberry in 1944. Neil and Joan had a son Michael Neil in 1944. Neil joined the Warden Service in 1947. In 1952, while stationed as warden at the Ya Ha Tinda, Neil and Joan had a son Tom. Neil's career in the warden service took him to many parks in Western Canada. He was the district warden at Saskatchewan River Crossing and later served in St. Laurence Island Park in Ontario for several years. Neil became a Chief Park Warden in 1960. He was CPW of St. Laurence Island National Park from 1960 to 1965; Yoho National Park from 1966 to 1970, Kootenay Park 1970 to 1975. He Neil retired in 1975 and lived in Ladysmith, BC for many years.
Jack Woledge was born July 9th, 1924 in Calgary. At age 14 he spent a winter and a summer at his brother Neil's cabin at Bearberry. The two young men built a log house for their parents who moved into the home in 1939. Some of the neighbours included Cliff and Nellie Murphy who lived at the Ya Ha Tinda Ranch, Bill Winters who had a horse camp on the Clearwater River, and Tom Harvey who was the Ranger at the Red Deer River Ranger Station. The lives of these people were intertwined for many years.
Jack recalled helping a neighbor, Sam Sutherland, haul boulders from the James River with a team of horses and wagon. "We loaded a big load of boulders right up to the top of the wagon box. It was a steep uphill grade and the team and wagon would not budge. So Sam told me to toss out a few boulders to lighten the load. It ended up that only a few boulders remained in the wagon box when we reached the top of the hill. Sam commented that if the hill had been any longer he would have been going home with an empty wagon!" Jack worked for Ray Legace during the summers of 1941, 1942 and 1943 at Lake Louise. He also worked for Jim Simpson Sr. at Num-Ti-Jah Lodge at Bow Lake. He spent his winters at the homestead in Bearberry.
Muriel was from Blairmore. She was born in 1925 and was the daughter of Ted and May Jones. Jack Jones was a field inspector with the C.P.R. Muriel went to Banff in the summer of 1943 to visit her cousin and ended up working as a waitress at the Banff Café. It was at this time that she met Jack who was working for Jimmy Simpson. Jack came into the café looking dirty, dusty and run-down after days on the trail. He noticed Muriel staring at him and he broke into a big grin and said, "You can laugh at me if you want to…" That was the beginning of their relationship. Jack and Muriel were married in Lethbridge in 1943. The couple lived at Bearberry during the winter months.
In May of 1944, Jack enlisted in the army with the Saskatchewan Light Infantry and served overseas in Holland and Belgium. After Victory in Europe in 1945, Jack returned home on a month's leave. He had volunteered for service in the Pacific but while on leave Japan surrendered thus ending the conflict. Jack was then sent to prisoner of war camps to assist with the release of return of prisoners. Jack received his discharge in March of 1946. The Woledges lived at Bearberry in the wintertime but summers were spent at Bow Lake working for Jim Simpson as a guide.
Neil had been a park warden for about 6 years and liked the job and lifestyle. He encouraged Jack to consider applying for the warden service as well. And so Jack took his brother's advice and joined the Warden Service in 1953 after working for 10 years for the Simpsons. Jack & Muriel had three children at the time that Jack was accepted into the Warden Service. Muriel recalled they were in Victoria visiting Jack's parents when they received a letter from the government stating that Jack had two days to get to Banff. They managed to get to Banff by train in time. At first, Jack and Muriel and family lived at Eisenhower warden station, and later at Bryant Creek district, Stoney Creek, the Spray River and 5 years at Bow Summit. Stoney Creek was Muriel's favourite warden station.
The children received their schooling by correspondence lessons. At one point, Muriel drove the kids from Bow Summit to Lake Louise to school but later worked at the Post Hotel so that she did not have to travel the 104 miles making four trips each day transporting the kids back and forth to school in Lake Louise. Muriel had to learn how to ride a horse. She recalls one of the first times she had to saddle and ride a horse with a baby on board. The horse called Henry had a reputation for bucking off his riders. However, Henry proved to be a gentle saddle horse for Muriel and her baby. The kids were sometimes transported in pack boxes on top of quiet old packhorses.
At one point, Jack left the warden service and the family moved to Buck Lake where they farmed for about a year and a half. The family moved to Strathmore where Jack worked in a feedlot for a while. Jack decided to re-apply with the Warden Service and was accepted. The family moved to Banff and lived at the Buffalo Paddock for about six months and then they moved into Banff onto Squirrel Street. This was at the time that the government was dissolving the district system and moving everyone into town. This transition was difficult for a lot of the backcountry park wardens who took great pride in their districts. Some of the orders that came with the transition to a centralized system were heartbreaking. It was a very sad day when Jack had to follow a direct order and burn down the cabin at Waterfowl Lakes.
Jack and Muriel' family consisted of four children. Two sons – Jack Owen (Jack Jr.) born in 1949, Jim, born in 1950, Joan born in 1952 and Nicoli who was born in 1956. Joan Woledge passed away in Calgary at a young age. Jack Jr. passed away in Whitehorse, Yukon on December 14th, 2006 at age 57 years. Nicoli (Pavey) lives in Canmore, Alberta.
Jim Woledge also had a career with the national parks. He was the Lookout at Little Beehive for one year and at Bow Summit for two years. Despite having mobility impairment Jim was able to ride a horse to these lookout stations. Both of these stations had no tower making it manageable for Jim to perform his duties. Later, Jim was dispatcher at the Lake Louise Warden Office. It was while dispatching at the Lake Louise Warden Office that Jim had an encounter with a black bear. Jim's words. "We had a little bear, a one year old or two year old, black bear cub that was running around the campground at Lake Louise and scaring the hell out of everybody. So we were trying to catch him. I was sitting in the (warden) office one day and it was a trailer eh. I was sitting there, feet up on the desk. It was quiet, the middle of the afternoon. There was nothing going on. I heard a rustling down the other end of the counter. So I looked down and there was our little black bear going through the garbage can! So I got on the radio and I called (Dale) Loewen and I said, "You know that bear you are looking for? He said, "Yes." I said, "He is right in the office here, if you want to come and get him. Dale said, "Well, close the door and keep him there." I said, "Well, I don't think that I can do that. I would have to go by the bear to get to the door." I said, "I think that he will take off if I move. So I am just going to stay here. If you are fast, he will still be here." So Dale roared up about ten minutes later, but he missed him, by about five minutes. "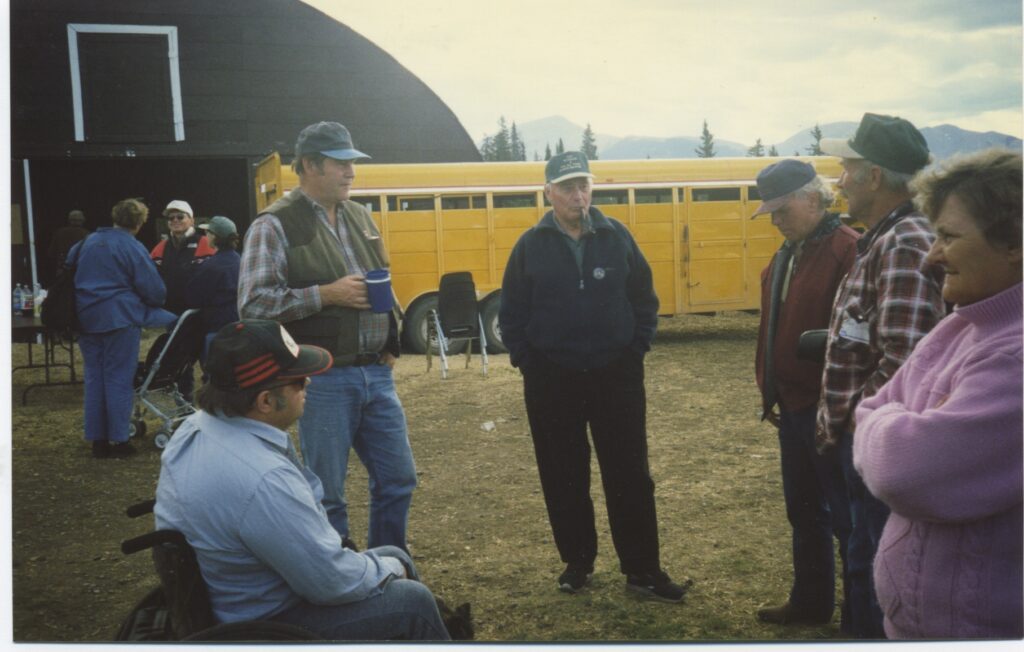 Jim Woledge visits with old friends at the Ya Ha Tinda Reunion 1997. Sid Marty, Willi Pfisterer, Joe Halstenson, John and Ilsa Wackerele. Photo courtesy Marie Nylund.
Jim later pursued an accounting career and worked as an Accountant for Banff National Park before moving to Calgary where he continued his accounting career. Jim Woledge passed away at age 63 on July 25th, 2013 in Calgary.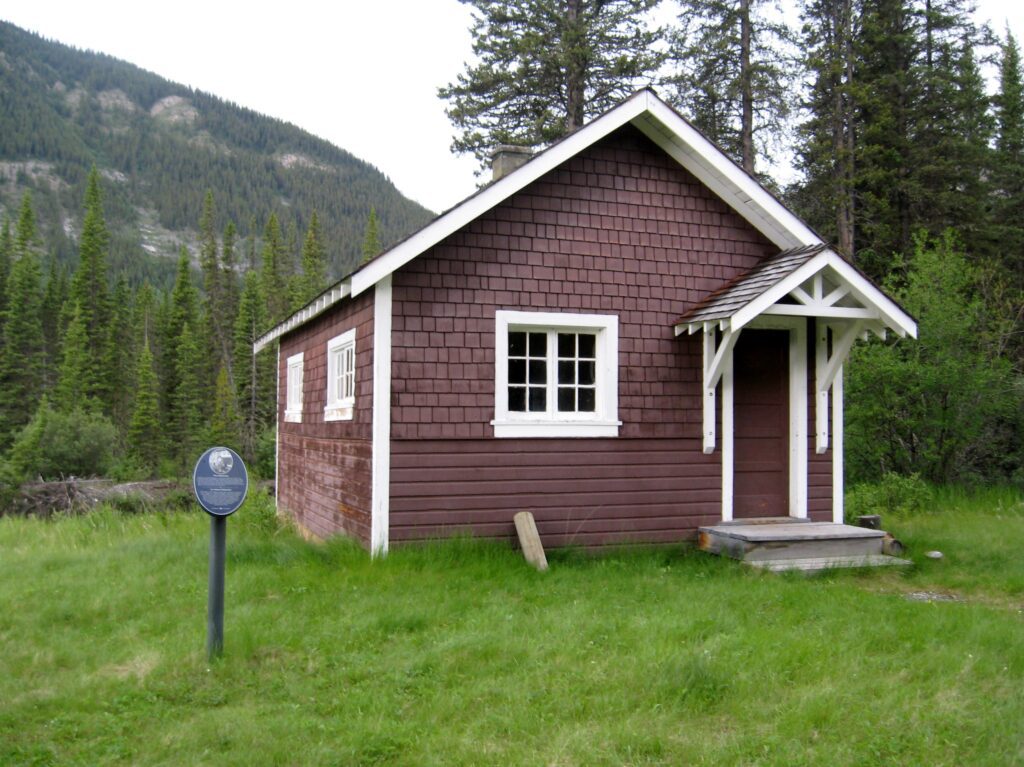 Stoney Creek Cabin where the Woledges lived during some of Jack's years as a Park Warden. Photo courtesy of Don Mickle.