Park Warden Alumni Society of Alberta Thank you to the Whyte Museum of the Canadian Rockies for granting permission to the Park Warden Service Alumni to post this interview on our website
Park Warden Alumni Society of Alberta
Oral History Project – Winter 2015
Telephone Interview with Bev Hunter
February 21, 2015
Place and Date of Birth: Jasper, Alberta. February 7, 1938
Occupations: After working for Alberta Government Telephones on the local switchboard, Bev began working on the Forestry Switchboard and then as the warden secretary in Jasper National Park. She held this position until 1983, with a child rearing break from late 1961 until spring of 1968. In 1985 she started her second career with Parks Canada in the campgrounds where she worked for another 15 years.
Additional Information: Bev Hunter took care of the Jasper park wardens and was lovingly referred to by many as "Mother" or "Ma".
You were born in Jasper, what did your family do in town?
I lived in Jasper pretty much all my life until about three years ago when I moved to Nova Scotia. This move has its bad points, but also some good ones. I can't say that the east coast thrills me (I had my heart set on moving to the west coast) until my son moved here. My grandkids that live in the west are 22 and 27 years old and the ones here are 5 and 7 and I thought it would be nice to watch them grow. I also had some bad feelings about things that had been happening since Jasper became a municipality and figured that maybe it was time for a change.
My dad was born in Lubec, Maine and immigrated to Canada in the early 1900s. My mother moved from Ontario to Edmonton, Alberta as an infant. I'm not sure how they met but they were married in 1921 I believe. My dad worked on the building of the Grand Trunk Pacific Railway. After that he worked for the Canadian National Railway as a conductor until he retired at the age of 65. He worked for several summers after that as a control gate attendant for Parks. I don't think my mother worked a day outside the home after she married. Things were different at that time. She cooked and sewed and gardened and was a jack of all trades when it came to minor repairs around the home. Railroaders didn't get too much home time in those days. I have one sister who is 17 years older than me (I must have been either an afterthought or an accident). She moved into a really nice retirement facility in Edmonton some years back and loves it there, especially that she doesn't have to cook anymore. She is still a going concern and will be turning 94 in July. I stop and visit with her for a few days each time I fly west.
I would say that I spent a lot of my time outdoors when I was growing up. There was no TV or other such mindless distractions so most of our time as kids was spent playing various games with the other neighborhood kids and hiking around the countryside. In the winter there was a great toboggan run down the hill at the back of town that we would play on for hours. There was also an outdoor skating rink right across the street. As teenagers we would go further afield if one of our friends had access to a vehicle. If it wasn't my mother it was my friend's mother that would warn us not to go off into the wilds or we would surely get attacked by a cougar or a grizzly bear. I never did see a cougar. As for grizzly bears the only ones I can recall seeing were a pair that ran across the road and into the bush when Toni Klettl and I were heading down the road out of the Hatchery to go to town for lunch.
How did you become involved in the Warden Service?
I worked on the switchboard for Alberta Government Telephones when I was about 15 I think. The switchboard was in a room upstairs in a house that was the residence of the lady who was in charge of it. Her daughter and I were good friends so I was offered a job there. Part time, I would think. Mickey McGuire, who was the Chief Park Warden, lived two houses down the street from me and was a family friend. When Effie Monroe (who became the wife of Warden George Wells) had to leave the Warden Switchboard Job, Mickey, because of my previous experience, asked me if I would like to take over the job. This was a seasonal job in 1956 and 1957. When I was laid off in the fall I went to Edmonton and lived with my sister and worked for Alberta Govt. Telephones for a short while. Mickey phoned me (late winter or early spring) and said that if I could come right away I could have the office job. Needless to say I begged off the AGT job, pleading sickness in the family, and headed back to Jasper to continue with my Warden Service career. From April 1958 to February 1960 I worked as Switchboard Operator and Warden Office Clerk. I was put in the Warden Office Clerk 3 position in February 1960, a position I held until late August 1961. Mickey told me I would have to get the hell out of there before I gave birth at my desk. My first son, Randy, was born September 7th. My second son, Ted, was born in March of 1964 and I returned to work as an Acting Fire Hall Attendant (the Forestry Switchboard was in the Fire Hall) from June until September of 1968 and then went back to my old position of Warden Office Clerk.
The Warden Office was upstairs in the old original stone building in the center of town which I believe started out as the Park Superintendent's residence many years ago and is now the Parks Information Center. Friends of Jasper also have their little gift shop in there now. All the other Government Offices were in the building at the time, the accountants office, file room, revenue, time office, etc. and the Superintendent and Asst. Superintendent's offices. The Engineer's Office, Drafting Room, Magistrate's Office, Sanitation Office, Parks Library and Wardens' Offices were upstairs. There was a fairly large area that was unoccupied and John Woodrow and I filled the window ledges with plants (don't remember where we got them) which thrived. This was also the room in which I built my horseshit trophies, a pile of horse turds With plastic flies on them for Gene Merrill's (blacksmith) retirement and a short handled spade (painted gold) with the Blade piled with horse turds and black flies for Mac Elder when he moved out of Jasper. It was quite an operation dipping the terds in fibreglass resin, threading them, and hanging them from the ceiling to harden. The finished products were well worth the effort though. When I started on the forestry switchboard that first summer we were in two adjoining offices, one for the Chief and Asst. Chief Warden and one for the switchboard operator and the office clerk. At that time Pete Brodie was Chief Warden and Mickey McGuire was Assistant Chief. When Pete retired Mickey took over. Tommy Ross, Olie Hermanrude and Max Winkler spent time as Assistant Chiefs under Mickey. As well as manning the switchboard I got stuck with most of the typing duties which included the dreaded multi copy, multi page cabin inventories which were done in conjunction with the boundary patrol each year. I also had to type up all the Warden's Summary Sheets each month as well as correspondence and reports. Some of the latter may have been done by the office clerk at the time but when I took over that job I had it all. I was only asked to take meeting minutes once though – I fell sound asleep mid sentence and the buggers didn't even have the decency to wake me up. They just carried on with the meeting.
I forgot to mention "Nellie's Room" (I don't know who named it that or when). It was a room sort of under the eaves leading off the room (office) that the forestry switchboard and office clerk occupied in the old Administration Building. It had strange stuff in it. I wish I could remember it all. There were quite a number of red books containing Bridgelands's survey stuff, bundles of warden diaries, 1:50,000 maps of the various areas of the park, north and south sheet maps, reels of old bird bands, a wooden trunk sort of box full of old veterinary supplies. (I would suspect from when Dr. Love used to come from Elk Island to do all the vet work for the government horses.) There was a boxed set of Jasper Park maps from the 1912 survey which Ole Hermanrude told me to take for safe keeping. I actually had them in my safety deposit box at the bank until I emptied it out when I moved, at which time I gave them to the Jasper Museum. They were thrilled! When we moved to the Hatchery a lot of that stuff was put in boxes and much of it never resurfaced.
I honestly don't know when the Warden Office was moved from town to the old Fish Hatchery but I didn't move right away, as the Chief Warden who was then Bud Armstrong, was given an office in the new admin. Offices, which had moved from the old stone building to an area upstairs of a Pizza joint and the town site utilities office. My desk sat in an open area outside the Chief's office. Hard to concentrate with all the traffic around me (also it was very stuffy and I had a bit of trouble keeping my eyes open at times. Thank God for Doug Wellock. On more than one occasion he gently brought me back to life when I had fallen asleep with my hands on the typewriter keys. Part of my responsibilities there was to keep an eye on Bud (who had an alcohol related problem) and getting him the hell out of there every so often. When Bud was about to retire he promised he would have me moved to the Hatchery when he left and he did.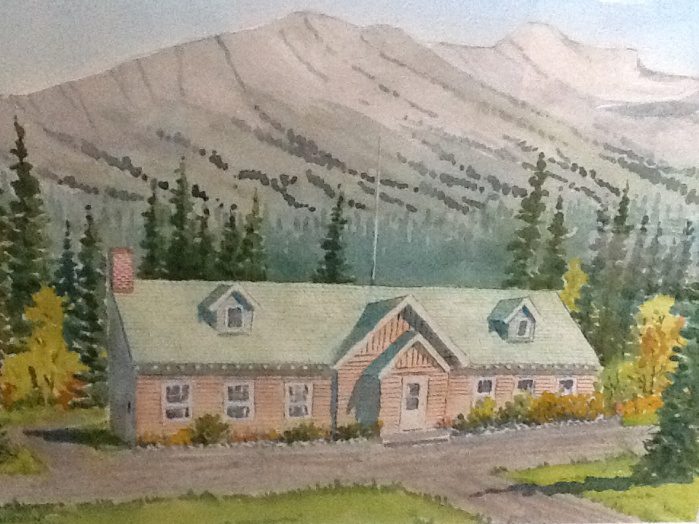 The Jasper Warden Office at the Hatchery – A watercolor painting given to Bev, by a friend.