Joe Halstenson
Thank you to the Whyte Museum of the Canadian Rockies for granting permission to the Park Warden Service Alumni to post this interview on our website.
Park Warden Alumni Society of Alberta
Oral History Project – Fall 2010
Interview with Joe Halstenson
Interviewed by Christine Crilley-Everts
October 20, 2010– Chemainus, British Columbia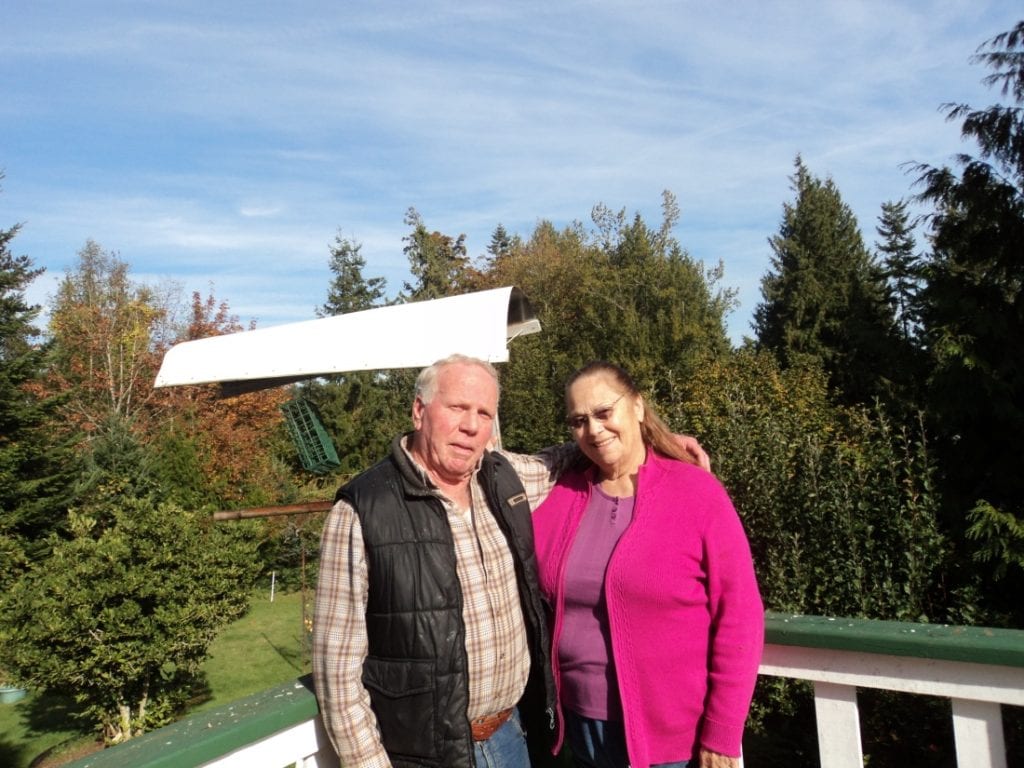 Joe and Gail on their deck in Chemainus BC
Place and Date of Birth: Edmonton Alberta, 1937.
Occupations: After high school, Joe started working for the Hudson Bay Oil and Gas Company. During the winter he taught skiing at Sunshine and Norquay for Johnny Monod. After working at the Diamond Cross Dude Ranch near Seebe and for the Department of Public Works, Joe spent a winter at Rogers Pass doing avalanche work with Fred Schleiss. In 1960, he started with the Warden Service at Kootenay Crossing. He then moved to Bryant Creek and spent the winter months doing ski patrol and avalanche control at Norquay and Lake Louise. He also worked in the Cyclone district and spent nine years as a Warden in Lake Louise. Joe then moved Banff where he spent the rest of his Warden career. In 1979, after 19 years as a National Park Warden, Joe moved to Vancouver Island where he ran a small motel in Victoria and then worked for 15 years as a BC Park Ranger.
Additional Information: Joe and his partner Gail try to get to Mexico every winter and spend the summer doing some horse riding and boating, as well as, looking after their beautiful yard in Chemainus. Joe remembers fondly the Warden way of life and the variety of the job. He describes the Warden Service as a "big family."
(0:00:22) (Joe was born in) Edmonton, in 1937. My parents moved to Calgary when I was only two years old. Calgary is really my home town. I lived in Banff (then) for I think some 30 years.
(0:00:52) Earl and Margaret (were Joe's parent's names). My mother was from southern BC and my dad was from Edmonton. My dad was like a Credit Manager for a company, I forget the name of it, and my mother was, years and years ago in Fernie BC, a hairdresser. Plus she's part Indian…(she was a) Tobacco Plains Indian. She would be half … because Grandpa was white. Kootenay Indian, I guess, or Kootenay Plains. I've got two sisters. Rosemary, now it's Rosemary Baxter. They live in Courtenay. (Gail brought in a picture of Joe's grandmother and mother). Yeah, I've got some Indian in me, I guess too. Oh yeah, I must have. I'm pretty wild! (Joe's other sister is) Gloria Stains. She lives in Stratford Ontario now. That's it
(0:02:49) Oh God, when I went out of school I worked for Hudson Bay Oil and Gas in Calgary, for a year, a year and a half. That would have been in the 1950s anyway. (Then) in Banff, I taught skiing at Norquay and Sunshine, under Johnny Monod. He had a ski school with Gerry Johnston.
(0:03:44) Gail – "Lifting Marilyn Monroe off the ski lift, but didn't know who she was. When she broke her leg." Joe – I was 16, I wasn't interested.
(0:03:47) Then I worked for Daryl Beacon, he used to be the Fish Warden many years ago. But he had the Diamond Cross Dude Ranch out at Seebe and I worked for him for a year, on the ranch there, as a guide and all that kind of stuff. Oh, yeah since I was just a little kid (Joe has been around horses). Like my Grandpa had a ranch and we used to always go there, south of Fernie, about eight miles from the Montana border. Then I worked for DPW, Department of Highways, for I don't know, a couple of years. Then at the Pass (Roger's Pass) for one winter there…with "Boom Boom Freddy", Freddy Schleiss. That's where I met your dad (Keith Everts) because he was working for Peter Schaerer. But that was before the road was built in there. Like we had to go in and out by train in the wintertime. I just spent a winter there, which was enough. Then what happened from there? I think, I went down to my Grandfather's ranch because he died and I was looking after some cattle. Then for some reason or another, I went to Banff because I still kept my mailing address there and there was envelope there (with a letter saying) there was an opening in the Warden Service. If I was still interested, I had to go to the Administration Building. I forget who the Superintendent was then. I had been trying for about five years to get on with the Warden Service. That must have been 1960, I think, that I started with the Wardens. Yeah, I worked for George Balding, only for a few months. Then I went to Lake Louise and I worked under Beef Woodworth. I was there, I think for three years. Then I applied for Beaver River in Glacier in Rogers Pass and at Kootenay Crossing. It ended up I got both of them, so I had my choice. So, I took Kootenay Crossing. Well, I had been in Rogers Pass, so I know. I mean I liked it but…I remember Bert Pittaway, he was really ticked off because I didn't take it! He wanted me up (at Rogers Pass because of his ski background). Yeah, he offered me a job there when I was working for Noel Gardner, as a Warden and I should have taken it. Yeah, (Bert was the Chief Warden then). So anyways, I went to Kootenay in 1963/64. I only spent a year there. (Then) an opening or a competition came up for Bryant Creek. I always wanted to go there. I think Ed Stewart was there at the time, but anyways, I applied for that and I got it. That was in July, 1965. I moved back to Banff and went to Bryant Creek in the backcountry. I always wanted to go in the backcountry. The highway districts were kind of…everybody wanted one but I wasn't really that keen on it at the time. Then, I think I spent about three years in Bryant Creek ,but at that time they would bring us in (to Banff) for the elk slaughter and then we had the ski patrol then at Norquay. So I worked up on that. Did the hill maintenance too, I had the big snow cutter and all that. We (the Wardens) were in charge of it (maintaining the ski hill). Of course John Wackerle was there. I had known him for years before because I skied Norquay when I was (young). (After Bryant Creek Joe went) to Cyclone. Three summers there and then Whitehorn and Temple (in Lake Louise) in the wintertime. That was when we were doing the avalanche control. I had the ski patrol there too, about ten guys. Andy (Anderson) then he was at Cyclone, but he was living at Eagle Cabin up at Ford hill there.