This Oral History interview was funded in part by a research grant received in 2022 from the Government of Alberta through the Alberta Historical Resources Foundation.
Park Warden Service Alumni Society of Alberta
Oral History Project Phase 12 – Spring 2022
Telephone Interview with Peter Perren
March 21, 2022 – 7:30 pm
Canmore AB, and Invermere, BC
Interviewed by Susan Hairsine 
SH: Place and date of birth?
Peter: I was born in Banff in 1954. At that time my parents were living in the CPR guide's cottage on the shores of Lake Louise. There's an interesting backstory to the days leading up to my birth. In the early seventies Terry Skjonsberg and I ascended Mt Hector and found the summit register. I was surprised to find an entry showing that my dad had been on the summit just days before I was born. I remember going back and telling my mom. She remembered it well, recalling that she was very concerned that my dad may not have returned from the climb in time to drive her to Banff when she went into labor.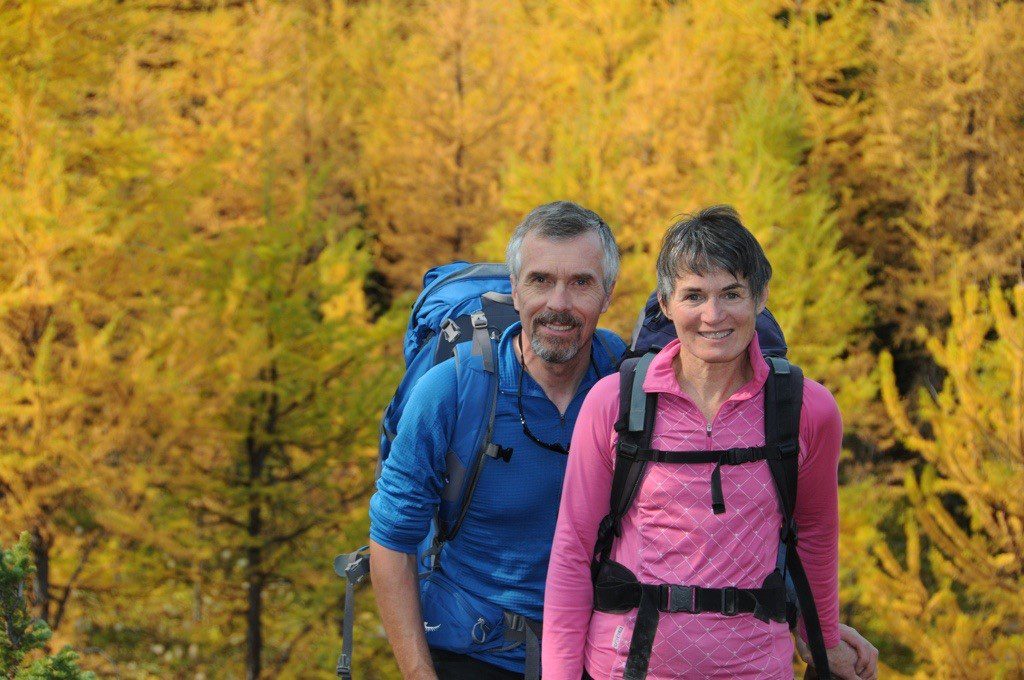 Peter and Chris Perren
In those days the climb of Mt. Hector was not a one-day affair. The party approached the base of Mt. Hector on horseback via Pipestone Creek from Lake Louise. After hearing my mom's reaction to this story, I wondered why my dad made such a trip so close to my due date. Years later I got my answer when I related the story at a Chateau Lake Louise staff reunion. Upon hearing the story, one of the attendees, Ray Wehner, from Manitoba, exclaimed, "I was there… I went up Mount Hector with your dad that day." He explained that he was one of the bellboys involved in the rescue of the 4 stranded Mexican women who had been left clinging to the side of Mt. Victoria after witnessing the other members of their team fall to their deaths. He went on to relate that my father had organized this climb of Mt. Hector as a way of giving the Chateau staff involved a positive experience in the mountains after enduring the trauma that they had to face in the rescue/recovery. The accident on Mt. Victoria was also one of the factors that resulted in Parks deciding to hire my dad to assist in providing the Wardens with the training and development of their mountain rescue skills. Had Parks not done this I would have been raised back in Zermatt instead of Banff as my parents were intending to return to Switzerland at the end of the climbing season when my dad's contract with the CPR was due to expire.
SH: Wow, that's interesting, and Peter if you do have any tales about your dad that you want to include here, please do so, because he's passed and it's great to get those stories.
Peter: Yes, that one isn't widely known so I thought I'd share that with you.
SH: Excellent. Where did you grow up?
Peter: In Banff
SH: How did you become involved in the Warden Service?
Peter: In the fall of 1975 I was attending the University of Calgary studying commerce when Cliff White suggested that I should apply on the upcoming seasonal Warden competition. Cliff and I were raised in Banff and had been in the same class at school. Over the years we had been on many mountain adventures together. He had recently begun working with the Warden Service and with his trademark enthusiasm for everything in life he told me about some of the adventures he had already had in the short time that he had been a warden. The idea was intriguing and the more I thought about it the more I wanted to do it. I wasn't all that confident that I would be successful in the face of what I understood was fierce competition for seasonal Warden positions. In any event I applied and was given the opportunity to have an interview. Max Winkler and Jim Sime conducted the interviews in Calgary that year. To my surprise I ended up in the second position on the seasonal Warden list that was created. After going through the process, I was somewhat dismayed to learn that there were no openings for permanent seasonal positions at that time. Fortunately, there were 2 term positions to be filled that summer. Gord Irwin was number one on the list and he took the term job offered to him in Jasper. I resigned the summer job I had with the telephone company to take the term job that was offered to me in Banff, gambling that the term job would lead to a seasonal position the following year.
The term position provided me with what in hindsight was an incredible learning opportunity as Bill Vroom's assistant. Bill had been working with Dr. Stephen Herrero and David Hamer investigating the denning and seasonal movements of grizzly bears in Banff. The entire summer was spent with Bill in the field looking for and observing grizzly bears. Most of our time was spent on horseback so in addition to learning about grizzly bears, their denning and seasonal use of the landscape I had a unique opportunity to learn how to travel safely with horses from a Warden with some of the best horse-handling skills in the Warden Service. Bill was quiet but ever so willing to share his knowledge of horses and outdoor skills if you just asked him. It was a summer I will never forget. I had to learn to get over the guilt of picking up a pay cheque. When the fall came along, I was so engaged that I decided not to go back to university for the fall term. I worked with Bill right through until December and then returned to university for the winter term.
I was really looking forward to continuing the study with Bill in the following summer but as providence would have it another opportunity came along following the Chief Wardens' conference. Apparently, the Chief Warden at Pacific Rim was lamenting that he never got candidates off the top of the seasonal list, so the decision was made to send the top four candidates on the seasonal list to Pacific Rim. Gord Irwin, Bill Smith, Joe Wells, and I were given seasonal numbers and sent out to Pacific Rim. I wasn't very happy, because I wanted to spend the time in the mountains and am not really a water person. Nevertheless, out we went, although reluctantly. In hindsight I missed taking full advantage of the opportunities to learn and live in the coastal marine environment because I was so focused on mountains, climbing and gaining the mountain park experience that was essential to being able to compete successfully for a permanent Warden position.
After my first summer at Pacific Rim, a competition to establish a list of qualified candidates for permanent Warden positions was held. Gord, Joe, Bill and I applied and only Gord qualified, albeit near the bottom of the list. Gord ascertained that there was something procedurally wrong with the competition, so he filed an appeal against it. His appeal was successful, so they had to run the competition again. The second time they ran it, I was better prepared and made it on to the list. After 2 summers at Pacific Rim, I was happy to be offered a seasonal position in Banff where I was assigned to be Jim Murphy's summer seasonal Warden in the Bryant Creek district. I really enjoyed that summer. Bryant Creek was a good fit for me as Jim and I travelled independently both on foot and on horseback, on opposing shifts to maximize our presence in the district given all the visitor use. Johnny Nylund wisely recognized that I still had lots to learn about horses so he gave me a very gentle saddle horse "Flurry" and a goofy walleyed pack horse "Monty" so I didn't get into too much trouble as I tried to remember the lessons learned from Bill 3 summers earlier. Sadly, that was the summer that Neil Colgan died after being kicked by his horse.
I spent the winters of 78/79 and 79/80 working in the avalanche control program lead by Clair Israelson at the Lake Louise Ski Area. In January 1980 Willi Pfisterer came through and wanted to know if I would be interested in going on a training trip that he was planning on Mt. Logan in May of 1980. I readily agreed. Attempting to improve my fitness and ability to carry heavy loads I started carrying a pack filled with rocks up the Tunnel Mtn. trail whenever I had a chance. By the time we left Tunnel Mtn. was a little higher and I was in the best shape I had ever been. A medical technician at the Foothills Hospital where we had our fitness tests told me that I was fitter than many of the marathon runners that he had tested over the years. That was the trip where Tim and I pioneered a new descent route off the east ridge of Mt. Logan, which I'm sure you've heard about.
SH: Well, I'd like to hear a bit more about that. Do you want to talk about that now or later?

Peter: We can talk about it now or later in this interview. I will also send along a copy of an article I wrote for Mountain Life Magazine describing our fall.
SH: That would be awesome. Can I ask you one question about your early life? Was it your father that got you interested in climbing and skiing?
Peter: Apart from scrambling on the avalanche paths during the summers on the slopes at Mt. Norquay and above the Sunshine Village access road looking for unexploded mortar shells and fishing trips to Block Lakes we didn't have many opportunities to climb in the mountains with my dad. That said he was always challenging us to develop our balance, strength, and flexibility around the home. Instead of a climbing wall we would often scale the Rundle stone fireplace that he built. He also built a bar for chin-ups and other gymnastic moves that he would show us and then challenge us to complete. I remember a game where you would hold a broomstick with arms apart at knee level and then without letting go jump back and forth over it. We always used to bug him to take us to the tops of some of the local peaks, but he was reluctant to do this explaining that it wasn't wise to go too high or push yourselves too much in the mountains until your lungs were fully developed.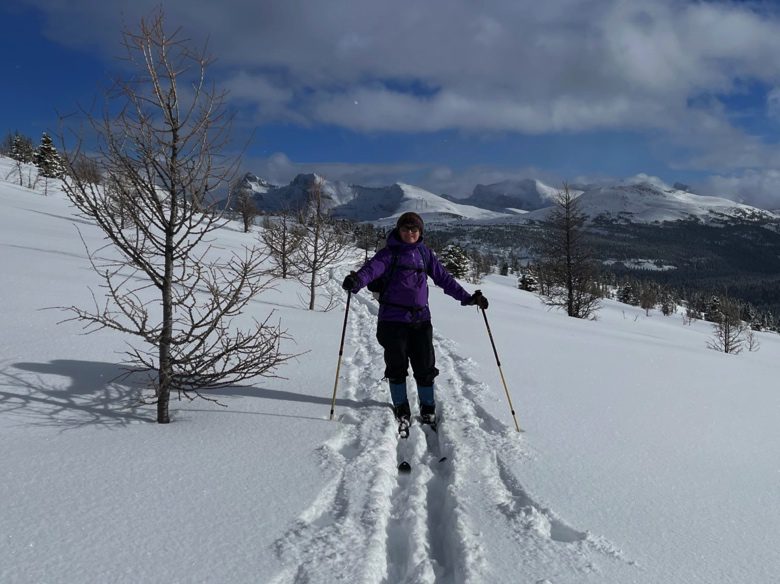 Sometimes he would bring some of the climbing gear he was using in his training programs and set it up for us to play with. I have one memory of a rope traverse, Tyrolean style, that he set up from the top of a tall tree in our front yard to ground level at the other end of our yard. We would climb to the top of the tree and then slide down the rope in an improvised harness. I can remember cars stopping on Banff Avenue to watch us as we came down.
I also have some great memories of fishing trips to Block and Sawback Lakes. The trips to Block Lakes were great fun as there was a chimney you had to climb in the lower part of Block Mountain to gain access to the 3 lakes. That was most of the climbing that we did however the summer before he died my dad, to my great surprise, took me on a climb on the ridge on Mt. Whyte above Lake Agnes. I remember he rode a horse from the Chateau up to Mirror Lake. Despite my pestering him to take a turn riding he wouldn't let me have a turn until we went down at the end of the day. In hindsight, I learned that because he was ill with what was later determined to be advanced aplastic anemia it was a real effort for him to climb anything that summer. The opportunity to use the horse helped him save some of his energy for the climb. I also later learned that this climb on Mt. Whyte was the first climb he ever did in the Rockies when he got off the tram on the shores of Lake Louise after his journey from Zermatt. As the story goes, he went off saying that he wanted to "stretch his legs" after the long journey. I will never know for sure, but it seems to me that it was important for him to take one of his sons on a climb that was likely the last of his life on a route that was his first Canadian climb.
We skied a bit as a family. My brother Martin excelled at skiing. I didn't really take to it or like it that much as a kid when my dad was alive. When I was in grade 7, the year before my dad died, I was the first person to break a leg at Mt. Norquay after an early season snowfall a week before Halloween. A year after my dad died, Catharine Whyte approached my mother and said she wanted to express her gratitude for all that my dad had done for others in the mountains by doing something for our family. She kindly offered to outfit myself and my two younger brothers with ski equipment and arrange for some lessons. As I said, I wasn't all that fired up about skiing in those days, but my mother said, "Look Catherine has been kind and bought you all this equipment, so you have to go and give it an honest effort." She arranged for me to have a lesson with Bob Meggs at Mt. Norquay. Bob took me out on a ski lesson and thanks to him, I discovered a love of and interest in skiing that I never imagined I would ever possess.
SH: What were some of your main responsibilities over the years?
Peter: My career in the Warden Service was short lived spanning less than 10 years. As I said earlier my first summer was spent with Bill Vroom on the grizzly bear study. I spent two summers at Pacific Rim primarily involved in law enforcement duties on Long Beach. Two winters were spent at Lake Louise doing avalanche control work at the Ski Area and on the Highway 93N between Lake Louise and Saskatchewan Crossing. I also spent a summer in the backcountry in the south end of Banff Park with Jim Murphy. Following our accident on Mt. Logan I was able to return to office duties and helped put together all the paperwork associated with the Whiskey Creek mauling that had just happened. I had 2 subsequent operations to reconstruct my knee in the following 2 years and when I wasn't rehabbing, I assisted with some of the law enforcement work that was just starting to get a little bit more organized.
SH: What did you like about being a Warden? What didn't you like about being a Warden?
Peter: I really enjoyed the independence, the variety, the opportunities to learn and work independently with a great group of people in amazing settings. I was grateful for the opportunity to contribute in a small way to protecting and maintaining parks. I took great satisfaction in meeting the public and doing what I could to help them have a positive national park experience. I could have quite happily seen myself doing that for a long time, but it just wasn't meant to be as the injuries to my knee were such that I never recovered to a degree that would have made it safe to continue to be a Warden, both for me and any other Wardens who may have had to rely on me.
SH: What didn't you like about being a Warden?
Peter: There really wasn't anything not to like but if I had to come up with an answer to this question, I guess it was the fact that Wardens didn't get paid adequately for what they did and the risks they were asked to expose themselves to in their ordinary duties.
SH: What are some of the more memorable events of your Warden Service career? I think I know one of them.
Peter: I really enjoyed the chances I had to learn about grizzly bears, travel with horses in the backcountry, the climbing schools and the winters doing avalanche control work. It was great to be alive and working in the mountains. The winter of 78 was especially memorable as, during one of my Warden duties at the Lake Louise Ski Area, I met a young ski area employee, Chris Purdy, who was later to become my wife and best friend. We have now been married 42 years.