Thank you to the Whyte Museum of the Canadian Rockies for granting permission to the Park Warden Service Alumni to post this interview on our website
Park Warden Alumni Society of Alberta
Oral History Project – Winter 2012
Telephone Interview with Ray Frey
Interview Conducted by Christine Crilley-Everts
February 20, 2012
Place and Date of Birth: June 29, 1943. Wilkie, Saskatchewan.
Occupations: After working for the Department of Natural Resources in Saskatchewan, Ray came to Jasper National Park to work on the labor crew. He then started as a seasonal warden and became permanent in 1966. After attending NAIT, Ray went to Nahanni National Park as the Chief Warden. In 1976, he moved to Kluane as an area manager. During the 1980s Ray also worked in Ivvavik or the Northern Yukon Reserve. He returned to his prairie roots in 1987 coming to Riding Mountain National Park as the Chief wWrden where he worked until his retirement in 1995.
Additional Information: Ray and his wife Kay live near Onanole Manitoba. He continues to keep very busy in retirement working on the local municipal council and as a member of the Riding Mountain Biosphere Reserve. He speaks fondly of wildlife in the north and is proud of the work he did as a National Park warden.
(0:00:24) I was born June 29, 1943 in a little town called Wilkie, Saskatchewan. I grew up in a rural area north of Wilkie. I went to a little school, a country school called Drummond Creek from grade one to grade eight. Then I took correspondence for grade nine and ten. I went to high school Grade Eleven and Twelve in Battleford. My dad farmed halfway between Wilkie and Battleford.
(0:01:18) I graduated from high school in 1961. I was interested in working outdoors. I went to work seasonally for the Department of Natural Resources in Saskatchewan in a provincial park. I had an uncle in Alberta, in Stettler, who worked for the federal department of agriculture. He was a land use appraiser and he knew my interest in the outdoors. He sent me a competition poster for a warden job in what was then the western region. So I applied and got an interview. Mickey McGuire was the Chief Warden and he was one of the people who interviewed me and Bob Hand was there. Yeah, I look back fondly on Mickey. Anyway, he told me that I didn't have enough experience, but he always needed good young guys to work for him. So I showed up in Jasper and I went up to see him and ask him for a job. That was in 1963. I worked on the labor crew for a bit and then I got a seasonal warden position. I did a little bit of everything. Then I got married.
(0:03:26) My wife's name is Kay. She is a Yankee. We met is Jasper, it is kind of a long story! Her dad was a teacher in Nebraska and every summer he would go to Glacier Montana to work as a seasonal warden. So she fell in love with the mountains there. She graduated from high school and her first job was in Jasper…47 years later, we are still together! We have three boys. Our oldest is Sean. He is a GIS specialist for Parks Canada. He works out of Onanole here at Riding Mountain. Our middle son Lee is a trucker. He works out of Moose Jaw. Our youngest son Kelly works here. He runs his own carpentry business out of Onanole. They are all married. Yeah, I have about five grandkids.
(0:05:05) I started working in Jasper in 1963. I worked for the warden service all the time, but I became a fulltime warden in 1966. Yes, I did go to NAIT with Perry Jacobson. I worked in a number of districts as a seasonal. I went to Mount Robson in 1967 in the Smokey district…Then because of the Sime Schuler Report, Parks sent a bunch of us to school. (The Sime Schuler Report done in the late 1960s was a national study of the park warden service in Canada. The report recommended higher education levels for warden recruitment. )
I think Gerry Campbell went to Ontario to the forest ranger school there in Dorset…Max Winkler went to Hinton. Bob Wood and I went to NAIT (Northern Alberta Institute of Technology), that was in 1971. Bob quit after the first year and he got one of the area manager jobs. I was interviewed there too. They asked me if I would quit and I said, "No, I wouldn't quit." If I am qualified to be an area manager now, I'd be better qualified after I finish my second year. So I graduated in 1972…When I was going to school I worked the night shift in the town site. I was the only guy on nights. When we came went back to Jasper, we were first stationed right in town, but then I was transferred to Maligne. I went up to Maligne for a little while and then in August we went to Nahanni National Park Reserve.
(0:07:46) I was on the Wood Buffalo Establishment. There was nothing in Nahanni. The Parks system had bought a fur trader outfit at Nahanni Butte. We summered there and went back to Fort Smith in the winter and then back to Nahanni the next summer. We had the second winter in Fort Smith and then we stayed at Nahanni full time. There was nothing there from an infrastructure point of a view. We had purchased Dick Tuner's establishment. He was an independent fur trader. That was before I got involved. It was at the mouth of the Nahanni, across the river from the village, the native village. So I was kind of a rolled up General Works Manager, visitor services officer, chief park warden and everything there! We brought a trailer in for a second warden and put in the water and sewer system. We put in bulk fuel storage and some radio communication towers and we always looked after travelers on the river. I found it really interesting and it was a good time for Kay and my relationship because she knew exactly where I was going and what was happening. She was very involved in the day to day things that I was doing. You know when I came to Riding Mountain in 1987; all the women would cozy up to her and ask her what I was doing and what I was thinking. It was difficult for her. She said, "Don't tell me what you are doing because I do not want to have to lie!" So it was a totally different relationship…We were in Nahanni for four years. I went to Kluane in August of 1976, just in time to get the youngest kids into school.
(0:10:13) In 1974 Nahanni separated from Wood Buffalo. Parks set up their administration office in Fort Simpson. We had a superintendent…and he and I did not see eye to eye. I guess when you fight with the boss you find out who's got the power after all!
(0:10:43) Don MacMillan was our warden service officer in Winnipeg at that time and he had some issues in Kluane and he asked me if I would go over there. I said, "Sure". I enjoyed Kluane very much. It was a big park and when I first went over, Hans Fuher had been the alpine warden there. Things really changed when Parks set up Kluane. Initially they had three area mangers and a Chief Warden. They also had three wardens there. So it was a one to one relationship. Hans Fuher was there for the alpine stuff…He just lived and breathed to climb. But it was really tough for him because there was no one else on staff that climbed. And there were some personality issues there. So he moved out and I moved in to take over that area. My history was not being a strong climber. Anyone who knows me knows that! My strength was in organization and planning. We had about18 or 20 international expeditions a year there. So we moved things in and did helicopter sling rescues, we started with winch rescue operations. We were the first in North America to do winch rescue operations. I was the area manger in those days or assistant Chief Warden. Whereas at Nahanni I was the chief, but it was the same classification level.
(0:12:40) I applied on a national competition, a GT5 level which was the chief level in Kluane. Larry Tremblay was the chief and he was retiring. I thought maybe I would take a run at that. I placed first on the competition, but Parks offered me another new park, Ivvavik or North Yukon Park Reserve…My wife and family always stayed in Kluane, but I worked out of Inuvik…In 1984/85/86, I was working out of Inuvik a lot. Again setting up a new park. John Munro was the minister of Indian and Northern Affairs. When Prime Minister Trudeau retired John Munro wanted to take a run at that job, but Chretien won it. In my opinion John Munro wanted the aboriginal support at the Leadership Convention so he signed the Inuvialuit Final Agreement for the western arctic. So that is how the park got created…I spent a lot of time meeting with the Inuit people up there, trying to get some new staff and on start up operations – looking at what was even in the park. All we knew in southern Canada was that the porcupine caribou herd sometimes calved there. But when we went there, there was lots of different wildlife. It was really an exciting place!
(0:14:58) I found out about the whaling history at Pauline Cove, off Herschel Island. Now there is Herschel Island Territorial Park…In 1898 there was also the gold rush in the Yukon. By that time the Trans Continental Railroad came across from the eastern seaboard to San Francisco. The whalers would take their cargo to San Francisco to ship east and get their provisions to come back north again. A lot of guys in San Francisco wanted to get on the Klondike. They would sign on the ship's crew and desert in the north Yukon and try to make it south to the Klondike. So there is lots of history up there. Oh, yeah (we had to protect artifacts and archeological sites) all that stuff was there. It never gets warm enough for anything to really rot. You would find graves on the coast. Coffins would push up…lots of buildings, log buildings along the coast because all the driftwood on the Mackenzie and the Liard River system would go out to the Beaufort Sea. Then the current would go to the west and the driftwood would be deposited on shore, so there was lots of wood available. None of the western arctic Inuit ever built igloos or any of that stuff…it was a totally different culture. There were also remnants of the gold rush and exploration. There was a miner there with his family at Sheep Creek, right in the middle of the park. He had 53 claims, gold claims that we had to buy out. I did some negotiating there…Now that it was a national park we had to extinguish those rights and buy him out…It was really difficult. We had done the same thing in Kluane in the 1970s, so this was 10 or 12 years later. When we bought in Kluane gold was worth about $85 an ounce and most of the claims had been mined out, but these were relatively new claims (in Ivvavik/Northern Yukon National Park ). The guy was honest and declared his gold and paid royalty on what he mined and gold was worth about $600 an ounce. We paid an average of $10 000 a claim in Kluane, so headquarters budgeted half a million for the Northern Yukon, but we ended up paying a lot more that that! There really was a disconnect between Ottawa and the Parks system in terms of what was there in the field, but it was exciting.
(0:18:32) One of the nice things about the Northern Yukon was there was quite a bit of open forest country…you could see everything. Things didn't rot. In Clarence Lagoon on the U.S. border, right on the coast there are abandoned Hudson Bay buildings, the manager's residence and a warehouse. It was abandoned in 1929 and it is still sitting there you know, in relatively good shape. If you'd abandoned something in this part of the country in 1929 you would never find it. It would be gone. It was interesting.
(0:19:20) I had three species of bears (in Ivvavik/Northern Yukon National Park). There were wolves and seals, caribou, moose and everything. From a wildlife perspective it was really an ecological hotspot. I've had a pretty good life!
(0:19:44) We moved to Riding Mountain in 1987. At that time our boys were teenagers. My wife was in Haines Junction with three teenage boys. I was told that I would be working ten days a month probably in the north Yukon, well it was 20 days. I remember coming home saying that, "I'd like to do this and this…" My youngest looked at me and said, "Dad, we've got everything planned for this weekend. You are just a nuisance coming home!" And they were teenage boys, doing teenage boy things and it wasn't really fair to have Kay look after them by herself. So an opportunity came to transfer here (as Chief Warden) and I took it.
(0:20:51) Al Sturko was the Chief Warden before I came. He had some medical issues so he was on leave. Lou Comin had basically been acting for a year. He was the Assistant Chief here. He went to Wood Buffalo as chief shortly after I came, about six or seven months later.
(0:21:18) Yes, I was (happy to get back to the prairies). I was born in the parkland region in Saskatchewan and we are here in the parkland. So it was like coming home and having a farming background I could relate to the locals. I enjoyed that. But it was quite a shock for Kay who had always loved the mountains. We had always talked about settling or retiring in the mountains. Manitoba is an okay place to be, you know it is centrally located in the continent if you want to travel and it is cheap money wise and with taxes and land prices compared to BC or Alberta…
(0:22:26) Riding Mountain is a well developed old park. The role of the wardens here is different than in Banff. Riding Mountain was more of a regional park. We get lots of visitors, but they are mostly repeat visitors. We are a recreation oriented park focusing more on the beach at Clear Lake. Backcountry use is very limited compared to the western regions or the mountains. But it was different. There were law enforcement issues here like in the western regions so there was a lot of work there. It all came from the history. I think Parks treated local people outside the park kind of shabbily. They never talked to them or communicated well with them. An example, I would say was all this grazing business. It really started in Waterton with all the cattle and livestock grazing in the park, you know the open slopes competing with elk and sheep. It was an issue in the mid 1970s. Park's said there would be no more grazing, free grazing for horses and livestock. I was working in Jasper at the time and we had probably 150 head of horses that we worked in the park and we wintered them all in the Willow Creek country range and then all of a sudden we had to buy hay and find a place for our horses because we couldn't graze them anymore. Here in Riding we had cattle grazing in the park. Lots of them, if I remember right we probably had about 1400 or 1800 under permit in the park and probably as many without permits that land owners would just turn loose. Then one morning in the spring Park's said, "No more grazing." They never prepared these guys…The largest farmer had probably close to 500 head permitted in the park the year before and all of a sudden he had to find pasture for his herd. It was a real scramble to buy that kind of land for pasture. And they couldn't cut hay anymore in the park. They hayed in some of the meadows. So it caused some real animosity. The same thing with logging. The park was originally formed because of the settlers logging. It was a forest reserve in 1911 before it became a park in 1933. We never communicated the changes very well to the people so there was a lot of animosity. The wardens were enforcing these changes and we were the hit men…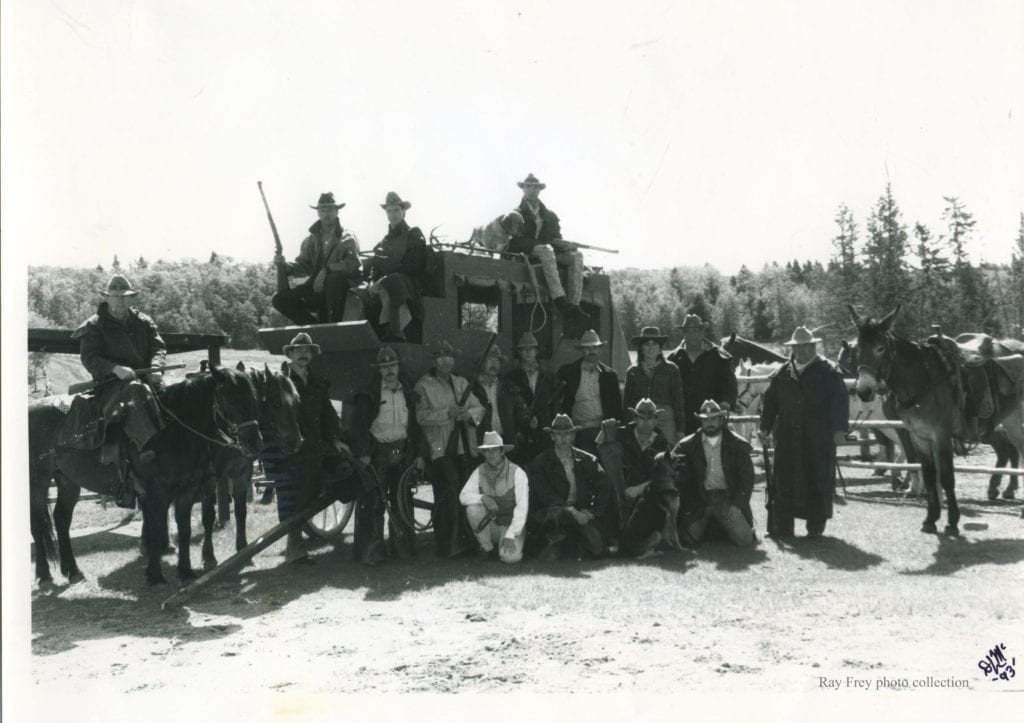 Riding Mountain staff. Ray with Mule. Photo courtesy Ray Frey.
On coach from left.  Web Vanderschuit, Doug Gillickson (centre), Clem Lebbe on right, Marv Millar in the saddle, Glen Schmidt, Ian Brown, Gordon Bergeson, Pat Rousseau, Patti Jo McTerie, Terry Hoggins, Jack Holzmiller and Ray Frey holding the mule reins. Kneeling from left Sharon Vandershuit, Gordon Pylpuik, Ray Whaley, Rodger Baird and RMNP search dog.
(0:25:42) I retired in 1995. I got pissed off and quit! I don't travel much now. Kay, my wife just retired, last June. She worked for the school division here as the librarian. We are adjusting to that now, both of us being in the house! But I retired in June and that fall the farmers here in the municipality came along with my nomination papers all signed for the local council. So signed my name and got elected. I've been on council off and on since then. I also volunteer. I am involved with the Riding Mountain Biosphere Reserve. The biosphere consists of the park and the 15 municipalities around the park. It was formed in 1986. And I have a couple of other volunteer things. I keep saying that "I am going to get a job, because when I had a job I got a day off!" People say, "Oh Ray, you can do that, you're retired!" When I look back, you know at the guys I worked with who retired and sat on the porch and rocked, they didn't stay with us for very long. And they lost their smarts, got Alzheimer's too soon.
(0:28:07) I think it was the fact that we have the most valuable real estate in Canada, that we had to protect and maintain (in response to the question "What about the warden service was important to you?") I could really buy into that. The guys in Jasper, like Mickey McGuire, he was a motivational expert long before motivation was ever talked about. I liked the outdoors and I liked people, so I had the best of both.
(0:28:44) There were lots of changes over time. Some that I agreed with and some that I didn't or I don't.
(0:29:24) Every place I worked was different (In response to the question, "What were some of the more memorable events of your career?") In Nahanni the thing that I found quite challenging was travelling on the river and learning how to read the water. I grew up in Saskatchewan, I never drove a boat! I did a little bit in Jasper, but in Jasper you were travelling by horse and you learned to watch for and stay out of swimming water. On the South Nahanni you wanted to stay in the deep water. The Canadian Wildlife Service had a jet boat. They were there when I first got there. I arrived in this boat, but it was a while before we got one. We looked for boats on the West Coast you know where people live on the water. But we ended up finding a manufacturer in Red Deer, that's where jet boats were made. That was the thing there and just being able to survive up there and do the job. We helped lots of people on the river…The South Nahanni is a big water shed, it is something like 50,000 square miles and it has an extensive fire history like Wood Buffalo. So when it rains an inch or two the river goes up and down very fast. It really fluctuates. Canoeists would pull into shore at night and drag their canoe out of the water two or three feet and wake up in the morning when the water was lapping up on their sleeping bags and their boat's gone. There was that kind of thing. People thought they were better canoeists than they were. They got wrecked up in the rapids. So we did a few rescues…We had a few fatalities. But most of the people when they wrecked they ended up getting washed onto the shore. We used to do fairly regular patrols. It was just a matter of picking up the pieces and helping them get on their way again, or if they didn't have any food bringing them to the South Nahanni and letting them charter an airplane to Fort Simpson.
(0:32:03) Now I guess things have really changed (in Nahanni). The park has doubled in size. I think they added some land to the east there which is important from a geological point of view. They don't travel by jet boat anymore…I don't know what the visitation is. There is nothing left in Nahanni Butte from an infrastructure perspective, everything is done out of Fort Simpson. I think in the long run they are going to lose touch with the Nahanni Butte staff. That's what happened here in Riding. The wardens were stationed around the park. Almost like a mini fort system, there were 10 or 12 warden stations. They would guard the park you know and now all those stations are closed, or just about all of the stationed are closed. I think that there maybe two left. Already you hear the communities saying, "Well, I don't know what is going on in the park." They've lost touch with the park. Here it is more critical because there are the surrounding communities of Ste. Rose and Dauphin, Gilbert Plains, Grandview, Russell and Rossburn. There are
10, 000 people living in the biosphere reserve, in those municipalities around the park. Everything is concentrated around Clear Lake. With the changes in the organization, there are four law enforcement officers here and they never get out in the park, as far as I am concerned. I don't know what is going to happen in the future. Historically, I said our warden job was to protect the resources, to understand them through science and to communicate that to people to keep support (for the National Parks system). Now we don't protect them very well, I don't know how good our science is, and we don't use the science that we have. Now everything seems to be about making people happy. Here in Riding, a well known musician is coming here to hold a concert here on a weekend in the summer just to get the stats up. Admission to the concert is free, but not to the gate. That sucks. Here in Manitoba we are getting a lot of new Canadians. We've exported our kids like Saskatchewan did. We have lots of Chinese and Philippino's …It's those people – we have to get them to buy in. They have no background (in National Parks) and this place is a benefit to them. So anyway, there are some big challenges.
(0:36:02) In the North Yukon we knew that there was porcupine caribou (In response to the question, "Are there any wildlife stories that stick out in your memory?"). The caribou calved in the North Yukon Park sometimes or Ivvavik as it is called now. The second year that I was there we did this total census. The Canadian Wildlife Service usually worked with Fish and Wildlife and the Arctic Wildlife Refuge staff (AWR) out of Alaska to count the herd every other year, or every three years. So it was time to count them again and I got involved because it was happening in our park. We contributed quite a bit of money and help and a couple of us went in. I worked with Dick Russell, Andy Russell's son and Wendy Nixon who was his technician and we sexed the porcupine caribou herd. I guess we had Fish and Wildlife and AWR fly in and they were taking aerial photos and three of us were on the ground counting the caribou that went by. We had a little clicker, those counter clickers. We were counting mature bulls, immature bulls, the cows, lactating cows and calves. I think over three days we sexed about 20,000 caribou. It was unreal! There were three herds on the coastal plain, about 30,000 each on the beaches and in the end they got into one big herd. They are not afraid of people. They would come within 20/ 25 feet of us. It just blew me away! I thought this is what it must have been like when the bison were on the Great Plains in the early days. Because the caribou are grey with white manes when they moved together it looked just like water, like whitecaps on a lake. The bugs would be bad over here so a bunch of them would run, then they would run someplace else…they were always moving. The calves were balling for their mothers. It was quite a sight! They are on the coastal plain at that time of the year which is four to 20 miles wide because there is still ice on the Beaufort until July, early July. You get the cool breezes off the oceans, so the flies aren't really hatching or aren't that bad yet.
(0:38:53) So that and seeing polar bears, bowhead whales and seals, it was totally different for a prairie boy! From a wildlife perspective, the North Yukon had by far the (most interesting species). These Americans had introduced muskox on the mainland and in the Arctic Wildlife Refuge, on the west side, years ago. So there was 40 or 50 muskox in the park. We didn't know anything about it. We had moose right into the arctic coast; almost right into the Beaufort…We had beaver dams right up on the coast and polar bears. There were whales, belugas and bowheads and seals when the ice was going out. There was only about an 18 inch difference between the highest tide and low tide so there are lots of lagoons with this brackish water. With a northwest storm surge and the wind it would blow the water and you would get seals in there. They would go in and out. There were three species of bears – black, grizzlies and polar bears. You could see everything, sheep, and goats on the American side and wolves. Everybody said the wolves didn't stay there because the caribou migrated, but there was lots of wildlife there and they denned in the park. It was fun!