Thank you to the Whyte Museum of the Canadian Rockies for granting permission to the Park Warden Service Alumni to post this interview on our website.
This Oral History interview was funded in part by a research grant received in 2019 from the Government of Alberta through the Alberta Historical Resources Foundation.
Park Warden Alumni Society of Alberta
Oral History Phase 9, 2019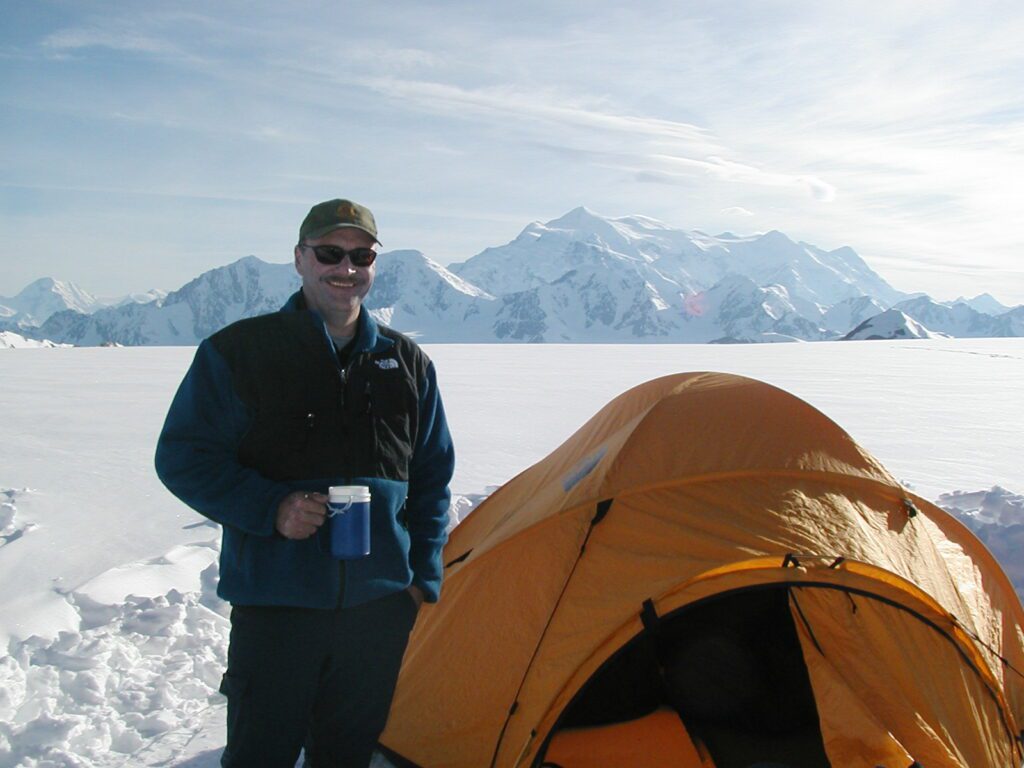 Photo: Ice Fields Training
(Mount Logan in Background)
Telephone Interview with Kevin McLaughlin in Haines Junction, YT
Date/time: July 14, 2019 @ 2000
Interviewed by Monique Hunkeler
"It was not a job; it was a vocation, a culture, a life-style, guided by tradition, history and unwritten standards sets by wardens before us." A proud group! K. McLaughin
Place and date of birth? Rocky Mountain House, Alberta in February, 1958
MH: Where did you grow up?
Kevin: I grew up in the Yukon. I was supposed to be born in the Yukon but my mother happened to be visiting her mother in Alberta when I decided to come into the world so I was born there. We came home shortly thereafter and I grew up west of Haines Junction in a little place called Destruction Bay and then later in Whitehorse. It was near what would later become the boundary of Kluane National Park. When I grew up I didn't really have any idea of what a National Park was.
MH: How did you become involved in the Warden Service? Which national park did you start working in?
Kevin: In a roundabout way. I grew up in Destruction Bay and the school only went up to Grade 8. At that point my family moved into Whitehorse where I attended high school. So we were living in Whitehorse and in 1974 when I was 16 years old, Parks Canada had a Youth Conservation Core (YOUTH CONSERVATION CORP.) Program. I'm not sure how I got signed up for it but I did. It was the first of 5 YOUTH CONSERVATION CORP. programs in Kluane and I was one of 16 students on that first one. Living in a bush camp for 5 weeks in the Park; where part of the focus of the program was to build new park facilities, as the park was brand new. There were 16 of us and Tom Elliott was one of the leaders. We were building a Warden Patrol Cabin on Mush Lake. During that summer I got to meet various Wardens that came to the camp to talk to us and teach us various things about their jobs. I was able to gain a little insight into what National Parks were all about, the conservation end of things. During that summer of 1974, Larry Tremblay, the then Chief Park Warden of Kluane National Park would come in on a regular basis and visit. He was a great story teller. During that time, he convinced myself and a couple other fellows to start thinking about future careers with Parks Canada and he encouraged us to apply for summer jobs in the following year, so we did and 3 of us were hired on as trail crew in 1975. We wandered all over the park building new trails and doing whatever. It gave me more exposure to Parks Canada and what the wardens did and more stories from Larry. After that first year, the YOUTH CONSERVATION CORP. program contractors with Parks Canada (PC) asked me if I was interested in being a supervisor. I then worked as a supervisor with Tom on the YOUTH CONSERVATION CORP. program for the following 3 years. During those 3 summers the exposure and introduction to the many functions of the Warden Service and Parks Canada continued. I liked it. Larry Tremblay continued to tell stories and give encouragement suggesting I consider going to school at Lethbridge College and applying to the Warden Service. He painted a pretty good picture, and along with what I had learned and been exposed to watching the Kluane Wardens in action it seemed like not a bad plan. I followed his advice and in the fall of 1979 was fortunate to be hired as a Seasonal Park Warden in Kluane. Wow! And as they say the rest is history. I started working in Kluane in 1979.
MH: What made you want to join the Warden Service? 0620:
Kevin: I got to see what all the different wardens were doing in Kluane from my experience with the YOUTH CONSERVATION CORP. program and other parks jobs. It looked pretty good so that's why I applied. There was good camaraderie with all the other wardens as well.
MH: What different parks did you work in? How did they compare? Do you have a favourite? 0707:
Kevin: I was a seasonal in Kluane and at the time there was a bit of a push to encourage some of the local wardens to transfer and gain experience at other parks so I applied on a permanent GT2 job in Nahanni National Park (NP). A few others applied on the same competition including Tom Elliott and Brent Kozachenko. I Think Brent got the job in Nahanni. From the same competition Tom and I ended up in Wood Buffalo with a permanent GT2 job. I was there for three years and then applied to transfer south to the Rocky Mountains where I always wanted to go. At that time, they had a program to encourage staffing in the north that gave people who had worked in the north priority staffing in the south. (An escape clause so to speak). We called it the North of 60 Club. Much to the chagrin of the seasonal wardens in Banff, Jasper and other southern parks hoping for a chance at a permanent job. (They called it the Parachute Club). Both Tom Elliott and I applied and he ended up transferring a year before me. Several other guys before us from Nahanni and other parks used that program to get jobs elsewhere as well. Gord Rutherford was kind enough to take both Elliott and I in Yoho, I think Tom in 1983 and me in 1984. It was an interesting leap into a totally foreign environment and people, going from two wilderness parks to the TransCanada Highway in Field and chaos. There were a few wardens a little pissed off because a newbie had come along, but ah, they all grew to love us.
1005: After 6 years in Yoho it was getting about the time when things were starting to get a little crazy in the Mountain block with talk of amalgamating Yoho, Kootenay, Lake Louise and I thought it might be time for a change. I applied to transfer somewhere else and was offered Kootenay, Riding Mountain or back to Kluane. So I got lucky and chose to come back to Kluane. I had always wanted to come back to Kluane because I hadn't spent that much time exploring here as a seasonal. My partner Judy and I moved back up here and I told her it would be a 3-5-year stint and then we would go back down south, well, here we are. That was in 1990.
1116: The Parks were all totally different – similar but different. Kluane was a mountain/wilderness park, not a lot going on, but when things did happen, they were big things. The remoteness, weather and the big mountains made rescues, access and travel much more complicated. You had to be self-reliant, communications were sketchy, and not the radios of today, but single side band radios. Even today, the modern radio communications are not that good. Wood Buffalo was a huge park but again very remote and we were often out on patrol by ourselves, a long way from anybody or anything. (It was) very unique with the Bison and Whooping Cranes, the size, and not many visitors.
Yoho National Park was a beautiful little park at that time (1980's). It had all the activity. There were usually only 4 of us permanent during winter and then in summer the seasonals returned so no matter what was going on, you were usually involved in it. It was a very busy little park with the highway, mountains, fires, wildlife, we were busy all the time and it was great. Loved it there. It was quite interesting coming back to Kluane after that, I guess I'd had about 10 years with Parks Canada, so I had evolved a little by then…jokingly. A lot of the same people were still working here from when I'd left. The issues of the day were arising and having come from the south, I viewed things a little differently. They were worried about the little development of a little trail or something and I was thinking, "Holy crap, this isn't a big deal'. I mean we had everything going on in Yoho and it was a little park too so it took a little bit to get used to being back in Kluane…thinking differently and doing things differently in a wilderness park.
1409: I guess because I stayed in Kluane the longest, you'd think this would be my favourite but every park I went to, all three were very special in their own way. I stayed in Kluane for a long time because things were good. A lot of changes were happening elsewhere but this was a safe place. Keep your head low and do what wardens do, when things were changing in other parks.
MH: What were some of your main responsibilities over the years? 1450:
Kevin: Luckily in all those three parks, in the times that I was there, park wardens were still primarily generalists so if something was going on, we were involved in it, which I loved. That said, in every park I worked in, Bear Management was probably one of the things I was involved in the most. (In) Yoho I was involved in Bear Management, Research and Law Enforcement as well. In Kluane, I was part of a 10-year grizzly bear study. In all the Parks I was also actively involved in the public safety and fire management programs. Not as a leader but if something happened, you were involved. So, a generalist of sorts, a good way to be. Jack of all trades master of none!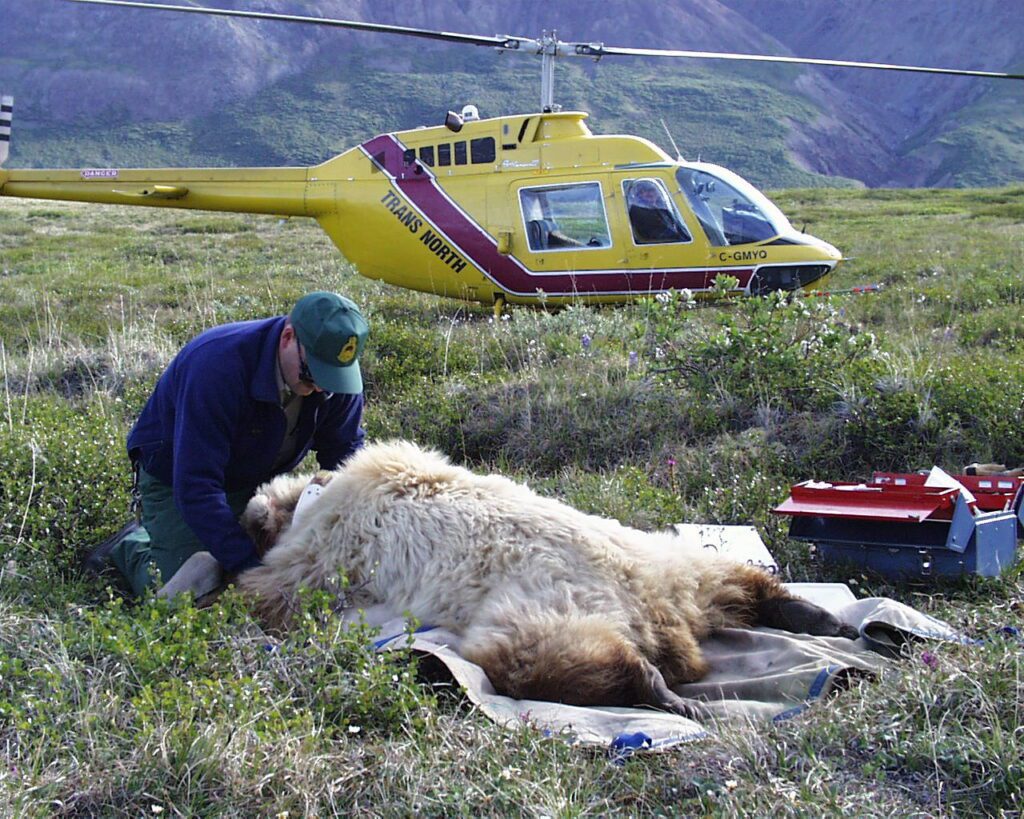 Photo: Radio collaring a grizzly bear, Bear Study, Kluane National Park
MH: What did you like / Dislike about being a warden? 1547:
Kevin: Likes – I think it was just the whole package. Every day I didn't really know what I would be doing. We planned every day, but it could go sideways in a heartbeat and all of a sudden we could be on top of a mountain, on a river, car accident on a highway: it was just that whole package that made it exciting. It was pretty exciting, interesting stuff, a lot of it.
1635: Dislikes: Probably the other side of government jobs, the bureaucracy, and the politics. Every park had those to different degrees and the changes were coming in during the mid-nineties, some of that became even worse. It seems there were always important people from Ottawa who had to put their mark on things and turn everything upside down, so that sort of stuff wasn't much fun. Another less enjoyable part of the job was dealing with difficult people, dealing with tragedy and highway accidents on the TransCanada Highway. Even in the remote places like Kluane, sitting down and talking to parents whose daughter had been killed by a grizzly bear, or son who had fallen off a mountain and the parents were asking for information …that could be pretty uncomfortable. Hopefully you had the aptitudes to act on the fly, and make decisions and deal with difficult situations. A lot of things I learned on the job, we didn't have formal training to deal with some of those situations.
MH: What were some of your more memorable events as a Warden? 1835:
Kevin: I was trying to make a short list. It's pretty amazing when I think about it. I was thinking back on the 33 years of my career and people I worked with, places I got to see, it was pretty unbelievable! Roberta Bondar, Canadian Astronaut, came to Kluane one time. She was doing photography for her book and I got to fly around the park with her while she took pictures and that was pretty amazing. We were sitting at my desk planning a trip into Mt. Logan and we were looking at the weather forecast. I'm explaining to her about the weather in these mountains looking at a weather map, totally forgetting who I was talking to. She was politely listening to me and looking at the maps and suddenly it dawned on me that she likely knew way more about this stuff than I did. It was kind of funny; she was so humble and patient. She just went along with it and nodded. Our pilot of the day, Doug Makkonen (a crazy, talented, gifted pilot), kept asking her all kinds of hard questions like what it's like to be in the space capsule and what would you do if this or that happened. A very interesting lady, so it was very fun to fly with her and listen to her stories. That was in the early 2000's.
2130: Every park had their unique things too. Horse trips in Yoho: one of my first jobs in Yoho was looking after horses and I didn't know the front end from the back end. A few people took me under their wing and showed me the ropes. Pack trips, trips taking the horses back to the Ya HaTinda Ranch and stuff like that were special. In Wood Buffalo, we would go on lengthy snowmobile trips, patrolling somewhere seemingly hundreds of miles from nowhere, talking to trappers on their trap lines, it was amazing. There were a lot of memorable moments. Climbing or skiing in the Icefields of Kluane, travelling back there in the middle of that ice and it is just unbelievable how big that is. Not many people get to do that. Bear research up in the north Yukon: capturing grizzly bears on the Arctic Coast as caribou are coming by, just unbelievable. Most of my career, I worked with the same guys, people you get to know very well, many things we did I took for granted. It's not until you are actually out of it for a while that you look back at what you actually did and it was remarkable. (There's) not many jobs like the Warden Service. It really wasn't a job, more of a life style 24/7.
MH: Can you tell me about any rescue/wildlife stories that stick out in your memory? 2343:
Kevin: There are so many stories! I remember one back in about 1983 when I was in Wood Buffalo. I got to come back to Kluane for a climb. We were climbing Mt. McArthur, a bunch of Kluane guys, guys from the South, Willi Pfisterer, Clair Israelson and Darro Stinson as part of a training exercise. We flew into Mt. McArthur and the first day we were doing a carry up high and I was on a rope with Willi, Darro and Clair, probably the three fittest guys in the outfit and I wasn't! Anyway, they were dragging me up the mountain and I was having a hard time so finally Willi says, "Sit down here and don't move. So he tied me in and said, "You stay here, we'll pick you up on the way down". And I said, "OK". I didn't know any better and if Willi said stay here you stayed there. The rest of the crews carried on up about another hour before stopping for lunch (as I found out later). Apparently they could see me from above and Willi says, "Holy, cripes I put him on a crevasse". They had left me there sitting in the middle of a crevasse! They had a good laugh and were saying, "I hope he's still there when we come back down." That was a Willi type story.
I could go on for hours with the different wildlife stories. I remember in Yoho, I was working bear management. Earlier in the season I had attended a deep powder school in Glacier National Park, and tore my achilles tendon and had surgery, so I was in a cast and on crutches. There was a little collared female bear in town. She was a famous little bear. I think she later ended up going on the Banff Parkway and became a film star. Anyway she was in town and I was trying to track her with telemetry. She was over by the trailer court in Field but I couldn't see her. Finally, I spotted her laying upside down on her back under a tree, watching me, and every time I moved, she moved her head watching. But she really didn't care. There I was on crutches and with a cast. I thought , "I need to get her out of here." so I fire off a bear banger. Well the darn thing skipped across the ground, hit the tree she was lying under, went up into a branch and caught fire. So there on this hot, hot day this tree is now on fire, the bear's lying under the tree and I'm standing there with my crutches and cast going "Holy crap now what the hell am I going to do?". In the end, she got up and ran off and I managed to knock out the fire on the branch. Field didn't burn down and the bear didn't eat anybody. Thankfully there weren't many watching me! Lots of fun stories like that. A couple of near death ones but those are for another time.
2806: We were rafting the Alsek River once, Lloyd Freese and I and a research group. The Alsek has a big set of rapids a ways down called Lava North. All the commercial guys compare it to Lava rapids on the Colorado River. These are big rapids, ones you can die in and people have. Anyways, I was leading the trip down and my partner and I went first through this set of rapids. I kind of miscalculated. There's a big hole that you can look straight through to China in, and I thought I'd lined up the raft perfectly to miss it but I went too close to the edge of that hole and tipped the raft up. I thought we were flipping and I kind of slid off the raft into the river, I thought the raft would come down on my head but when I popped up beside the raft, the raft was still upright (thanks to my partner who high-sided just in time) so I managed to climb back in with the help of my partner and pull over to the shore. Then Lloyd and a student came through the same rapids and by god if he didn't actually flip his raft. Now we were in real trouble! There were two people in the water so we jumped back into our raft, rowed back out to rescue Lloyd and his crew. We finally got his raft tied onto ours, got them into our boat and sort of drifted out of control down through the rest of the rapids. It was miles downriver before we finally got control and into shore. It was pretty exciting there for a while and some of it was filmed by part of our crew on shore. Every trip we made through those rapids was a pretty exciting day. We never knew how it was going to turn out.
There are also lots of bear stories with near misses. We were doing a Bear Research Project here in Kluane, and most captures were done via helicopter darting. Bruce Sundbo and I darted this one particular bear, the bear laid down as it was supposed to so we landed the helicopter fairly close to it, shut down and got out and started walking towards the bear to start the collaring process. All of a sudden the bear stands up, looks back at the helicopter and at Bruce and I approaching. We both looked at one another thinking "Crap!" and started slowly walking backwards towards the helicopter with the bear looking at us, kind of curious. Thankfully the pilot had his wits about him and started the helicopter right away and the noise scared off the bear. We had to dart her again and it turned out the first dart only dribbled a little of the drug into her system enough to make her a little drowsy but not (knocked) out. We had numerous exciting occasions like that. One time we had a bear jump at the helicopter almost getting the skids. Seems like just when we thought we were getting good at this something new would happen and we would be humbled again!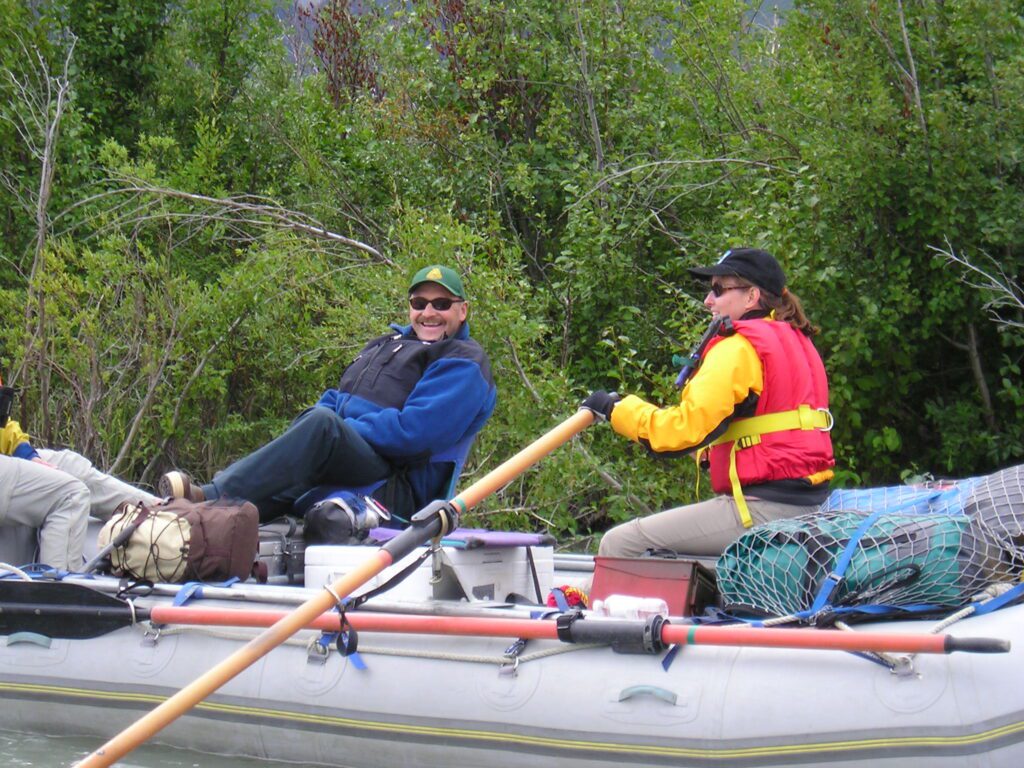 Photo: Rafting the Alsek, Bear Research
MH: How did the Warden Service change over the years? 3135:

Kevin Computers, GPS technology, education requirements, professionalism, email!. Specialization became something more common in larger parks but in Kluane you still had to be somewhat of a generalist, still able to fit into the team. Over time the job started becoming more bureaucratic, constantly having to justify what we did and why. It became more about accountability rather than actually doing the job. A lot more time in the office generating paper, feeding the powers to be, rather than out in the park. It took a lot of the fun out of the job. New players coming into the game at the higher levels, trying to change the world and save a bunch of money for the government but really never understanding what went on at the field level. Death by a thousand cuts. It was kind of continuous the changes, renewals, right sizing, reorganizations. The changes were all a top down process, with questionable motives and with very little to no consultation with those of us at the bottom but those affected the most, an experience that's becoming more common today. When the big Law Enforcement changes happened in 2008, I wrote a letter to the Parks Canada CEO telling him what I thought and felt about it, how I had lost track of all the renewals and reorganizations we had gone through, it seemed like it was non-stop. How I thought the changes were a huge disservice to everyone affected. The focus of the job changed quite a bit during that time. What a cluster that was!
MH: What about the Warden Service was important to you? 3520
Kevin: The three main core functions of the Warden Service; Public Safety, Resource Management and Law Enforcement, was always important to me. Trying to do a good job in all three areas was what being a Warden and the Warden Service was all about. Through all the changes that were taking place, we could always hang our hats on what the Warden Service was and what it meant. It wasn't until after 2008 when they stripped the Warden Service of the Law Enforcement function and started changing our name that things really started to change. The Warden Service was never perfect but it was always a unique multi-disciplined efficient team with the training (Public Safety, Resource Management, Law Enforcement) & mandate to maintain the core of what National Parks stand for. It was not a job it was a vocation, a culture, a life style, guided by tradition, history and unwritten standards set by wardens before us. A proud group! All parks staff (not just Park Wardens) who came up through the system understood their role and the importance of it. Everyone fit into the team. That seemed to change. Maintaining all of that was what the Warden Service meant, what was important.
MH: Are there any legends or stories associated with the Warden Service that you can share? 3740:
Kevin: There were always legends/stories about things that happened in different parks. Ice River Cabin in Yoho was a place of legends and mystery. I was reading a story that Don Mickle had written on the alumni website about the ghosts and stuff in the Upper Ice River Cabin. I remember going there with the horses, and they were always restless and uncomfortable at that location. They never seemed to settle down. They were fidgeting and moving all the time. A beautiful little spot but in the heavy timber and a little spooky. Maybe there were ghosts up there? And then there was always the forbidden; you could never wear those red knicker socks. That was Willi Pfisterer, only the alpine specialists wore those red knicker socks. If you ever got caught wearing them, you were in big trouble.
MH: Is there anyone from the Service that stands out in your mind? 3945:
Kevin: Many people stood out…Willi Pfisterer and Peter Fuhrmann. I was on numerous training trips with those guys and the amount of knowledge they had and were able to pass on. They had a way of teaching some of us who didn't know much stuff that was amazing. Peter Fuhrmann used to frustrate me. We'd start out on a trip at 4:30-5:00 PM and soon you were slogging in the dark for hours until you got to camp. The first couple of times I thought it was poor planning, but no, it was all well planned and orchestrated. You really found out whether you could survive or not because in reality most rescues didn't start in the morning either. It was all for a purpose which you didn't come to appreciate until later. We always had mentors or older guys that were still in the Warden Service who made sure we learned about how things should be done, about traditions and what we were supposed to do. The old Chiefs ran a tight ship. There were rules, they were unwritten rules but there were rules, that you had to do certain things a certain way and if you didn't well they'd jump on you. There were lots of old timers like that. Earl Hayes out of Field (he worked at the Ya Ha Tinda for 13-14 years or so) took me under his wing and taught me how to pack horses, the right way. I was lucky, every park I worked in had pretty good bosses and wardens to work with.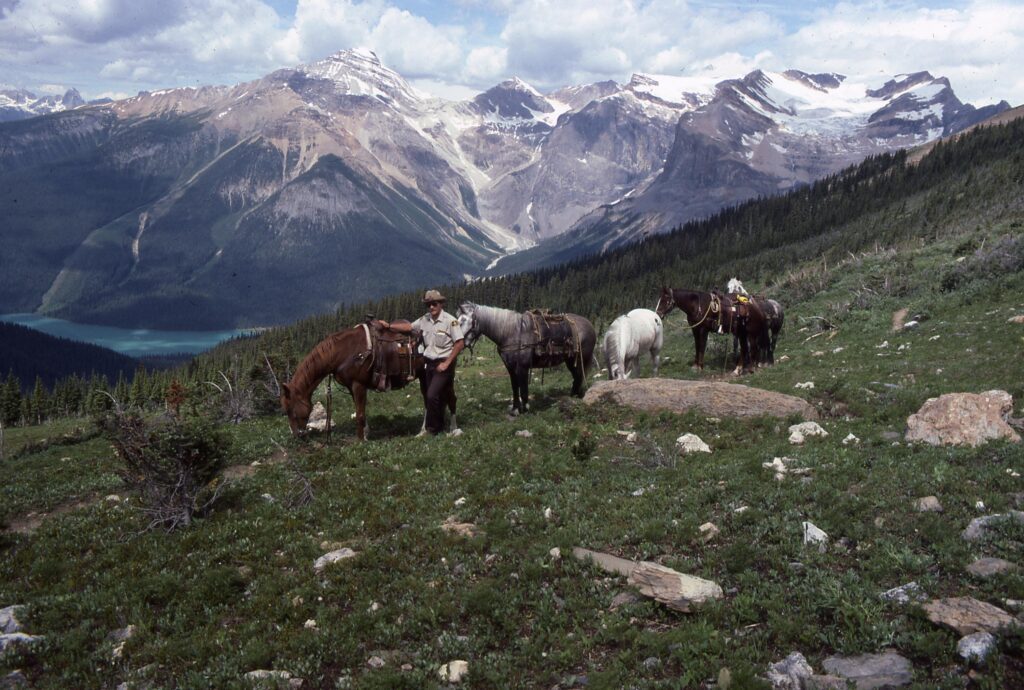 Photo: Yoho Highline Trail (Returning from packing supplies For Trail Crew with Earl Hayes.
Horses: Flirt, Pam, Claudia, Kit, Sis)
MH: Is there anything about the Warden Service, as you knew it, that you would like future generations to know? 4212:
Kevin: The part that I talked about earlier in the letter to Alan about what the Warden Service was all about, it would be good for them to know that. They say there still is a Warden Service but there really isn't anymore, it's gone. It's totally different, not to say it's good or bad for the people who are there now, they are in their own world and that's the way it is, but it's not the same as what it was.
My partner who continued working for parks after I retired noticed that many of the new staff that arrived after we left were always restarting projects or jobs that had already been done at one time or another. She would say "You know I think that has already been done", and my message to them would have been, "Look in the files because it has probably been done and you're just reinventing the wheel, not that it might not have to be redone, but take a look. There was a lot of work done in the past years. Take some time and open a file folder in the desk drawer and you'd be surprised at all the goodies you might find there."
5340: It was part and parcel of the way the exodus happened here on April 1st 2012. All the senior staff were gone all in one fell swoop, and all of a sudden there were a bunch of new staff and they really didn't have the benefit of learning from somebody that had already been there which was kind of too bad. Most of us had the good fortune of working under somebody with experience who showed us the ropes. I know in Kluane we pretty much all left at the same time. That was unfortunate.
MH: What made the Warden Service such a unique organization?
Kevin: I think again the role of their duties, what the Warden Service was and what they were responsible for, the tradition, the camaraderie, the dedication. It wasn't a job it was a lifestyle. I think Duane Martin wrote a letter when he left, after being told, "Don't worry about it Duane, it's just a job, it's just a job." And then he went on to explain all the things he'd done in his life as a warden and that it was never just a job, it was a lifestyle. That was what made it so unique and all for a common purpose, pretty much all on the same page. Back in those days, everybody was that way; it was a different organization than I think it is today. Not that it won't get there again but it will take a while.
MH: Do you have any lasting memories as a Warden?
Kevin: That's another one of those questions that you could talk about forever. Yes, many lasting memories, stories. I had my favorite horse in Yoho, each park had its special places, and adventures. I remember I was out hiking with Doug Burles in Kluane. I was pretty new and we were doing a big long distance backcountry trip in Kluane National Park. Anyway, we got to this one big creek crossing in the Donjek region of Kluane that we should have crossed earlier in the day because by afternoon, it was just a rolling. We weren't in the regular hiking area because we were exploring a new route. Anyway, little skinny Doug goes dancing across the river and gets to the other side. So I went and tried and got about half way and just couldn't make it so I turned around and went back to shore. Long story short, there we are on opposite sides of the river; he had the tent, I had the poles, he had the stove, I had some of the food, so we were totally disorganized. I remember throwing pork chops across the creek so we both had something to eat. The only place I could sleep was on the side of a hill amongst a bunch of sheperdia bushes. There were bears all over the place! Needless to say, I didn't sleep much. It was a comedy of errors there. The next morning, I was able to get across and we carried on our way. You had to be there…lots of stories about training at the Palisades….. crazy place. Worked hard, played hard.
4815: I helped the Yukon Government get started on a grizzly bear project up on the North Slope, across from Herschel Island. I was sharing our techniques of darting etc. with the research team. The caribou were migrating through there; it was just unbelievable, big herds of caribou, wolves, and grizzly bears all in the area. So the bears are following the herds and eating calves. We dart this big male grizzly and we put him down and we were starting to work on him, I'm taking his temperature, I have the thermometer up his bum and all of a sudden he lets out this big fart and takes a big crap and out of his bum comes this perfect eyeball of a caribou calf and following that was a little hoof. The eyeball kind of rolled out, perfectly clean. It was pretty neat! There was no arguing they were eating caribou calves at that point. Another time, we darted this bear and we were working on it and there were no caribou around, it was kind of on a little hill, the helicopter was sitting beside us and all of a sudden, this huge herd of hundreds come up over the hill and they come up to us, open up and go around us. We were just kind of a little bush on the path and they just flowed around us. It was pretty incredible. And the grizzly bear is kind of half in and half out, lifting its head…pretty neat. When you start thinking about all the things we did you wondered, "How did I get so lucky to do all that stuff?"
MH: Any other stories?
Kevin: I wanted to mention our helicopter pilot, Doug Makkonen. We never would have done half the things we did in Kluane Park without a good helicopter pilot. Probably some of the other parks are the same, they had their favorite pilot as well. We certainly had one of those, unbelievably talented in the mountains; he won many flying awards because of it. He was crazy but he could fly a helicopter like nobody else and he made our sometimes very difficult job very easy in many cases. I used to bug him all the time with questions – he had a reputation of maybe being unsafe and risky. I watched him pretty carefully and never witnessed anything unsafe. But I used to ask him questions like, "What would you do if this happened, what would you do if that happened? He was always happy to show me! Anyway, we were flying across this lake once and I said," What would you do if the engine quit here, so he looked at me and said," Well Kevin, I don't think we could make it to shore so you know what, I'll make sure you don't suffer and we can go out in a blaze of glory and shattered Plexiglas and I'd be proud to take you with me." That was Doug! He was an amazing jet ranger pilot and he could take the jet ranger to places nobody dared to go. He specialized in high altitude flying. Saved our bacon a few times! In the earlier days, we had a specialized high altitude helicopter but then the money ran out. We were pinching pennies but we were lucky to have a guy like Doug who could fly a jet ranger and squeak every bit of energy out of it doing whatever, we needed. We, nor he, didn't realize how hard he worked until he got a bigger machine. He'd come into the coffee room and say, "Geez, I didn't realize how hard I was working with that little machine. With the big one, I come home and I'm not even tired anymore". Now the crew at Kluane have been using a new version of the helicopter similar to the one that landed on the top of Everest so they are well equipped.
1:09:50 We were talking about Reg Hawryluk and Kevin came up with a story about him…Reg worked for me when I was in Yoho and he was a keen young fellow and talented, so I'd give him a job and I'd say, "I'd recommend you do it this way or that way.", and he'd say, "Okay, well I think I can do it this way.", and I'd say, "Well I bet you a bottle that my way is better." I don't know how many times he'd come knocking at my door with a bottle saying, "Okay, you were right, god dammit'. He was a good guy. He'll be one of the last old and crusties now. We reminisced about the lobster roast which Tom Elliot and Kevin started. I remember Tom and I were both in Wood Buffalo and we came south for a ski trip and we passed Field and said, "Who in god's name would live in that dark little hole?" and it wasn't six months later he ended up getting transferred there, and then me a year later. It was kind of funny. We both loved it there.
MH: Do you ever miss being a Warden?
Kevin: Yes and no. Not really. It's fun when you start telling stories, and think back about all the good memories but you know, I don't think I do. It's past, that was then and we're into a new phase now. The Parks Canada divorce wasn't very friendly, but I was lucky that I had had a lot of great years; it was time to move on.
MH: Do you have any photos of yourself as a warden that you would like to donate? Artifacts? 5215:
Kevin: I might have a couple I could possibly do that.
MH: What year did you retire? 4648:
Kevin: In 2013. When we all got our letters on April 1, 2012 my permanent job of 33 years became seasonal. I couldn't bring myself to drink the Kool-Aid so I made my plans to escape. I had lots of leave saved up and was able to make it to my 55th birthday. It was a good time to go. I had a good ride!
MH: What do you enjoy doing in retirement? 5455:
Kevin: I'm a master putterer now. My partner and I have a couple horses, so we enjoy playing with them and our dog. We enjoy kayaking when we can and I'm trying to teach myself how to play the guitar. Just hanging out enjoying the good life, "living the dream" haha! We are so busy now, not sure how we had time to work in the past. Sometimes I think about getting a job so I can have weekends off, but can't remember what day of the week it is!
MH: Is there anything I haven't asked you that you think I should know about the Warden Service? 5855:
Kevin: I don't think so. I wrote down here "There was no life like it but it was unfortunate that it ended the way it did."
MH: Anyone else to interview?
Kevin: Ron Chambers was here in the earlier days and was a part of the Public Safety Program and did some fantastic rescues along with Rick Staley and Lloyd Freese. We all retired at the same time. Bruce Sundbo, Terry Skjonsberg, Andrew Lawrence
MH: Any final comments?
Kevin: I'll email a few pictures. When you start reminiscing and looking back at things, you realize how exciting and special the job and life was and trying to narrow it down to a couple easy answers is difficult. Although the last few years and the ending of my time as a warden wasn't the best times, the rest of it was a hoot! When our retired group have coffee on Mondays, we start telling stories, usually none of us can remember all the details anymore but we have all worked for so long together that we can almost read each other's thoughts. Between the five of us we can usually come up with all the details of a particular story. We politely listen to the same stories over and over again and laugh. Every once in a while someone will call bullshit!
This interview was conducted by Monique Hunkeler
Monique Hunkeler first started working with Parks Canada in 1989 as Secretary to Banff National Park Finance Manager. She moved into a position as Dispatcher for the Banff Park Warden Service and later worked within Banff National Park and Town of Banff's IT departments. She is experienced with the interviewing, transcription and archiving process the Park Warden Service Alumni Society.