Park Warden Alumni Society of Alberta
Oral History Phase 11 Fall 2021
This Oral History interview was funded in part by a research grant received in 2021 from the Government of Alberta through the Alberta Historical Resources Foundation.
Interview with Rick Kunelius
Date/time: October 29th, 2021 @1400 at Rick's home in Banff
Interviewed by Monique Hunkeler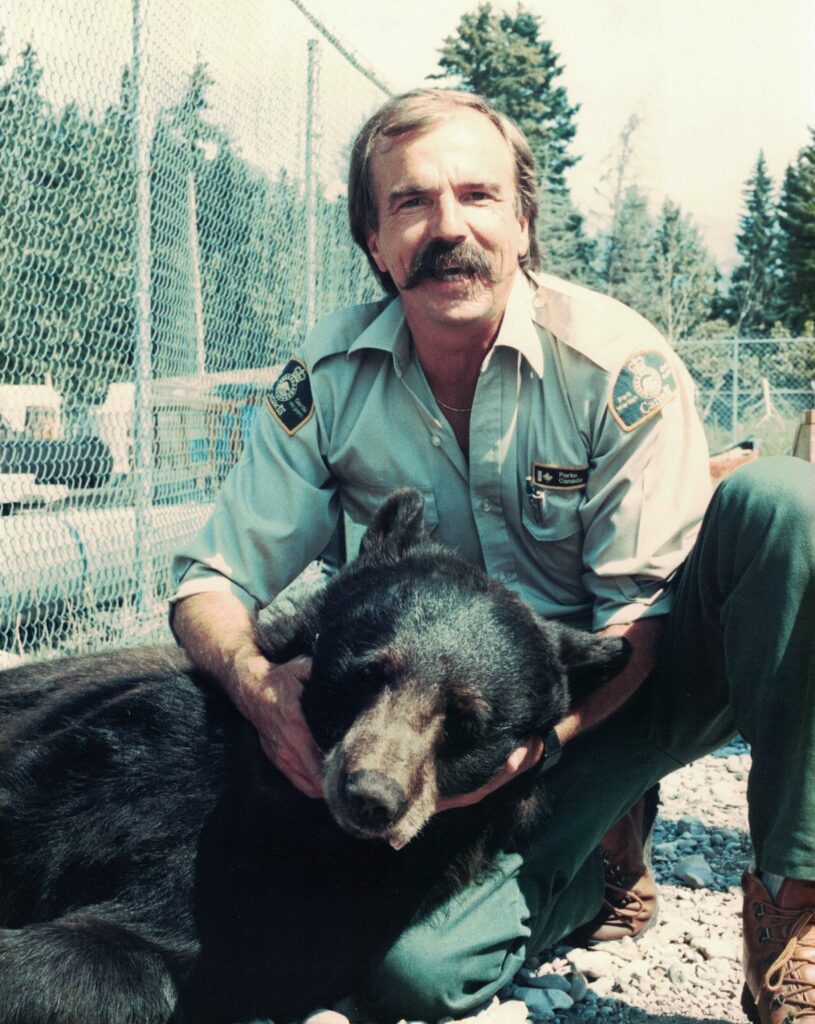 Rick with Kootenay, his number 1 bear 1993
Place and date of birth? Westlock Alberta in 1949
MH: Where did you grow up?
RK: I grew up in Westlock, Alberta an hour north of Edmonton. We moved to Calgary about 1956. I got shipped out to my uncle's farm every summer, at Radway which is east of Edmonton. A few summers of doing summer fallow convinced me that I didn't want to be a farmer. But it was fun, because I learned that "haywire holds the world together", and "if we didn't do it yesterday, we'll do it tomorrow". My uncle was a bachelor and he was instrumental later on in life, when I thought "no need to have kids because my uncle didn't have kids".. I found an article in the Financial Times in about 1974 that said, it costs $250,000 to raise a child from three to 18. I looked at that, and I looked at my paycheck, and I figured, either I get to travel or I get to have kids, but I can't do both. Anyway, Bruno Engler had 13 and made up for any I might not have. Lance Cooper had two and Tim Auger had one, but I did not want to have to buy a station wagon and ferry kids about to school and practice and all that goes with it. My priority was to travel and play.
MH: How did you become involved in the Warden Service? Which national park did you start working in?
RK: I did university and high school in Calgary and from grade 11 or grade 12 on, as soon as somebody we knew had a car, we would be coming up to the mountains hiking and camping. We could camp almost anywhere, even in Paradise Valley. We would sleep on the veranda at Plain of the Six Glaciers Tea House on Friday night, hike up to Abbot's Pass early Saturday, and be back at school Monday morning. This was before the days of dedicated camping gear and we put a lot of miles on in blue jeans, cotton jackets and war surplus sleeping bags and pup tents. It was not busy in what we now call the "backcountry" and it didn't matter where we camped.
Tim Auger and I became friends through mutual people in Calgary while he was on a trail crew in Yoho at that time. I would go up and see him in the mountains and we would go climbing. I finished university in Calgary and went to Ryerson to study cinematography for a year. When I came home in the spring, Tim called me and he said, "Do you want to work as a seasonal warden at Lake O'Hara?" Does the bear poop in the woods? I said, right, I'm going straight to the barbershop, and I'll be there this afternoon. I went got a haircut and I drove up to Yoho. Andy Anderson was the Chief Warden at the time and did my interview. "Tim Auger said you've got a degree?" and I said, "Yes, I do in geography". And he said, "That will do, and you can climb and you can ski and ride." And I told hm of all the places I had hiked and climbed locally, and he said, "Okay, you can be the Seasonal Warden at Lake O'Hara this summer".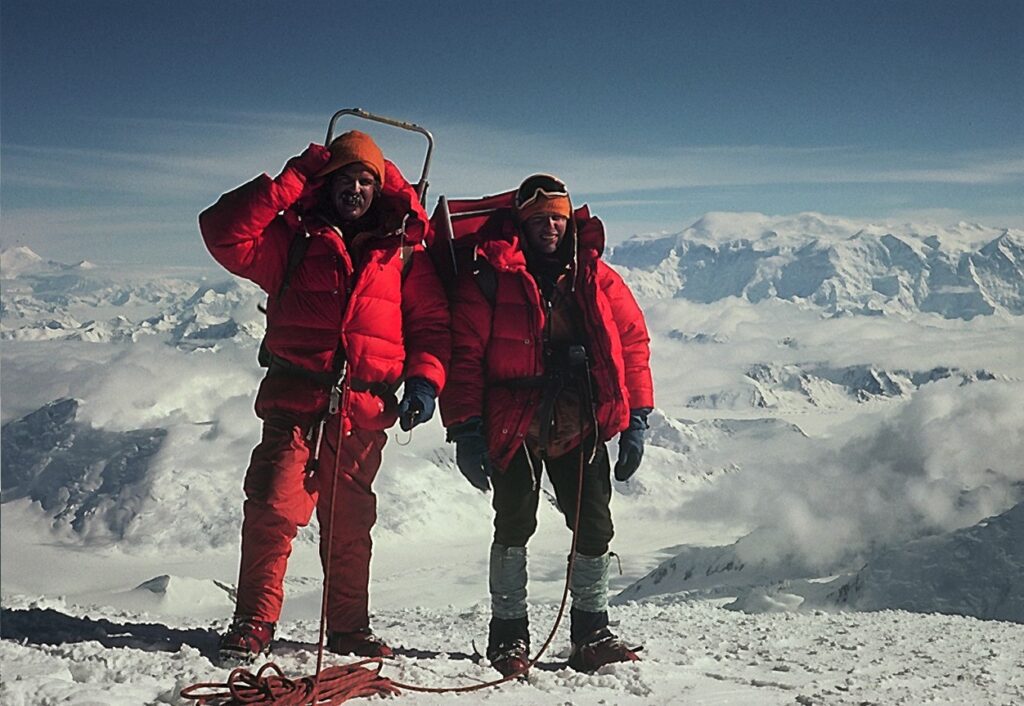 Mt. Steele 1977 Rick Kunelius and Tim Auger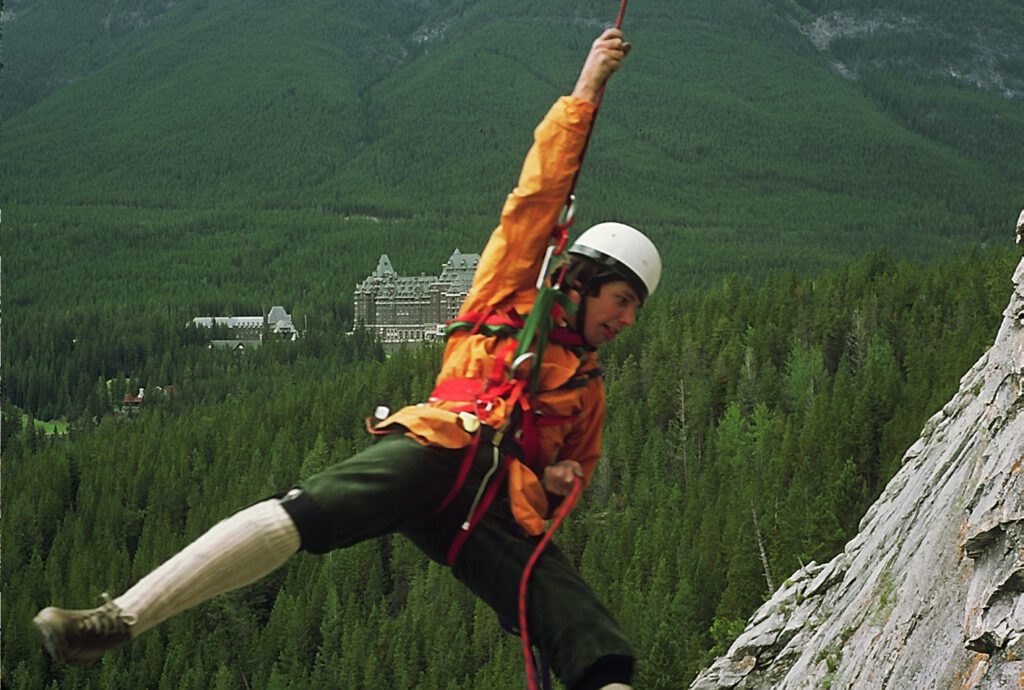 Tim Auger Gonda Traverse 1974
When fall came and the larches turned golden and we had the cabin by the lake and the stove was crackling and I was reading Andy Russell books, I looked up and thought, "I can't go back to Toronto, I can't get on the subway and go to school every day and do all that stuff". I thought I'd died and gone to heaven, after all I was getting paid to do what everybody came there to do! So I phoned my friends in Toronto and said, "Throw my clothes away and sell my books. I'm not coming back." That was fall of 1972. Years later, long after Sid Marty quit working for Parks, in a book club when we had Sid as a guest, he was talking about how he was a Warden a few years before me at Lake O'Hara. His first job was with Bernie Schiesser putting up huge trail signs. They were all handcrafted in the carpenter shop in Yoho. Five years later, my first job at Lake O'Hara was to take them down and replace them with the new regional standard signs, brown and yellow so they would not stand out. There's a nice cedar sign in my living room, which is now a coffee table that says Abbot's Pass 4 miles.
I think they had competition between Yoho and Banff carpenter shops in those days, over who could make the best signs. They had beautiful grouted out painted signs as you came over the divide, showing Yoho Park. And then other ones at O'Hara and all over the parks. They were pride and craftsmanship pieces. That was before Regional Office came and said, okay, everything has to be standardized. So that's how I started. I went and met Andy Anderson and Andy was sort of my mentor for a long time. We just got along.
MH: What made you want to join the Warden Service? 0723:
RK: Getting paid to do what people were coming to the National Parks to do, wanting to be outside and the beauty of it too, every day was different. I tried various jobs when I got out of high school, Dominion Steel in Calgary for a little while that didn't work, tried working in a meatpacking plant but that didn't work. Nothing on that repetitive side interested me. I didn't care if my mother wanted me to be a pharmacist. I didn't want to be inside, so I spent one year doing seismic work up north.
MH: What different parks did you work in? How did they compare? Do you have a favourite? 1135:
RK: Yoho, Banff, Lake Louise and Saskatchewan Crossing, because they're all three quite distinct different places, even though it's all Banff for most of it. I think I would have found Yoho too small over time. I went down to Waterton National Park quite a few times, and I thought, I could never work there, it's way too small. You can't get far enough away from everything. Also a big factor was living in or near Banff. It is a perfect little town. We had a movie theater, the Banff Center, the Banff Springs Hotel, the Cascade Tavern, and lots of young staff. A lot of young wardens really liked Jasper and it was the perfect place for them. I think I would have found Jasper just a bit too remote because from Banff you could get into the airport in Calgary in an hour and a half to go travelling. Moreover, Banff had quick access to three ski hills. I got banished to Saskatchewan Crossing for a year. But there you're pretty well free to just get up and go on a day trip or get on your skis and go explore. You also worked with the guys from Mile 45, Sunwapta Warden Station in Jasper, and we had the Columbia Icefields that we shared. If anything happened there we worked together. I credit Peter Fuhrmann with the regional training, because they really mixed everybody in the Parks and you got to know guys from different parks, and you could work together. I think we were more of a team in those days.
MH: What were some of your main responsibilities over the years? 1130:
RK: Well, the golden years at the start, when you had two weeks in town and two weeks in the backcountry and you thought, you can't get any better than this! A few years before I started, they centralized and brought everybody in from the bush, so I didn't have to go like Jay Morton had to go up to Indian Head and spend the whole summer up there. Jay had a great story about when he first went out to replace Monte Rose. Monte called in over the phone line and asked if Jay could bring a wheelbarrow when he came out. Jay was wondering why would I bring you a wheelbarrow when you're leaving and I'm coming in. Don't worry Jay, you'll need it, were Monte's words. So he packs in a wheelbarrow on top of his packhorse, gets to Indian Head and meets Monte who is out there with a baseball bat and a pile of rocks, batting rocks into the river. He says, "Morton I told you you'll need the wheel barrel. This is one of the ways you pass time at Indian Head, go down the river, get a load of rocks and bat them back in." Monte was very special.