Thank you to the Whyte Museum of the Canadian Rockies for granting permission to the Park Warden Service Alumni to post this interview on our website
Park Warden Alumni Society of Alberta
Oral History Project – Winter 2011
Interview with Smokey and Lynn Guttman
February 2, 2011 – Penticton, British Columbia
Interviewed by Christine Crilley-Everts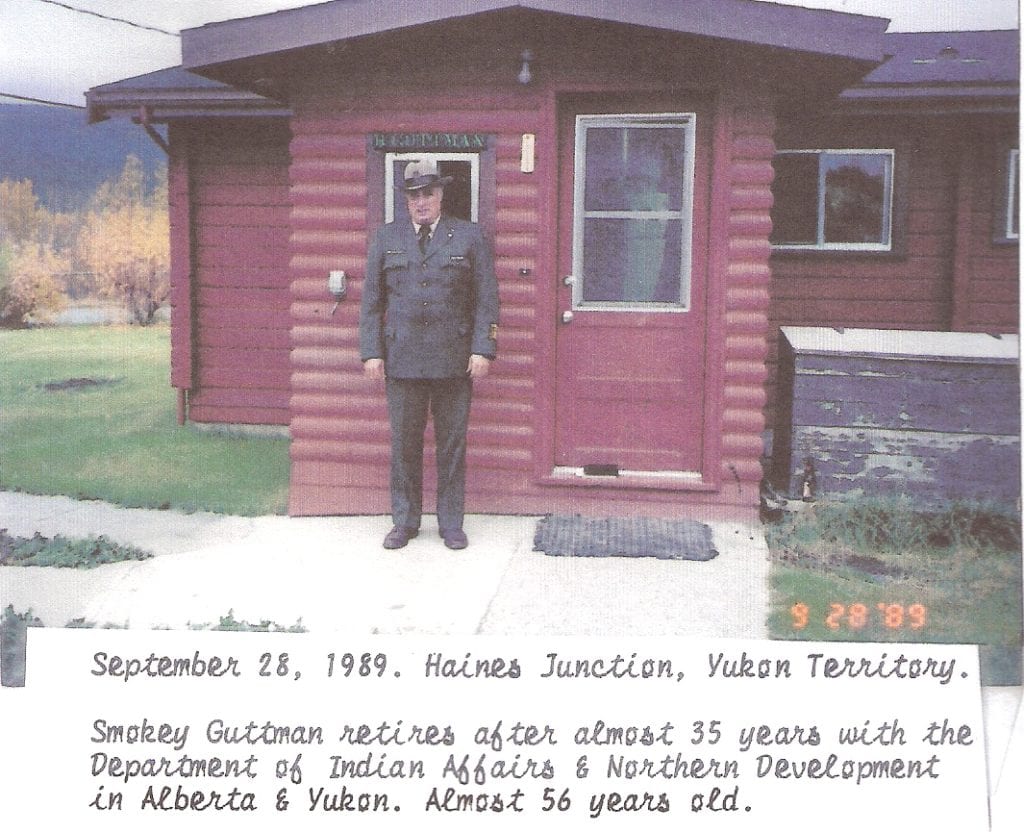 Place and Date of Birth: Smokey, Beausejour Manitoba, October 22, 1933. Lynn, Banff Alberta, April 23, 1940.
Occupations: Smokey began working as a forest ranger in Ignace, Ontario during the summer and for the Great Lakes Paper Company in the winter. After a brief time in the oil fields of Virden, Manitoba, he headed west in 1955 to Jasper National Park where he worked on the trail crew and at the government sawmill. He then worked as a Patrolman for a season and was responsible for the Tonquin Valley. In 1957, he started as a park warden in Banff National Park. He worked in the Eisenhower (Castle Mountain), Indian Head and Saskatchewan River districts. In 1965, after they opened the "Snowshoe Curtain", Smokey and his family moved to the Yukon where he was offered a job as a park warden and then as a Resource Management Officer. He retired in 1989 after almost 35 years with the federal government.
Additional Information: Smokey continues to be a resident of the Yukon, spending six months a year in Haines Junction working on his Museum of Nostalgia. Smokey and his wife Lynn who grew up in Banff were the longest residents in the Indian Head district. They share a love of music, and continue to play the good old songs on their guitars.
Lynn – I was born in Banff, April 23, 1940. My parents were Grace and Reg Hobbs.
Smokey – I was born in Beausejour Manitoba, but I won't die there! October 22, 1933. A bad time to be born, the depression.
Smokey – From Manitoba… I went to Ontario and I was a forest ranger at Ignace, Ontario from 1951 to 1955. I had written a letter to Jasper and they said if I come down they'd give me a job. So I quit the rangers in 1955 and I got to Jasper May 15th. I got a job as a timber man with Pete Brody. He was a chief ranger at the time. I worked on trail crew, living in tents and then I was sent to Maligne Lake. I ran the horse grader from Medicine Lake to Maligne Lake. I built fences around Larry McGuire's warden station. We went to the island, the magic island and cut the trail out and fixed it up where people take their pictures from and filled in the holes. I took a dead tree from shore and I put it onto the island to change the scene!
Smokey – Fred Schleiss and myself were kept on for the winter and we worked at the sawmill. I ran the planer and did all the scaling (of logs) because we used to trade lumber with the other parks for hay for the government horses. So we cut all the lumber that people wanted for the other parks and shipped them by rail. We worked there until spring and then they gave me a job as an assistant park warden. They called us patrolmen actually, with Armand Handley. He was on the Whirlpool and he gave me the Tonquin to look after. I looked after the Tonquin Valley for that summer. Then I went on the boundary patrol with Clarence Wilkins at Fiddle Creek and we built a cabin there at the same time that we were patrolling the boundary.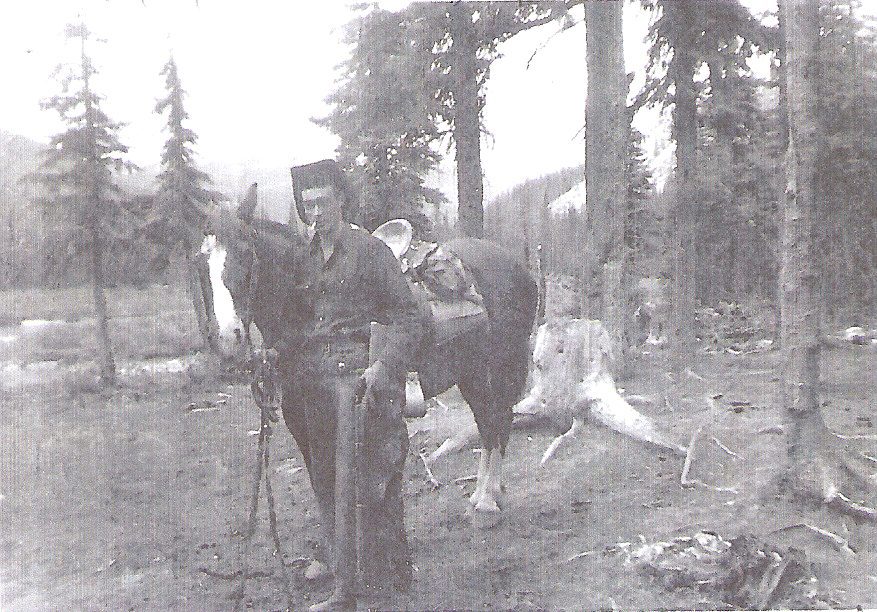 Smokey Guttman Patrol Man Tonquin Valley JNP – 1956
Smokey – Armand had been caught in an avalanche with his dog miles from his cabin. He tied a rope from himself to his dog. He was wearing snowshoes. He had a spoon in his shirt pocket. He spit to determine which way was up or down. Luckily he was facing up. He was able to get the spoon from his pocket and dig enough of a hole to clear his face so that he could breathe. He dug himself out, breaking his snowshoe harnesses. Imagine breaking those harnesses! He broke out with his legs and crawled out. He could hear his dog whimpering and he was able to dig him out too. He left his dog lying there because he couldn't carry him. He crawled back to his cabin. I guess he was missing for so long that someone came looking for him. The dog revived and returned home. Armand was a nice guy. I liked him.
Smokey – That winter they put Freddy and I back in the sawmill. Of course we had to join the union in those days. Freddy and I were cutting logs with swede saws. We had one guy just sharpening swede saws while the two of us cut along the Mount Edith Cavell road. We would cut two semi trailer loads a day. These logs were taken to the Hinton Pulp Mill. So I said, "I'm not going to do this work for these wages, about ten cents an hour less as a patrolman than as a timber man." But the union couldn't change the category. I was a patrolman getting less wages and yet I was doing more technical work scaling and running the planer.
Smokey – Then I applied with Toni Klettl and I was eighth on the list for a park warden position. A position was offered to me in Banff. In January 1957, I went to Banff. I was stationed out of Mount Eisenhower (now Mountain) as a Park Warden One with Ed Carleton until May of 1958.
Smokey – They were widening Highway 93 over Storm Mountain, so we had to move our whole telephone line. Ed was just going to put it on other trees. I said, "Well what if they want us to move it again? Let's put it on tripods." I had built tripods for phone lines in the bush camps when I worked in Ontario. As a ranger I was only on for the summer and then for the wintertime I went on in the bush camps. I did piece work and day labor in the bush camps. So I showed Ed how to build the tripods. Then I cut my knee cap with an ax. So, I couldn't work anymore. Ed was on holidays so they had to bring in somebody from Banff to take over my job. Then I did light duties. I never went on compensation, but I worked around the station, fixing up the fire equipment shed.
Smokey – Then once I healed up again, it was spring and it was time to dig post holes. I talked to the bosses at the time who were putting the road in and they said, "Well, this isn't in the right place." I told Bob Hand, "We are putting it in the wrong place. They are going to move the road over. There is no sense digging anymore. I'm not going to dig anymore." He said, "Well that's an order!" Oh, he was mad at me! So anyway, I kept digging and you had to dig a hole six feet wide to get down the four feet for a hole. I was lifting rocks out like that (demonstrating with his arms), huge boulders. It wasn't too long before Art Cartlidge arrived. He was the foreman for the government at the time. He said, "Oh, it is in the wrong place." Which I knew and I had dug all these darn holes for nothing! Bob Hand didn't even come out to apologize. I was right. Art Cartlidge said I was doing two holes a day by myself, when he had a crew and they were only doing one a day.
Smokey – So the next thing I knew, Bob Hand came out one day with Jim Roberston, who would be taking over my position. Bob Hand said, "Well you are going to Indian Head." "Oh" I said, "When?" "Tomorrow." "Well" I said. "I can't leave tomorrow. I've got to have a day or two to get my banking done and change my address and pack." So then he reluctantly said, "I'll give you a couple of days."
Smokey – So I moved to Indian Head. I took over from Billy Vroom. Billy Vroom had taken over from Frank Coggins. I bought Billy Vroom's leftover groceries. Some of it was supplies almost two years old that Bill had bought from Frank. I bought a crock from Bill. Coggins' eggs were still inside the crock! They were preserved in water glass and were almost two years old, believe it or not. They were FREE! We used them up! In Ann Dixon's book Silent Partners – Wives of National Park Wardens Lynn writers that water glass "is a syrupy chemical liquid that keeps eggs from spoiling."
Smokey – There was a crew building the new house at Indian Head at the time I took over Billy Vroom's district. Jim Burles and I tandem packed by pack horses, all the way from the Ya-Ha-Tinda Ranch, wood siding to finish up the house. Originally cats had been in there to bring the supplies to Indian Head in the spring because you couldn't travel at any other time of year. It had to be on ice.
Smokey – In the book of Anne Dixon's (Silent Partners)… there is the story basically of how I asked Lynn to marry me…