Thank you to the Whyte Museum of the Canadian Rockies for granting permission to the Park Warden Service Alumni to post this interview on our website
Park Warden Alumni Society of Alberta
Oral History Project – Winter 2013
Interview with Hans and Lilo Fuhrer – Edgewater, British Columbia
Interview conducted by Christine Crilley-Everts
February 24, 2013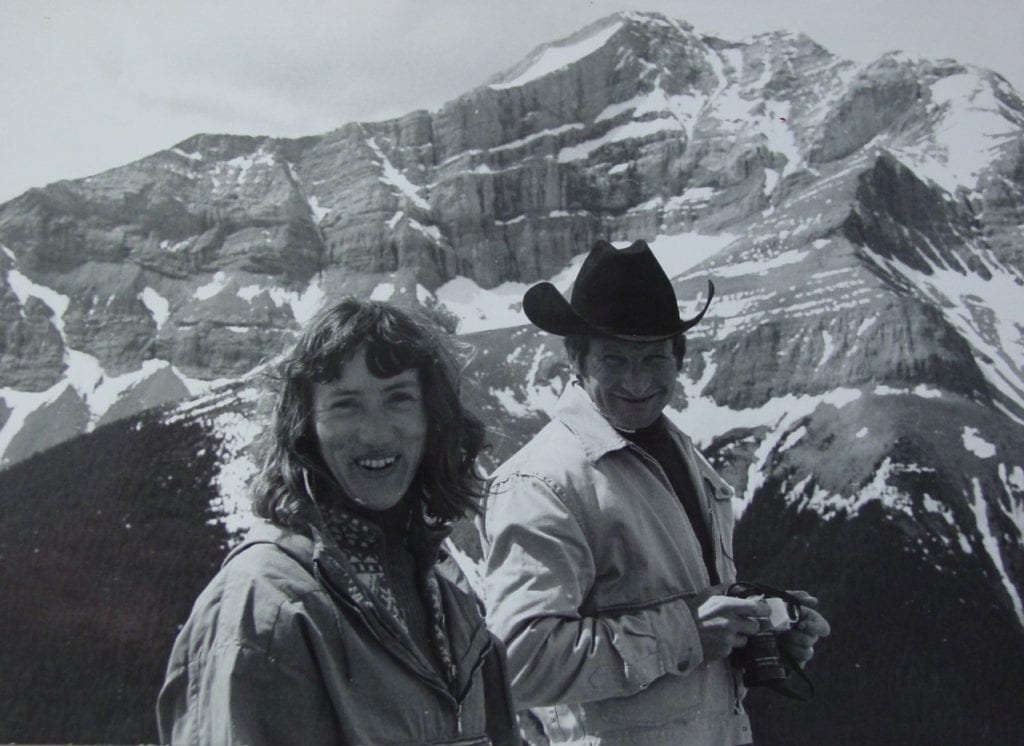 Photo courtesy of Hans & Lilo Fuhrer
Place and Date of Birth: Hans was born October 22, 1935 in Adelboden, Switzerland. Lilo was born two years later, November 19, 1937 in Bavaria, Germany.
Occupations: Hans, an active skier came to Canada in 1963 to learn English. Lilo came a few years earlier to work as a nanny. She was an avid climber and member of the Canadian National Cross-Country ski team. They met in 1964 through the outdoor community in Banff and they were happily married the following year.
While working as a ski instructor at Mount Norquay, Hans met Walter Perren the first Alpine Specialist for Parks Canada. Due to his skiing ability Walter offered Hans a job as a patrolman at Sunshine, where he was also responsible for teaching local wardens how to ski. Hans and Lilo then moved to Jasper where during the summer season Hans managed the alpine aspects of the Columbia Icefields, and Lilo ran the Information Bureau. During the winter season Hans did avalanche control at Marmot Basin. In 1971, he officially became a warden. Hans and Lilo moved to Mile 45, a place they remember very fondly, where along with other warden duties Hans was responsible for avalanche control along the Banff Jasper Highway. After spending two years in Kluane National Park where Hans worked as a public safety warden, they moved to Kootenay. It was there, they had their son Martin. Hans spent the next 20 years as the Public Safety Specialist for the park and retired in 1995. Hans and Lilo loved the warden life, the backcountry, wildlife, and the camaraderie within the service. In Lilo's words it was, "A simple, simple life, but so beautiful." Her sentiments are echoed by Hans who says, "To me it was the most suitable job…I have no regrets."
Additional Information: Hans and Lilo continue to have a very active lifestyle hiking, climbing, canoeing, skiing and biking every spring in Europe. They love their garden in the Columbia Valley and remain committed to nature, wildlife and national park values.
"What is your date and place of birth?"
(0:27) Hans – October 22, 1935. I was born in Switzerland in a mountain ski resort, Adelboden in the Bernese Oberland. It is a big international ski resort. They have the ski races there usually in January, they always broadcast it over CBC. I still remember the old people, the old folks and the ski hill. Of course things have changed there too quite a bit.
"Did you grow up skiing?"
(1:13) Hans – Yes. I remember when the big ski race was there, the first one, the international race in Adelboden, Jean-Claude Killy the famous French racer won the race there. We were ski instructors and we packed the hills for the races at that time. There were no packers in the 1960s…or actually it was the late 1950s. It was a long time ago! I came over to Canada in 1963.
(1:59) Hans – Well, I came over to Canada to learn English actually. I had a job as a ski instructor at Mount Norquay with Heinz Fifian. At the time I only planned to come for one year just to learn English, so it took me 50 years just to learn English! It was a government project I guess!
(2:28) Lilo – And your brother was here…
"Was your brother a ski instructor as well?"
(2:30) Hans – My brother lived in Banff, yeah. No, my brother was a carpenter for the government. The year after I came to Canada, this was in 1964 he got killed in an avalanche.
(2:45) Lilo – In 1965.
(2:46) Hans – In 1965, I am sorry. He was skiing with Gord Peyto. Gord Peyto was still a young guy and they skied across this area at Mount Norquay. Gord was able to ski out, but my brother Herman he just got sucked into the gully and got swept down to the bottom of the slide.
(3:14) Lilo – Two little children, seven and four years old and a wife. They weren't supposed to do that.
"LIlo, were you born in Switzerland too?"
(3:28) Lilo – No, I was born in Bavaria in Germany on November 19, 1937.
"Did you meet in Canada?"
Lilo – We met in Banff actually, through skiing, the outdoors and through hiking.
(3:54) Hans – Lilo was an ardent climber at that time.
Lilo, did you come to climb?"
(3:55) Lilo – I did a lot of climbing, I really enjoyed it. I came actually as a young girl, I was 19 years old. I had always wanted to see another country The trigger was I went to a private high school and we had nuns. Our English teacher was sister Johanna, she lived in England for quite a few years and she said, "Oh you young girls, you should go to England as a nanny." So after school was over…I wanted to do that. I grew up very protected, my parents said, "No way, you are too young." Anyways I did an apprenticeship at first. But I always thought, "I want to go and see another country." I liked English and I had a girl friend in Calgary who worked for an oilman, he was the president of Shell Oil. They had seven boys and then the eighth was a girl. She worked there for a year and then I had to commit myself also to work there for a year. I had no money. They sponsored me and paid for my voyage over from Le Havre to Montreal. Anyways I had to pay it off, but it was a very tough job! There were so many kids and I wasn't used to that. I went through that year and then after that year I worked for a very nice family. He was also an oilman, they only had three children. They had 12 horses and they lived out south of Calgary, it was about five miles south of Midnapore and I loved it! I went riding every evening with the kids. That is where I learned to horseback ride. I just loved it. In those days there were no fences and you saw the most beautiful evening sunsets and the harvest moon. Never in my life had I seen it and it just impressed me so much! And so many antelope, it was just fantastic! Anyways I learned my apprenticeship in business actually, but it was not recognized here so I went to evening courses afterwards in Calgary to Hollingshead Business College. After that I got a job with the Motor Vehicle Branch, it was only a part-time job. After that was over they said, "We need somebody at the Land Title office." I worked there as a stenographer and I really, really liked it. The people were wonderful to me and I joined the Calgary Mountain Club. What really did it to me, is I am a real nature lover. Back home we had a little mountain hut in the Alps and with my dad we went up there a lot. I was impressed and taken by the wildlife (in the Rockies), the bears and wolves and all that. It really did it to me! But my parents said, "You've got to come back." We had a business at home too. I always wanted to go back too. I was really torn between (the two places). I went back for a whole year again and then I was just drawn back here to the national parks, the backcountry, the hiking, and the climbing. We did a lot of climbing on Yamnuska then, the Brewer route and the Eisenhower towers several times. A lot, a lot of climbing there. Then in 1964, I met Hans in Banff and actually before, I was very good friends with Nancy Greene. We were very, very good friends. She had a summer job at Lake Louise and partly she also lived in Banff. We would get up early in the morning and train. I was into cross-country and she was in the alpine. But I took her also on the Grillmair route. I always led it and she was very impressed. I took a lot of people up the Grillmair route always. We were best friends and then she said, "Oh, we should go to Australia." We were young girls. She got a coaching job in Australia, just part-time and she would have gotten me a job in Kosciuszko, but then I met Hans. I was torn too, I was a real tomboy always. Australia!… and he was quite serious…But I decided for Hans and we got married in 1965, in May of 1965 and then it was another adventure! He was really into the outdoors and we did everything together, climbing and ice climbing. I had never done ice climbing before, just rock climbing. Then he got a job at the Columbia Icefields. I worked at the Banff School of Fine Arts. So we lived apart. We were newly married, but I came up either to the Icefields or he came down. And I thought, "Oh, my God, what a desolate place up there." I just thought, "I don't think that I will be happy, living up there." But anyways there was an opening for me to run the Information Bureau and of course I moved up there and in no time (I began to love it). On days off always, on weekends, we climbed and climbed all the peaks, Columbia and most of the Columbia Icefields peaks. A lot of rock climbing and I then I just got to love it. In wintertime we were in Jasper. At that time I was on the national cross country ski team and I trained a lot. In wintertime I went to Morin-Heights to race and I skied with the Inuvik girls, the twins (Shelley and Shirley Firth) there. We were together always. But then I felt, "We are newly-weds and I am always traveling." And at that time there was no support whatsoever, you had to do your own (fundraising). There was also a camp and races between Vancouver and Whistler, it was on a lake and there was an old lodge, Diamond Head Lodge. It was run by Norwegian brothers from Squamish…But anyway I had to pay my own everything at that time. I thought, "You are just like a race horse, always on the go. That is really not my thing. I have a nice husband and we could do all these trips together." So I quit the national team.
(12:08) Hans – But she was twice the Canadian champion, in 1965 and 1966.
(12:22) Lilo – To me (being with Hans) was much nicer. We lived in the summer up at the Icefields, in the winter partly in Jasper, where Toni Klettl lived, what was that called in the bunkhouses? We loved it. It was simple and we loved the parks…It was at the Cavell warden station. We just loved that life, we did a lot of skiing and Hans looked after the avalanche control at Marmot Basin. On his days off we did an incredible amount of ski touring. We were always together and we also did a lot of climbing. On days off we were just climbing Edith Cavell and Mount Kerkeslin, Forbes and everything…Mount Christie and then that high peak. Remember because Willi (Pfisterer, public safety specialist for Jasper) said you couldn't do the route. We went anyway…There was Brussels Peak, Christie Peak, and then the other big peak.