Thank you to the Whyte Museum of the Canadian Rockies for granting permission to the Park Warden Service Alumni to post this interview on our website.
Park Warden Alumni Society of Alberta
Oral History Project – Fall 2010
Interview with Gordon Rutherford
Interviewed by Christine Crilley-Everts
Kelowna BC, September 29, 2010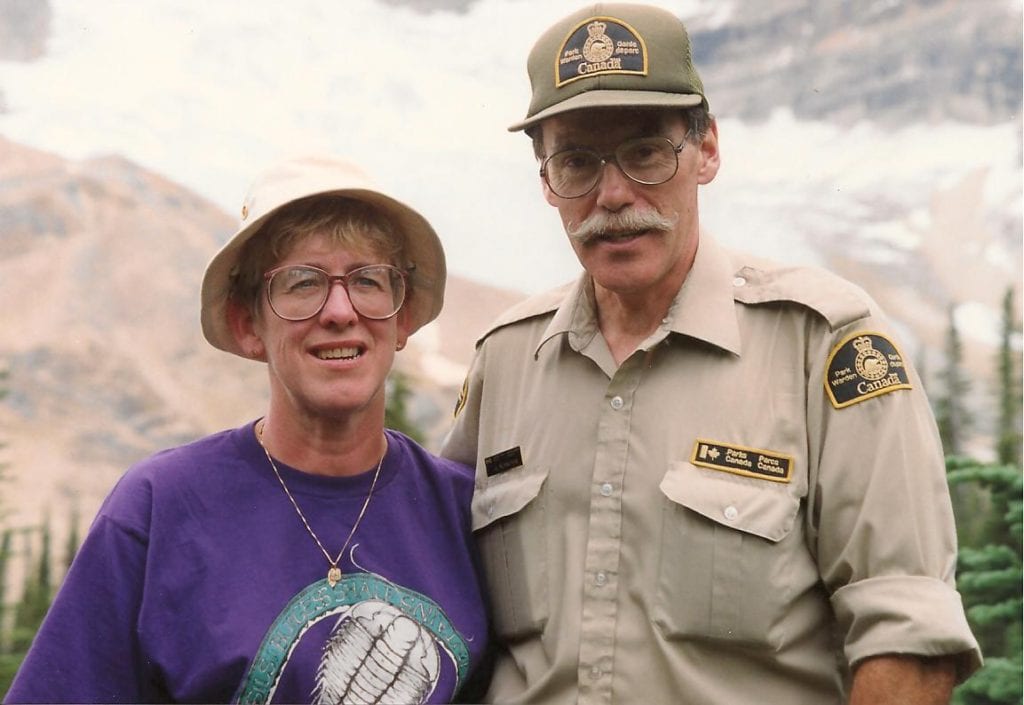 Bev and Gordon Rutherford in Little Yoho
Place and Date of Birth: Salmon Arm, British Columbia. December 16, 1938.
Occupations: Gordon spent his career working in Yoho National Park. He began working on the trail crew, prior to applying for a grade one warden position. In 1961, he began working in the Leanchoil district. He then moved to the Field district, after which he went to his favorite district, Hector. Following centralization, he became responsible for public safety in Yoho National Park as well as other routine Operational requirements like duty warden shifts etc. He retired from the service in 1994 after 13 years as the Chief Park Warden.
Additional Information: After spending 50 years in Field, Gordon and his wife Bev, who was an involved and avid warden's wife, moved to Kelowna to be closer to their grandchildren. They continued their active lifestyle, skiing and hiking. Gordon also became actively involved with local disabled skiing organization. He continues to think of the camaraderie and friendship amongst the wardens and their wives.
(0:00:20) I was born in Salmon Arm, December 16, 1938.
(0:00:46) My father's and mother's names were Melbourne and Lillian. My mother grew up in Salmon Arm on a small farm, but she was born in Cayoose Creek near Lillooet. My grandfather married a native woman (Interior Salish) and they had five children, my mother being the youngest. Unfortunately, my grandmother died giving birth to my mom. She was ultimately raised by her father and oldest sister. My father is from Vancouver. He started out working on the steam ships and my mother was sort of a housekeeper, an au pair sort of girl down at the coast. That is where they met and married. They eventually moved in with her dad in Salmon Arm. Then dad realized he wasn't a farmer. He had an uncle living in Field, who operated steam locomotives for the C.P.R. He said, that he thought he could get him a job working for the C.P.R if he was interested. So that's how it happened in 1942 the family moved to Field.
(0:03:09) Well actually, I did various jobs as a boy growing up in Field, – a paper boy and then (as) a delivery boy for different outlets in Field., like the bake shop and then the two grocery stores. I started working on the trail crew for the warden service in 1955, during the summers while I was still going to school. One summer during that time, I worked at the Naramata Christian Leadership Training School. I then stayed on and took their six month course. It was here that I met Bev.
(0:04:43) Yes, I started working for the warden service in Yoho National Park. It was a different setup then, as wardens were classified as grade one or grade two. I was quite lucky to get on because at that time war veterans had preference pretty much. But it was getting to the point that all the veterans were getting a little older. I was sort of encouraged by some of the senior wardens there to apply, "You've got the experience, why don't you give it a try?" Glen Brook was the Chief Warden at that time.
(0:07:03) Yes, I always worked in Yoho. It was an anomaly. I think probably the only other person that did that (spent their warden career in Yoho) was Jock (John) Tocher. I don't know if you recall, but he is one of the older wardens. The Tocker house is Deer Lodge Cabin (Historic Site) out at Leanchoil. He and his wife, May, lived there for a few years when they were first married, around 1924, I believe!
(0:07:54) In 1994, I retired from the warden service.
(0:08:08) Starting out of course, I was grade one and we were on the district system in those days. So I started out at the Leanchoil district. There were two grade one wardens in the park… Basically we were the assistants and were assigned where needed, even though we lived in a warden district. Bev and I lived in a house in the Leanchoil district. There were four districts at that time, Leanchoil, Ottertail, Field and Hector.
(00:12:39) I had just got married…Actually that's kind of interesting too. We got married in July. July 1, 1961 and I had gotten the warden position in the previous month of June. Bev grew up in New Westminster, (the warden life) was a totally different lifestyle than she was used to… In fact, thinking back on it she probably adapted better than what I would have adapted had I gone to the city. Bev was a teacher in Surrey for a year before we were married and then in Field once we were married. Our first daughter, Leanna, was born in Golden while we were living in Leanchoil (May 1962) thus the name Leanna (came from) Leanchoil and Bev's middle name Ann. Karen our second daughter was born 18 months later, she was born in Golden. We had moved to the Field district at this point. So we had our children in rapid succession and then that was it!
(0:18:51) I was a grade one warden still in Field, but I pretty much spent my whole time in that district. I was eventually promoted to a grade two park warden in charge of the Field district which includes Emerald Lake, the Amiskwi Valley and the Burgess Shale (fossil beds).
(0:25:15) Yes, we moved here to Kelowna, once I retired in 1994. Grandchildren made us choose to live in Kelowna. Actually our youngest daughter got married first. We had bought some property over on the island. We intended to move there, but then we got thinking once the grandchildren started coming, it would be a little difficult getting on and off the island. So, we sold that property and built a house in Kelowna.
(0:29:03) It never really entered my mind that I was going to be a park warden, even though I worked and enjoyed the warden service as a trail crew member during the summer…I was planning to go to university at the time that some warden positions became available. I opted for the warden service even though I still had to apply for the job.
(0:31:43) In the district concept, a warden was pretty much a generalist., a jack-of-all trades…but you still had a fair bit of responsibility. You had to become fairly versatile. There were so many facets of the warden service in those days, you still had the phone lines; you still had lookouts which you had to service. Of course, travel by horse was a big thing in those days… Just generally the versatility of it all was what I liked best about being a warden.
(0:32:45) And I think the other thing too that made it interesting and enjoyable was Bev quite enjoyed it too. She became quite an avid park warden wife. Considering her (city) background and everything, she made the adjustment remarkably well. She enjoyed hiking, skiing and other outdoor activities. After the girls started school in Field Bev took a secretarial position there as well. This also gave her the opportunity to do some substitute teaching. At that time we lived in a log cabin across the Kicking Horse River north of the townsite. A new house replaced the log cabin while we were there. We moved into a house in the Field town site while the new house was being built. We weren't there quite a year when I was offered the Hector warden district. Bev wasn't as pleased as I was at first, with this move since we hadn't been in the new house that long. However, it all worked out well in the end and what a better backyard from my point of view – then the Yoho Valley and Lake O'Hara area!
(0:37:47) So then it was just about that time, 1968 that we were living up at Hector and we were just in the process of becoming centralized…The Hector house was condemned. So, about 1970 we moved back down into that new house that we had lived in before going to Hector. That was about when centralization was initiated. Instead of specific districts now it meant that the park wardens were responsible for coordinating a specific function for the whole park (public safety etc). But, we did overlap into other disciplines as the need arose.