This Oral History interview was funded in part by a research grant received in 2022 from the Government of Alberta .
Park Warden Service Alumni Society of Alberta
Oral History Project Phase 12 – Spring 2022
Telephone Interview with Dan Vedova
March 9, 2022 – 9:00 am
Ucluelet, BC and Invermere, BC
Interviewed by Susan Hairsine 
SH: What was the place and date of your birth?
Dan: Sudbury Ontario. May 7, 1948
SH: Where did you grow up?
I grew up in the lower mainland in Vancouver.
SH: So you did things with your family in the outdoors?
Dan: No. My sister and I grew up in foster homes primarily. There were plenty of accessible green spaces close by to explore. I gained an early interest in fly fishing through reading and knew I'd enjoy it.
SH: That's an interesting start to life Dan. So, why did you want to join Parks Canada?
Dan: A friend of mine and my physiology lab partner at UBC was working as a seasonal park naturalist in Kootenay at that time and he encouraged me to apply.
SH: How did you became involved in the Warden Service?
In the summer of 1974 I worked for the Warden Service in Glacier National Park as a Conservation Corps Supervisor. My Chief was Larry McGuire who was a wise and knowledgeable old cowboy. We maintained and built trails, assisted with wildland fire response and hiked. One backcountry shift we left our camp set up including large prospector tents for the next crew about to arrive a day or two later. Assembling at the Warden Office at shift's end Larry asked if I'd collapsed the large (and expensive) tents. I hadn't. Larry was furious saying the grizzlies would tear the empty structures to shreds. I thought he was exaggerating and mildly suggested so.  The following day the replacement crew arrived in camp only to find shreds of canvas everywhere. So much for higher education. 
As an aside, here is where I first met Gord Peyto and he proved to be a likable character worthy of his family's historical legacy in the organization. The following summer (1975) I competed on a Naturalist competition and was fortunate to be offered a seasonal position in Banff. In 1976 I applied on a Warden position in Banff and so began my career as a Park Warden.
SH: What different parks did you work in? How did they compare? Do you have a favorite?
Dan: Different parks – Glacier 1974, Banff 1975 to 1981, Pacific Rim 1981, Kootenay 1982 -1984, Pacific Rim 1985 – 2012. Travel on working assignments to Jasper, Glacier and 5 years routinely to Ottawa.
SH: How did they compare?
Dan: Fundamentally the work was the same.  The nature of the public safety and enforcement incidents in the wild areas varied greatly because of geography and recreational activities. Resource management was always tied to regional ecosystem threats and protection. However, incidents in the high visitor use areas such as highways and townsites were universal.
Perhaps the best comparisons are embedded within a narrative presented in a few working examples.
Experiences in Glacier certainly whetted my appetite for mountain culture and warden work. Although limited in size, every backcountry venture was up and some semblance of mountaineering skills were required. The burden of the Rogers Pass highway rested heavily on the wardens and others, be it terrible highway accidents or in controlling treacherous avalanches which were an ever present winter threat.  
The beauty of Banff and the opportunities presented here certainly captivated me. The immensity of the landscape and the attendant responsibilities of the wardens was both intriguing and a little terrifying when seen from the outside but now I was inside. I was ill equipped for the work as I had nominal skills and no experience. At that time the wardens were an eclectic group of real ranch cowboys, WWII veterans and mountaineers blended together to provide protection and management of wilderness resources, rescue services and enforcement under the National Parks Act. These men (at that time) had attained high skill sets and knowledge gained from years of application and cumulative experiences. I arrived just as the Wardens were brought in from their backcountry districts, a working model of nearly 100 years, to work under a centralized organizational model. 
I was part of the first new hires. Urban raised and sporting a university degree. As such, my background rightfully paled when compared with the masterful skills and competencies of experienced wardens who were rightfully skeptical of our potential. Veteran wardens such as John Wackerle, Earl Skjonsberg, Bill Vroom, Ed Carlton and others guided and mentored new wardens many of whom must have seemed bereft of practical abilities and knowledge. They took on this challenge in spite of misgivings they may have had.  If not for them my career would have been short and I remain grateful for their help, good humour and friendship.
For the decade previous to my employment however there were a generation of younger wardens with exemplary knowledge and skills in contemporary mountaineering, in technical rescue, in science based avalanche control avalanche, in resource management and in enforcement.  They had established a reputation and credibility within the organization.  The old was blending with the new and it was exciting to be offered the challenge of gaining competence working under such talent. It was a never ending process and I loved it in spite of any inadequacies and lack of ability I may have represented.  This new generation of wardens were impressive and influential.  Peter Whyte was our area manager while I worked under the direction of men like Keith Everts, Tim Auger, Scott Ward and Clair Israelson. This new generation met the challenges that were presented by constantly changing organizational models, new technologies, increasing visitation and an explosion of new recreational activities.  This quickly changing world demanded flexible, adaptable and contemporary approaches to meet such challenges.  This required building teams which were hierarchically structured. Competency was demanded and rewarded with assignment of leadership. However, every role was important and necessary to the achievement of the task.
In my time in Banff this disparate group of men was anchored and managed by Chief Park Warden Andy Anderson.  He was ever encouraging and in good humour regardless of the challenges and responsibilities of his office. I held him with respect and regard.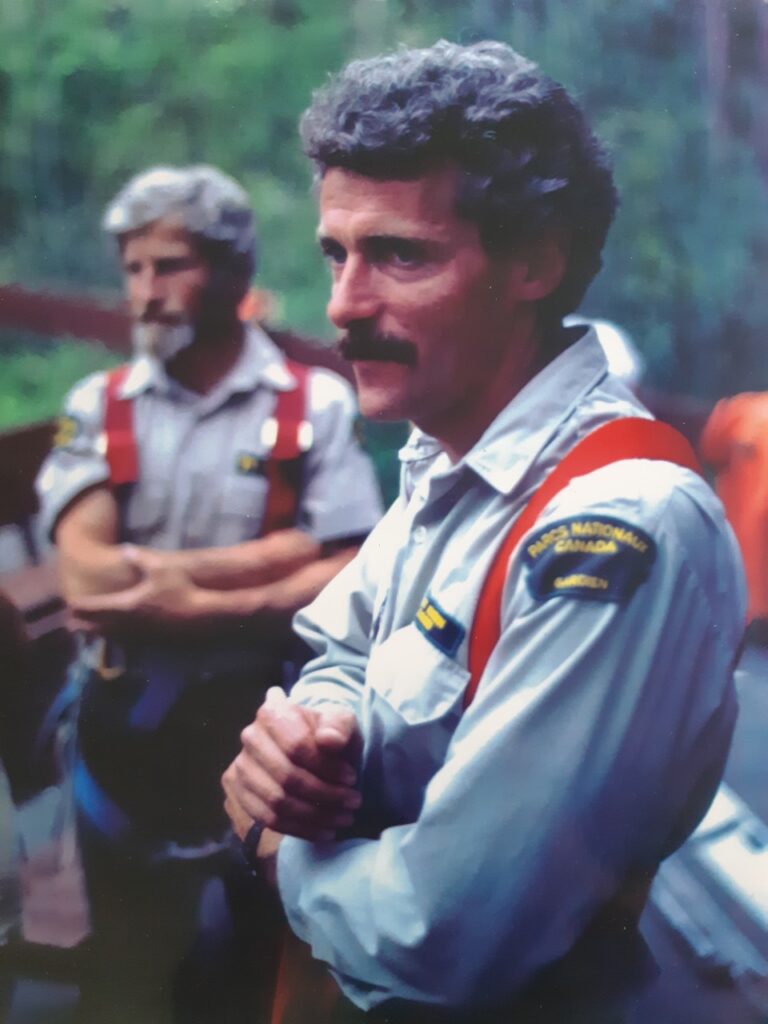 After Glacier and Banff, I transferred to Pacific Rim. Although completely different from the mountains, this Park, situated against the open Pacific Ocean, offered challenges and opportunities in the marine environment. Our Chief here was Mac Elder, an Alberta ranch hand from Jasper and a renowned horseman. He managed the outfit with a knowledgeable and steady hand.  Mac's second in command was Gordon McClain, another Jasper transplant from the old district system. Gord had developed a great working knowledge and ability on the ocean piloting a large patrol vessel and learning the intricacies of navigation in order to meet operational demands in most sea conditions both night and day.  Uniquely characteristic of the Park was the surf rescue unit.  The unit was led by Doug Palfrey and Ted Goodspeed, world class surfers, who had travelled the world seeking waves before the sport became so popular.  They had taught wardens Scott Ward and Rick Holmes, both mountain transplants, surfboard rescue and riding techniques and both developed into highly competent practitioners. I was a coastal boy and worked hard to also develop skill sets all demanded to work in the marine environment. 
I then worked briefly as a firefighter for the Vancouver Fire Department. However, in 1982 Peter Whyte, now Chief Park Warden in Kootenay National Park, called to offer me a job to run the Warden Station at Marble Canyon. In the fall I took up residency at the Station with my pregnant wife Marg. I had some familiarity with the Station as it had served as a rescue base for a multi day avalanche rescue response at Stanley Glacier some miles away up the valley. The Station was located on a busy and remote mountain highway connecting the Trans Canada Highway to Radium and Invermere. Calgary residents regularly travelled this corridor to access the recreational activities in the Kootenay Valley. While I managed and patrolled the northern district of the Park, I was also first responder to daily highway incidents including numerous serious collisions. The responsibility of triaging these events and the impact of their seriousness was significant. At times I had to decide who belonged in the limited helicopter space versus ambulance transport to emergency services.  There were of course the fatalities, never to be forgotten. Marg was a great deal of support through these ordeals all the while caring for our newborn daughter, Jessie, born in Banff that first winter. I was also privileged to work with the Swiss mountaineer Hans Fuhrer. He had climbed every major peak in the Yukon's St. Alias Range and was therefore, well suited as the Park's alpine specialist.  He hauled my butt up rock faces and never lost patience trying to improve my downhill skiing. One day I asked for an assessment of my progress. Hans' terse response "It still looks a little phony."  We travelled hundreds of miles cross country touring and skiing as well during winter patrols.  The Park was fortunate to have him as their avalanche control mountain rescue guru.  During the winter months I skied up river valleys measuring snow depths and densities and providing flood forecasting data for the province as well.
 Working for Peter Whyte and with the Kootenay crew was great but station life offered no respite. My family and I began to take days off in motels thus allowing us reprieve from the 24-7 working Marble Canyon model.  This was of course unreasonable and unsustainable over the long term.
In 1984 I returned to Pacific Rim. By then Scott Ward had returned to Banff as dogmaster. Mac Elder was still Chief. The surf rescue unit continued under Palfrey and Goodspeed but was constantly in jeopardy of being eliminated. One of my tasks was to administrate the program.  We began to formalize training, increase visitor safety awareness and maintain and collect response data to both record activity and rationalize our defence of the unit. The surf guards intercepted countless numbers of swimmers unaware of the perilous rip current that was carrying them seaward where frigid waters and breaking waves would overwhelm them. There were inevitable unfortunate fatalities. 
Meanwhile, there was a crew of wardens navigating small inflatable boats up and down the rockbound foggy waters fringing the West Coast Trail.  Rick Homes led the crew who responded to treat and evacuate dozens of injured hikers each summer all the while maintaining vessels, equipment, station operations and training standards. The work was perilous and demanding. Rick operated a large rigid hulled vessel while the smaller craft would land through the surf to package and deliver the injured and sick out to the main rescue vessel.  Rick had become a credible surfer who was also an ex-mountain man. He was an excellent skier and winter mountain guide and these served him well as he never lost a crew member nor vessel in all the years he ran the rescue unit.
There were many notable men and women who were mentored by Rick and were critical to the success of the West Coast Trail operation. One such warden was Bob Hansen. Another mountain transplant, Bob had worked for years patrolling Jasper's great wilderness on horseback for weeks at a time. Highly skilled and knowledgeable, as were most of my work mates, Bob went on to become one of Park's leading wildlife specialists working to reduce human conflict with large carnivores. At the time of this interview Bob still works in this field.
I continued to work in public safety while undertaking other work assignments such as Acting Chief Park Warden (one and a half years), Acting Superintendent as required and head of Visitor Services. All along I was the park Public Safety Specialist although Rick Holmes ran an independent operation along the Trail. I found office and bureaucratic administrative work unsatisfying and unfulfilling. 
And so, while maintaining my Public Safety Specialist role I also undertook the operational administration of the Broken Group Islands unit of the Park. Once more this was a 24/7 operation as was the West Coast Trail. This is an astonishingly beautiful marine archipelago that is run from a float cabin that was thankfully modernized by Rick Holmes.
Over the years there were numerous public safety incidents often requiring multiple interagency responses during which I was assigned the role as Incident Commander on these large scale operations. Sadly many of these events involved fatalities. I believe we were one of the first parks to initiate critical incident debriefing in order to reduce potential stress related issues amongst responders.
After one particular incident involving multiple fatalities, I was assigned the task of creating and implementing an accident awareness and prevention program. 
Referencing Jenny Sparke's Risk Management Planning structure the Prevent Net program was developed in an effort to reduce mishaps amongst visitors and residents on the coast. The concept was to bring together various emergency response agencies and government and private sector partners to develop and fund products to heighten hazard awareness and risk management solutions. 
I was then assigned to represent Parks Canada at the National Search and Rescue Secretariat's, New Initiative Funds annual forum to defend and compete for dollars in support of submissions dedicated to Park's public safety initiatives.